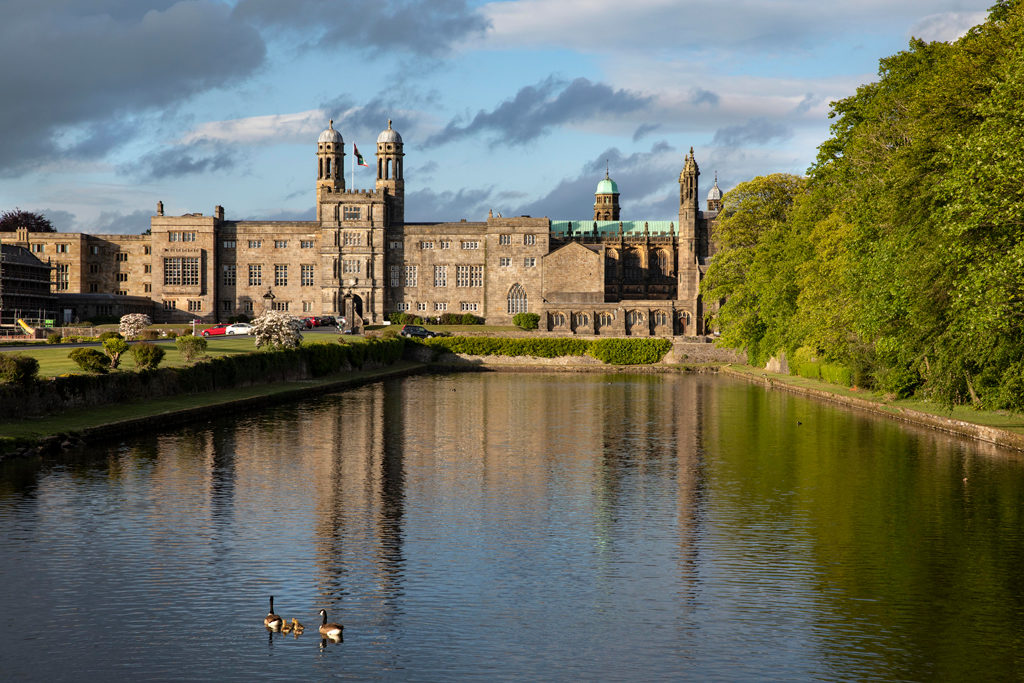 Address: Stonyhurst, Hurst Green, Clitheroe, Lancashire BB7 9PZ
Website: www.stonyhurst.ac.uk
Founded: 1593
Number of Pupils: 794 (513 at Stonyhurst College and 281 in the Prep School Stonyhurst St Mary's Hall)
Ages: 3–18
Fees: £10,545 – £44,565
Head Teacher: Mr John Browne (Stonyhurst College), Fr Christopher Cann (Stonyhurst St Mary's Hall)
Religious Affiliation: Roman Catholic school in the Jesuit tradition
Entrance Procedure:  Our application procedures are age appropriate and include entry assessments, interviews, character references/references from the child's current school, submission of school reports for the previous 2 years for age-appropriate year groups, disability assessments (if applicable), 500-word handwritten personal statement for the College or completion of a personal information sheet for children entering Year 5 to Year 8 at St Mary's Hall and the completion of a taster day and overnight boarding stay where appropriate.
Contact: Helen Eastham (Director of Admissions & Marketing) [email protected]; For UK enquiries for pupils aged 13 – 17 contact: UK Admissions: [email protected]; For International enquiries for pupils aged 13 – 17 contact International Admissions: [email protected]; For pupils aged 3 – 13 contact Prep Schools Admissions: [email protected].
School Visits:
2023
Thursday 21st September: Sixth Form Open Evening
Saturday 7th October: Prep School Open Day
Saturday 14th October: College Open Day
Watch the video…
The Curriculum
Our Prep School follows the international primary curriculum up to the age of 11. At the College, we offer GCSE through to A levels, as well as the Pre IB, IB Diploma Programme (IBDP) and the Cambridge Technical Diploma. We have an extensive co-curricular programme of over 75 activities for pupils to choose from.
Games & The Arts
Our pupils achieve on the sports field, as well as in music, drama and dance. We have a national reputation for rugby and, as a fully co-educational school, a very strong reputation for hockey and netball. Our pupils have success in outdoor pursuits such as the Duke of Edinburgh Award, fell running and shooting. The Stonyhurst Combined Cadet Force is one of the oldest and most distinguished in the country. Our sports centre includes a golf course, world-class, LTA-registered tennis dome, Olympic size all-weather pitch, 37 fitness station multi-gym and swimming pool.  Opportunities in music, art, drama, dance, stage management, photography are also on offer.
Pastoral Care
Pupils at Stonyhurst are given the individual attention, resources and space in which to grow intellectually, spiritually and emotionally. They are encouraged to involve themselves fully in the opportunities on offer and to develop those qualities of character that will distinguish them in later life as 'men and women for others'. A Jesuit education at Stonyhurst nurtures individuality and encourages generosity.
University Places
Stonyhurst pupils go on to pursue a wide and impressive range of opportunities after leaving us. The vast majority attend universities, both in the UK and abroad, while every year some pupils are supported in applying for apprenticeships or employment opportunities. Some pupils are also guided through applications for specialist institutions, such as music conservatoires.
A special programme of support is given to those applying to Oxford or Cambridge, and every year some of our pupils take up places at these famous and prestigious universities. The Careers department also supports a wide range of international applications, including US universities, Asian universities, and a vast number of European universities.
Pupils receive excellent personal guidance in choosing their next steps, as well as in completing all the necessary steps to reach their goals. It is wonderful how many of our OS continue to get involved in sharing their skills and experiences to support the next generation of Stonyhurst pupils to follow in their footsteps.
Head Teacher's Philosophy
'Show me a boy at the age of seven, and I will show you the man'. The Jesuit approach to education inspires, nurtures and develops the child's spiritual and emotional character that is the backbone to adulthood. At Stonyhurst we work hard at knowing every pupil so that we can challenge them academically and in other areas of life. We aspire to educational excellence and human competence giving our pupils that extra edge to go further in life.
Outstanding Characteristics
Co-curricular programme of over 75 activities to choose from.

The world's oldest museum in the English-speaking language with over 65,000 historical books and artefacts including a First Folio of Shakespeare.

Academic excellence – top IB score of 43 in 2023.

Exceptional pastoral care.

Extensive facilities including a tennis dome, 25-metre swimming pool, golf course and our very own working observatory.

Producing world leaders for over 430 years.
---
---