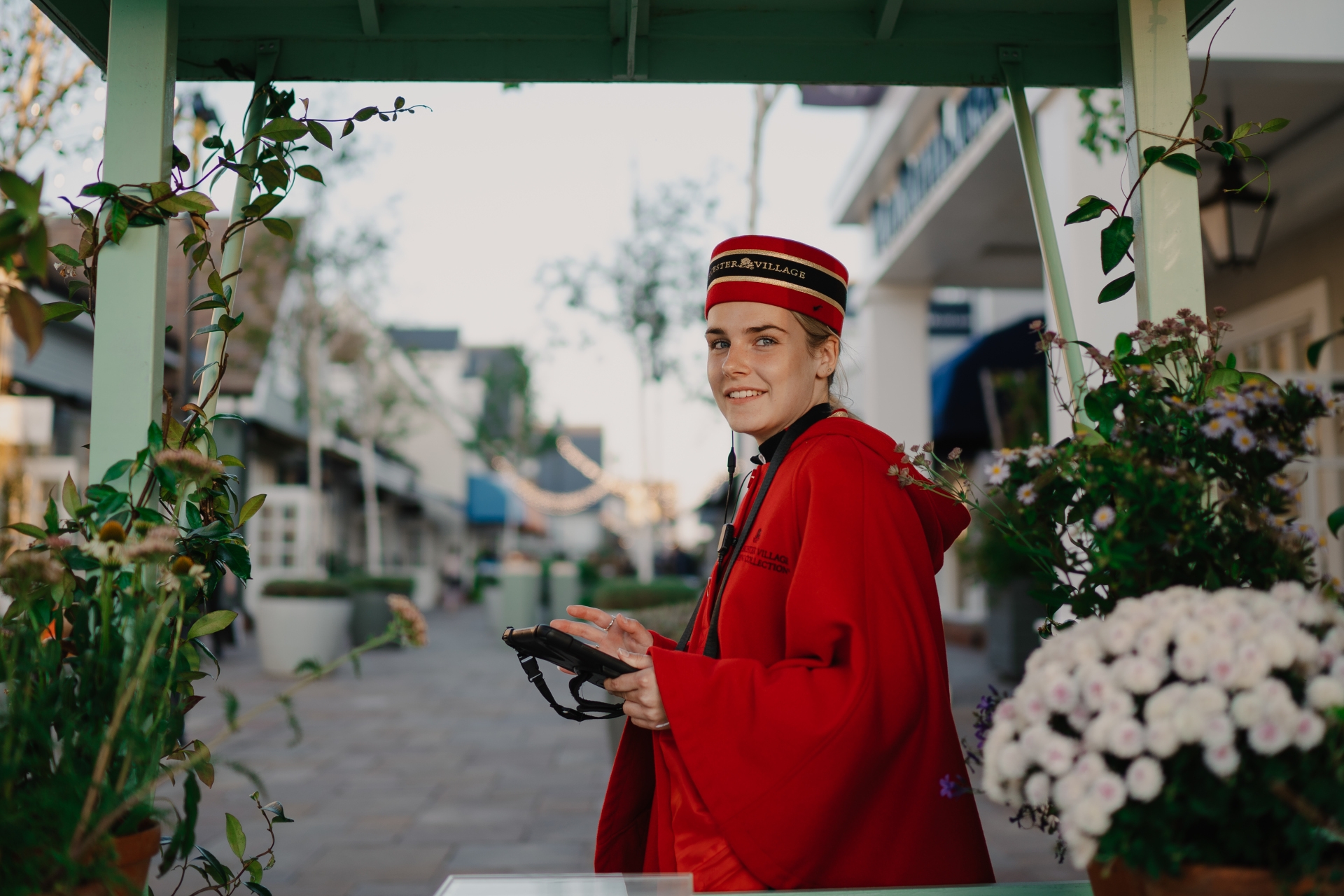 I'm just going to say it… I don't like shopping in the city. Traffic jams, belching buses, crowds, mask-on/mask-off, noise, pollution, sirens, hold onto your bag, push, shove, more sirens… Just typing all of that makes me anxious. And while online shopping is fabulous for some stuff, it can be a false time economy; especially when things do NOT look like the picture. But there is a glorious alternative… Bicester Village in Oxfordshire.
So last week, I hopped on the train from Marylebone (it takes you straight into Bicester Village), to make a start on Christmas. I know, I know! I've gone early… but frankly after a year of pandemic panic, zero parties, separated from friends and family – this year deserves to be a socking great celebration.
If you've never been to Bicester – boy, are you in for a treat! One of my favourite moments is alighting from the train and walking over the footbridge into the village; it's like every magical childhood book where you leap down a rabbit hole or scramble through the back of the wardrobe. Flanked by silver birch covered in fairylights with beehives in the copse beyond, the bridge is a twinkly green portal into an alternate universe where shopping is fun.
At this stage in the Christmas prep, my focus is on getting my Cotswolds cottage ready for family and guests, parties and high jinx. So my first port of call is one of the greatest British brands; Smythson. I pick a new orange notebook for my to-do lists, musings, games, recipes and decorating ideas. I stock up on 'Love' embossed invitation cards. And earmark a beautiful jewellery box for my goddaughter.
Jewellery box by Smythson
Feeling a bit pleased with my early wins, I head to London Grade Coffee to plot my next moves. I order a latte and something called a 'pain salé'. It's too delicious! This unprepossessing bit of dough, shaped like a pain au chocolat, but made with salty butter and scattered with granulated sugar, is probably the most toothsome baked good I've ever had. I will be going back to Bicester JUST for this. Sitting at one of the open-air tables, sipping and scoffing as I write my Christmas lists, I couldn't be happier.
Next on my hit-list is The White Company. So I head round the corner for fluffy towels, flannels and Egyptian cotton pillowcases for the spare bedrooms at my cottage. I know how glorious it is to stay with people who have bouncy towels and fresh linens – I want the same for my guests this festive season. I also spy a sumptuous cream cable knit throw for snuggling under while watching a Christmas movie.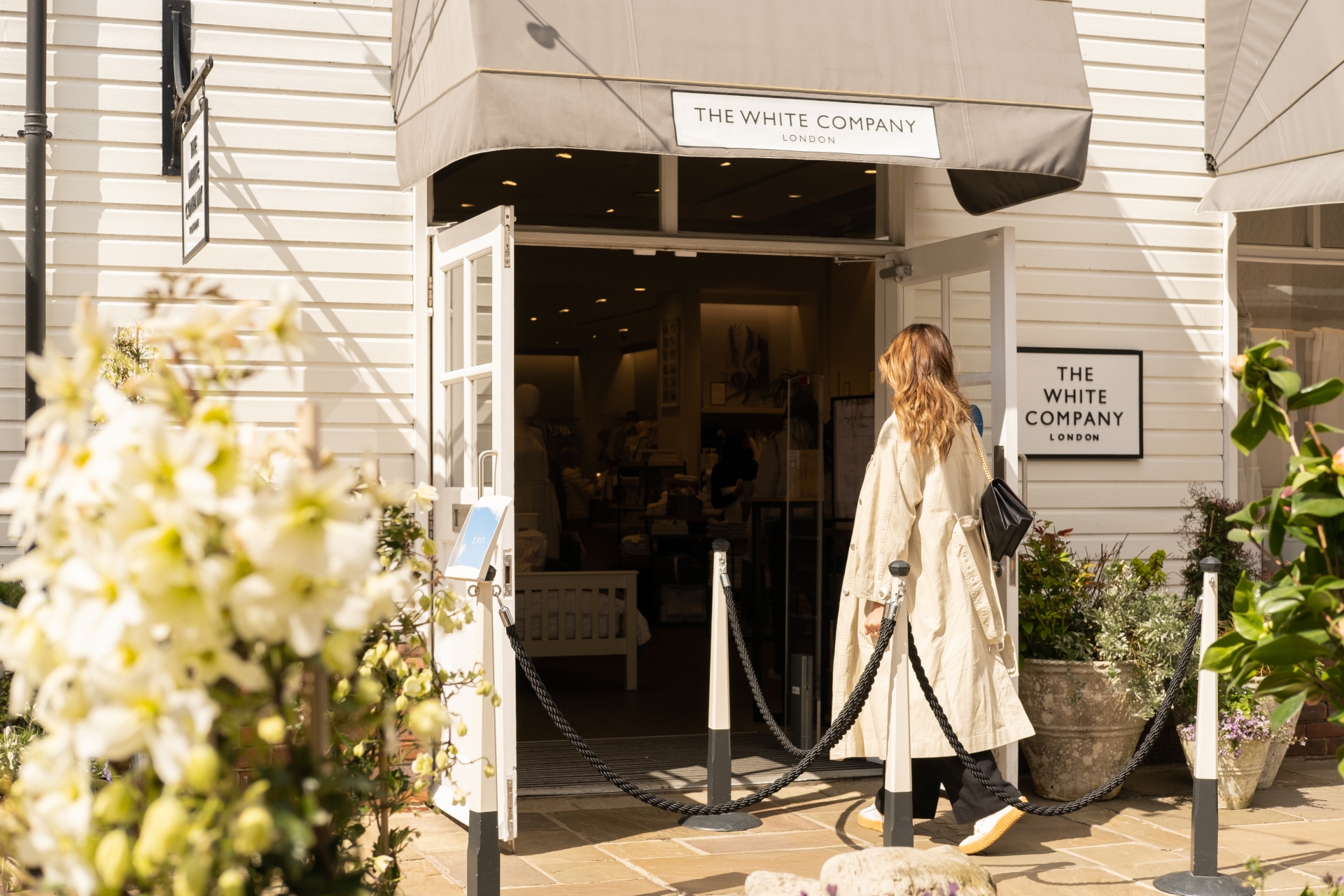 Bamford is my next hit; one of my favourite fashion and skincare brands for its sustainable ethics, organic products and elegant designs. I'm wild for the Fig Leaf Christmas candle in a chic white ceramic pot etched with 'peace, love and joy'. And I buy lots of their signature geranium-scented body wash and body cream for my spare bathrooms, presents for girlfriends and obviously some for me too! I also find chic Christmas crackers and can't resist a hot water bottle cover in navy cashmere with tiny white stars.
As I wander back along the cobbles, I'm blown away at how pretty Bicester Village is. The sugared almond-coloured clapboard shops, swags of festoon lights, seasonal planting by Nikki Tibbles at Wild at Heart surrounding benches and outdoor tables from which to eat and drink, consider your next purchase or just watch the world gently going by. And it's so clean! There's not a scrap of rubbish to be seen anywhere. Also – let's discuss the smells… mixed with intoxicatingly fresh country air is the tantalising whiff from the variety of food stands. The range of different restaurants and takeaway spots at Bicester Village is remarkable; from old favourites including the Farmshop restaurant and café by Soho House with its fantastic vegan menu, or the new Italian joint La Tua Pasta, Chinese restaurant Shan Shui or Persian stall Berenjak.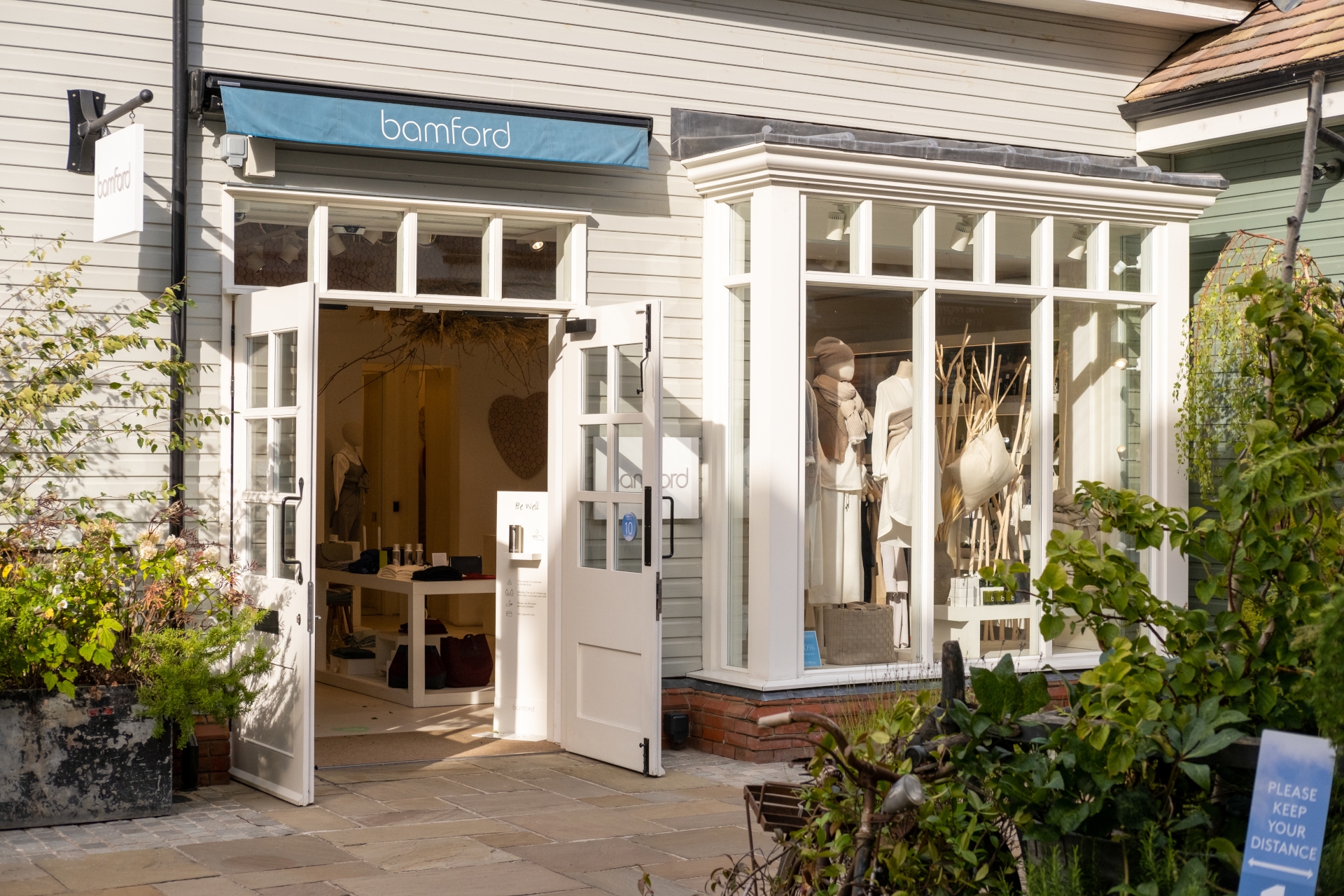 But my senses are being tickled by the smell of hot chocolate. For there in the middle of the village is a Rococo chocolate stand. I load up with boxes of truffles for after Christmas lunch.(Or dinner. Or breakfast!). Then it's Villeroy & Boch for wine glasses. To Le Creuset for an extra big casserole for wintry stews, slow-cooked on the Aga. And finally to Emma Bridgewater for star covered mugs; I'll be waking everyone on Christmas morning with a twinkly cuppa in bed.
Happy with my haul, I head to the outdoor terrace at Café Wolseley for lunch; a niçoise salad and celebratory peach bellini. And as I stroll happily back across the footbridge portal to the train platform, I feel like I'm taking the twinkly Bicester Village magic back to London with me. I've made a smashing start to Christmas. And instead of feeling stressed and exhausted, I feel like I've had a great day out. There's shopping… and then there's Bicester Village.
Plan your trip to Bicester Village today at tbvsc.com
The Private Sale: Enjoy 30% off your purchases in participating boutiques until 31 October when you register to become a member. Find out more today