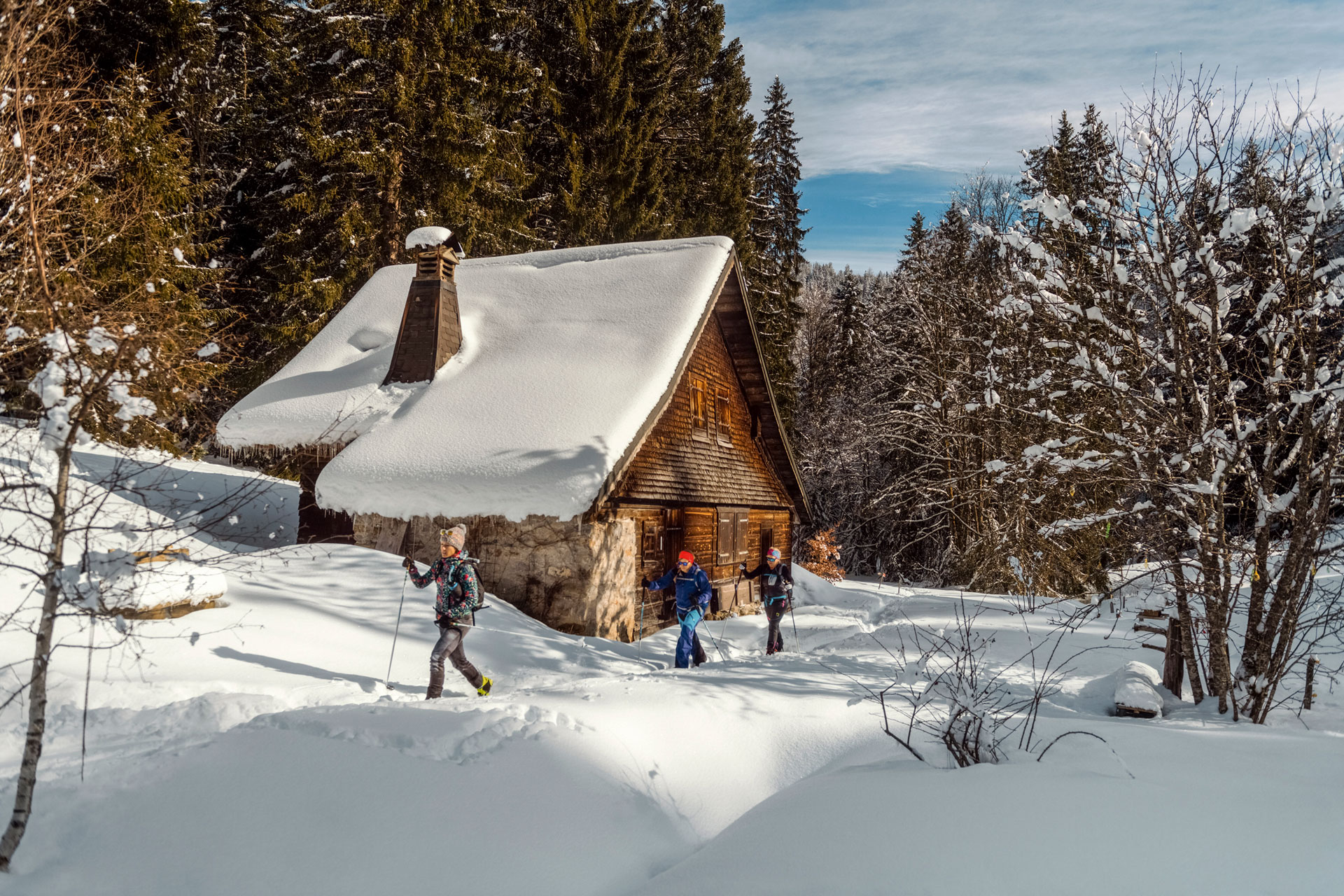 1. Snowshoe in Saas Fee
Be it a simple half-day hike or a day-long adventure, get off the beaten track and be at one with nature. Some of the most beautiful snowshoeing trails can be found here – start with a fairy-tale night walk above Saas-Fee, and then enjoy the Swiss national dish – a delicious cheese fondue – in the glacier village. What could be more romantic?
2. Moonlit Meal with Torchlight Descent on the Bettmerhorn
For a truly unique dining experience, head to The Aletsch Bahnen AG and the Bettmeralp Snow Sports School. Begin your evening by hopping in a cable car to the Panorama Restaurant, where you'll enjoy live music and raclette before skiing down to Bettmeralp in torchlight, accompanied by an instructor.
3. Ski tour at Villars-Gryon
Ski touring is very different from Alpine skiing: different skills – and skis – are needed to enjoy this unique way of exploring the mountains. The new Rando Centre at Villars-Gryon – which offers miles of accessible swept routes – will set you up with all the equipment you need, plus training and a guide. Alternatively, take to Château-d'Oex to uncover remote parts of the mountains and delight in breathtaking new scenery.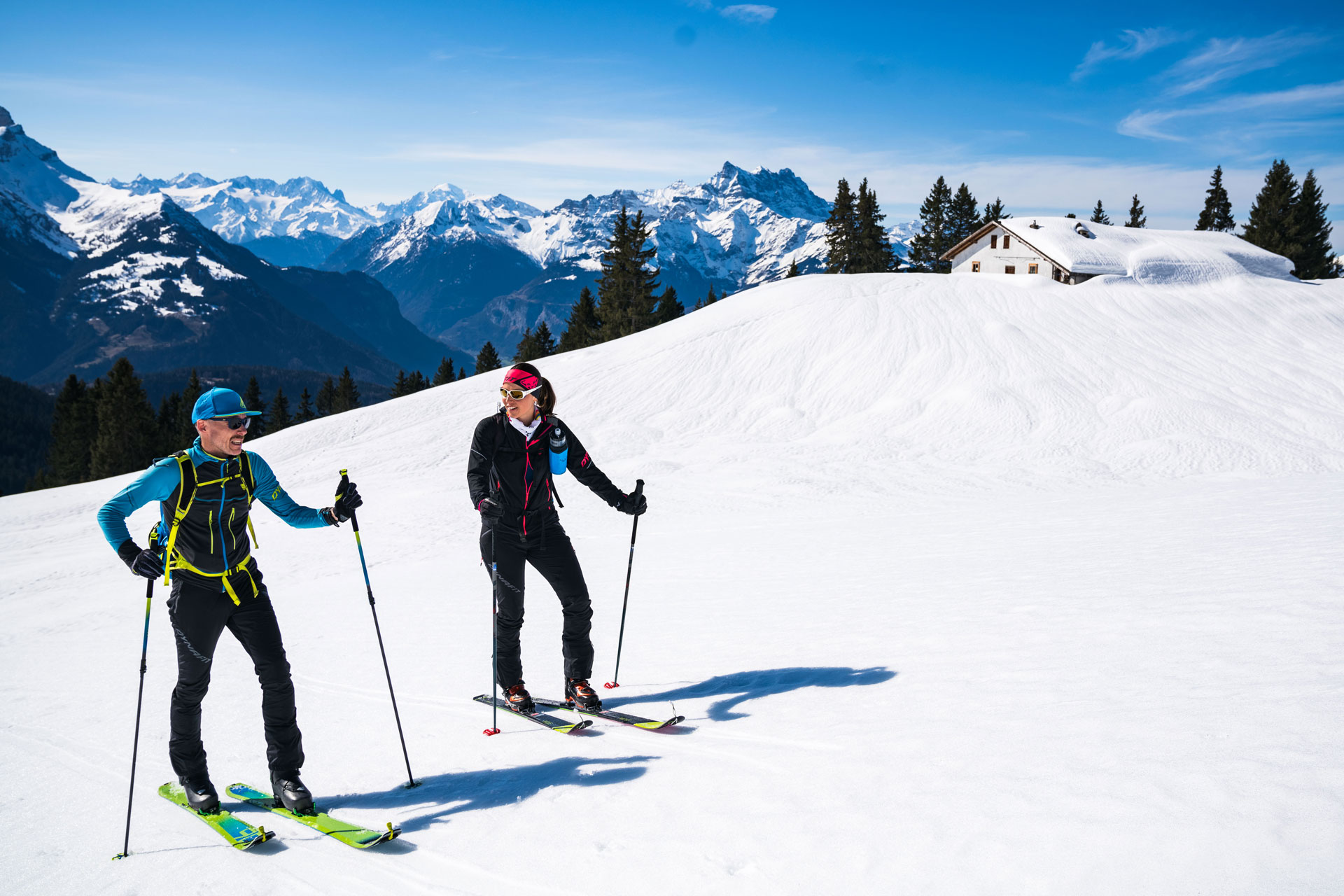 4. Challenge yourself with the Tiger Run in Gstaad
The steepest slope in Gstaad, this 2.5km long black section on the Wasserngrat will get your heart racing with an average gradient of 45 degrees. If that's not enough, set out at the region's longest slope which starts on La Videmanette and sees a super fun 7.5km descent of 1,160m down to the valley. Along the way, recharge your batteries at the Buvette de Rubloz restaurant.
5. Kayak on Lake Brienz
Escape the pistes and discover the glories of Lake Brienz, close to Interlaken. Surrounded by snow-covered mountains, the winter months offer some of the most breathtaking views of these Alpine waters – and, even better, you have this turquoise lake all to yourself. Out on the water, total tranquility reigns as you gaze at the dramatic peaks all around, reflected in the mirror-like water, passing towering cliffs, hidden beaches and ancient castles.
6. Visit the Nordic Centre
The Nordic Centre at Col des Mosses is a must-visit for cross-country skiers before taking to the slopes. Right next to the cross-country ski pistes, it's the perfect place to go – before you've even put on your skis. Highlights include a free cloakroom and a waxing room so you can get your equipment ready. It's also a great spot for private parties with its glass-fronted central hall offering superb views of the mountains. Alternatively, try Leysin, which offers beautiful vistas of the surrounding peaks. Or there's Les Mosses – La Lécherette plateau, a white wilderness, which has a wide choice with 42km of wonderful cross-country ski trails.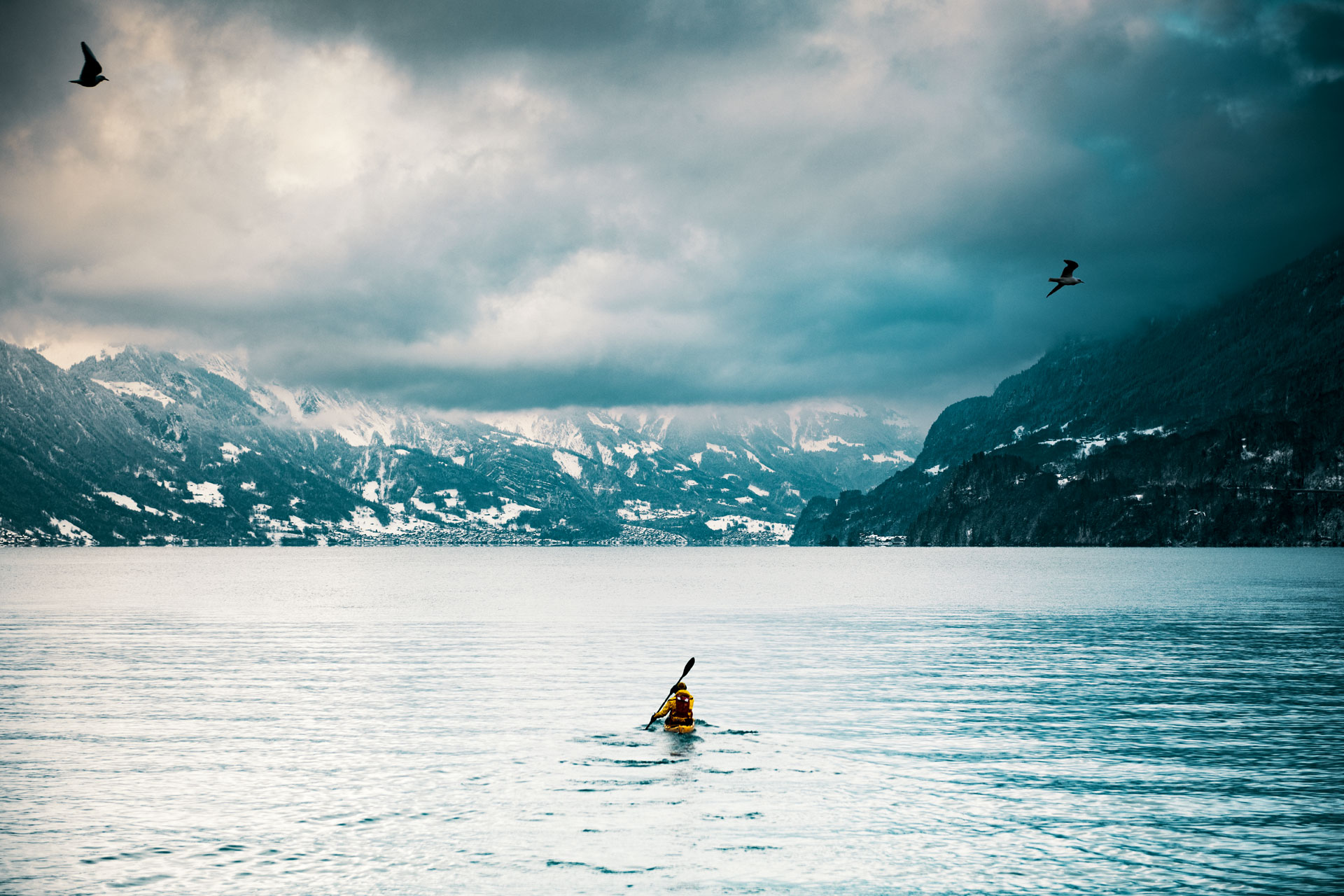 7. Hike in Mürren
Immerse yourself in the snowy Jungfrau Region and experience winter up close and personal. There's nothing quite like hearing the scrunch of fresh snow under-foot while being surrounded by dazzling scenery. Hiking trails abound – start in the idyllic village of Mürren before ascending through the snow-covered forest to Gimmeln, then revel in the mesmerising panorama of the Eiger, Mönch and Jungfrau, as you make your way to the finish at Schilgrat.
8. Sledge in Les Diablerets
Whizz down one of Switzerland's longest sledge run with an exhilarating 30-minute ride between Les Mazots and Les Diablerets. Little ones can get in on the action, too, learning to sledge in the Fun Park, at the bottom of the Le Meilleret ski area. Once the kids are tucked up in bed, grab your headtorch and try your hand at night sledging when, three nights a week, the run is open after dark.
9. Free-ride the Parpan Rothorn
One of the best-known freeride mountains of the region, the Parpan Rothorn is as thrilling as you can get. The couloirs are hardcore (narrow, steep and rocky, covered in deep snow) – but the mountain views are unbeatable. Take a break in the Rothorngipfel panoramic restaurant which serves fine Grison specialties. Push yourself further by going off-piste with a Skisafari between Arosa, Lenzerheide and Tschiertschen.
10. Tackle the Peak Walk by Tissot
Packed with thrills, the awe-inspiring Glacier 3000 leaves you spoilt for choice. The Peak Walk by Tissot – the only walkway in the world linking two peaks – is a great (nail-biting) way to start. Overlooking the glacier of Les Diablerets, hold your breath for over 107 metres, before you reach the summit of Scex Rouge. Savour your victory over the void while taking in phenomenal views of the Matterhorn, Mont Blanc and Jungfrau.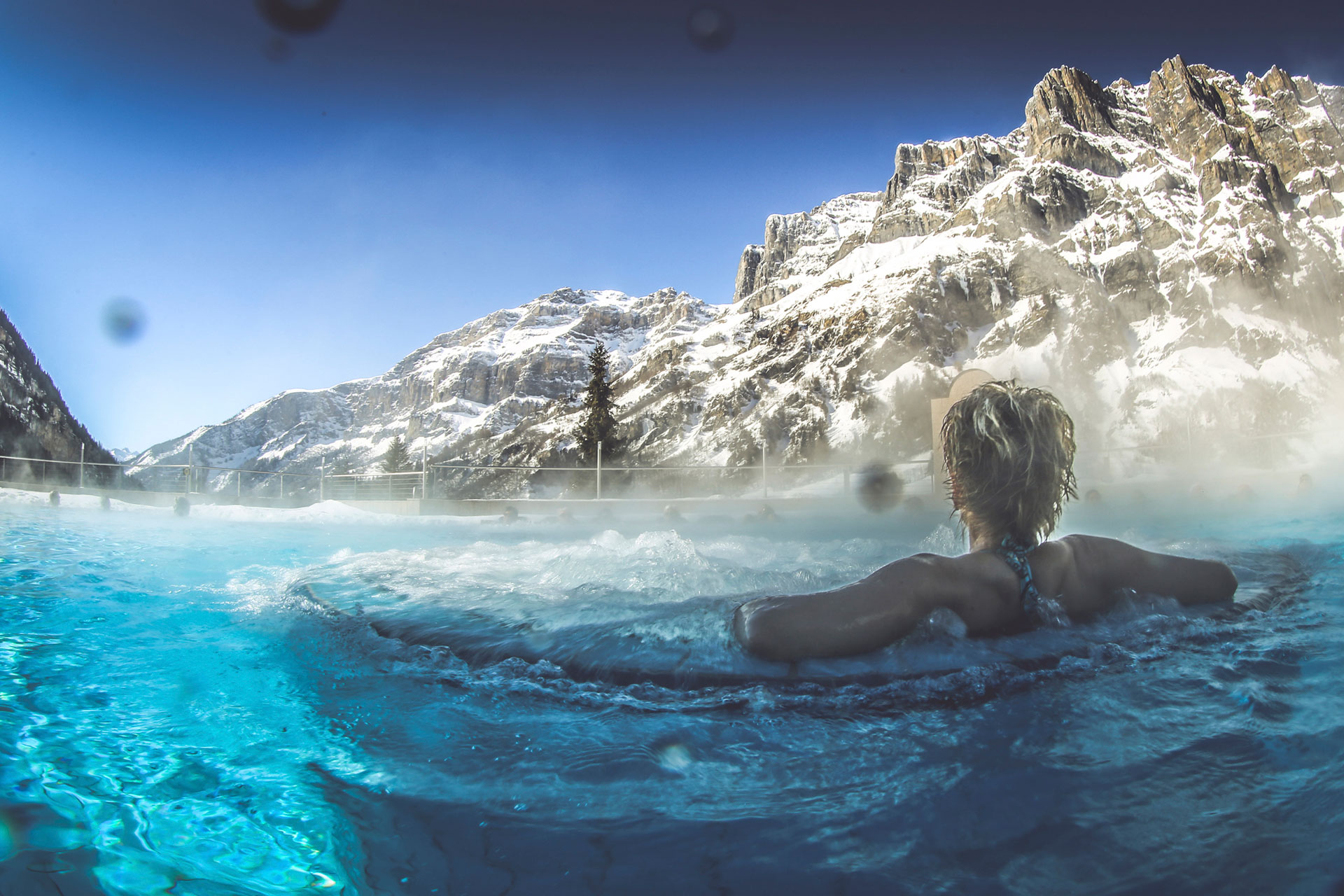 11. Hone your skills
Not only are ski schools fantastic for first-timers, they're also brilliant for improving your technique. Swiss Ski School Villars is a great choice with every lesson you could possibly want, right up to intensive training for pros. Or splash out on the Prestige private course – a tailor-made service, offering everything from organising private teaching sessions for your family to a week of off-piste skiing to simply exploring the mountains.
12. Jump in a thermal spring
Swimming in a frozen landscape is a must-try. Follow in the footsteps of the old mule track from Sunnbüehl above Kandersteg to the Gemmi Pass which, in the Middle Ages, was an important link for trade and travellers between the Bernese Oberland and Valais. With a bit of luck, you might even spot a bearded vulture flying overhead. Or you could try something completely different in the Aletsch Arena area like their new Breathing Consciously hike or a chasing stars workshop.
13. Traverse the highest zipline in the world
Test your bravery, not to mention your vertigo, on the world's highest zipline, Mont 4 Zipline, which is open throughout both summer and winter. Head up to the start at Mont-Fort which stands at 3,300m, jump on and you'll whizz down around 1.4km at an adrenaline-pumping 100km/h. Not for the faint of heart! From CHF45 per person and available depending on the Mont-Fort cable car operating times.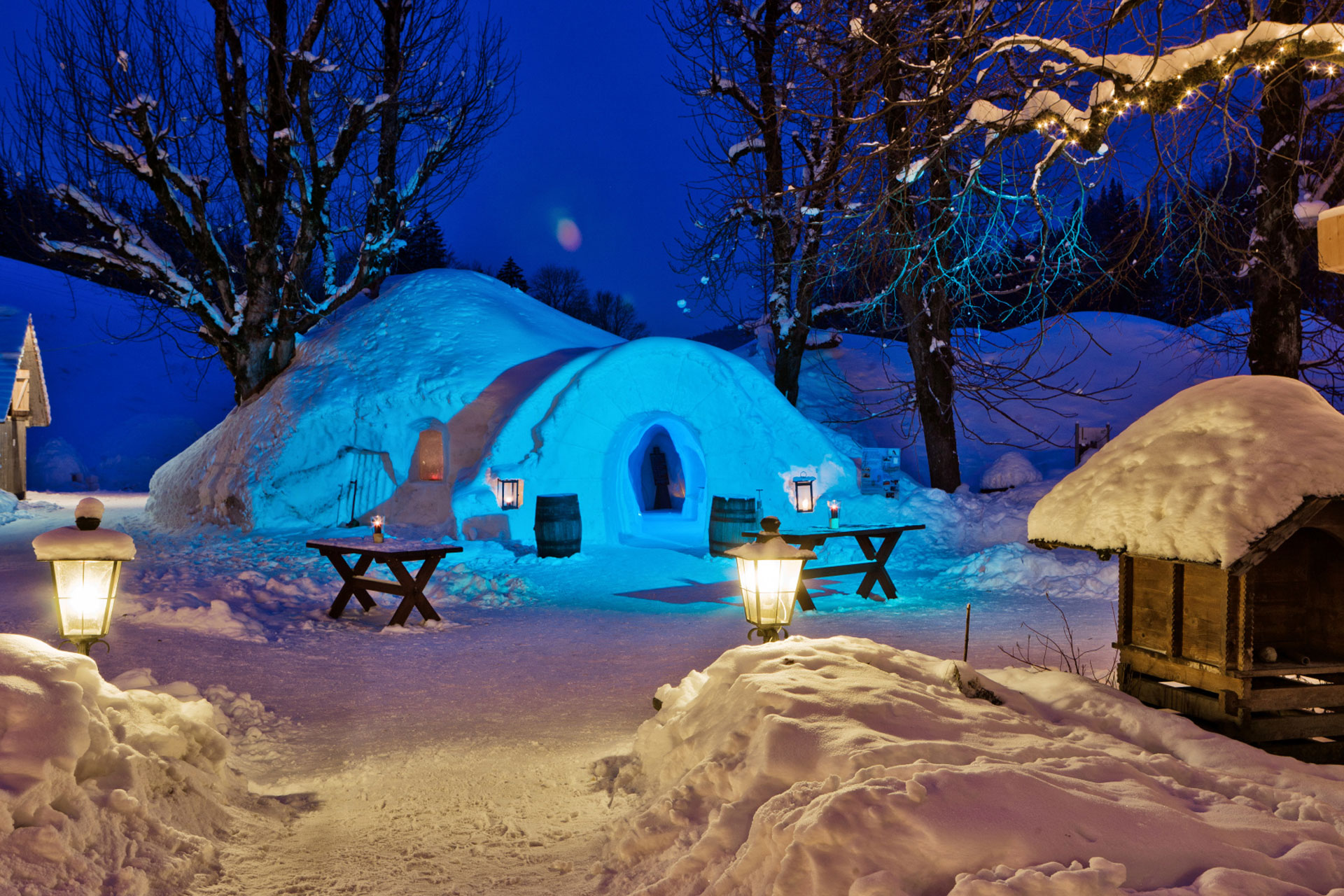 14. Get behind a horse
On the plateau of Frience in Gryon, add an extra shot of adrenaline into your skiing with this thrilling-yet-safe sport. Originated in the Arctic, skijoring is a type of winter sport where a skier is pulled by a horse on a rope – and is perfect for all skiing abilities, right down to a total beginner. And, while extreme skijoring does exist, the speed here is suitably leisurely so you can lap up the spectacular views as you cruise along.
15. Stay overnight in an igloo
For a serious bucket list experience, book a night or two in an igloo at Hotel Kemmeriboden-Bad in the canton of Bern. A romantic weekend, an escape from the daily grind, or simply the chance to bag some bragging rights, it's the stuff of fantasy. Tuck into cheese fondue while your beds are warmed with hot water bottles. Before you crawl under your delicious sheepskins, go for a moonlit snowshoe walk then relax in the sauna.
16. Hurtle down the world's longest toboggan run
The longest tobogganing run in the world, the 15-km-long Big Pintenfritz in the Jungfrau Ski Region will leave you squealing with excitement. At 2,681m above sea level, start at the the summit of the Faulhorn before twisting and turning your way down, via the Bussalp, to Grindelwald. However, be prepared, first you have to hike for 2½ hours to the top of the Faulhorn. A workout but worth it – both for the thrill and the vistas.
17. Go cross country in the canton of Bern
It's hard to beat getting out into nature – particularly when surrounded by snowy mountains. There's no better way to explore than cross-country skiing, taking in forests, valleys and wildlife away from the crowds. From beginners to pros, the region of Bern has over 100km of perfectly-groomed trails to suit every difficulty. Try the Loipe Tiermatti trail, which takes you past mountain streams, weaving through snow-covered woodland and untouched meadows.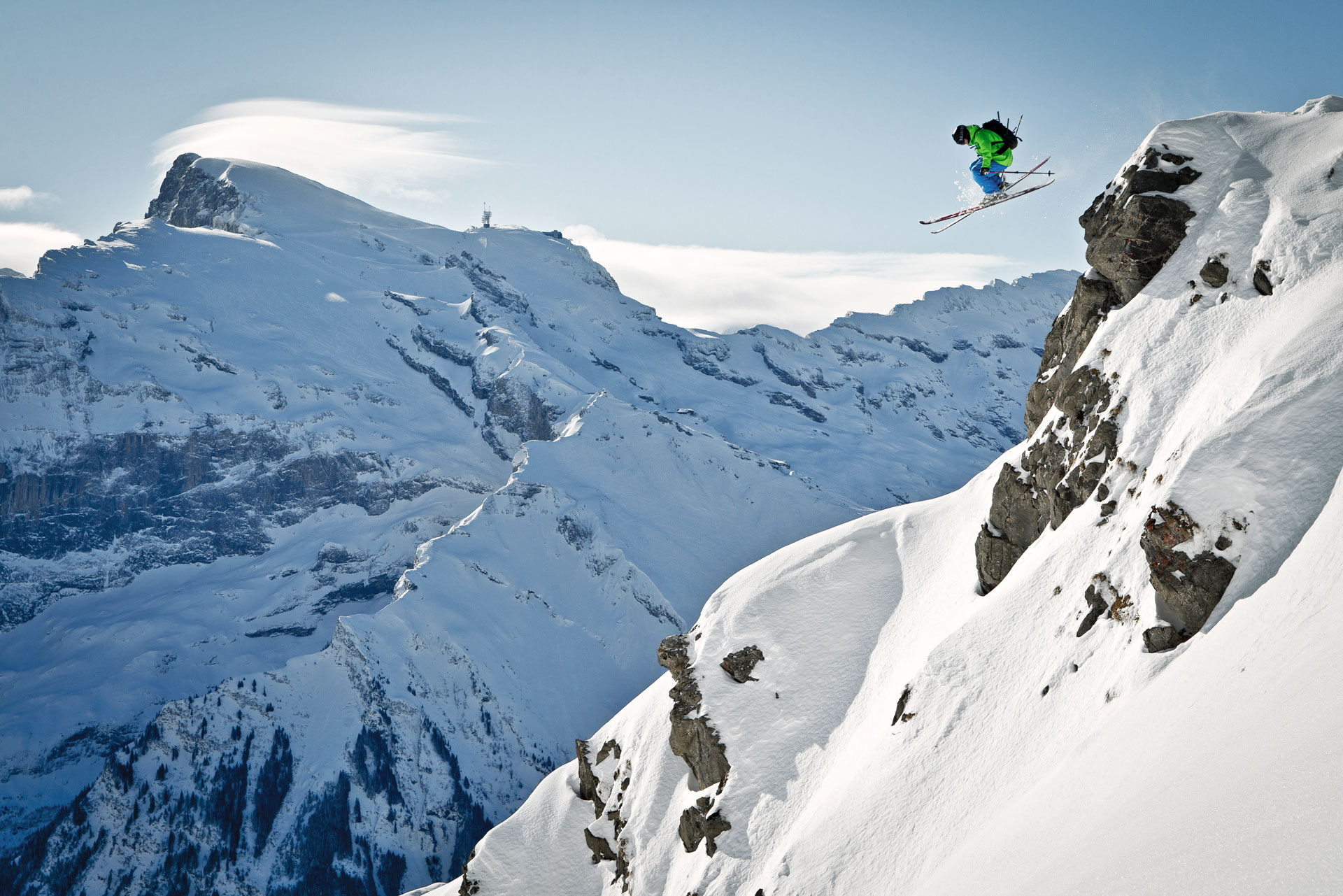 18. Enjoy a once-in-a-lifetime freeride experience
Engelberg-Titlis has an international reputation as a snow-sure and brilliant freeride area. Book a guide for a day and take to the mountains for exhilarating descents with a vertical drop of up to 2,000 metres in one go. If you've still got energy afterwards, head to the snowXpark in Engelberg. The only park of this kind in the world, you'll have bucket loads of fun – think a go-kart truck but in snow plus accompanied by incredible mountain views. Race around on an electric snowmobile on a variety of circuits – with the longest one around 1km. Six snowmobiles are allowed on the track at once which means you can compete against friends to your heart's content.
19. Relax at the Leukerbad Thermal Spa
Waterfall showers, whirlpools and stone grottos await at Europe's largest alpine thermal spa, Leukerbad. With ten pools offering mineral-rich thermal water at varying temperatures, there's something for all ages here – from a children's pool filled with water slides to massages in the spa. Afterwards, grab a bite to eat at the on-site pizzeria, which has its own sun terrace.
20. Cross the Alpine Gorge
For a serious adventure from Saas-Fee, cross the Alpine Gorge to experience a dazzling show of nature. Accompanied by a mountain guide, you'll be swinging between rocks and across bridges, discovering a winter wonderland with frozen waterfalls forming fantastical ice sculptures. For added excitement, go at night (complete with headlamp) before finishing the evening, warming up with a gooey cheese fondue.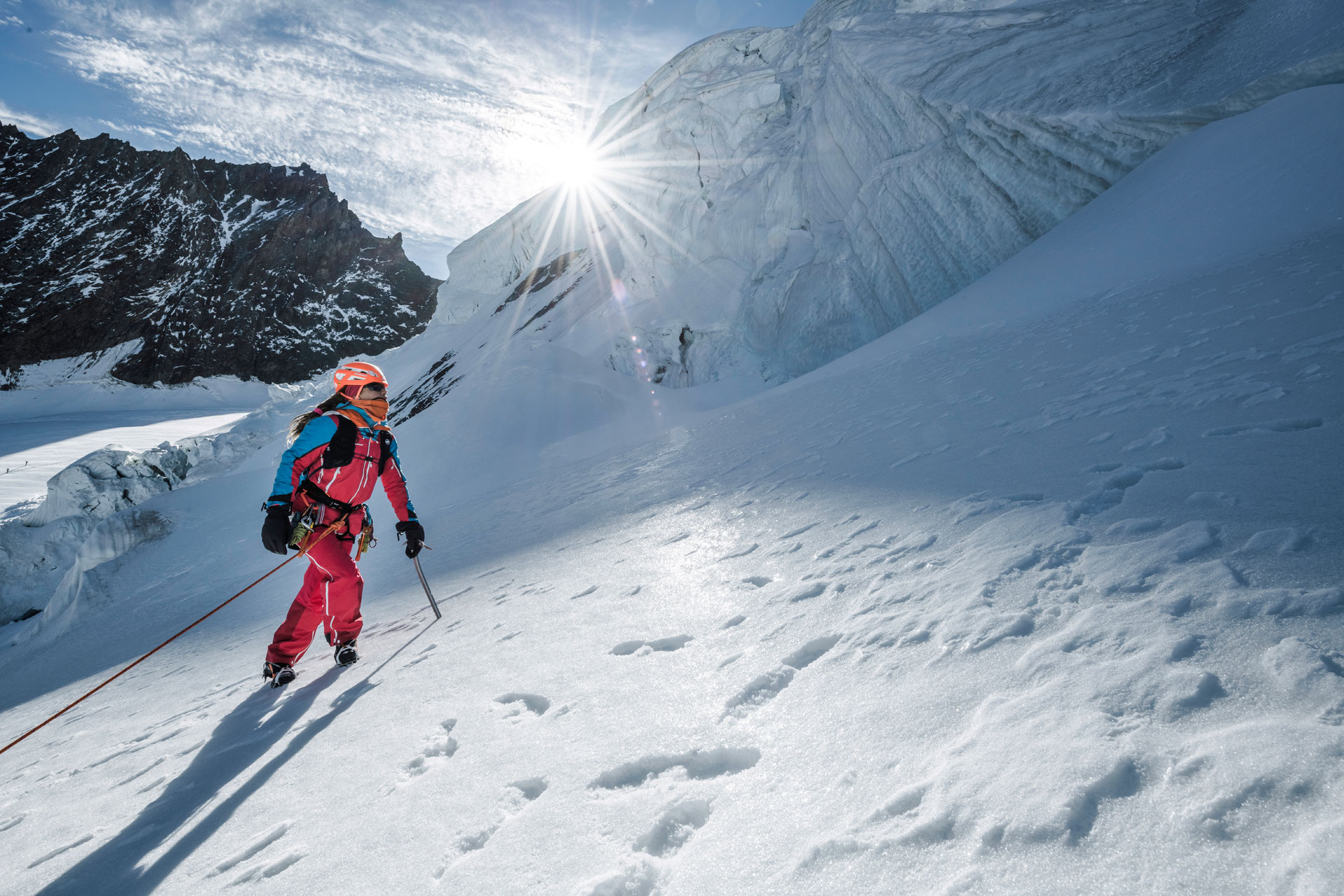 What do you love about the mountains?
For me, it's a big playground, a massive place of adventure. I love to be out there, just being with nature. No constrictions, it's so wild. There are also so many different things to do, from climbing to paragliding to biking.
Tell us about the 100% Women Peak Challenge
The challenge was developed by the Swiss Tourism Board to celebrate the 150th anniversary of Lucy Walker's ascent of the Matterhorn. The objective is that all of the 4,000m peaks in Switzerland are climbed by women-only teams. You can climb the peak with a friend or with a guide. Many people use guides either because it is their first 4,000m peak or they want to challenge themselves by trying a harder peak.
What was it like to be part of the launch of 100% Women Peak Challenge?
The launch involved climbing two 4,000m peaks. We were a bunch of women [including former British Olympic skier Chemmy Alcott]. The first part of the challenge happened in winter so we did some of it on skis. We reached the summit which was great. It was tricky because of the icy conditions then we had this white-out on the way down and couldn't see anything. The clouds and navigation were very hard, too, but it was worth it.
Favourite climbing moment during the 100% Women Peak Challenge launch?
A really nice climbing moment was when we reached the second 4,000m peak – Alphubel because it was quite far and we had to walk for a long time. Some of the girls were tired, too, but we made it to the summit altogether. It was super windy and we weren't sure that we would make it but we did.
What does it mean to you that this challenge is championing women?
Switzerland are pushing women in many different ways. In the field of mountaineering, it is very important and a step forward because it is a male-dominated sport. It is really working because there are so many women wanting to participate in the challenge who need a women crew so it's great to see how this challenge is having an impact on gender balance.
Favourite 4,000m peak in Switzerland?
There are so many stunning 4,000m peaks I couldn't choose one. They are all so different. Some are more ridge climbing, others are icier. They are all great.
Best way to prepare for a 4,000m peak climb?
Do a lot of endurance training: walking uphill with a backpack or, if you don't have a hill, walking up and down the stairs with a backpack. The more endurance you have, the better the chances are that you won't suffer too much from the altitude.
Top tips for first-time climbers?
To know what you are doing. Also, go with a guide because even if it looks easy, there are crevasses everywhere and you have to be aware of that. You have to know where you are going – either the route or the peak you are going to climb and also the current weather conditions because conditions change a lot and very quickly.
Favourite place to climb?
It's a really small place, but there's a granite needle called Petit Clocher du Portalet which is close to my home area. I always love to return there. It's a little paradise.
Future plans?
I am guiding a lot of women for the 100% Women Peak Challenge. I also have a film in the European Outdoor Film Tour so I will be doing a promotional tour around Europe later this year.
The 100% Women Peak Challenge runs until 8th October 2021
For more Swiss bucket list adventures click here. And to book any of these activities, contact the Switzerland Travel Centre, the largest tour operator for holidays to Switzerland. +44 (0)20 7420 4934