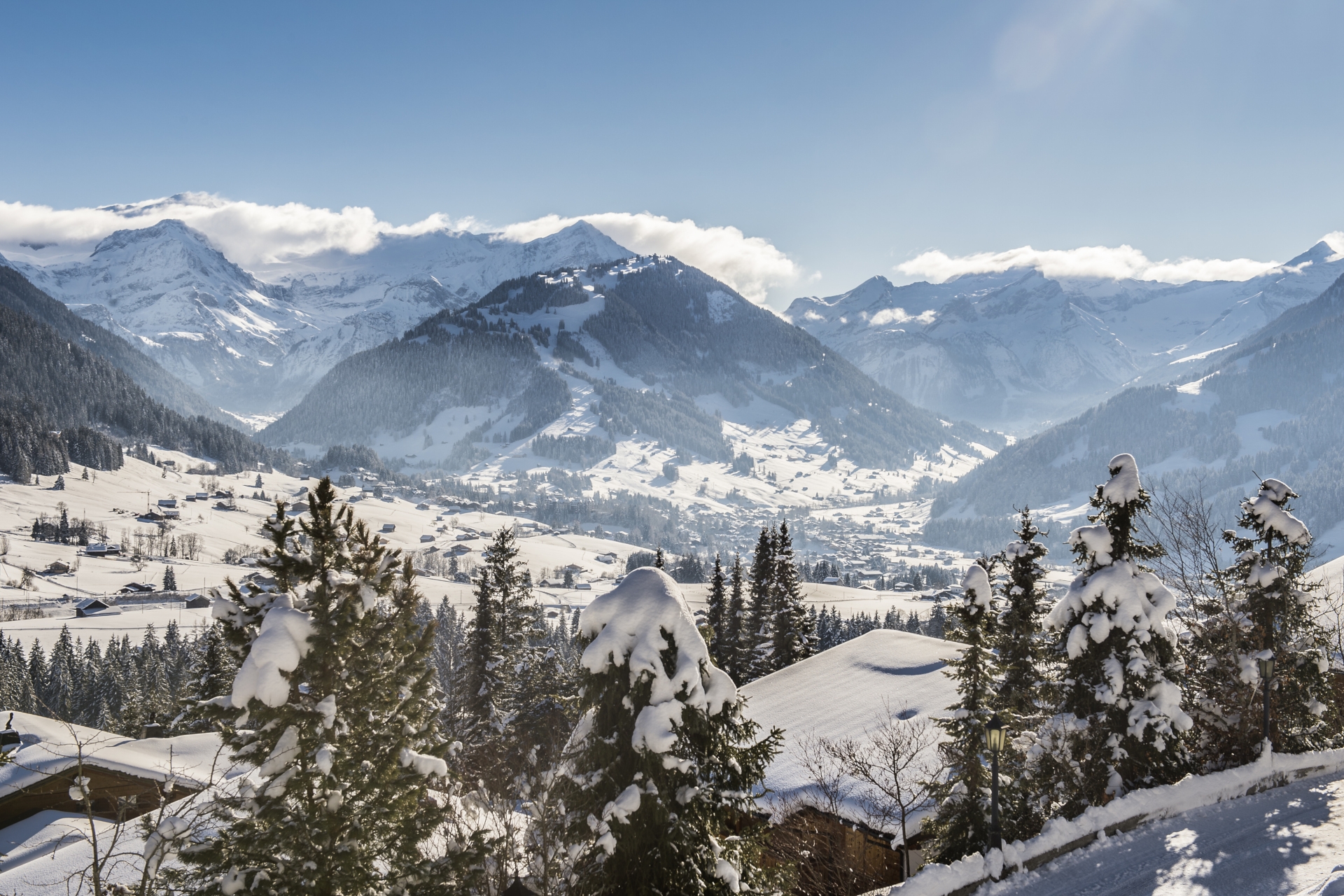 A Sky-high Sensation in the Vaud Alps
THEN
Ever since the start of the 20th century, the interlinked snowy playground of Villars-Gryon-Les Diablerets has been drawing crowds for its spectacular scenery, fantastic skiing and picturesque villages. It began in 1901 when the railway from Bex in the valley reached Villars. Then, in 1913, it was extended by a mountain cog-train to Bretaye – which is still in use today. In 1936, the first ski lift was built at the Combe on the Chaux Ronde. Two years later, Villars was classified as one of Europe's top skiing resorts and, through its ski club, soon saw the blossoming of champions. The award-winning still continues – most recently seen at the 2020 Winter Youth Olympics which took place at Les Diablerets and in Villars.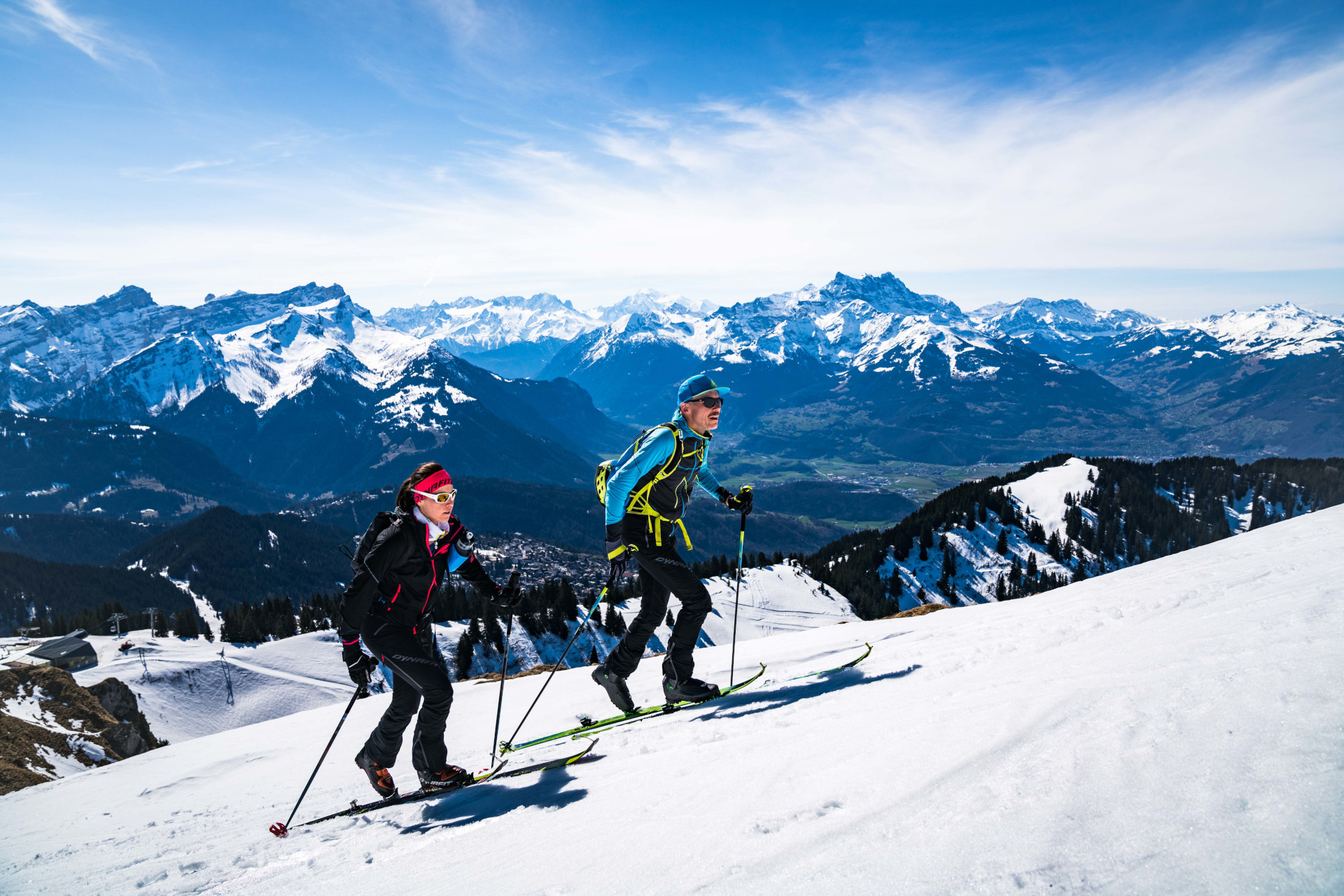 (c) Anthony Leutenegger
NOW
EAT
Whizz up to G3000, the highest point in the region, to enjoy a fabulous peak brunch at Botta Restaurant, on the edge of the Glacier des Diablerets. Roll on lunch – Restaurant du Lac, on the Bretaye runs, which has been feeding skiers since 1870, serves the best burger. Back in the resort, Villars-sur Ollon's L'Alchimiste's beef tartare is the stuff of legend.
SLEEP
The ski-in, ski-out Chalet RoyAlp Hôtel & Spa in Villars-sur-Ollon is the big hitter, contemporary, massive and great for families. The hotel's Michelin-starred Le Jardin des Alpes is excellent, too. For something smaller, feel at home at the charmingly refurnished Les Mazots du Clos, bang in the centre of Villars, with a tranquil spa.
DO
Pros should hotfoot it to LeysinPark which is bucket loads of fun with rails, kicks, gaps, step-ups, step-downs and hips to get stuck into. Beginners haven't been forgotten though with a special area of jumps, boxes and rails at an easier level. Then there's Villars (with its own cog railway), charming Gryon and adventure-packed Les Diablerets. Don't forget the cities of Lausanne and Montreux, both on Lake Geneva, too – which both have fabulous Christmas markets.
LIVE LIKE A LOCAL
Try the lantern trail of Les Pléiades – a magical experience for all the family.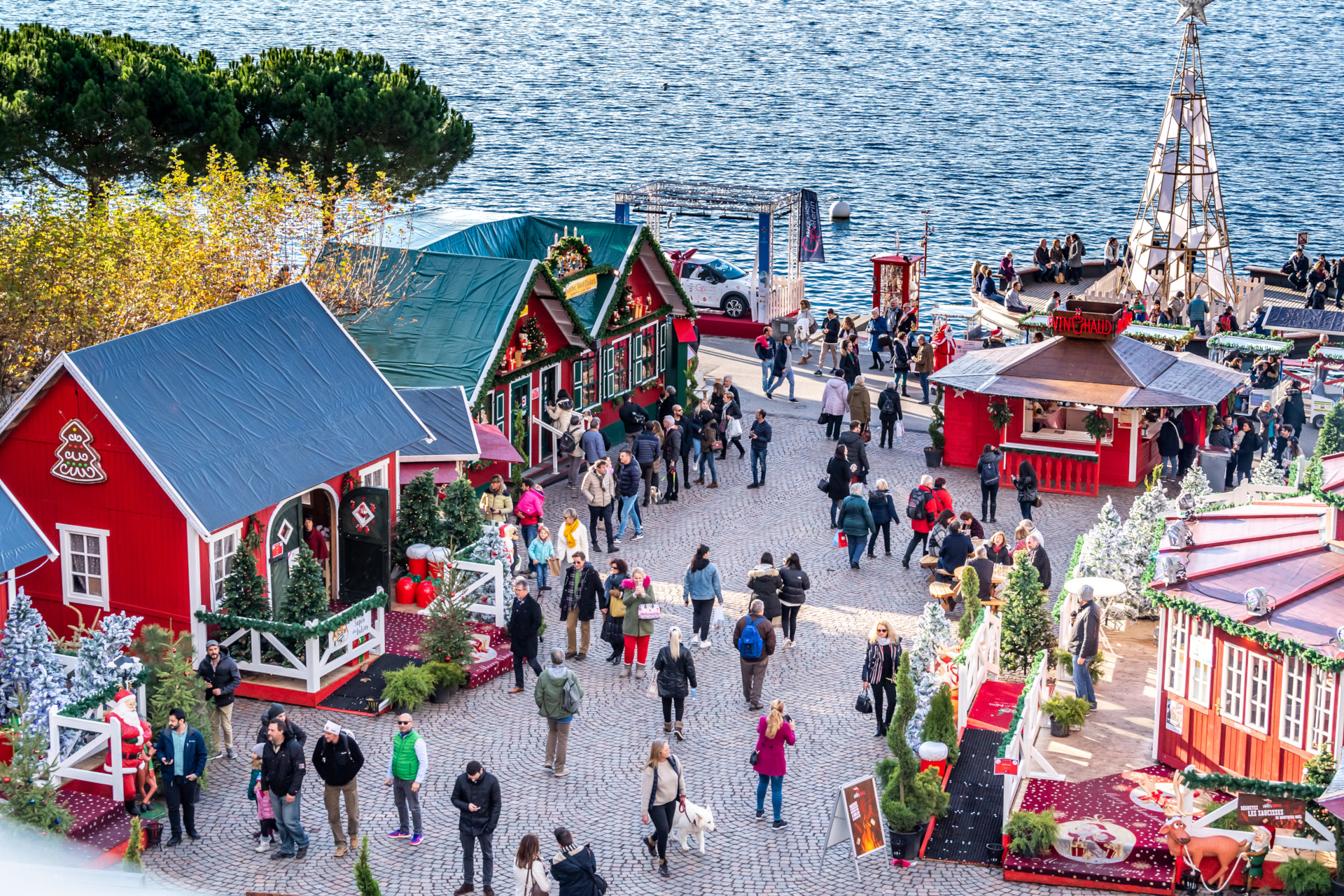 Valais
A Feast of Fun
THEN
The canton of Valais has many strings to its bow – including the invention of Raclette (thought to be more than 400 years old). It is also where the second Alpine railway line was opened under the Simplon Pass in 1906, connecting Brig in the canton of Valais with Domodossola in Piemont (Italy). One of the most stunning parts is the Dents du Midi mountain chain, which has inspired many painters and writers, such as Victor Hugo, who liked to stay in Champéry. In 1963, the Région Dents du Midi hosted the first-ever mountain foot race – today regarded as one of the finest walking trails in the Alps.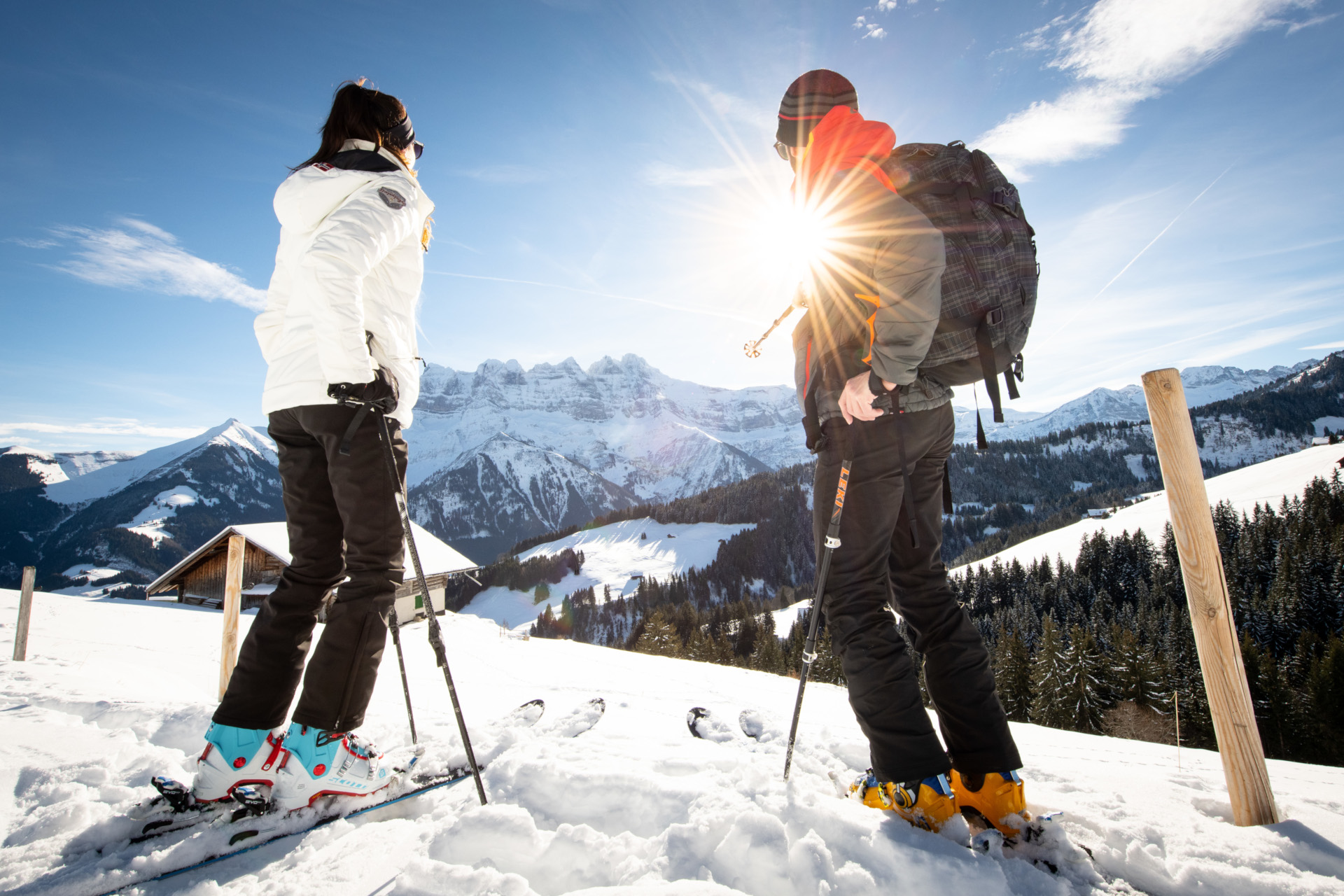 Ski Rando Park Morgins
NOW
EAT
With a food scene as brilliant as its slopes, you won't go hungry in Valais. Raclette is said to be invented here – try it at former cowshed Chüestall half way up  to the viewpoint near Riederalp's Blue Lake. For further traditional bites, keep a look out for Saveurs du Valais restaurants which focus on the region's specialities including excellent wines – Nendaz's Restaurant du Sapin Blanc is a great spot, known for its 'Assiette valaisanne' (Valais platter), a delicious selection of Valais meat specialities, Raclette du Valais cheese and rye bread.
SLEEP
Vintage wins through with Hotel National Resort & Spa, Champéry, a charming boutique hotel, established in 1896, with its own spa. For proper ski-in, ski-out, plump for spacious Hotel L'Etable in Les Crosets, with 17 elegant Alpine-style rooms. Or book a suite in Les Sources des Alpes in Leukerbad and relax in the hotel's own thermal springs.
DO
Région Dents du Midi and Portes du Soleil are the big draw here for ski enthusiasts. One of the world's largest ski resorts, gear up for 194 ski lifts, 90 mountain restaurants and more than 600 km ski slopes between Switzerland and France. Families should make their way to Aletsch Arena or delightful Nendaz, which both enjoy the 'Families Welcome' quality seal. Don't forget to visit the region's brand new online shop either for booking accommodation, activities, transport and even clothes.
LIVE LIKE A LOCAL
Put your skates on and enjoy the natural ice rink in Bettmeralp in Aletsch Arena. Or feast on Raclette, then take a torchlight descent on skis (or with the gondola) to enjoy fantastic views over the whole of Bettmeralp, including the historic town of Brig.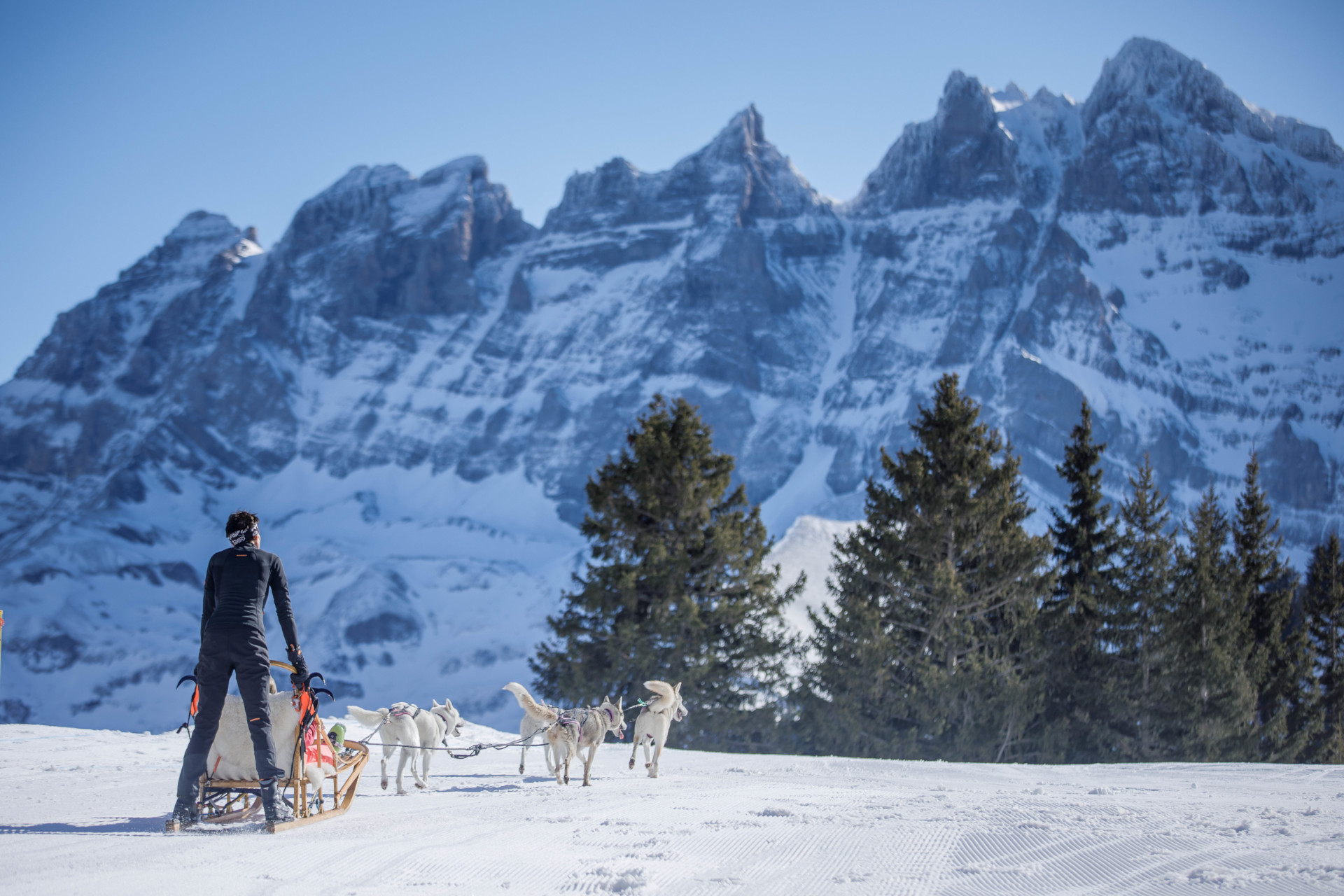 Bernese Oberland
A Natural Nirvana
THEN
Bernese Oberland first hit the headlines when British mountaineers conquered the peaks of Jungfrau in 1811 and Finsteraarhorn in 1812. Inspired by such feats, tourists soon began flocking to these magnificent mountains. In the late 19th century, new transportation links opened up the area further, topped off by the Bern-Lötschberg-Simplon railway in 1913. The development continued with cable cars and chair lifts being built in many of the high Alpine villages. Fast forward to 2020 and the Bernese Oberland has become a must-visit winter destination, with fantastic resorts including Mürren, Grindelwald, Wengen and Interlaken.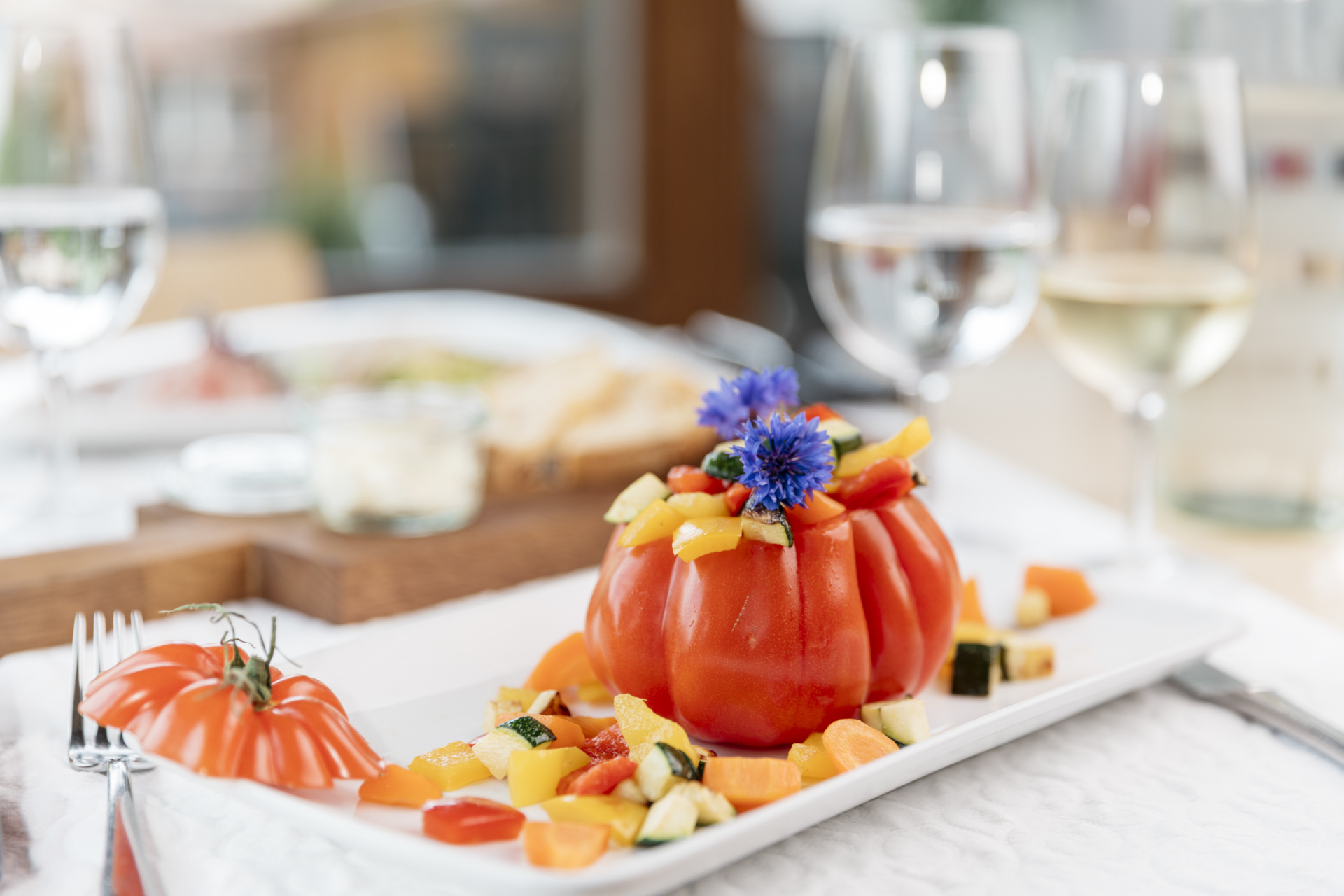 NOW
EAT
Swing by the Hotel Alpenhof in Grindelwald for the best fondue you've ever had. Or cosy Restaurant Bären in Unterseen (whose first mention appeared in 1654) for excellent home-cooking Swiss style. There's also Hotel Salzano, with produce from the moorlands of Lombachalp.
SLEEP
There are some smashing grande dames: Victoria Jungfrau Grand Hotel and Spa, a 19th-century Belle Époque, five-star beauty in Interlaken or check in to Blumental Hotel, set in beautiful gardens. Hotel Spinne in Grindelwald hits all the right notes, too, with its Alpine chic design and lovely spa.
DO
For unbelievable scenery, head to Interlaken. The skiing is wonderful – but so is turquoise Lake Brienz, clear-as-glass and flanked by majestic peaks. Neighbouring Jungfrau Region is peak perfect, too, and the backdrop of the Eiger, Mönch and Jungfrau is a skier's haven – or lap up the landscape on a magical winter hike.
LIVE LIKE A LOCAL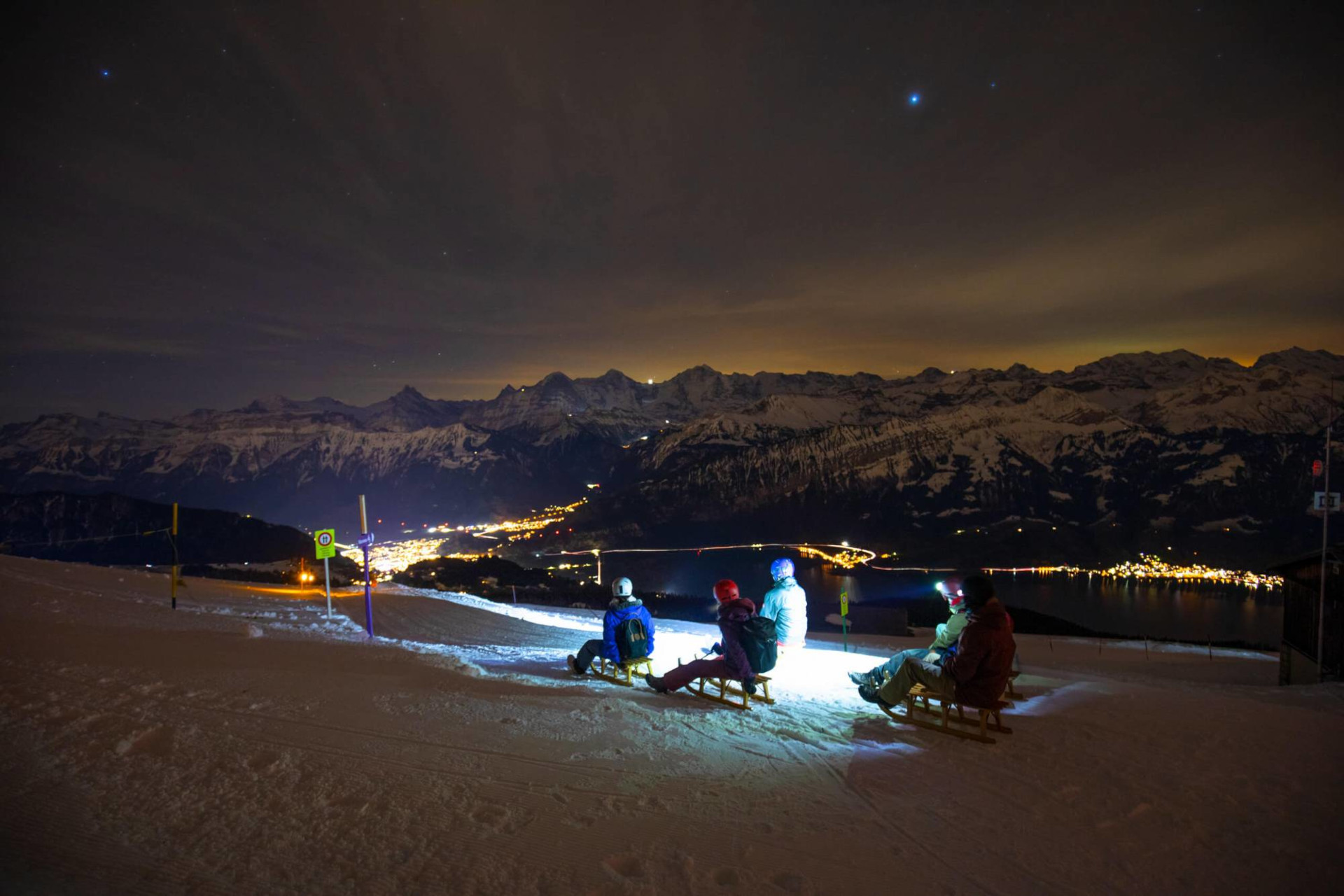 Arosa Lenzerheide
A Paradise of Pistes
THEN
Arosa Lenzerheide was created in 2014 when Lenzerheide was connected to nearby Arosa by a new gondola. However, its history of winter sports goes right back to the 19th century. It was the opening of the road from Langwies to Arosa in 1890 which catapulted Arosa – almost overnight – into a tourist destination. Entire families started to arrive to try this new pastime – skiing. The resort had its first three ski lifts in place before the Second World War. The health spas were swiftly transformed into hotels. Since then, the area hasn't looked back – and the 2014 development cemented Arosa Lenzerheide as a top family-friendly ski resort.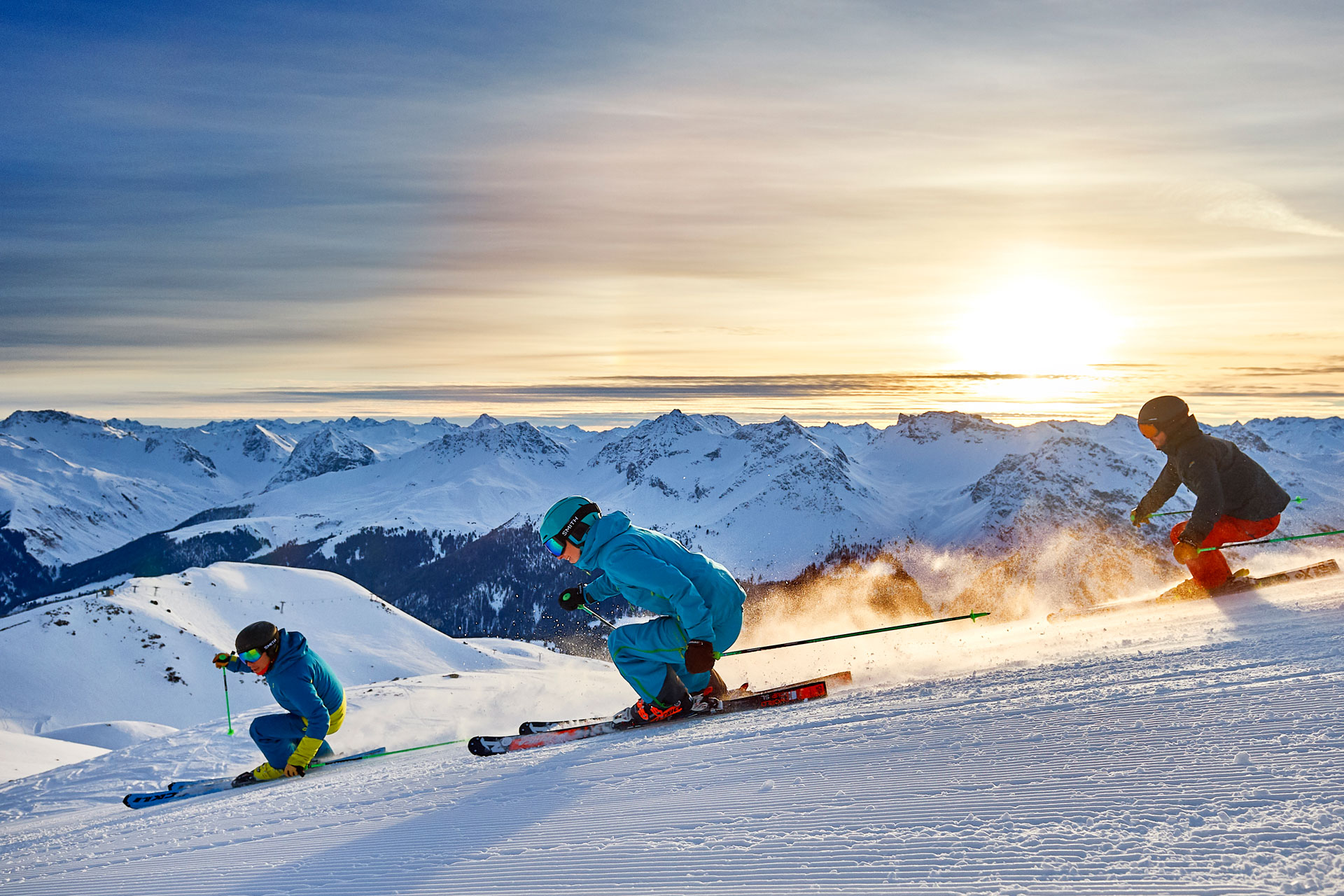 NOW
EAT
Start with some old-fashioned Swiss charm at the Hörnlihütte Arosa, built by the local ski club in the 1920s, which serves delicious regional mountain dishes. Counter that with a touch of super-cool Alpine design at Lenzerheide's recently renovated Motta Hütte – order the rosti and wurst while taking in some of the best views in Switzerland.
SLEEP
Tschuggen Grand Hotel is the big hitter thanks to its vast spa, private monorail linking directly to the ski area and Michelin-starred restaurant. Or there's the fun and fabulously designed Valsana Hotels and Appartements with its serious eco credentials. Hotel Guarda Val is also spot-on with its 11 carefully restored, 300-year-old mountain huts.
DO
With a fully-linked domain of 42 lifts and 225 km of piste plus record-breaking sunny days, Arosa Lenzerheide is the perfect package for skiers. Then there's the great hiking trails, abundance of cross-country skiing, more than 40 mountain restaurants and host of events running throughout the winter. There's also a dizzying array of activities for families, from snow gardens to dedicated family pistes and free kids ski areas.
LIVE LIKE A LOCAL
Book the Early Bird mountain adventure and get first dibs on the previous virgin snow at sunrise.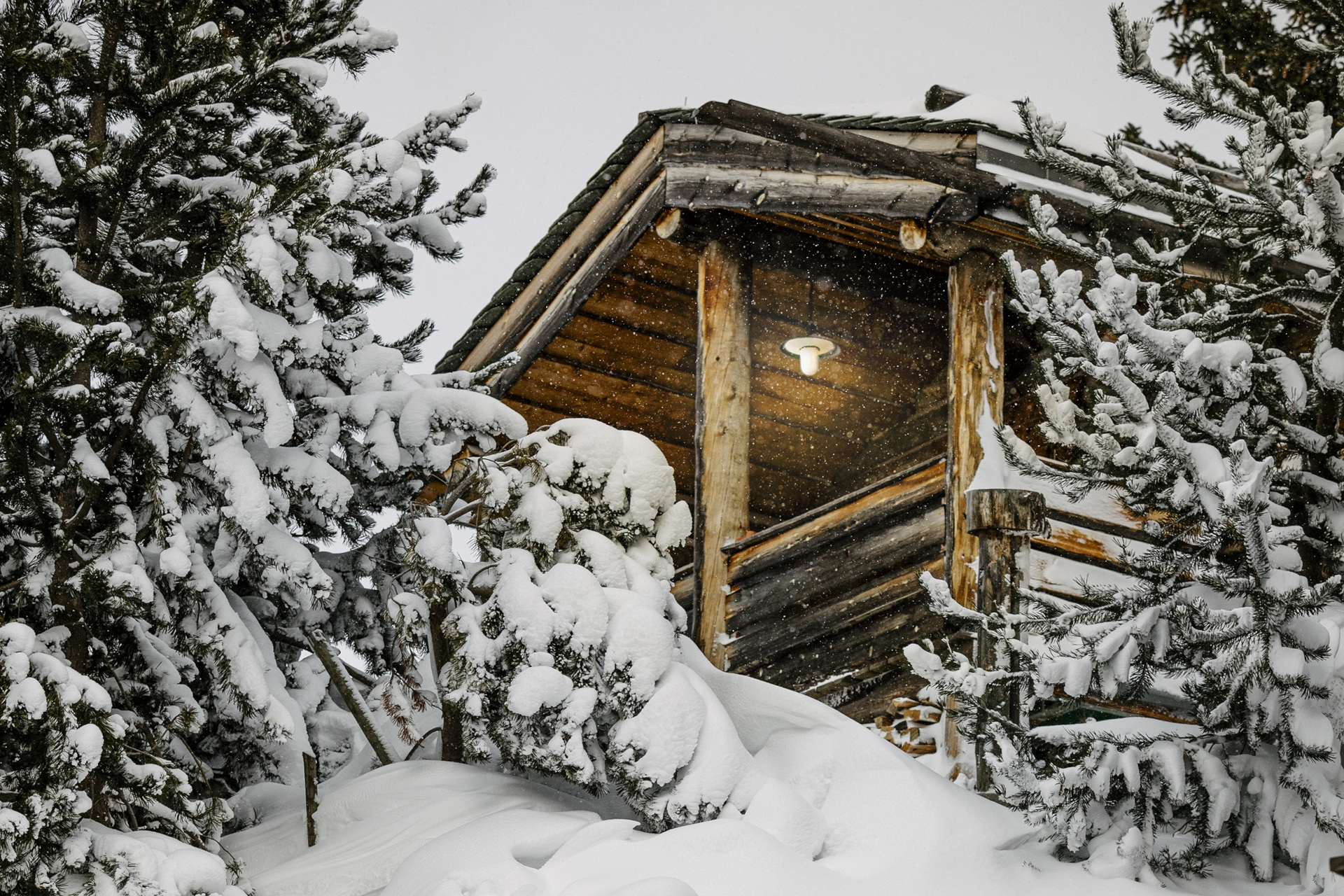 Gstaad
An Enchanting Eden
THEN
Travellers spoke of Gstaad's beauty as far back as the 18th century. However, it wasn't until the construction of the Montreux-Oberland Bernois railroad in 1905 and the opening of the Ski Club in 1907 that Alpine tourism here seriously kicked off. The spectacular Gstaad Palace (pictured), the town's first luxury hotel, opened in 1913. Ice-skating rinks, swimming pools, skiing and hiking areas followed. By the 1960s, Gstaad had become a hub for the glitterati, including Grace Kelly, Jackie Kennedy, Brigitte Bardot and Louis Armstrong. The glitz and glamour of this chocolate-box Alpine village remain today – alongside the superb ski slopes.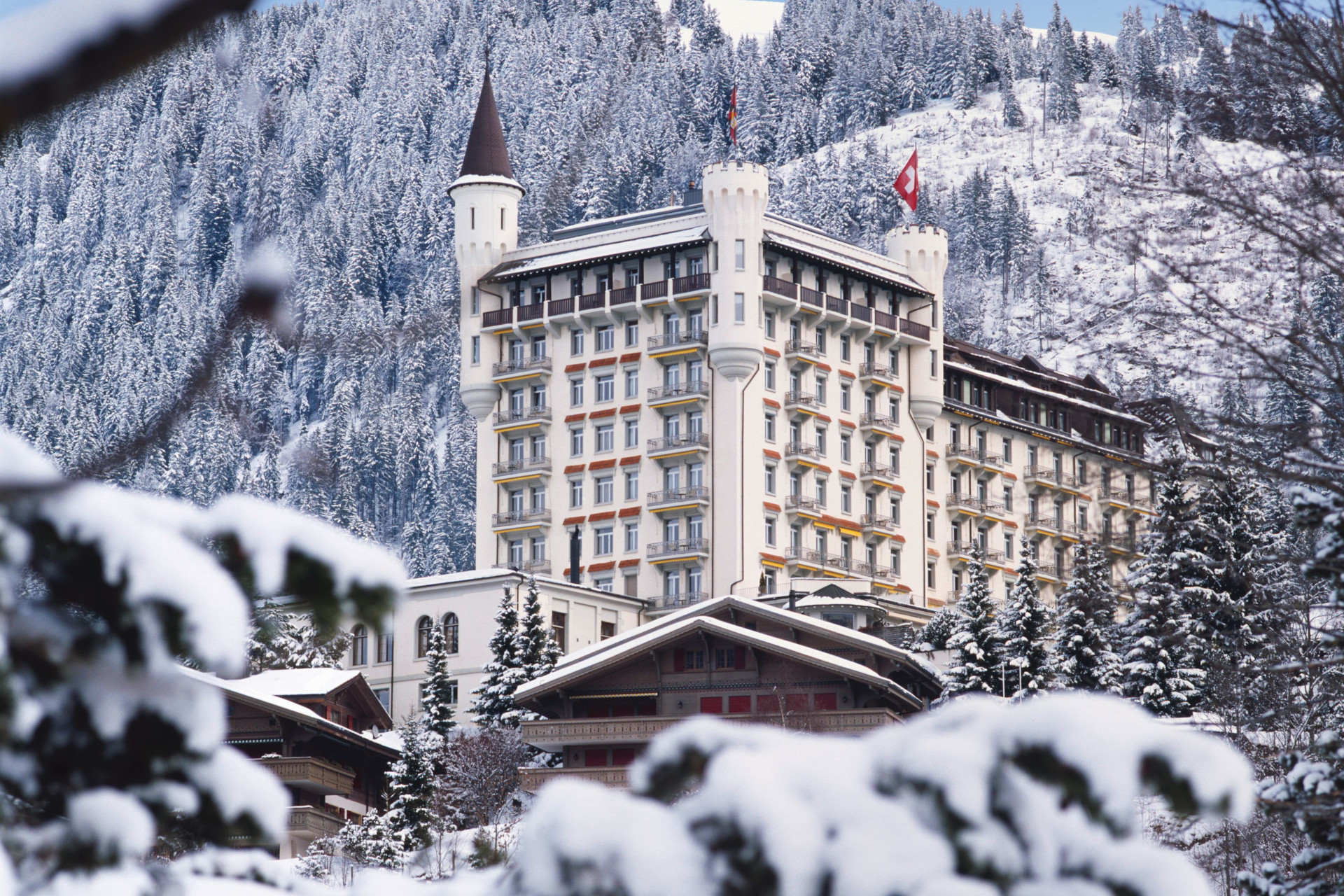 NOW
EAT
La Bagatelle ticks all the boxes with its divine French food or tuck into a hearty wood-fired pizza at Rialto.
SLEEP
Treat yourself to the achingly glamorous Gstaad Palace, a fairytale castle towering above the resort. The glittering Alpina Gstaad is top dollar, too, with incredible modern art, countless Michelin stars and a Six Senses spa. Then there's Le Grand Bellevue – equally fabulous, not only for its stylish interiors but sprawling subterranean spa and phenomenal fondue at Le Petit Chalet.
DO
'Come up, slow down' is Gstaad's tagline. And this postcard-perfect resort does indeed allow you to do just that. The joys of the mountain are endless: stunning slopes, breathtaking views and incredible hotels. The skiing areas are brilliantly diverse, from the glacier slopes of Glacier 3000 to the ski arenas – for plenty of space, head to the Rinderberg, Lengebrand and Saanerslochgrat.
LIVE LIKE A LOCAL
Book a table at the new mountaintop restaurant on the Eggli and enjoy the beautiful view on the large terrace.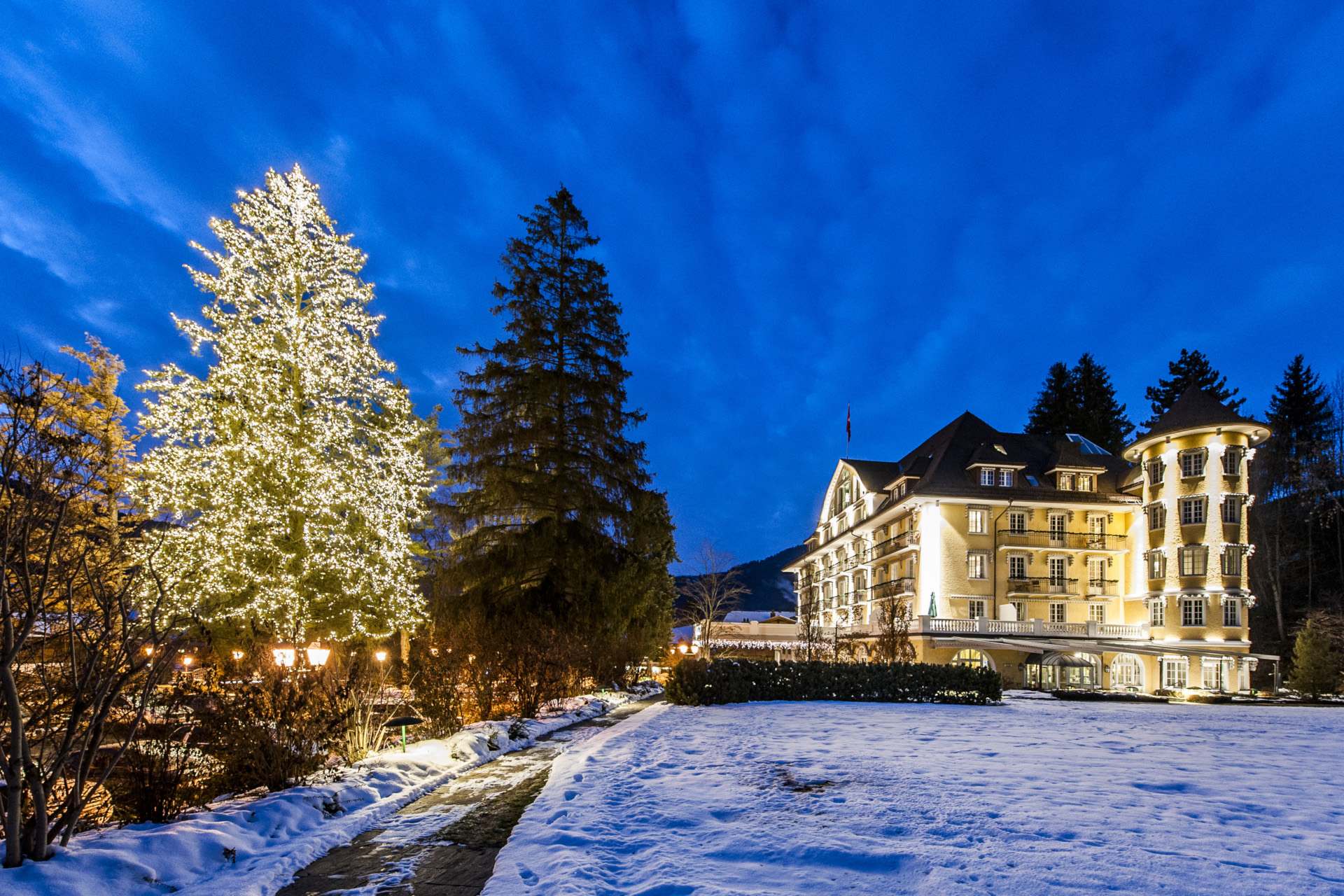 Lake Lucerne Region
An action-packed all-rounder
THEN
It was the dramatic watercolours of J.M.W Turner, followed by a visit from Queen Victoria in 1868, which put the spotlight on the Lake Lucerne Region. The monarch spent six weeks in Lucerne, 'the Gateway to the Alps', in between travelling across the country. Her visit significantly boosted tourism. One place to benefit was Engelberg which became popular as a health resort with its clean air and mild climate. Hiking and other mountain activities soon kicked off in the region and Engelberg held its first winter season in 1903–1904. The next century saw immense development – with Engelberg and the other resorts around Lake Lucerne becoming a snow lover's dream.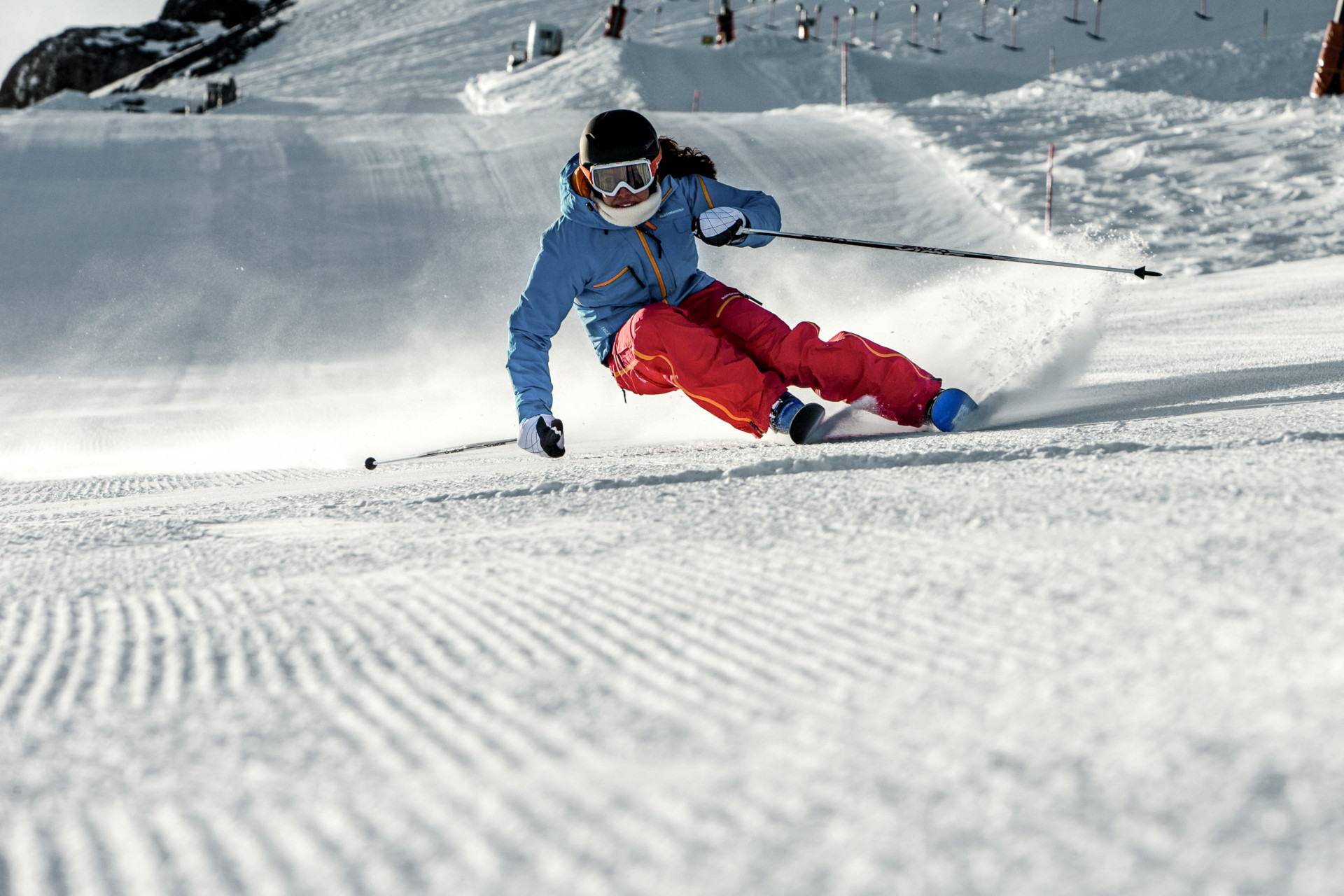 NOW
EAT
There is something for every taste here – starting in Engelberg with Brasserie Konrad's farm to table Swiss-Nordic cuisine, made using local produce. Tucking into a cheese fondue is also a must – try the Fondue Stube at the traditional Engelberg Alpenclub. Or splash out in The Chedi Andermatt's Michelin-starred Japanese restaurant.
SLEEP
Bed down in the spanking new Kempinski Palace Engelberg, a beautiful Belle Epoque-era property which has been brought cleverly up to date. Or there's the traditional Hotel Bellevue-Terminus whose colourful design packs a punch. For something modern and swish, head to the Radisson Blu in Andermatt – which knocks out a particularly delicious breakfast.
DO
Snow-sure Engelberg – said to be the most beautiful ski area in Central Switzerland – is a must-visit, offering tantalising Alpine adventures. With over 2,000 metres of altitude difference from the glacier to the village, the descent is one of the longest in the world. Andermatt is brilliantly diverse – with fantastic skiing plus loads of other winter sports, from hiking to fat-biking. In winter, the roads over the Furka, Gotthard, and Oberalp Passes are closed to vehicle traffic. This affords you a wonderful opportunity to discover these regions while Snowshoeing.
LIVE LIKE A LOCAL
Go skiing on the new slopes in the Andermatt-Sedrun-Disentis ski resort and meet its famous advisory Bernhard Russi, who still lives and skiis in Andermatt today.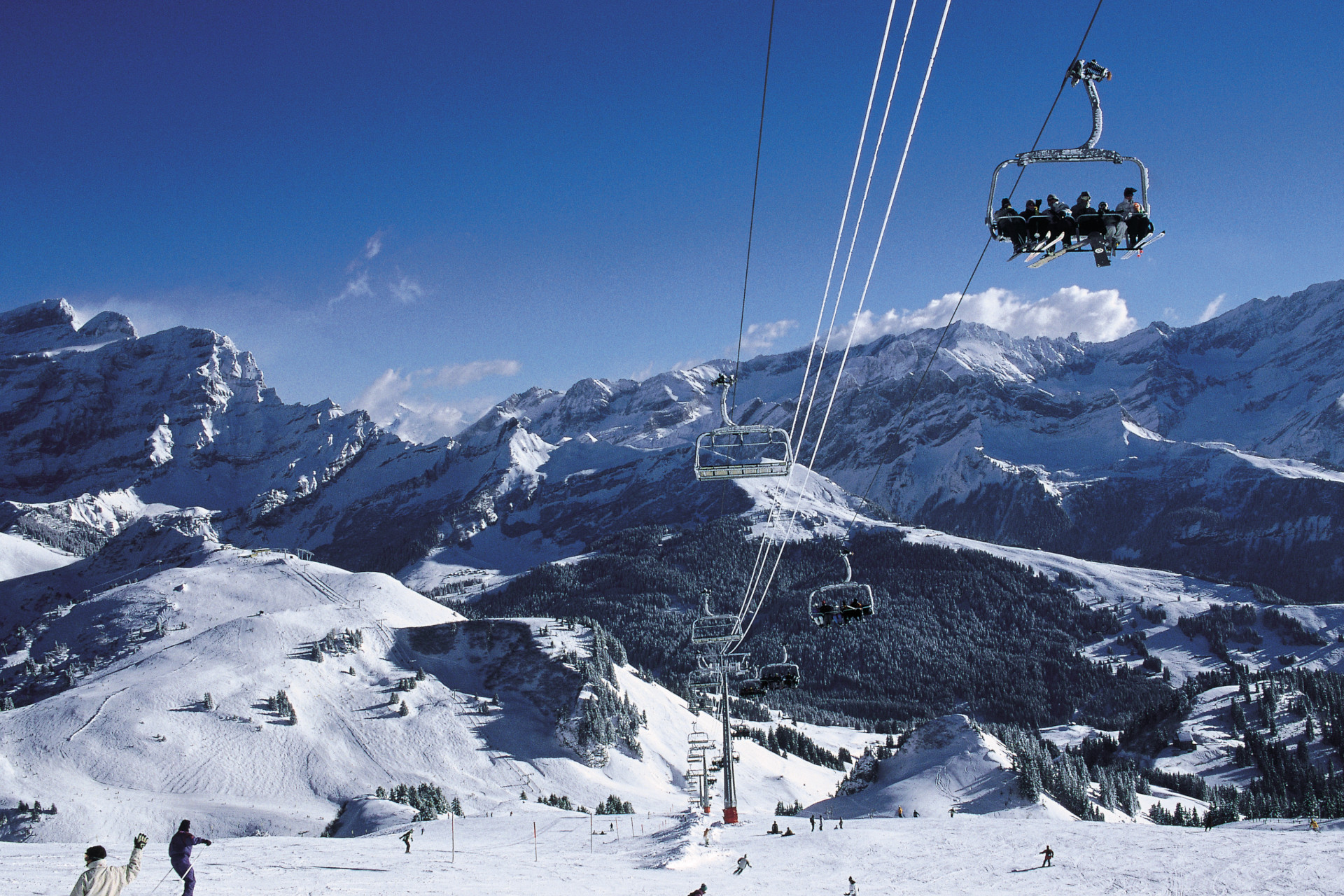 1. Travel by public transport. Switzerland has one of the most sustainable public transport systems in the world – 90 percent of railroads already run on hydroelectric power. Book tickets through the Swiss Travel System which also offers incredible train journeys across the Alps such as the Glacier Express where you can gaze at the spectacular landscape.
2. Stay in a sustainable hotel. In keeping with Switzerland's position as a global leader in sustainability, many of the places to stay here are super climate-friendly. Check out the hotel website to read their ethos or go online to MySwitzerland to find a property which has a Green Living stamp of approval.
3. Fly less and stay longer. Not only will an extended trip leave you more relaxed, you will also be helping the local economy and environment by lessening your carbon footprint. Should you wish to venture further, hop aboard a train, bus or boat instead. And why not travel to Switzerland by train from the UK, too?
4. Consume regional products. Switzerland is packed full of world-class restaurants, serving every cuisine possible – and there is lots of delicious local produce to savour from Swiss cheese to sweet chestnuts.
5. Support Switzerland's nine car-free mountain resorts – including the charming resort of Saas-Fee, which has won the title of 'Energy Town' thanks to being entirely powered – village, ski lifts and all – by renewable hydroelectric energy.