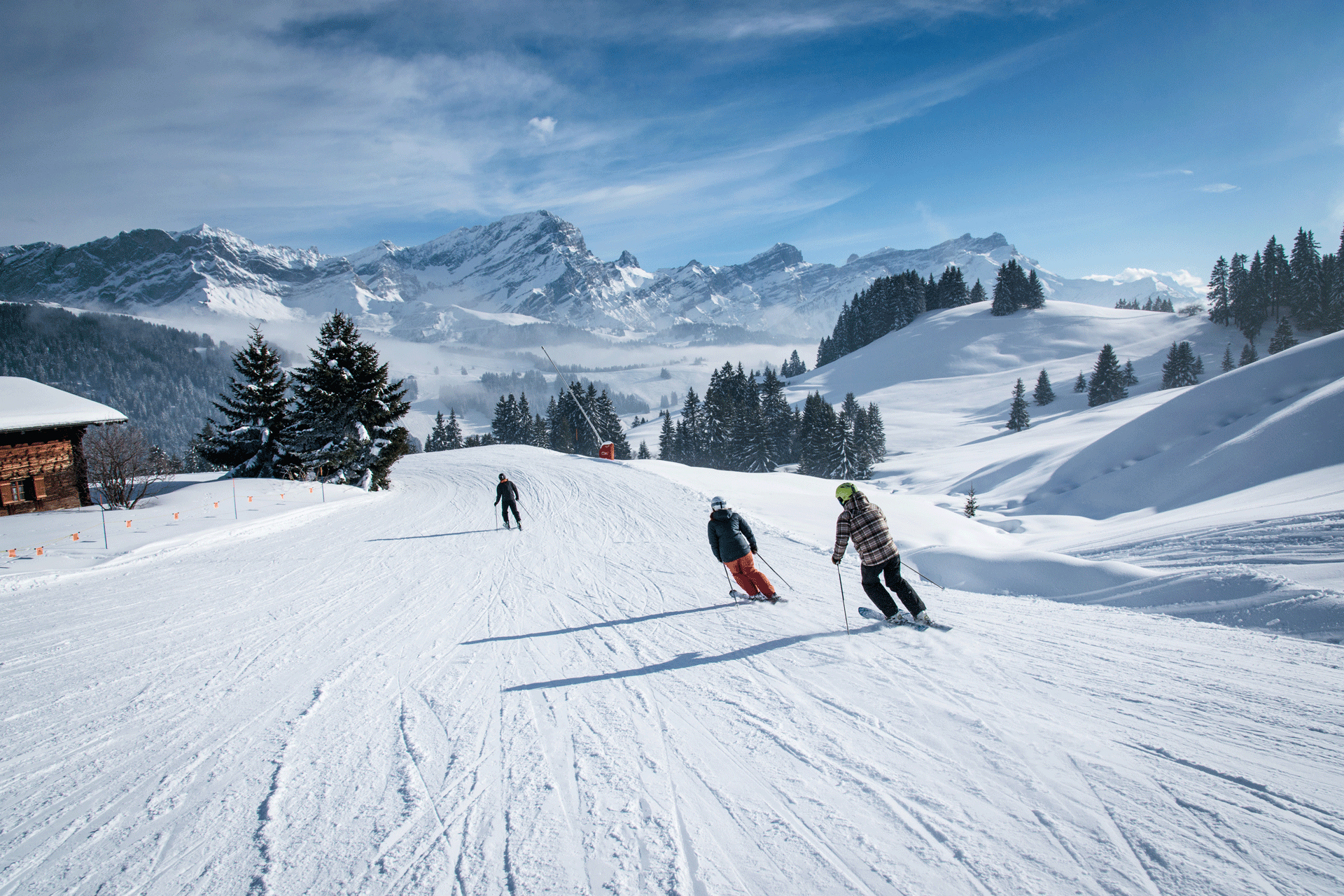 The ultimate winter destination, the Vaud Alps/Lake Geneva Region is a breathtaking scene of snow-covered panoramas, unspoilt stretches of land and icy peaks. A two-hour drive from Geneva airport – or a picturesque chug
on the mountain railway – the region is Switzerland distilled and packs a serious punch with all that it
has to offer. At its heart shimmers a trio of resorts: Villars/Gryon and Les Diablerets, interlinked to create an outstanding snowy playground. The crowning glory is the sparkling Glacier 3000 – the highest point in the canton of Vaud – and a place of pursuits where you're spoilt for choice.
From first-timers to seasoned skiiers, the Vaud Alps hits all the right notes with slopes to suit every ability. With some of the most varied terrain, both
a good mix of cruisy blues and reds can be found here coupled with Olympic black runs. Experts should check out Combe d'Audon, one of the toughest black runs in the region, with a dramatic cliff face rising up on the right. There's also the Red Run, over eight kilometres long, with an incredible descent of more than 1,700 metres.
It's a powder-hunter's dream too, with some brilliant off-pistes.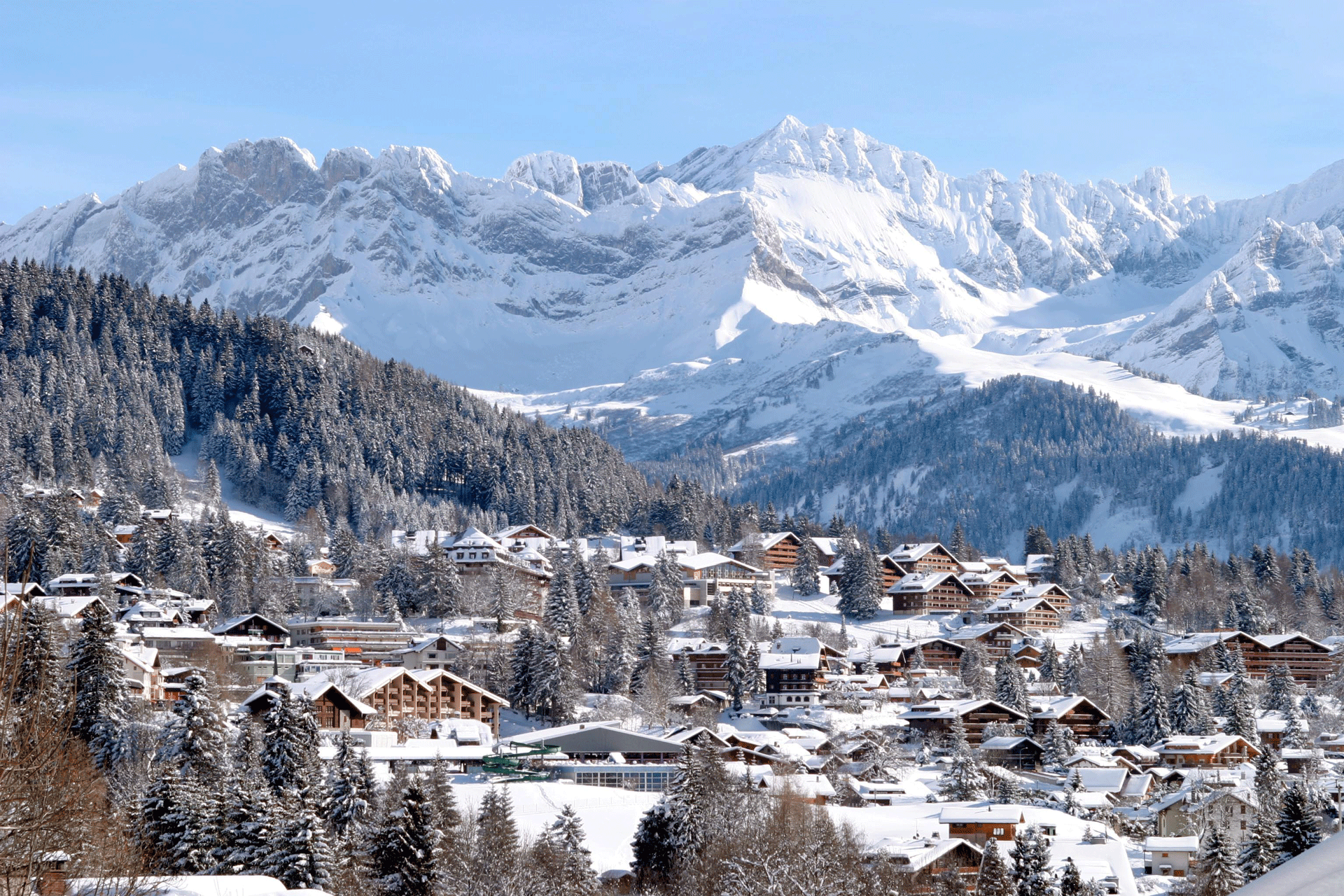 The well-rounded resort of Villars is a pleasure to wander around with a relaxed, old-school vibe. It's great for families with two excellent ski schools to choose between, including well-regarded British-run New Generation. On a linked ski pass is the neighbouring resort of Les Diablerets. With 112 kilometers of spectacular slopes and scenery, this is the region's epicentre of adventure – and home to Glacier 3000.
But it's not just about skiing. The Vaud Alps is
 a hotspot of winter sports with several record- breaking activities. One of the most thrilling ways to enjoy the astonishing vistas is by braving the 170m-long Peak Walk, the first and only suspension bridge linking two summits, on Glacier 3000. Then there's the fun-filled 7km-long sledge run at Les Diablerets, snowtubing in Leysin and the adrenalin-pumping Alpine Coaster on Glacier 3000. The snowy fun continues into the evening with the magic of skiing and tobogganing at night on illuminated slopes.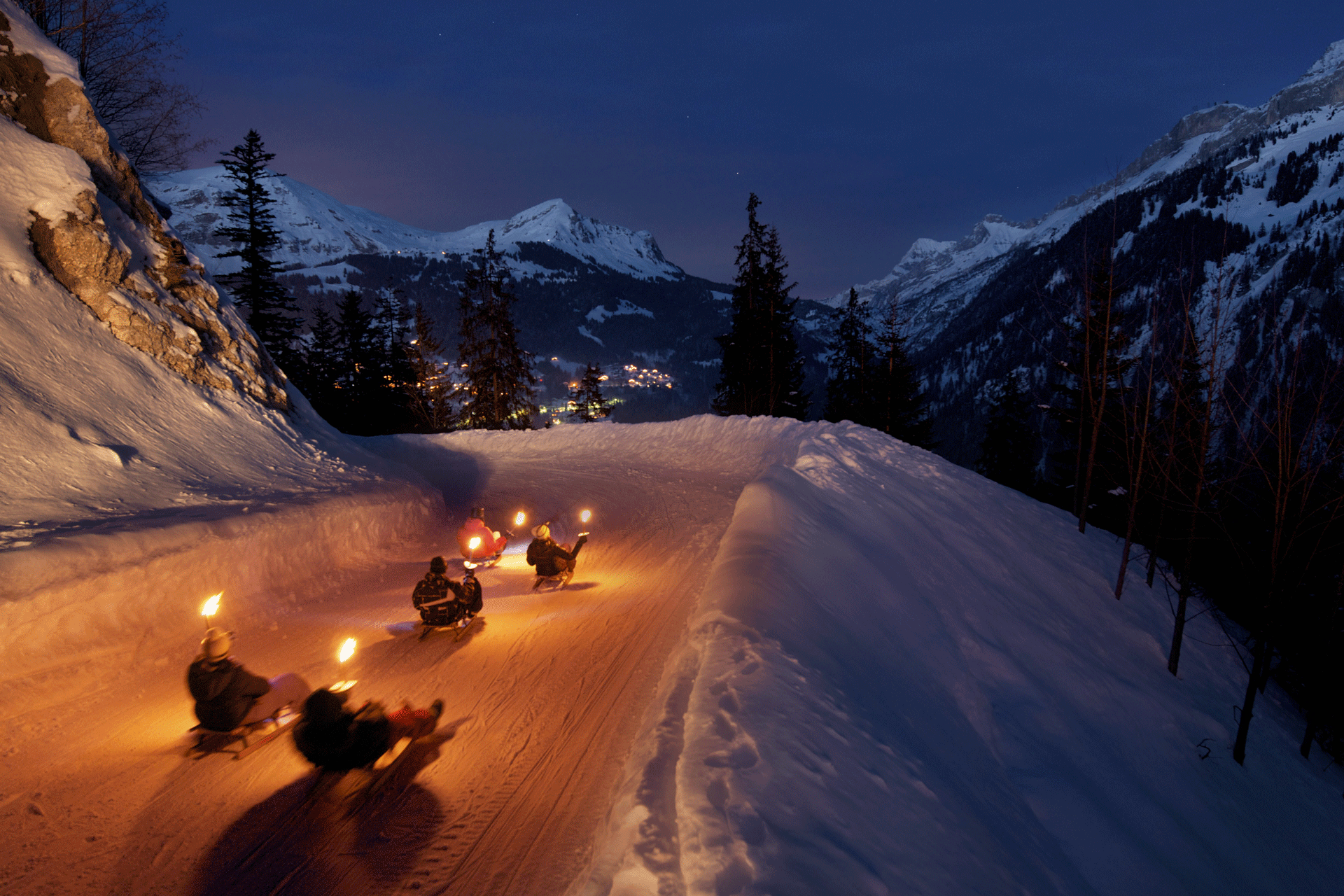 Upsize your wellbeing even further off the slopes. The Vaud Alps has an impressive line-up of spas, with plenty of chances for long soaks and pampering. Zone out in the thermal spring at Lavey-les-Bains – the hottest in Switzerland
– while gazing out at the staggering mountain views. Or take advantage of the hammam, snow grotto and colour therapy room. Nearby, Les Bains de Villars has been recently renovated, and now sports a blissful gamut of treatments and pools. The hotels also house some lovely spas, with Chalet Royal Hotel & Spa in Villars and the Hotel Le Grand Chalet in Leysin, with its amazing spa Jacuzzi, leading the charge.
Alongside such a wide offering come some brilliant events. The Youth Olympic Games 2020 is being held in the city of Lausanne and the Vaud slopes will be hosting the alpine skiing, freestyle skiing, snowboarding and ski mountaineering competitions. The International Hot Air Balloon Festival in Château-d'Oex is a
 big thing, too, and a reminder of the triumphant take-off of Brian Jones and Bertrand Piccard in their successful uninterrupted circumnavigation of the world on board a hot air balloon. Now in its 41st year, the festival sees a colourful display of nearly 100 hot balloons taking to the skies.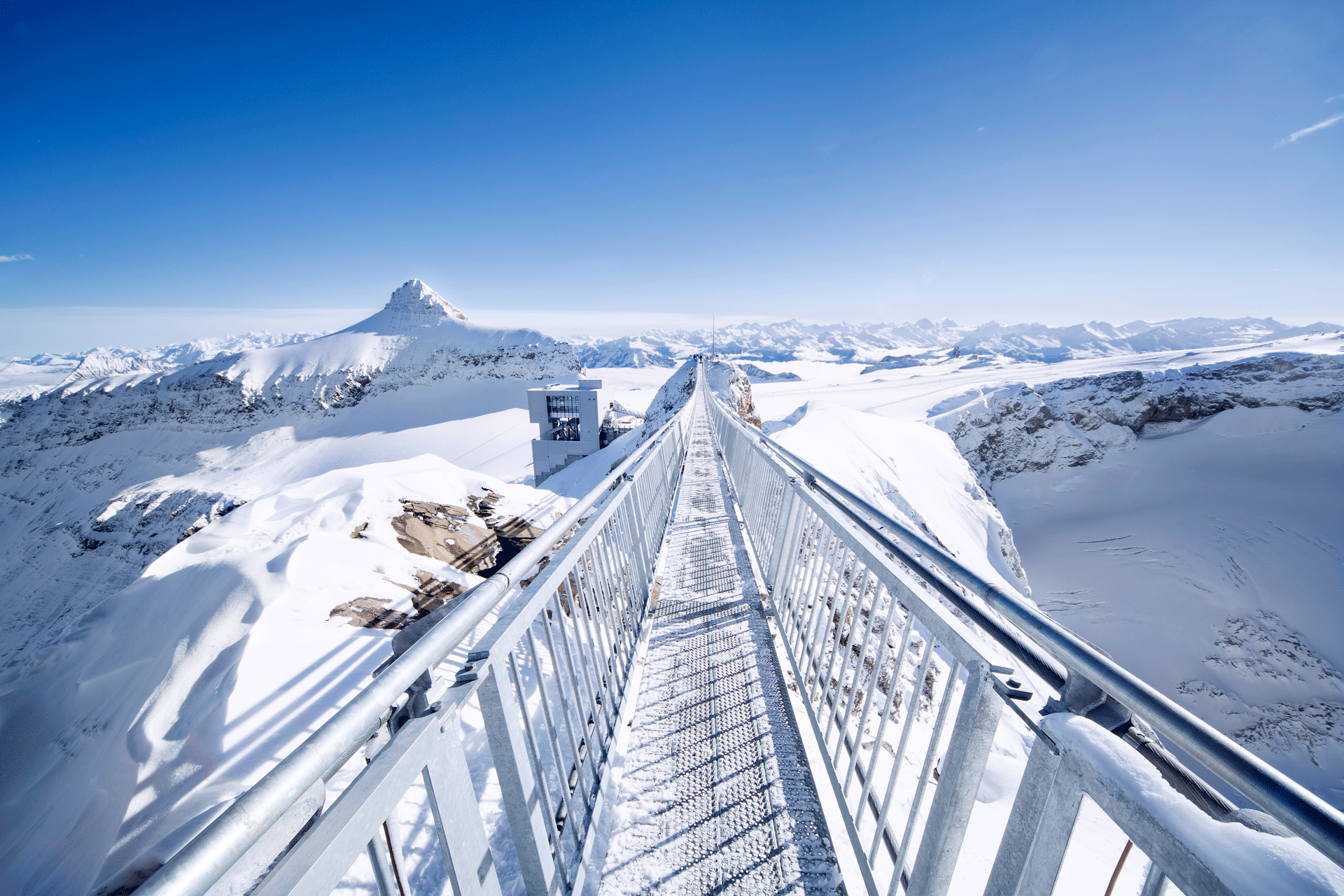 The food and drink is a huge draw. In fact, the Vaud Alps is just as much about eating
as it is skiing. Set in charming wood-clad Alpine restaurants, complete with a lovely welcome and a roaring fire, top off a great day's skiing with a traditional Swiss cheese fondue, accompanied by a delicious nip of locally-brewed kirsch. Savour first-class wine, too, made locally in the many surrounding vineyards 
– the Chasselas, Pinot 
Noir and Gamay wines
 are particularly delicious. And, of course, a steaming hot chocolate never goes amiss. Top spots include the homely Café-Restaurant l'Etable, set
in beautifully transformed stables, and Restaurant
du Lac des Chavonnes, which serves hearty local dishes beside a pretty lake. Brunch on Glacier 3000 is a must-do, too. Whatever you do in the Vaud Alps, it's clear that there's something exceptional for everyone – and that's a fact which is pretty hard to beat.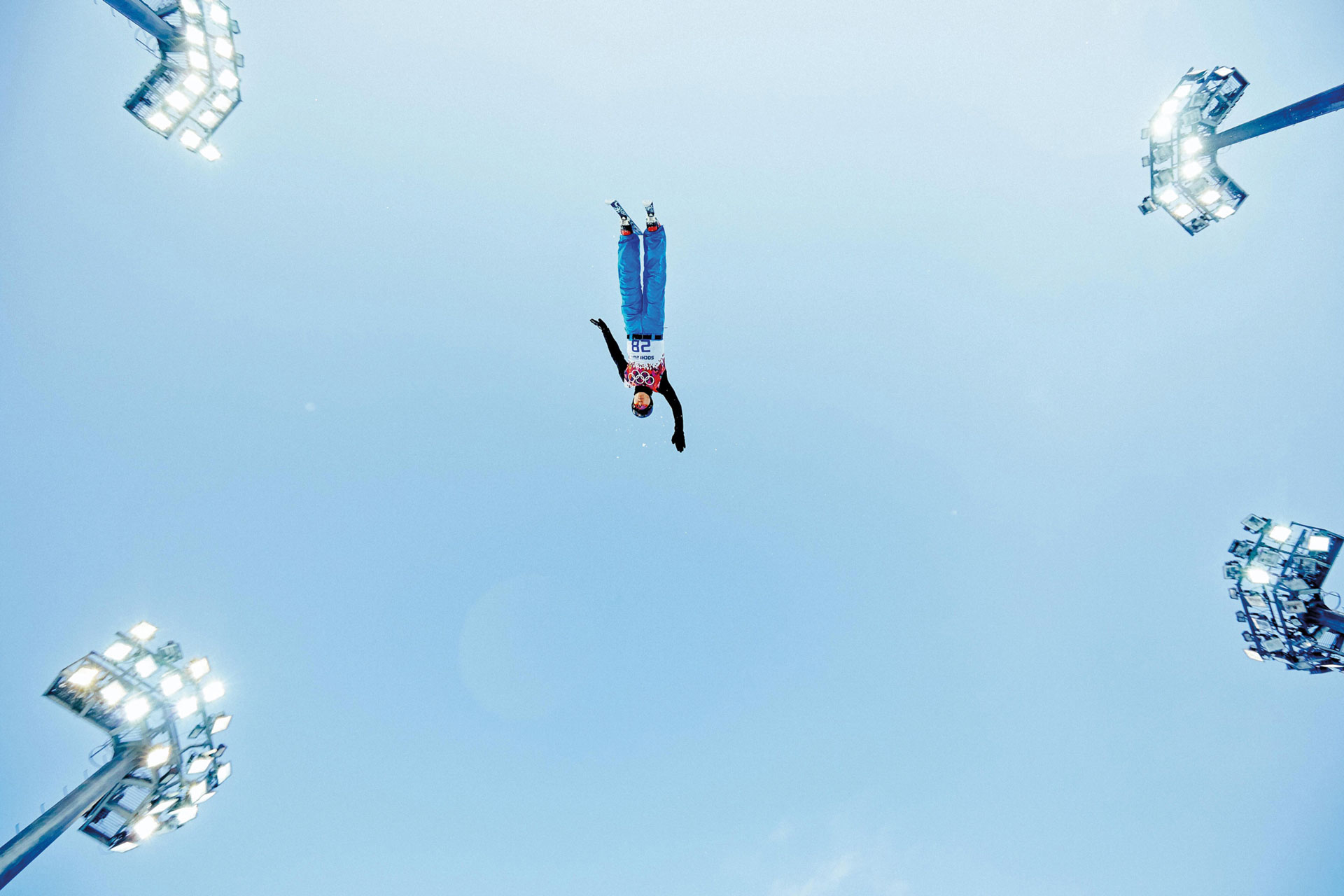 Youth Olympic Games
9-22 January 2020
From the Vaud Alps to the Jura via Lausanne, the mountains will see an overflow of talent this season as international athletes, aged 15-18, descend on the Canton of Vaud for the Youth Olympic Games. Lausanne, also known as the 'Olympic Capital', has been the home of the modern Olympic Movement for more than 100 years – and, today, more than 50 big sporting organisations call this region home. Must-see races include alpine skiing in Les Diablerets and ski mountaineering, which will be making its debut in the Olympic Games, in Villars alongside freestyle skiing and snowboarding in Villars and Leysin. lausanne2020.sport
International Hot Air Balloon festival
25 January to 2 February 2020
Set in the tiny village of Chateau d'Oex, this hot air balloon festival is an extravaganza of all-out fun. Showcasing nearly 100 hot air balloons of different shapes and sizes, enjoy a colourful array of races, air displays and demonstrations. You can even take to the skies yourself with balloon rides available. Don't miss the night time show when, after dark, 20 illuminated balloons and paragliders fly in sync to music. There's a rich balloon history here, too – in 1999, Bertrand Piccard and Brian Jones set off from Chateau d'Oex for the first tour of the world in a hot air balloon. chateau-doex.ch
St-Sylvestre Grand Prix
31 December 2019
The oldest bike race on snow, this legendary event in Villars-sur-Ollon has been taking place on 31st December for 30 years. The mission: ride a bike down snow-covered ski slopes from the top of Roc d'Orsay, to the centre of Villars. And it's not about being the quickest, it's about having as much fun as possible. To celebrate this year's jubilee, there's going to be more dressing up than ever, with awards for the best three costumes. The finish will be in the middle of the resort, with a 'bike village' offering great entertainment, live music and scrumptious snacks. region-du-leman.ch
BEST OF THE REST
Swica Nordic Day
18 January 2020
One for beginners. Try your hand – or improve your skills – with this cross-country skiing introductory course on the slopes of La Thomassette in Le Brassus. myvalleedejoux.ch
50th Mara
29 February to 1 March 2020
Fabulous open cross-country skiing event in the unspoilt scenery of the Nordic trails in the Les Rasses winter resort. ski-mara.ch
International Sled Dog Race
29 February to 1 March 2020
Mixing sprinting and skijoring, watch mushers and their teams of dogs stride out across the splendid landscape of Les Mosses-La Lécherette. aigle-leysin-lesmosses.ch
Diablerets 3D
29 February to 1 March 2020
Two-day skiing event with a vertical race and long-distance race taking place in the stunning setting of Les Diablerets. diablerets3d.ch
Swiss Biathlon Cup
7-8 March 2020
Combining cross-country skiing with shooting, this enthralling competition on the Les Mosses plateau is open to children and young adults. aigle-leysin-lesmosses.ch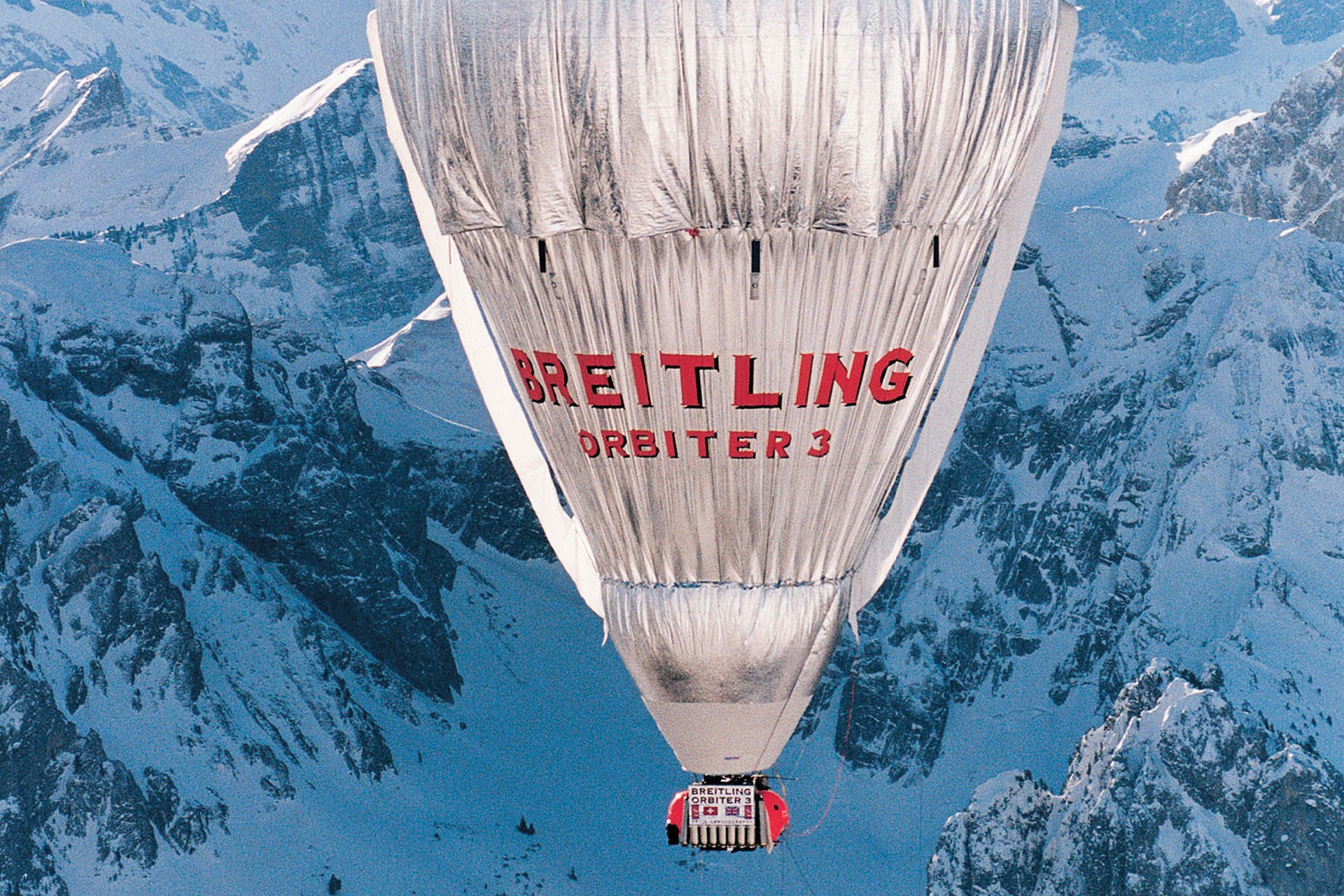 In 1999, why did you start your round- the-world balloon journey from Château- d'Oex?
Firstly, it has been a major site
of ballooning activity for many years, so much of the needed infrastructure and competencies were readily available and,
of course, there were no issues with language. Secondly, our sponsor was Breitling and it was clearly advantageous
for them to base our efforts in Switzerland. Most memorable moments of the take-off? The tremendous enthusiasm of the many people who turned out to see us depart. The cheers, church bells and fire truck siren even drowned out the sound of multiple camera- bearing helicopters buzzing around us. What attracted you to hot-air ballooning? It is a gentle and serene way to fly, coupled with the challenge of every flight being unsure of where you might land and the circumstances you might encounter. Each flight is a magical mystery tour.
What do you enjoy most about the International Balloon Festival?
Quite simply, flying in the mountains is spectacular. It is challenging, exhilarating and often forces you to draw on all of your skills to stay safe and land where you can be retrieved easily by your crew. The micro- weather conditions can be so varied that you can either fly for many miles, possible beyond the country's borders, or use the winds to try to land back on the precise spot from where you launched after a couple of hours flight. It is great fun.
What do you love about the canton
 of Vaud?
You can't fail to be moved by the beauty of the region. The people are extremely friendly but at the same time elegantly reserved. The standard of living seems to me to be ideal. One could never be bored in this canton, regardless of the time of year. The canton also has some
of the world's best hotels and restaurants.
Activities not to be missed in the canton of Vaud during winter?
The balloon festival, the skiing and, when possible, the wonderful winter sun on the snow-covered mountains enjoyed by walkingor just sitting in a grand position with a glass of something. Future plans? I am honorary president of the Swiss charity Handiflight and very interested in supporting flying for the disabled. We are currently using a specially adapted balloon to enable a disabled person to train to become a pilot.
Future plans?
I am honorary president of the Swiss charity Handiflight and very interested in supporting flying for the disabled. We are currently using a specially adapted balloon to enable a disabled person to train to become a pilot.
For more information, visit lake-geneva-region.ch.