Whether you're a pro or a newbie to clay pigeon shooting, this day out on the Thames is an unforgettable experience. Perfect for team building and company away days, or just a day out with a group of pals who are up for a challenge, it's sure to bring out your competitive side… Jonathan Ray takes aim.
Clay Pigeon Shooting on the River Thames
North Greenwich Pier is an unprepossessing spot and no mistake, lying as it does in the grim shadow of the O2 Arena and slap dab under the flight-path of London City Airport. With battered railings and clumps of weeds, a few rusting hulks moored in the sludge-brown water and nothing more than a vast concrete industrial estate on the opposite bank for a view – home to Brewster's Waste Management Limited and Docklands Waste Recycling – it has little indeed to commend it. It might have been late summer on the Thames, but Wind in the Willows and Three Men in a Boat it wasn't.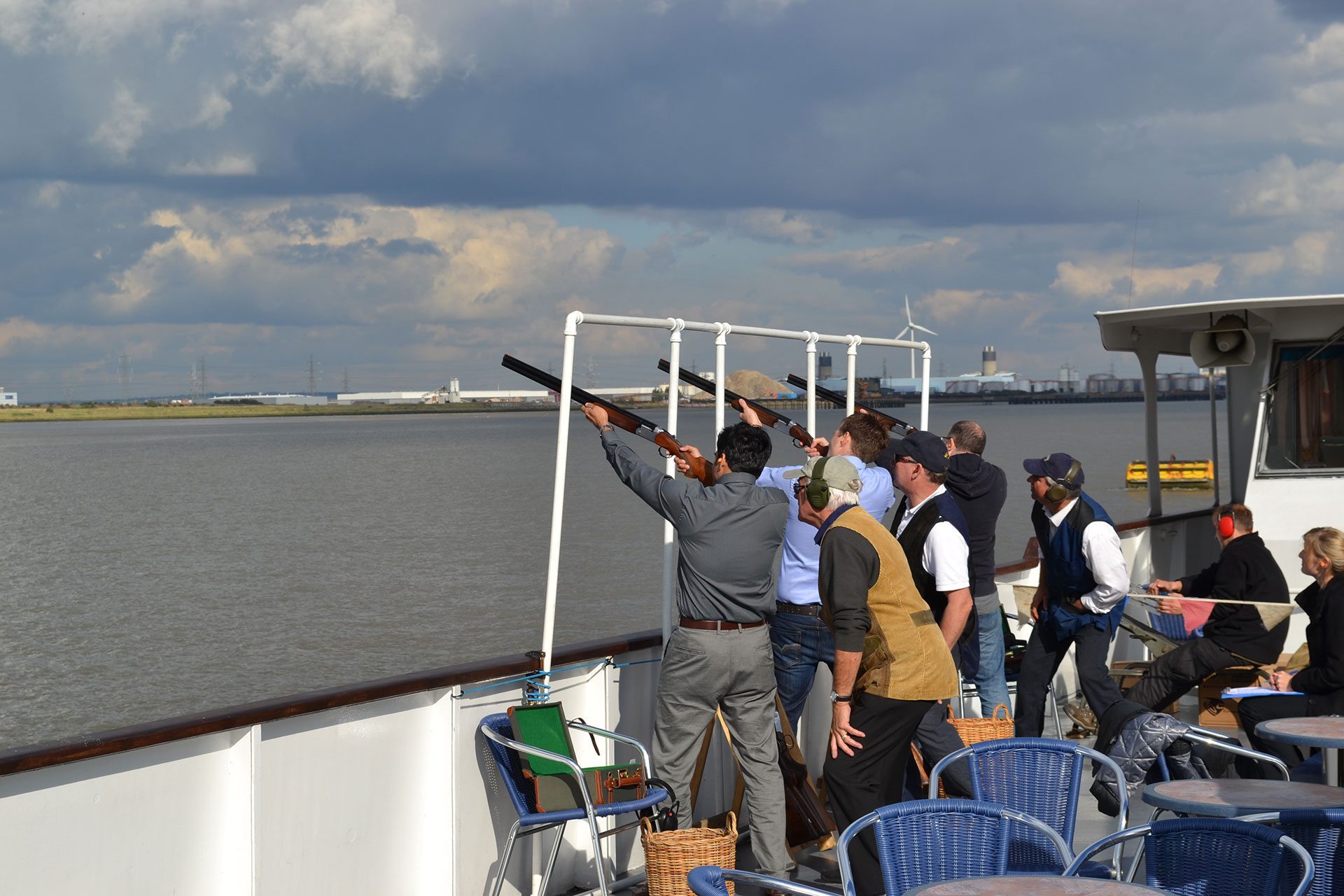 Discovering the Will
I was here, hungover and grumpy, to board Thames Sailing Barge Will, having booked an afternoon's messing about on the river with Thames Leisure. I was joined by my chums Mick and Tim, both of whom, for no doubt equally understandable reasons, were also hungover and grumpy. Moments later, the Will drifted quietly towards the pier and our collective spirits lifted.
Far from being one of those brash, vulgar river cruisers that tear up and down the Thames crammed with hen and stag parties, blaring music and belching fumes, the Will was appealingly sedate, with its red-brown barge sails, wide open deck and vast wood-lined steel hull. At 30m long and weighing in at a gross tonnage of 187, it's the largest Thames Sailing Barge in existence, and one of the oldest too, having been built in 1925.
It All Begins with Breakfast
Topsail's MD, Mark Tower, greeted us and invited us downstairs. The wood-panelled saloon was surprisingly large and elegant, with a wood-burning stove at one end and a bar at the other, with a long dining table, laid for 20, and armchairs and coffee tables. The walls were dotted with commemorative plaques and trophies.
We joined the dozen or so others already there as they tucked into tea, coffee and cakes. Mark and the crew gave us a quick safety briefing ('The railing outside simply marks the point of no return and isn't a piece of furniture, so please don't sit on it'), and showed us how to put on our 'in-the-unlikely-event' life jackets.
We then slipped downstream, past the Thames Barrier, housing estates, gravel pits and more industrial parks. Few craft passed us other than the occasional tug pulling barges full of rubbish. It was no rural idyll, but with the wind in our faces, the sun – finally – on our backs and the open river before us, our hangovers quickly vanished and we were happy as larks simply to be on the river.
Ready, Aim, Fire!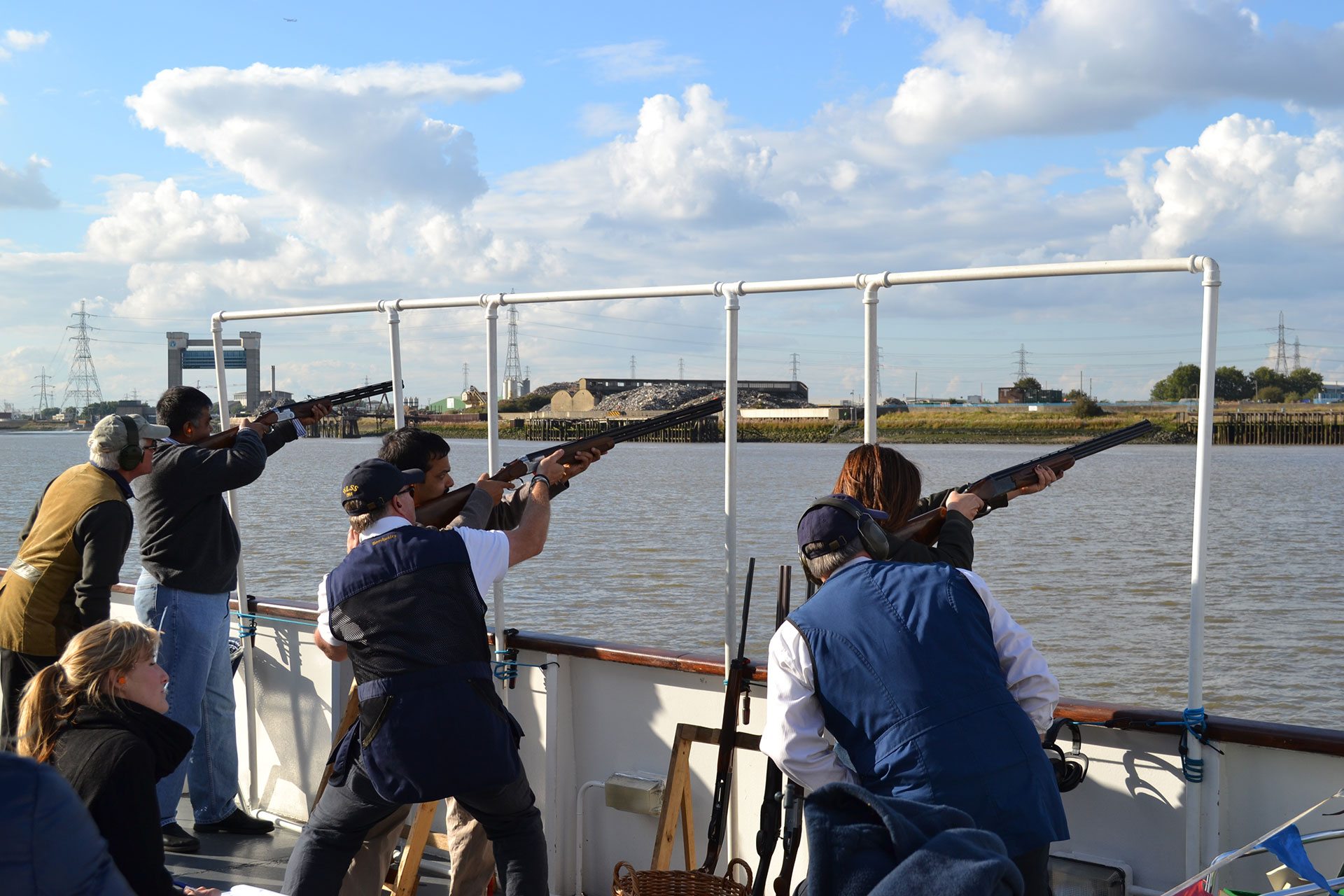 After 40 minutes, we arrived at Thamesmead and parked opposite Barking Creek, just below Woolwich Arsenal. This is where the fun started: the clay pigeon shoot. As regulations demanded, the skipper radioed Wapping Police station, told them we were in position and requested permission to start firing. 'There are fairly strict rules, I'm afraid,' he said. 'Please don't fire at any yachts or police launches and please don't try and pepper the houses of Thamesmead. And forget the planes above us, since they're well out of range.'
Topsail's armourer, John Hargreaves, introduced us to our weapons, which included a Browning and a Beretta over-and-under; a pump-action shotgun; a 100-year-old side-by-side game gun and an antique naval musketoon. We blasted merrily away at the clays for some 90 minutes, before being soundly beaten in a boys vs girls competition. We had, though, an absolute hoot.
Rounded Off with Wine and Cheese, of course
As the Will turned about we got stuck into a wine tasting courtesy of Yapp Bros, hosted by the inimitable Jason Yapp himself. He did us proud with a fascinating selection, including a fine sparkling Chenin Blanc from the Loire and – everyone's favourite – a delightfully peachy and apricotty Viognier from the Vignerons Ardèchois Co-operative.
We sat on deck in the by-now warming sun – wine glasses brimming – as the sights on either side became more eye-catching (there can surely be no finer view in London than that of the Old Royal Naval College at Greenwich from the river). Then it was time for a cold buffet lunch, featuring some tip-top grub supplied by Forman & Field, including London-cured smoked salmon, Mrs King's Melton Mowbray pork pies, Northfield Farm salt beef, homemade piccalilli and a selection of English cheeses to die for.
All too soon, though, it was journey's end at Tower Bridge, which, thanks to the 30m mast towering above us, opened up especially. What a thrill to have London's traffic buggered up just for us. We waved cheery glasses of Claret in an unsteady salute to the waving tourists. It was a great day out which none of us wanted to end, so much so that we all repaired to the excellent Wine Library at Tower Hill and began serious work on the next day's hangovers.
Try it for Yourself!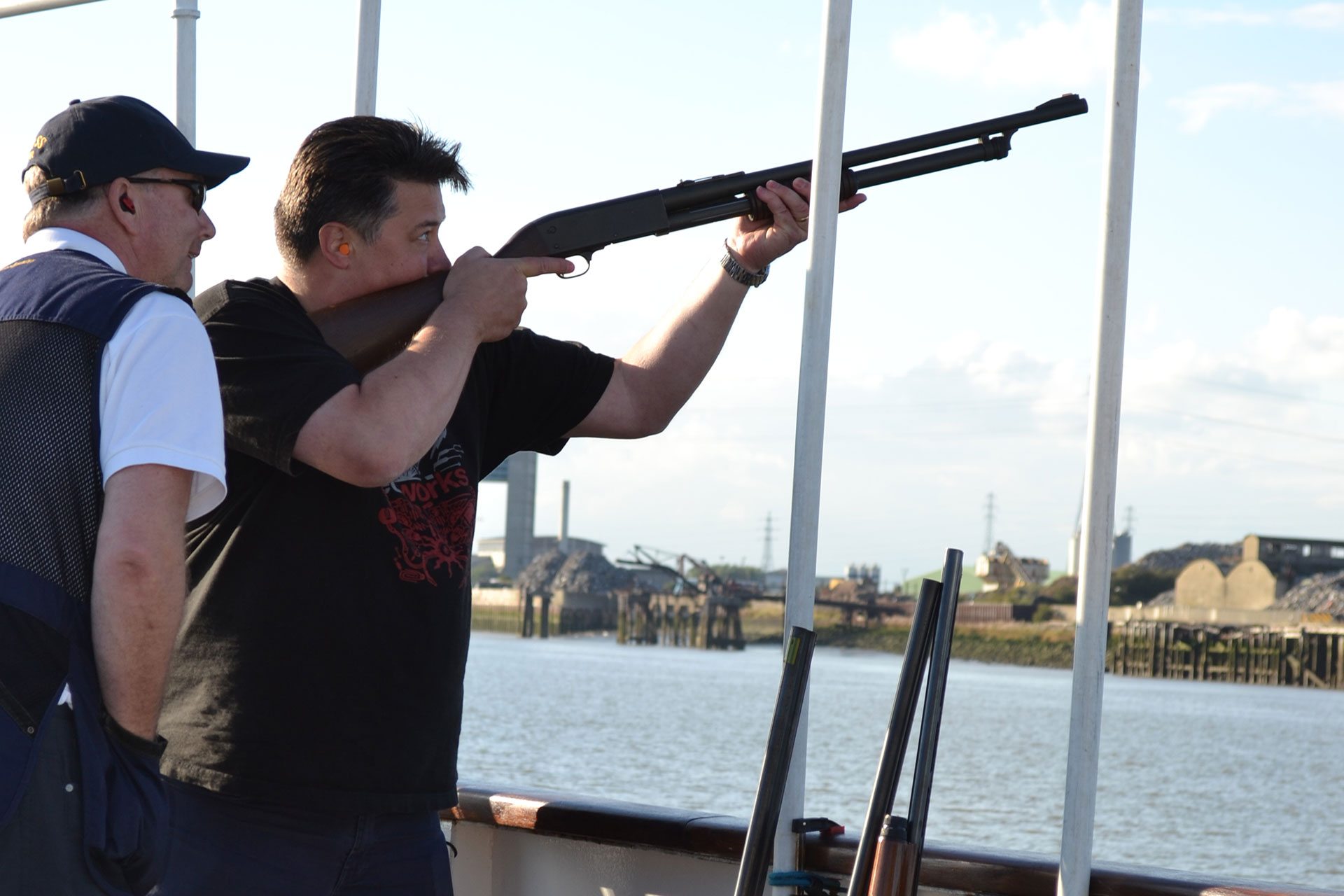 Clay Pigeon Shooting on the River Thames is organised by Thames Leisure and is available year-round. The full day out lasts 7 hours and includes their renowned catering and hospitality, as well as a showcase of modern and historic weapons. Ideal for a big group, the Thames Sailing Barges can carry up to 42 guests, while the cruisers will take up to 100.
The 'Lite' option, reviewed here, is 5 hours long and takes place in the afternoon. Thames Leisure's Clay Pigeon Shooting excursions end in style with the opening of Tower Bridge as the barge passes underneath, all while announcing the winner of the competition.
Itineraries can be organised on an individual basis. Find out more here to organise an unforgettable day out in London with a difference. 
---