Does online shopping spell the end of the bricks-and-mortar store? Retail expert Marigay McKee pinpoints the brands adapting brilliantly to the new digital order.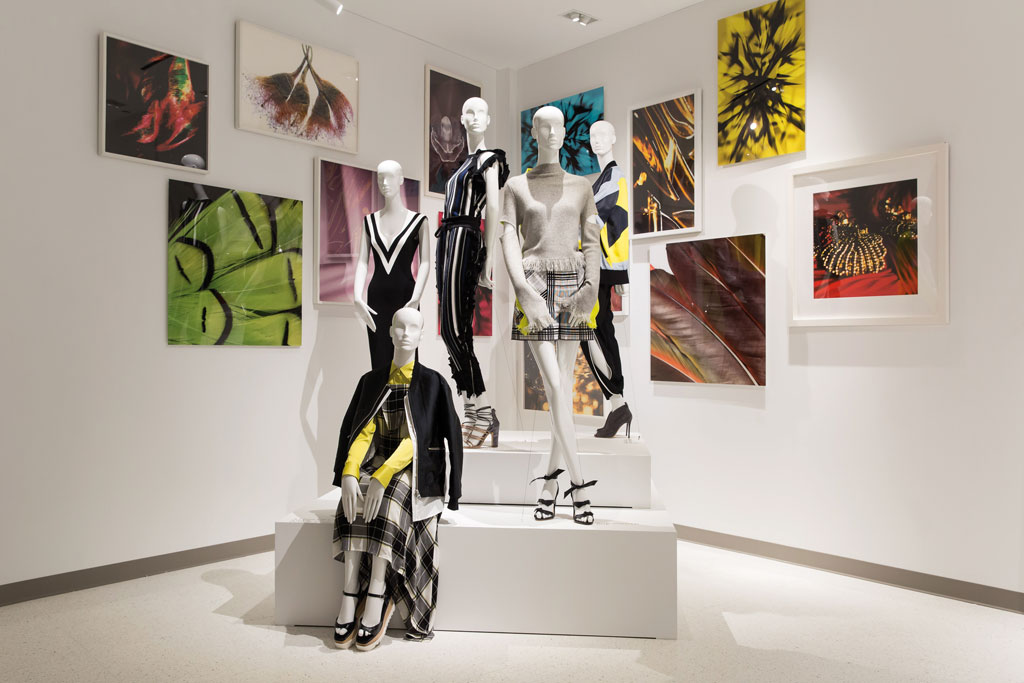 Consumers of the Revolution
It's no secret that the world of retail is in deep trouble. Globally the role of the store is having to be rethought in the face of immense pressure on sales and profits from a digital revolution that means customers increasingly shop online rather than on foot. The major stores are undergoing a total transformation, with the key to survival centred on real innovation and reinvention. As they rise to the challenge, a new playground of retail concepts is developing in the fashion capitals, one that's fun, fabulous and – hopefully – future-proof. As an optimist about the survival of the retail world, the question I'm faced with every day is: what's going on and where is this fusion of tech and commerce leading us? What's new?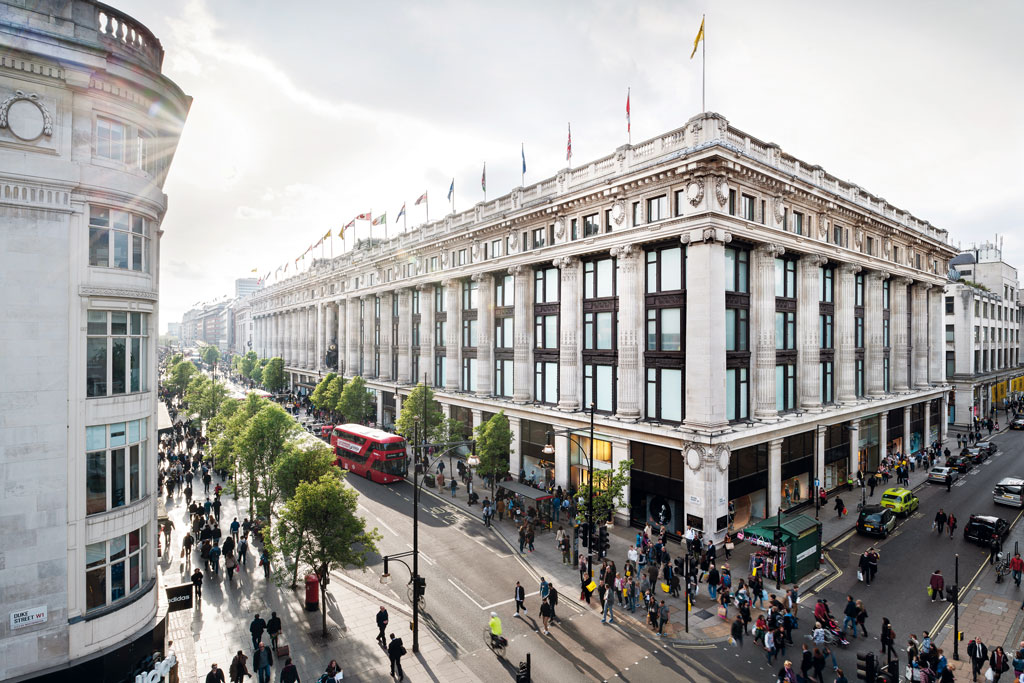 I believe the traditional model of department stores, a much-debated topic, is not dead, it just needs to be reinvented. The store of today, and of the future, needs to focus on great service, great selection (or editing) and great substance (the three S's of Specialty Retail). Add in 'special' and 'streamlined', together with a solid digital backdrop. While the future of retail is definitely digital, the future of brands is still physical. It needs to be executed with expert care, fine attention to detail and in a great environment – with particular relevance to the surrounding demographics. All this needs to be supported by a digital content platform that's attractive enough to draw the client to visit in the first place, and then to keep coming back. Flagship stores such as Harrods, Selfridges and Liberty in London will always be destination magnets, as will Bergdorf, Bloomingdale's, Saks, Barneys and Neiman Marcus in New York. People will always shop at Galeries Lafayette in Paris, TsUM in Moscow or Lane Crawford in Asia, as these are all iconic flagships. The question is, how many of these large stores (or chains) do we need and why are some of them losing market share to newer multi-brand concept stores and digital platforms such as Net-a-Porter, Matches, FarFetch and others?
The Rise of The Concept Store
One reason is that it's become chic to shop at small independents – small is increasingly beautiful. This doesn't imply that large destination stores will necessarily lose out, but they need to think harder and take the lead. This means being more creative, demonstrating integrity and style while also focusing on comfort and convenience, and showing a true frontier spirit, a cutting edge based on innovation and – lately it's become more and more important – social good. What this translates into is a huge rise in the number of concept stores, where clothes and goods are displayed like art objects, fashion buyers are known as curators, and it's all about 'the edit'. In New York they're flourishing. Take The Webster, founded by Laure Hériard-Dubreuil. This stylish multi-storey townhouse emporium in SoHo offers recherché finds for hip downtown shoppers. Close by sits Kirna Zabête, a cult temple of taste for cool girls and aspirational shoppers, recently upgraded with in-the-know luxe brands selected by fashion maven Beth Buccini. At La Mercerie (its owner-designers are Robin Standefer and Stephen Alesch, the husband-and-wife team behind interior design firm Roman and Williams), there's a lifestyle store and brasserie so beautifully displayed you feel you're buying into their own chic lifestyle.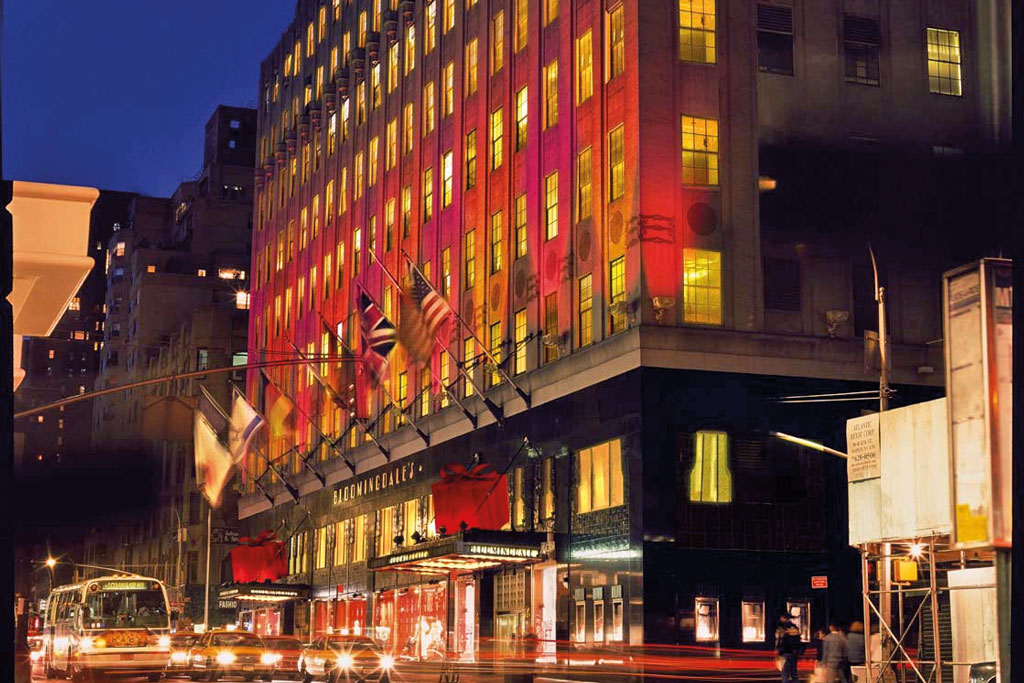 The restaurant is also a huge hit, an overnight 2018 sensation as the place to eat, see and be seen. Uptown Manhattan saw the launch last year of the über-chic Moda Operandi Madison on the Upper East Side, catering to the city's best-dressed women but also – crucially – a go-to destination that began online, opening a physical store later so digital fans could 'experience' the brand. The fantastic service includes expert advice on the floor ('a personalised edit' in new retail-speak). With all the cachet of a private club, the store was put together with cultivated Manhattan flair by Lauren Santo Domingo, famed for knowing what's cool.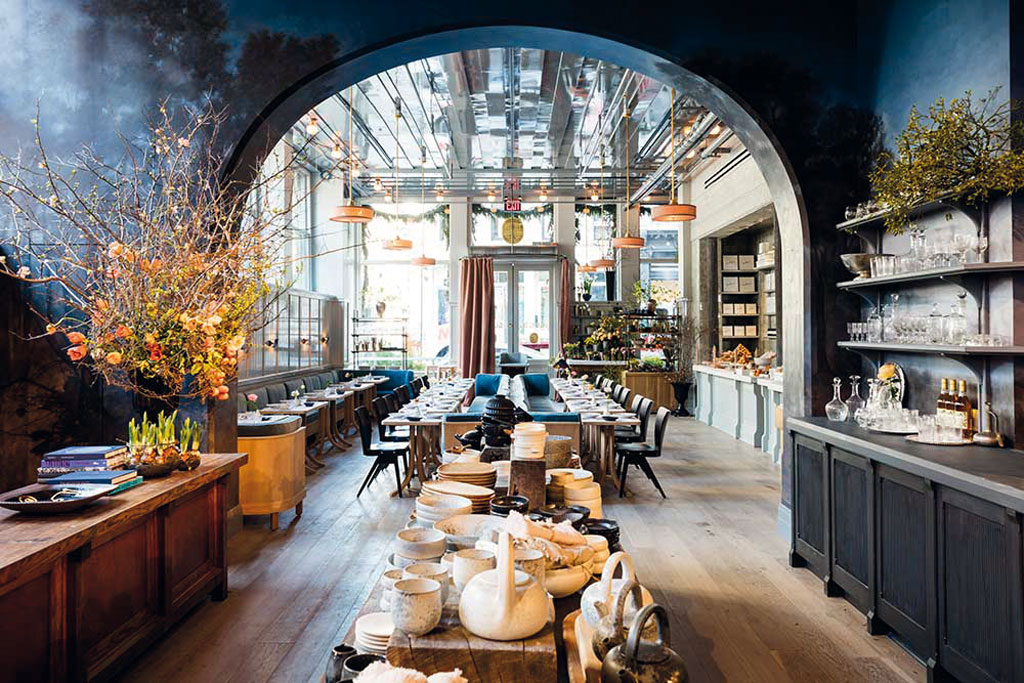 London's Best New Private Members' Clubs
A stunning new 10 Corso Como concept store has opened in the Seaport district, bringing a fusion of art, culture, food and fashion to the heart of Manhattan's financial district. Carla Sozzani's brainchild has expanded to the rest of the US, Europe and Asia, showing that true style quickly travels and gains a global identity. Coming soon to the city is Forty Five Ten, a multi-brand edit of luxury style, art, architecture and experience that started in Dallas and is launching at
Hudson Yards next spring. Part of its branding is a stated focus on collections rather than designers, with both eyes on digital and actual store presence. Hudson Yards itself will be a landmark project in 'experiential' retail, due to its size and prime location overlooking the High Line. With a focus on community (offices, apartments, hotel, leisure, sports, parks, retail, hospitality and dining flanked by a new cultural Art Centre for the city, The Shed), the Hudson
Yards site, spanning several blocks on the city's West Side, is bordered by a hundred stores and anchored by a large new Neiman's, all in the glass-galleried retail complex overlooking the skyline.
Changes
In London change is also afoot and it's thrilling to watch. Trendsetter Matchesfashion.com has recently unveiled its physical manifestation – Townhouse – at 5 Carlos Place, W1 – 7,000sq/ft of 'retail, event and creative broadcasting space', where the consumer is enticed by changing looks and injections of new ideas and happenings every two weeks. It launched with an exclusive collaboration with Prada and the idea is for customers to experience 'a carousel for the senses', both in person and online, and encourage them to return frequently. 'Our mission,' says Ulric Jerome, CEO, 'is to create the most personal luxury shopping experience in the world, so we wanted an environment where we could initiate conversations with our customers and create a global sense of community, enabled through the power of technology.'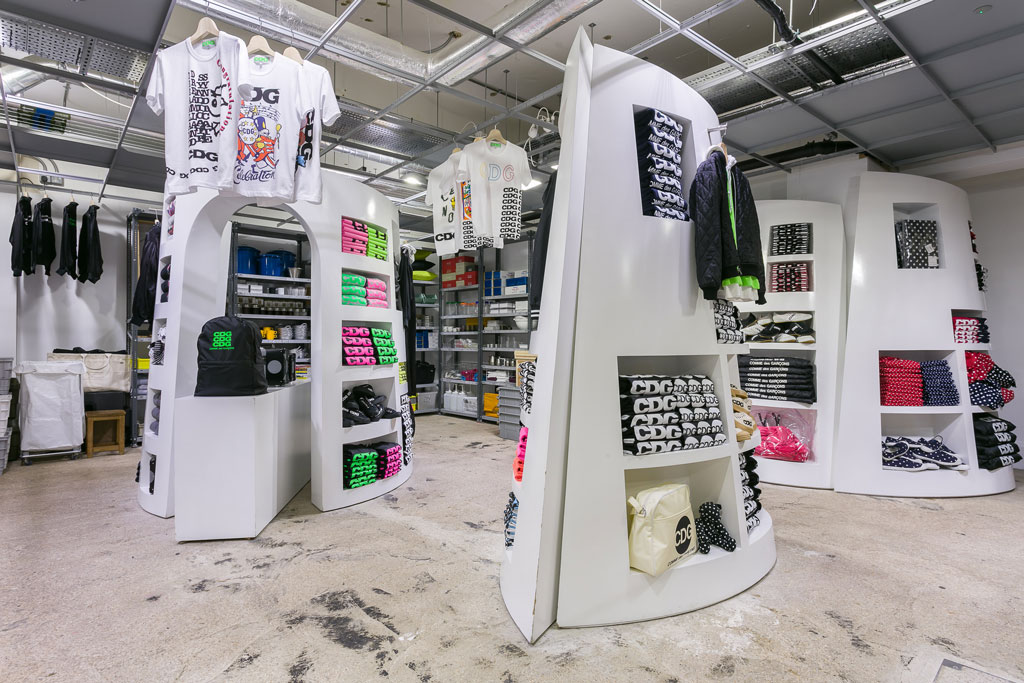 Meanwhile Rei Kawakubo's modernist Dover Street Market has successfully evolved into a niche destination for the forward fashionista with a less-is-more vibe, notwithstanding the delicious Rose Bakery on site. (Think Margiela and Yohji with a cupcake.) With stores in London, NYC and Asia, it's just opened a new home in LA. Covent Garden has two new flagship stores: all-time favourite Petersham Nurseries has travelled from leafy Richmond to urban Floral Court
in Covent Garden – in many ways a perfect journey – and it's the epitome of up-to-the-minute lifestyle retail, offering flowers, gifts, homeware, candles, accessories and a range of cafés and restaurants in a one-stop store. The latest Shop at Bluebird is in Covent Garden's Market Building, in an expanded version of its original incarnation, reimagined for the modern era by buying director Claire Miles. It's been redesigned with heritage- fused dashes of art, architecture and style.
Platforms of Style
New-look stores are clamouring to create a hip private-club feel for their clients, with carefully edited platforms of style – cool collections, limited editions and collaborations involving designers and artists: a clear direction mixed with the element of surprise. Deploying fantasy and drama to entice people in, they make sure it's an enjoyable ride – and that's the definition of new retail. Outside London, the recently expanded luxury shopping destination, Bicester Village, is showing clear evidence of success. Within its vast emporium it offers Café Wolseley, the restaurant's first rural outpost (there will not be another, sources say), and plays host to exciting temporary pop-ups and exhibitions. These include the Tate's first experiential retail store, promising 'an immersive art and shopping experience', and November 2018's Britsh Fashion Council (BFC) designer pop-up, showcasing a unique take on some of the UK's most exciting fashion brands, including Peter Pilotto, Christopher Kane, Emilia Wickstead, Holly Fulton, Mother of Pearl, Nicholas Kirkwood, Roksanda, Teatum Jones and TEIJA.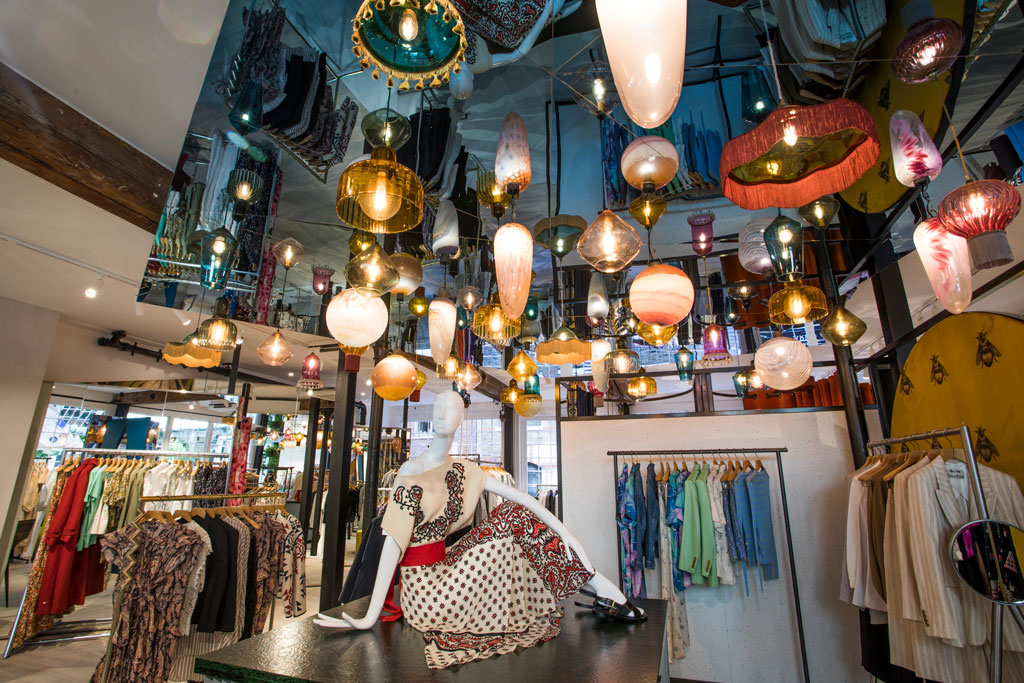 Those wanting a more exclusive, hands-on approach can book into Bicester's VIP personal shopping suite, in its appointment-only space The Apartment, an explosion of luxury for the high spender. Stella McCartney, Alexander McQueen, Rupert Sanderson and Temperley hang on carefully edited rails awaiting appointments, and it rivals any central London store in terms of service, style and brand execution. With landscaping by the florist Wild at Heart, Bicester Village draws over six and a half million visitors a year, including both locals and international travellers (it's the second most popular destination for Chinese tourists after Buckingham Palace). Desirée Bollier, the chair and chief merchant of Bicester's owner, Value Retail – which owns 11 similar villages worldwide – explains, 'We are in the business of experience curation. Our focus is to provide a superior shopping environment infused with engaging entertainment and a large dash of authentic local flavour to reflect the locations.' Since opening more than 23 years ago, 'The Bicester Village Shopping Collection has developed into a cultural platform showcasing art, fashion and food,' she says.
Engage With Us
Just down the road are two more highly successful establishments for destination shoppers and chasers of aspirational lifestyle, both in the Cotswolds. The Daylesford Estate is in the perfect village of Kingham and attracts urbanites and country types to lunch at the Wild Rabbit followed by buying organic produce at the farm shop and fashion and beauty products at Bamford HayBarn. There's also a spa, cottages to rent, a cookery school and more, all in the most gorgeous countryside. Similarly, Soho Farmhouse over in Great Tew is where London members make weekend pilgrimages to ride pastel-coloured bikes, buy chic goods at Soho Home, and eat hearty food that comes from farm to table in one of the rustic barn restaurants. It's a successful recipe that fulfils the new retail buzzwords of 'lifestyle entertainment' and 'consumer engagement in the brand', and it's not hard to see why both these venues attract high numbers of returning guests.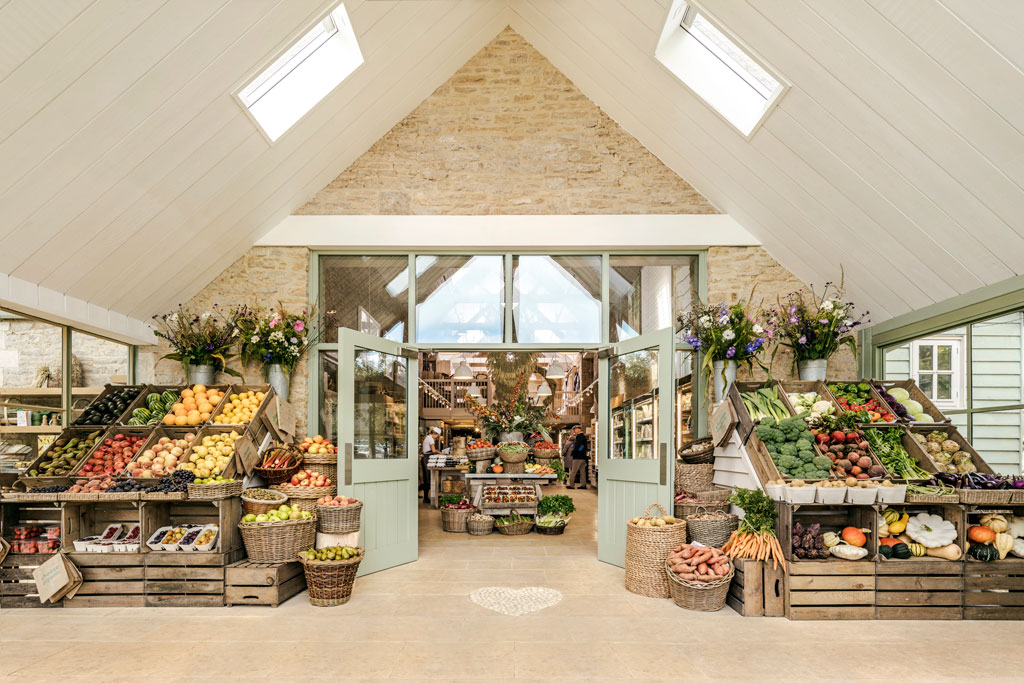 There's firm evidence here that trends are moving fast towards the experience, the environment and the emotion (the three E's of retail). The more successful multi-brand bricks-and-mortar stores have taken note and are evolving fast (though not so fast as digital adoption), and consumers are clearly voting for physical concepts that deliver the magic, the wow factor and the service as well as great content and product pieces. If the brands deliver, the consumers will come. In the high fashion digital world, fairy dust is sprinkled at the push of a button and packages arrive on demand without valet, parking tickets or crowds. But crucially it doesn't offer the chance to try on, experiment… and communicate.
Clearly people love to shop, and will continue to do so, but consumers today want an edited aesthetic, an annotated assortment and a curated point of view. We have to give them a reason to investigate; we need to fuel their curiosity and offer the opportunity to touch and feel. The service-and-standards factor is key, as is connectivity. Stores need to be sensitively attuned to the character and ethos of their neighbourhood, to offer their constituency somewhere to visit and feel welcome, a place they can wander, dream and play. Key to it all, though, is the human touch, without which no store will ever prosper.
Buy The Book: Great British Brands 2019, The International Edition
---