Your days of trying on dozens of pairs of jeans could be over forever, thanks to bespoke denim brand SELFNATION. Using sustainable fabrics of the highest quality, their design algorithm guarantees the perfect fit for their designer jeans and chinos that are locally manufactured in Switzerland. Here, we tell you how to find the perfect fit…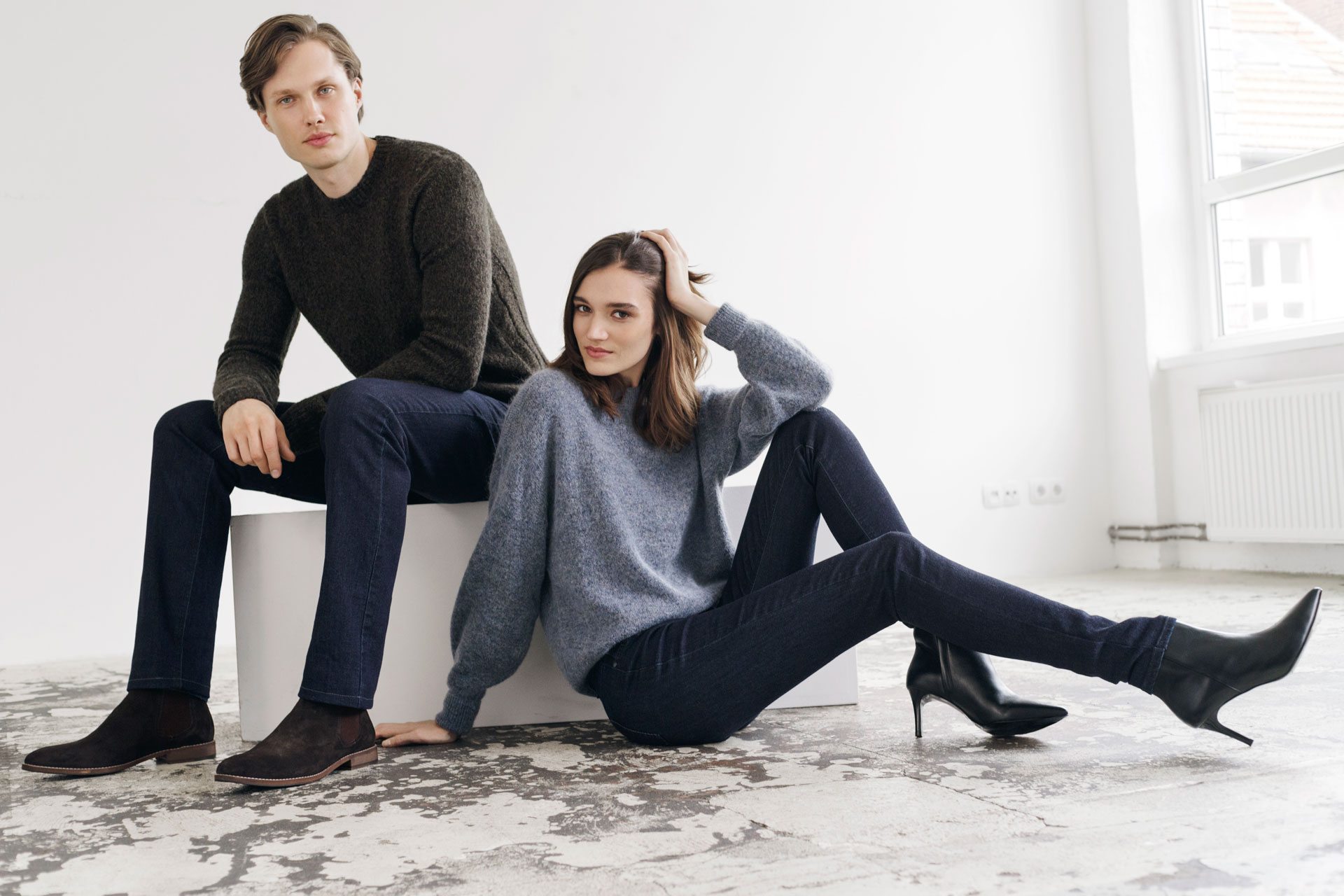 SELFNATION: Perfect Fit Guaranteed
Do you struggle to find jeans that fit perfectly? You're not alone. Which is why SELFNATION has found success by using a revolutionary algorithm that guarantees the perfect fit for their bespoke jeans and chinos. All their pieces are then tailored in a traditional manner with upmarket materials.
Avoid lengthy shopping trips trying on dozens of pairs of jeans with this unique online order system. SELFNATION's bespoke-made jeans are tailored to fit your own body.
The Swiss start-up company, which has its headquarters in Zurich and design studio in Berlin, is working on eradicating fit problems. Their method is quick and efficient and can be done from the comfort of your own home. You only need internet access and a measuring tape.
For Men & Women
The Womenswear Collection offers jeans and chinos in different styles (e.g. ankle length, slim fit, straight fit, etc.) with three different waistband options that can all be combined with various fabrics and colours. The Menswear Collection offers jeans, chinos and shorts in different styles (e.g. slim, straight and classic fit) in various fabrics and colours. Both collections offer customisation options, such as adding your initials, which make each product even more unique. The Collections are continuously expanded and adapted to trends and customer needs.
How?
On the company's website, men and women can choose their preferred trousers. The first step after choosing the style is the personal measurement. You will have to measure eight parts of your body – from your hip to your ankle. The entire process only takes about 5 – 10 minutes.
With your given measurements, a 3D visualisation is developed where you can preview your personal jeans, chinos or shorts.
SELFNATION founders Michael Berli and Andreas Guggenbuehl explain: 'The combination between engineering and fashion design is the heart of our label.'
The software – developed at the Swiss Federal Institute of Technology in Zurich (ETHZ), where the two founders, Andreas Guggenbuehl and Michael Berli studied mechanical engineering/computer science respectively, then creates the individual cutting patterns.
The result: perfect-fit jeans made especially for you. The sewing process then takes place in Switzerland with the world's finest materials. Orders are delivered within 14 days.
What if they don't fit?
If a pair of trousers doesn't fit perfectly, the customer has three options: the trousers can be adjusted by a tailor (against receipt the extra charge is then reimbursed), you can have completely new bespoke trousers from SELFNATION, or you can have a full refund.
Environmentally-Friendly Manufacturing Methods
'The denim SELFNATION uses is manufactured in the most popular Italian factory, which is also part of the Greenpeace Detox Commitment' – representative for fashion development at SELFNATION, Sandra Guggenbuehl

'Fashion never goes out of style and it never stops developing. SELFNATION wants to accommodate claims with honesty and continuity. We work hard every day to create bespoke, high-class products that highlight each of our customer's individual needs.' – Annabel Kober, designer
The factory is in Mendrisio, Switzerland, with all suppliers located within a radius of 500km from the cleverly chosen company headquarters in Zurich, Switzerland. The biggest ecological advantage of SELFNATION is the made-to-order production. Only once an order has been placed will the trousers will be produced, meaning no waste.
Find out more at Selfnation.co.uk
A C&TH partnership in association with SELFNATION
---