Wondering what to wear on a shoot? There are plenty of seriously stylish options for women out there that work for both the country and the town. We spoke to William & Son's team of experts who gave us key tips to ensure you know what to wear this shooting season, whether you're in the field, a spectator, or just in it for the afternoon tea…
When shopping for your shoot, you should first and foremost think about the practicalities of the occasion. You should always include ear protection, a hat and comfortable footwear in your shoot wardrobe, but that doesn't mean fashion can't be on the agenda, too. And if you shop smart, you can choose pieces that will work in your weekday wardrobe, too.
Here, we pick from William & Son's new Country Clothing collection to tell you how to ensure you're the best dressed on your next shoot. No matter whether you're taking the lead in the field or just watching from the sidelines. All of William & Son's items, produced in their own British factory, are technical yet stylish, so you're guaranteed to raise the sartorial bar, no matter how your aim is.
Remember to check for specific dress codes with your host, but when it comes to shooting dress codes for women, the good news is that you have a level playing field with the men; breeks, jackets and knitwear are all essentials. The rest is a matter of personal style…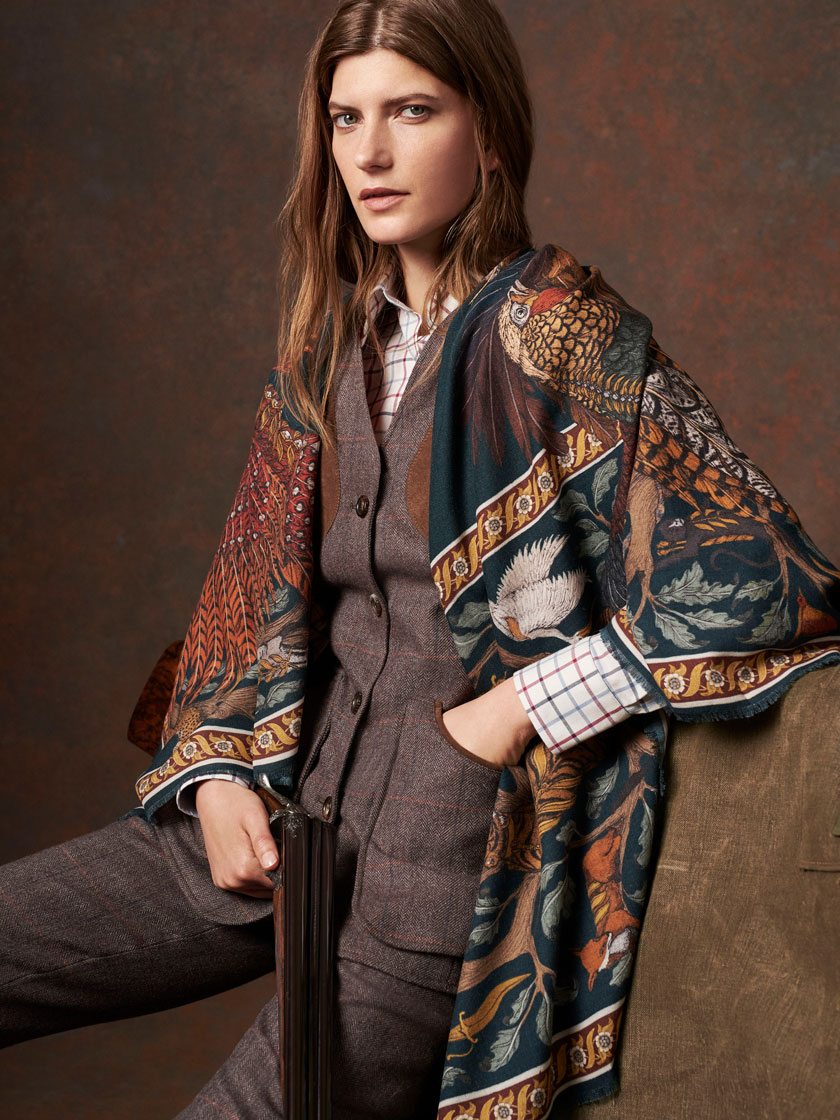 What to Wear on a Shoot: Women
Look One: Field Shooting in the Cold Weather
The basics for any shooting look are always the same. Browns and greens are traditional field colours for men, but women can mix things up with some burnt orange and rich, earth-toned prints.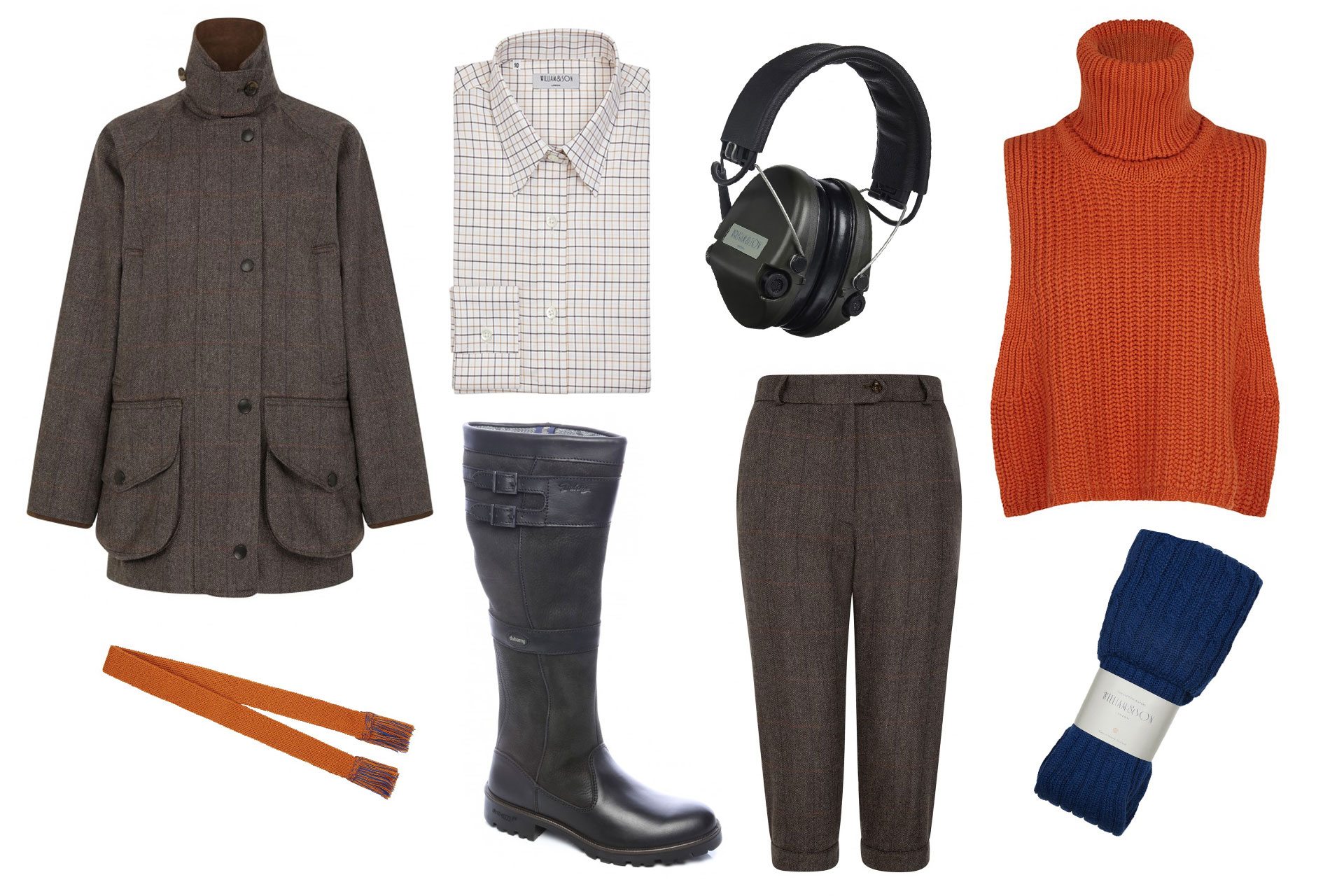 Pictured: Arran Field Coat, £795, Roll Neck Bib, £195, Wide Grid Check Shooting Shirt, £125, Arran Breeks, £425, MSA Supreme Pro Iv Ear Defenders, £195, Dubarry Longford Leather Boot, £379, Merino Wool Garter Ties, £15, Merino Blend Shooting Socks, £45
Opt for a warm and comfortable coat that will withstand the elements. We love the pictured field coat, which will look equally chic off-duty as in the field. Breeks are required for a formal shoot as for the men, but stay cosy with lush woollen socks and garters and feel free to add a pop of colour here, too.
TOP TIP: 'In all seasons wear good socks (cashmere or merino) and boots. You will  probably do a fair amount of walking and no-one likes blisters at the end of the day.'
Add extra warmth in the colder months with a cashmere knit. The lightweight cashmere knits by William & Son, produced in their Scottish factory, are top of our new season wish list, not only for shooting expeditions, but for town life, too.
Look Two: Field Shooting in the Warmer Months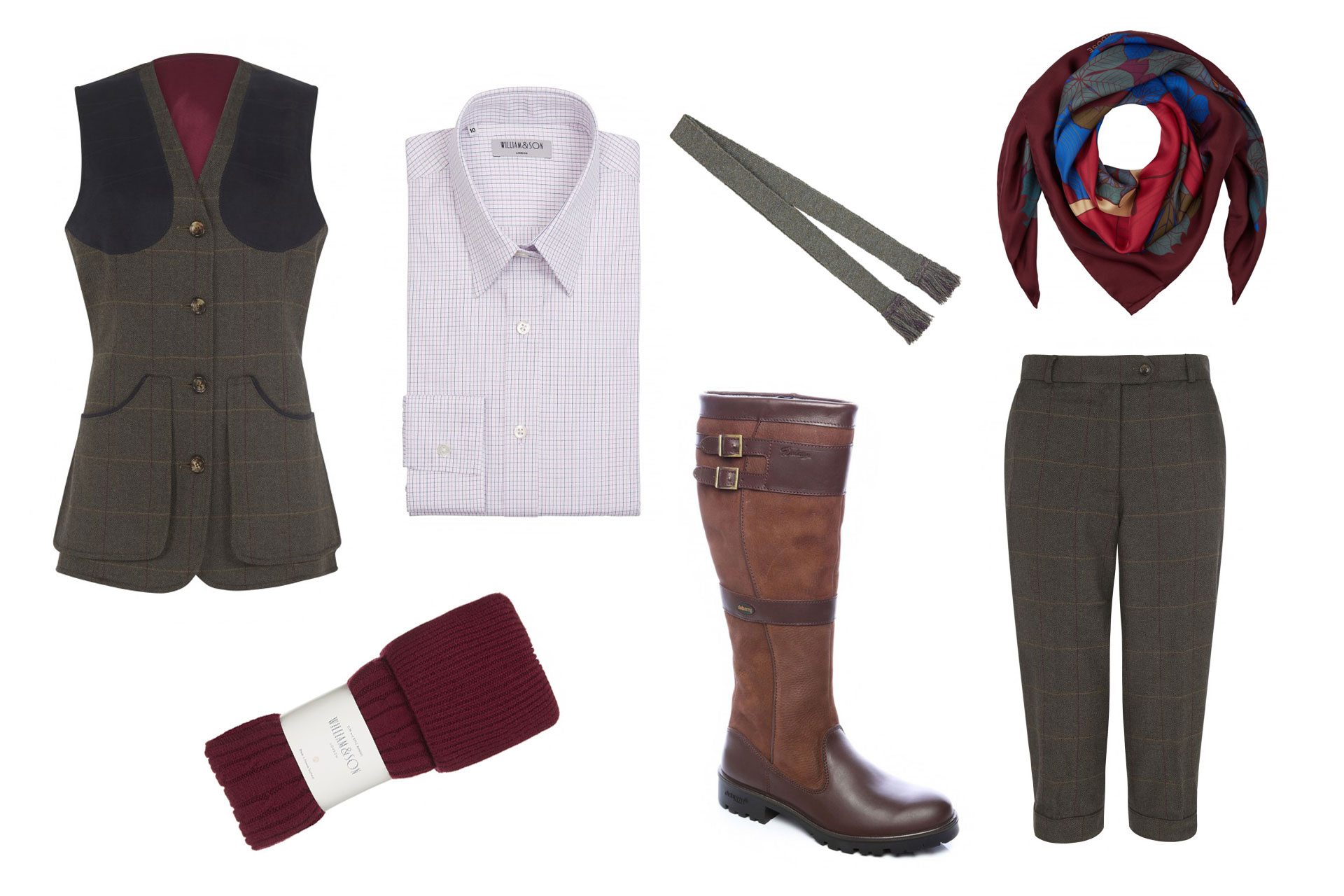 Pictured: Orkney Waistcoat, £425, Orkney Breeks, £425, Fine Grid Shooting Shirt, £125, Merino Wool Garter Ties, £15, Furious Goose Foxes Scarf, £255, Cashmere Blend Shooting Socks, £175, Dubarry Longford Leather Boot, £379
In the warmer months, drop the field coat and replace it with a waistcoat. To complement it, tie one of William & Son's stunning wool or silk printed scarves. As well as the 'Furious Goose Foxes' print, above, we love this Sabina Savage The Pheasant Tree Scarf, £360, which is a wool/silk blend, meaning it's perfect year-round.
TOP TIP: 'Dress for the season. If it is mild, wear lighter-weight clothing that is breathable and does not weigh you down.'
Look Three: A Stylish Spectator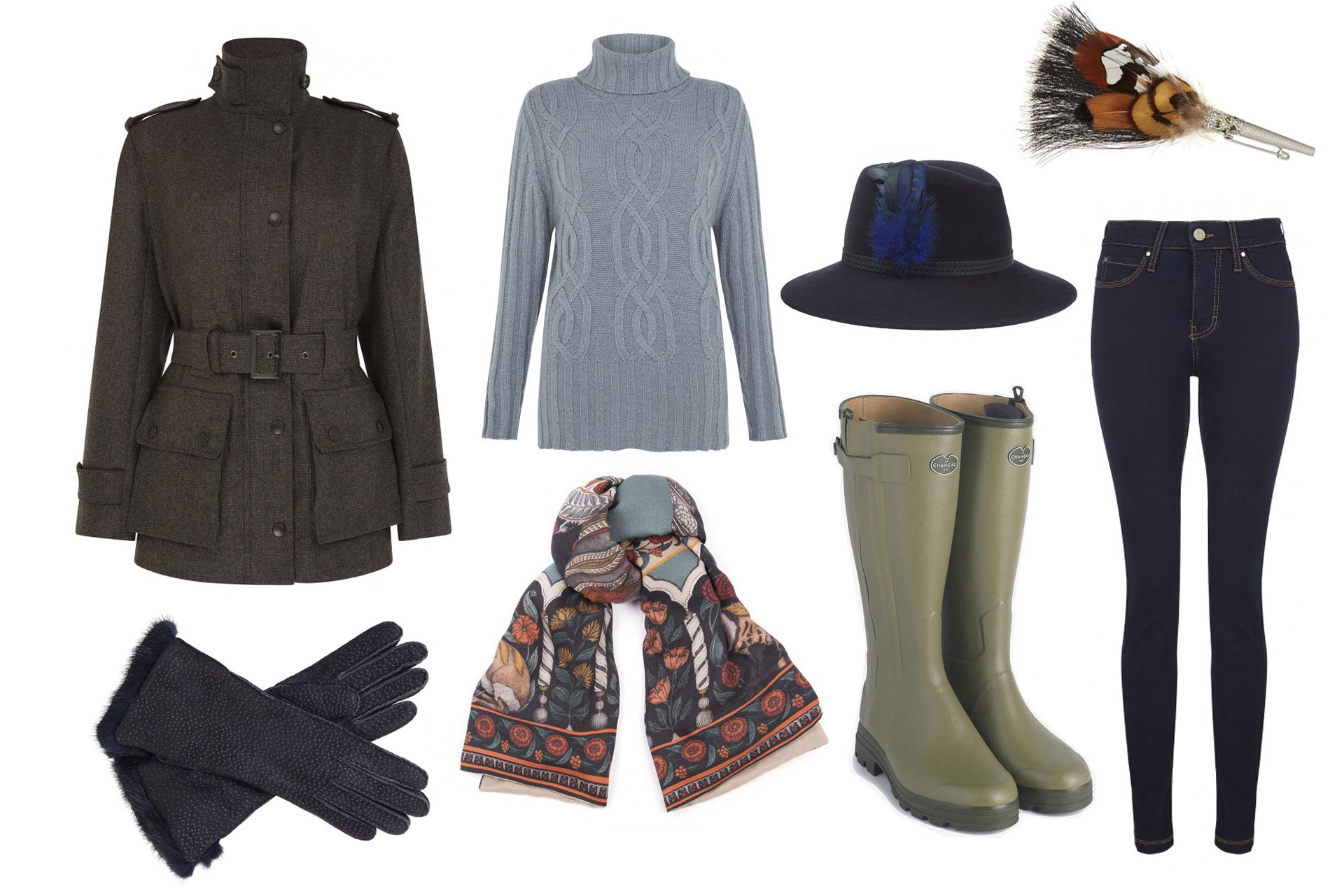 Pictured: Kelso Belted Jacket, £1,250, Cashmere Roll Neck Jumper, £345, My Bob Feathers Brooch, £35, Colombo Denim Jeans, £299, Penmayne Of London Willow Fedora, £299, Capybara Leather Gloves, £255, Sabina Savage Tipu's Hound Scarf, £675, Le Chameau Chasseur Cuir Wellington Boots, £340
The technical aspects of the clothes are not as important when it comes to watching shooting in the field but warmth and comfort are key. And just because you aren't going near the guns doesn't mean you can't look the part. Choose warm cashmere knits, form fitting denim jeans (that will work in the town too), waterproof wellington boots and playful accessories with a nod to the occasion.
TOP TIP: 'If it looks as though it may rain, wear water resistant gear. There is nothing worse than getting wet in the early part of the day then suffering later.'
Look Four: For the Afternoon Tea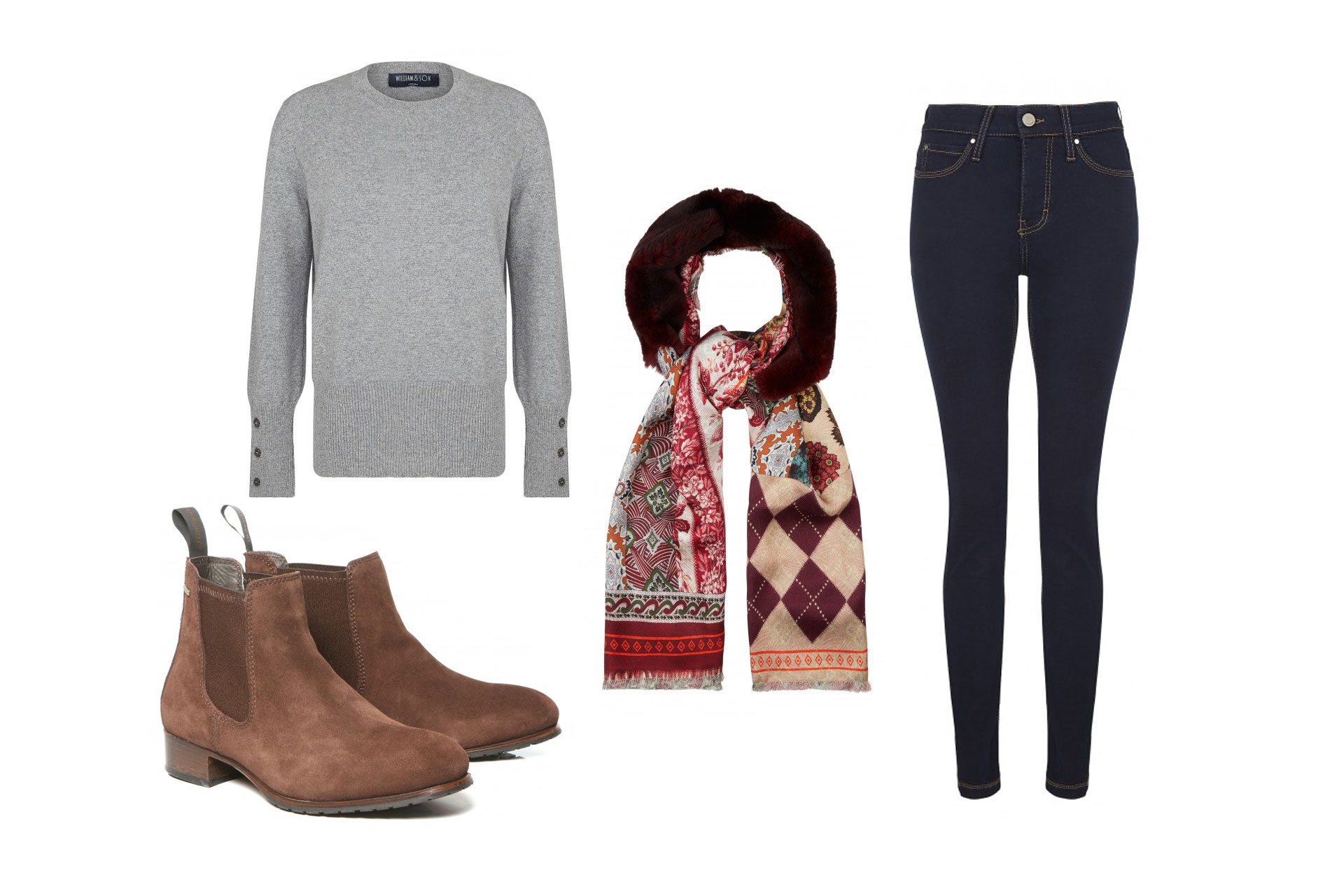 Pictured: Pierre-Louis Mascia Orylag And Silk Scarf, £760, Round Neck Jumper, £275, Town Collection Colombo Denim Jeans, £299, Dubarry Ladies Cork Boot, £249
If you're more about the tea and scones post-shoot, dress appropriately with smart country casuals that you can adapt for your weekday wardrobe in town, too. We love these simple stretch-denim jeans that fit perfectly and fine cashmere knit jumper, that will look equally stylish with a country house or busy boardroom as your backdrop.
A C&TH partnership in association with William & Son. All the pieces featured can be bought online and in the William & Son store on 34-36 Bruton Street.
---