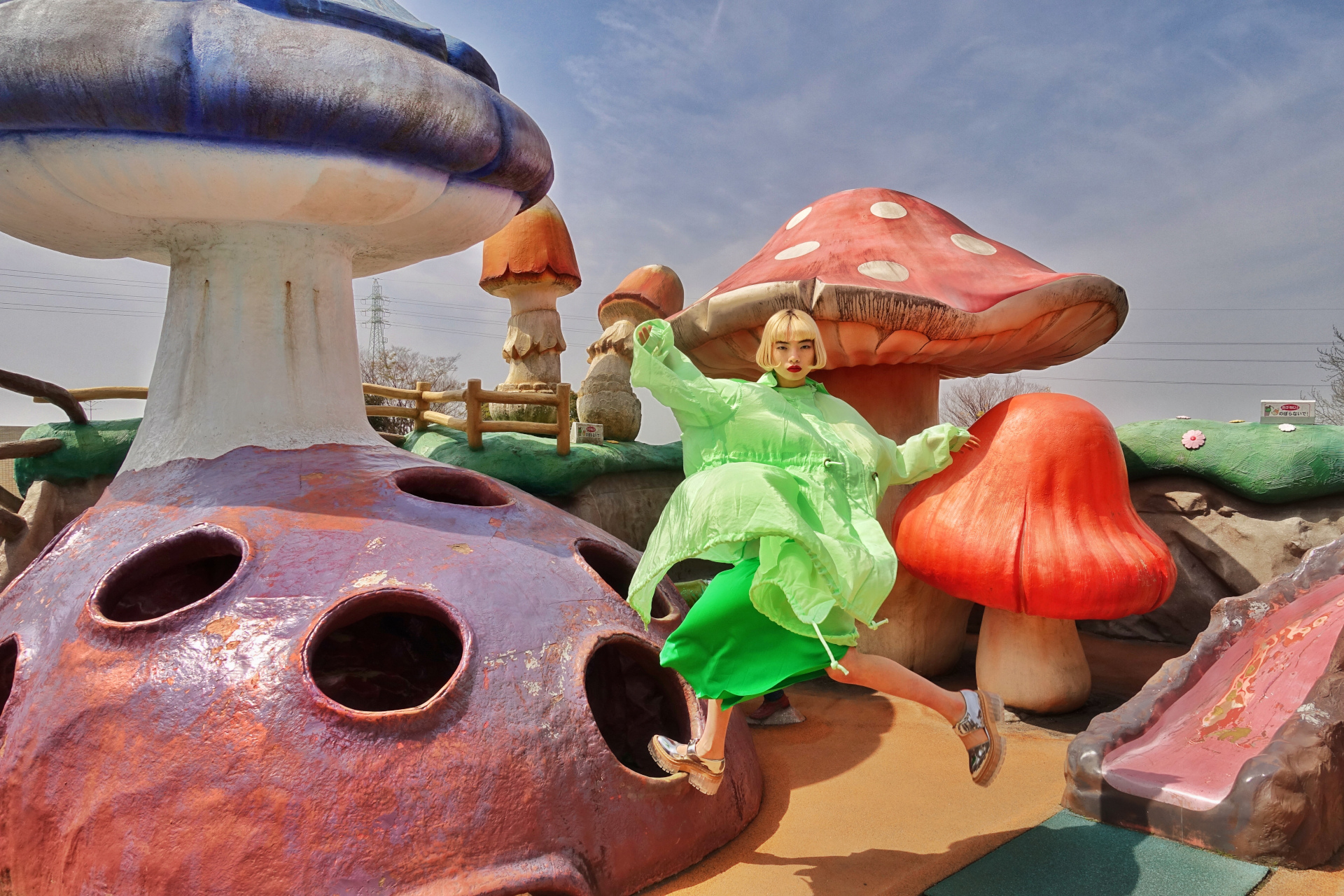 Stella McCartney's Summer 2022 Campaign is a Fungi Fantasy
---
Mushrooms are indeed the future, it seems
Stella McCartney has launched its summer campaign for 2022. Titled 'Mushrooms are the Future', the campaign was created in collaboration with Japanese dancer Aoi Yamada.
5 Reasons Why Fungi Are The Future of Sustainability
Stella McCartney's 'Mushrooms are the Future' Summer 2022 Campaign
British luxury fashion label Stella McCartney has just launched its summer 2022 campaign, headed by Japanese dancer Aoi Yamada. The campaign, which was created and directed by Yamada, is described as 'a psychedelic trip into nature, grounded in the notion that mushrooms connect us all'.
In the campaign, Yamada is shown dancing amongst giant mushroom sculptures in a park in Japan. She wears staple pieces from Stella McCartney's summer 2022 edit, including a vibrant green silk cut-out maxi dress and a translucent parachute jacket. Alongside stills, the campaign also contains a film of the dancer that features mixed sounds she recorded while shiitake mushroom hunting in her local area.
'We cannot live without fungi, even though we need to fight against them – we need to coexist with them,' says Aoi Yamada. 'What I expressed and captured here is the joy to coexist with fungi in the world of "Mushrooms".'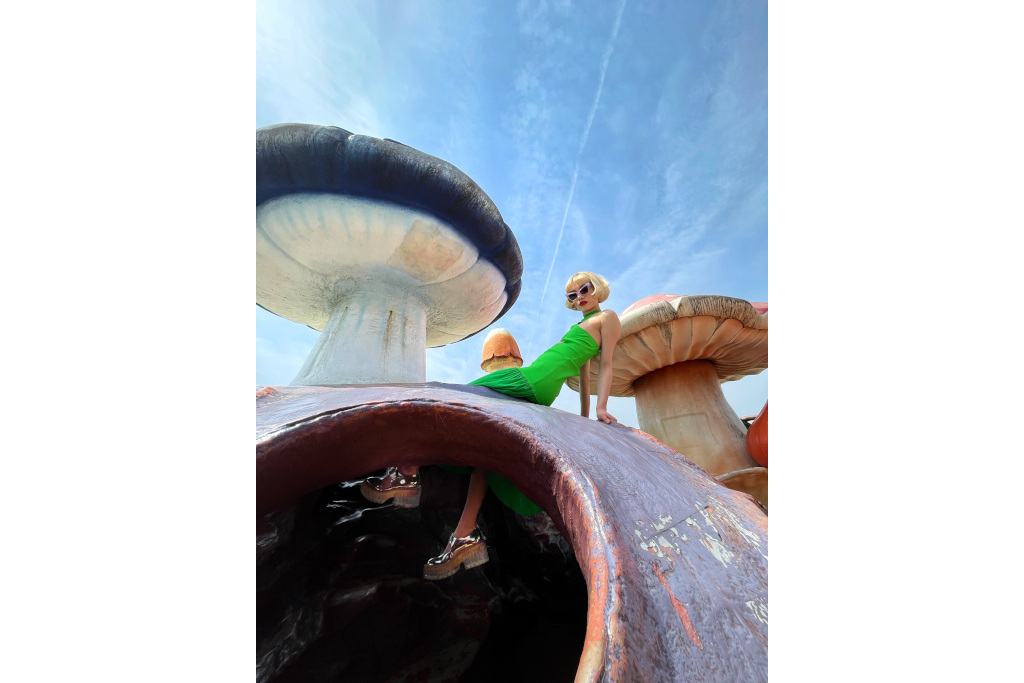 Comprised of ready-to-wear pieces and accessories, the collection sees the designer challenge conceptions of sexiness through the lens of softer and lighter silhouettes. Expect to find sweeping fringe details, oversized blazers and textured surfaces created with ruching and pleats, as well as a tribute to the beloved mushroom in the form of hand-drawn prints, floral patterns, biophilic cut-outs and a combination of earthy tones and vibrant neons.
For this collection, Stella McCartney was inspired by the transformative and transcendental qualities of fungi – in particular those highlighted in the 2019 documentary Fantastic Fungi. Inspired by the many potential functions of fungi outlined, in particular in medicine, breaking down waste and climate change, Stella McCartney similarly explored uses of the organism in fashion. The Frayme Mylo™️ handbag, crafted from vegan mycelium (the underground root system of fungi), made its debut at the brand's SS22 runway show. The bag, a world-first, was created in partnership with Bolt Threads. A limited quantity will be available to purchase later this year.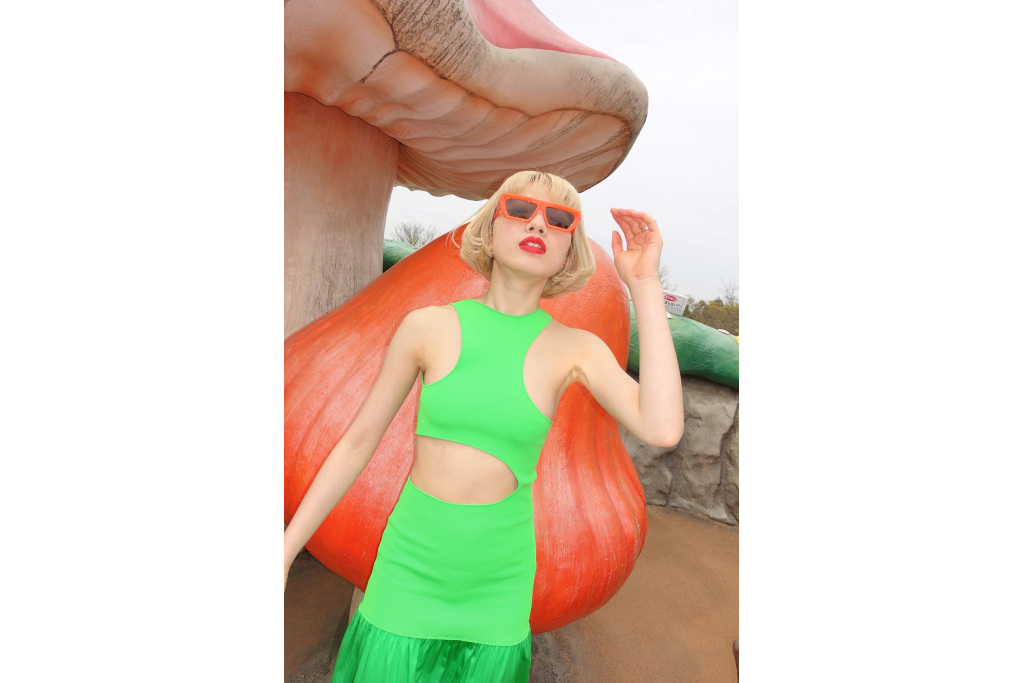 As with the brand's previous collections, Stella McCartney has placed a focus on sustainable materials. While avoiding leather, feathers and fur, the summer 2022 campaign collection features recycled polyester and elastane, regenerated nylon, organic cotton and linen, forest-friendly viscose, responsible and traceable wool from regenerative farms, solvent-free PU, Alter Mat, jersey made from Refibra™ recycled garment fibres, cupro and Recycrom dye using recycled textile waste on organic cotton denim.
As part of the campaign, Stella McCartney will also be launching a series of collaborations across multiple industries, 'creating an inter-connected network of fungi stories'. Collaborators include model and activist Natalia Vodianova, musician and composer Cosmo Sheldrake, British heritage fabrics house Cole & Son and a number of critically acclaimed chefs.
SHOP
Shop the Stella McCartney 2022 summer collection at stellamccartney.com
Images courtesy of Stella McCartney and Aoi Yamada
DISCOVER MORE