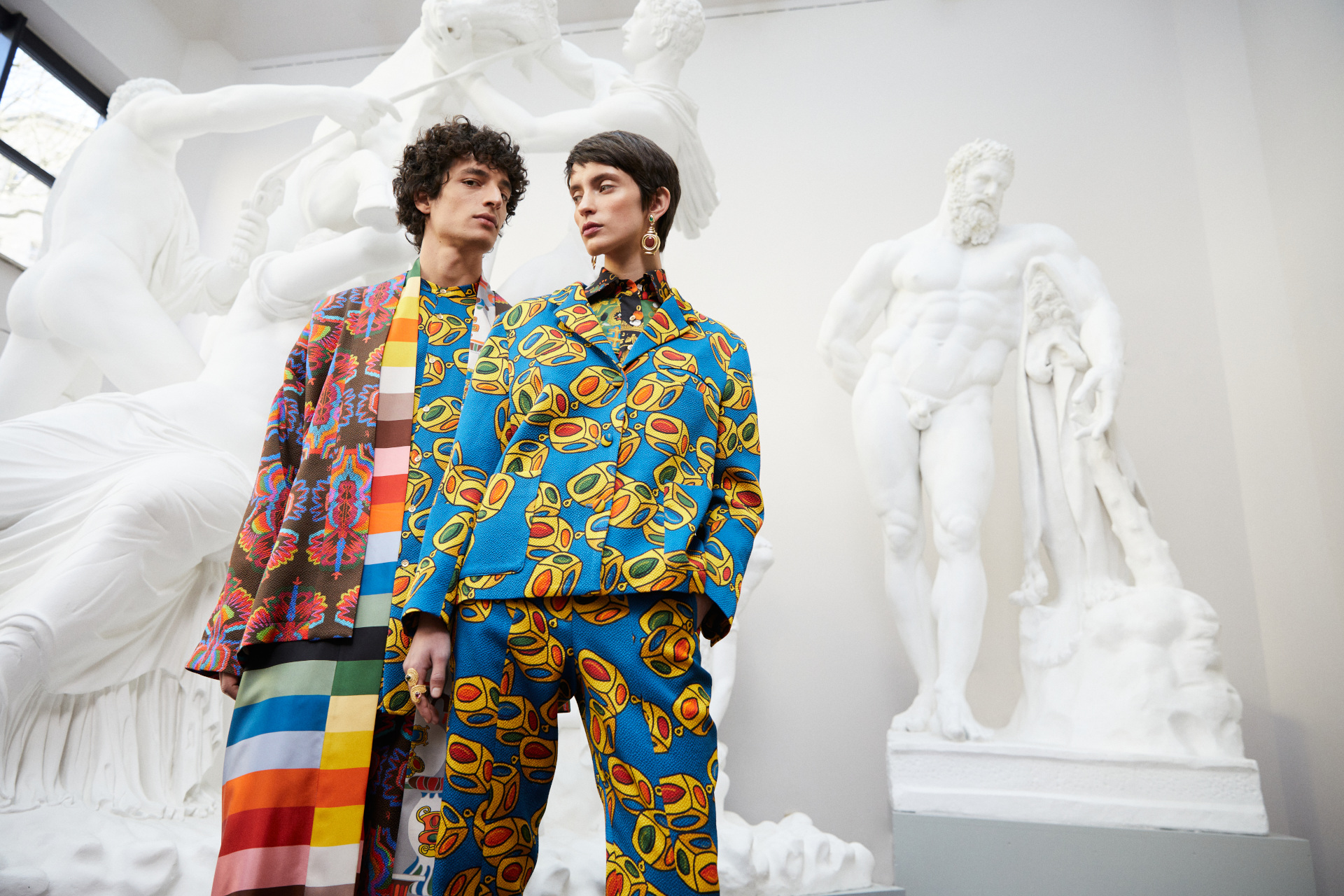 What is One-Of-A-Kind Fashion?
---
The movement blurring the boundaries between art and fashion
We hear the term 'one-of-a-kind' tossed around quite freely in the fashion sphere, usually with reference to all things haute couture. But what do brands really mean when they say a garment is one-of-a-kind? And does one-of-a-kind fashion have the capacity to be sustainable? We sit down with fashion brand RIANNA + NINA, pioneers of recycled vintage one-of-a-kind clothing, to demystify the topic.
What is One-Of-A-Kind Fashion?
As the name suggests, one-of-a-kind fashion follows the principle of creating an item of clothing that is completely unique and has not been replicated in mass batches. These are items that are usually only available in single quantities, and have a more artistic than commercial approach to design.
Many luxury brands around the world have been known to create one-of-a-kind pieces – typically for events such as the MET Gala or red carpets – but in recent years we've started to see these styles sold to the public. The approach to creating a one-of-a-kind piece differs from brand to brand, but some have committed to creating looks using vintage and second-hand garments.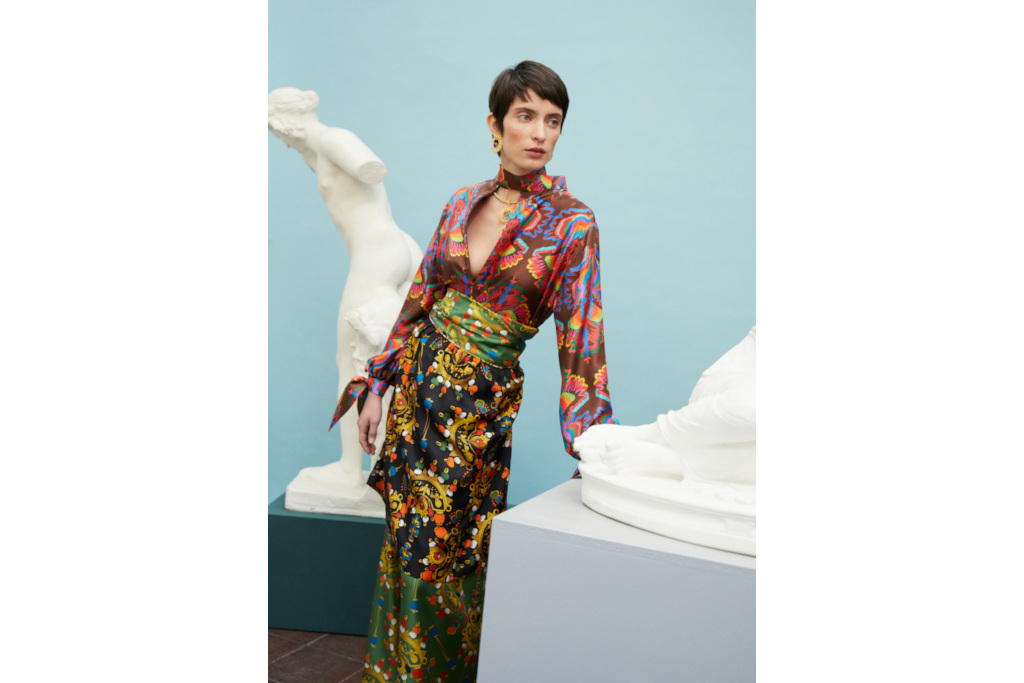 One such brand is RIANNA + NINA, which was founded in 2014 by its eponymous founders Rianna Kounou and Nina Knaudt. 'In our one-of-a-kind collections, we transform selected couture vintage fabrics into new, unique and inimitable masterpieces – from kimonos to dresses, handbags, accessories and interior designs,' says Nina. 'Original Japanese kimonos from the 1940s, vintage silk scarves, table linen collected in Greece from the 50s, and vintage lace are embellished with obi belts, vintage embroideries or upcycled Swarovski crystals. Each design is handmade and made-to-order in our Berlin atelier by a selected team of master artisans.'
Vintage is at the heart of the brand's one-of-a-kind design ethos, as Rianna highlights: 'I grew up with my parents already collecting vintage. Therefore, the beauty of the past and the uniqueness of vintage treasures have always attracted me. The idea of upcycling is something I was raised with. Dedicated craftsmanship and reviving the forgotten beauty in designs goes hand in hand.'
And how are these garments sourced? 'We treasure-hunt fabrics during our worldwide travels, be it through antique markets, independent vintage boutiques, or from befriended traders. Coming home with all these stories is the inspiring ground for later, helping us to compose new creations in our atelier.'
What are the pros and cons?
With practices like RIANNA + NINA's, there's a greater emphasis on 'less is more', meaning that the impact of creating these goods is minimal when compared to traditional collections. These are one-off looks that won't fall into mass production. There's also the appeal of owning something completely unique, something special that no one else will have.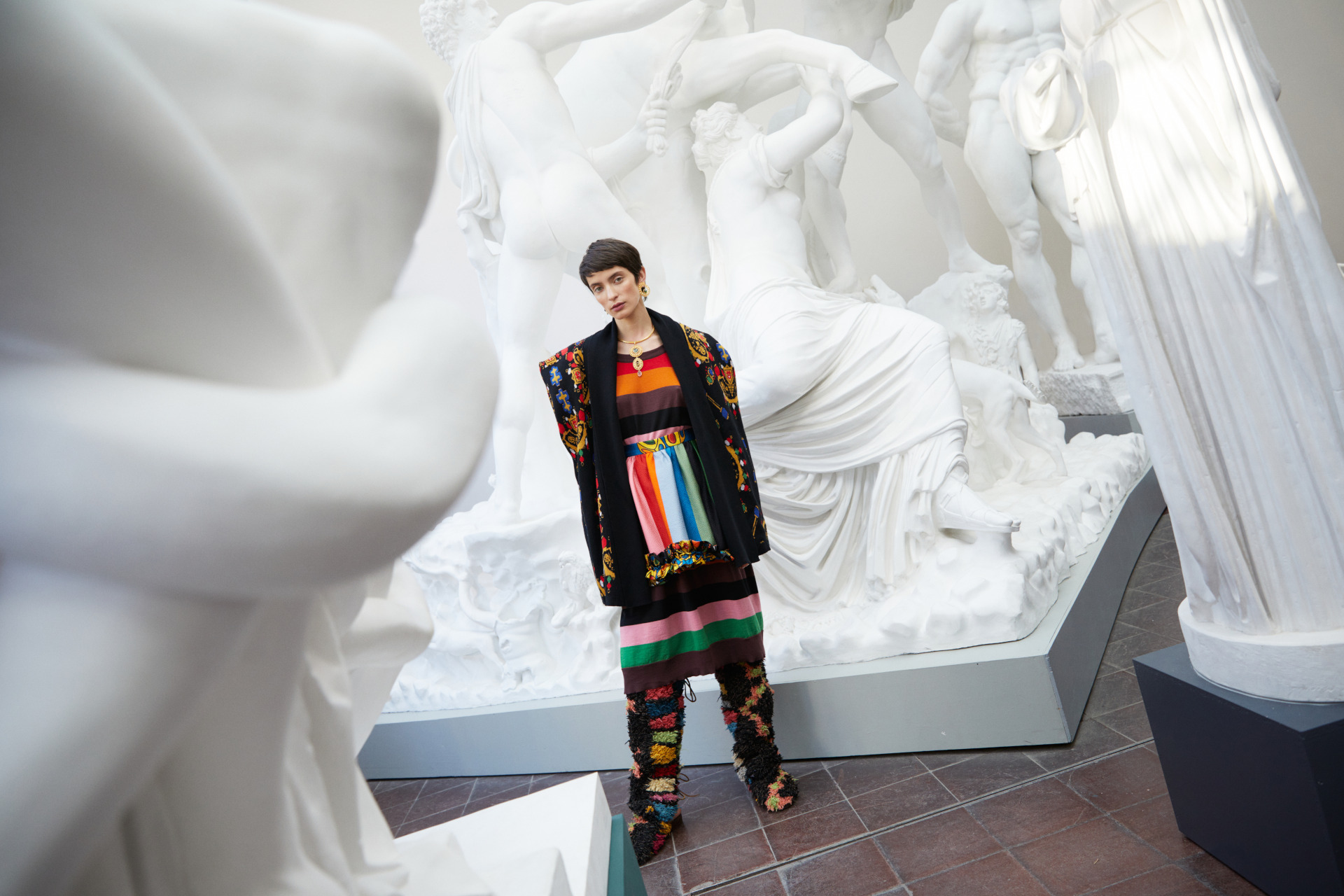 However, the one-of-a-kind fashion market does have its downsides. For every brand using sustainable or vintage materials, there will be one cutting corners or creating an item from scratch. The process can be interpreted differently, and even just one product can have a hefty carbon footprint depending on how it is made and shipped.
Rianna admits that there's also drawbacks when designing their own one-of-a-kind pieces, which largely come down to the slow pace of creation: 'We put a lot of emphasis on the process and detailed manufacturing of our one-of-a-kind collections. Of course, it sometimes takes patience and time to find and work with vintage materials in the desired quality and with exceptional colours and patterns.'
But she's still optimistic. The pace may not be on the same hyper-fast level as other fashion brands, but the end result is worth it. 'We see this as another even more elevated way of bringing our creations to life at a different pace.'
Is one-of-a-kind fashion better for the planet?
As we've already touched on, this does depend on the brand's processes for creating a one-of-a-kind item. Materials, sourcing and methods can all play into an item's carbon footprint.
But more generally speaking, when an item of clothing is in much smaller (or in this case, singular) batches, it can have less of an environmental impact than its fast-fashion competitors. With one-of-a-kind fashion, the purpose of a garment differs from those that are mass produced. Namely, the item becomes more of a valued collectable. 'You can't really compare one-of-a-kind designs with today's fast fashion,' says Nina. 'With RIANNA + NINA, we always aim to create fashion that doesn't follow the standards of the commercial luxury market. Each piece is unique and seen as a collector's piece that can evolve over time with its wearer. It's a much more conscious buying habit.'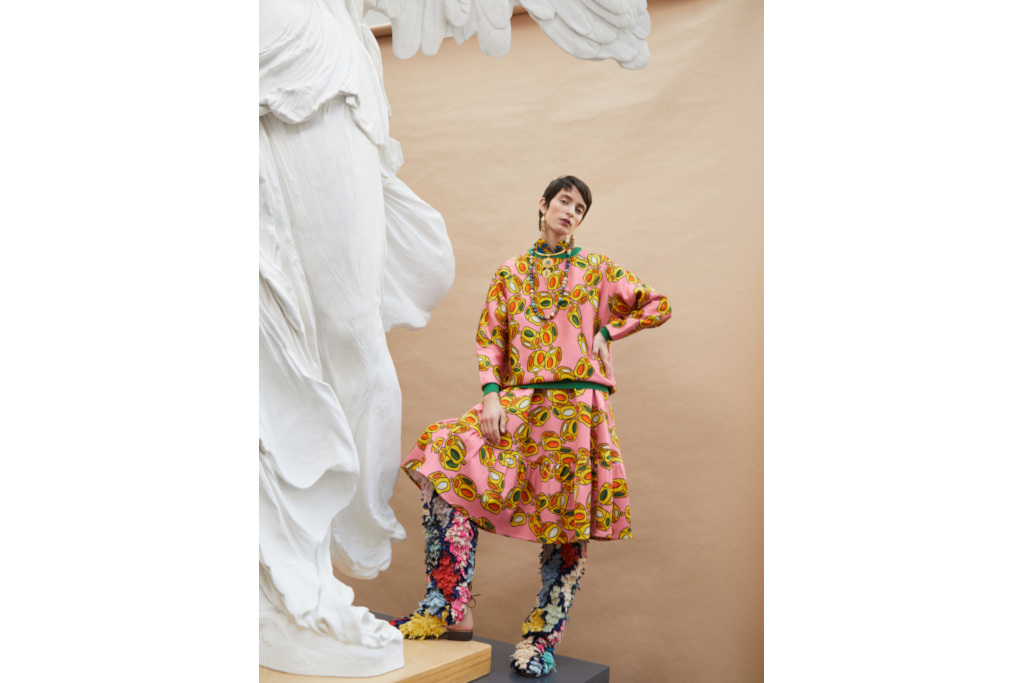 With one-of-a-kind fashion, the goal is to buy better and buy less. These are investments designed to last a long time and withstand the shift in trends and seasons. Unlike the trappings of fast fashion, which rely heavily on what's hot in the moment, this is a movement characterised by slow production, buying and owning. With brands like RIANNA + NINA, there's also a big emphasis on vintage and second-hand fashion, which in turn keeps waste to a minimum by introducing circular practices.
'Working with vintage materials, we aim to share the forgotten beauty of the past and continue writing its story,' adds Rianna. 'Working with handmade vintage materials using the highest quality manufacturing techniques not only conserves resources and minimises our own footprint, but we also see it as an appreciation of traditional craftsmanship. With RIANNA + NINA, we want to share this perspective of fashion as collectible pieces of art.
'Seeing the current trend of vintage and second-hand fashion and the growing consumer's demand for sustainability, I hope to see more people rediscovering a new value in fashion. I hope to see consumers buying – or rather, collecting – fashion more consciously and viewing it as a valuable art object.'
You can find more information and shop RIANNA + NINA at riannaandnina.com
Images courtesy of RIANNA + NINA
DISCOVER MORE