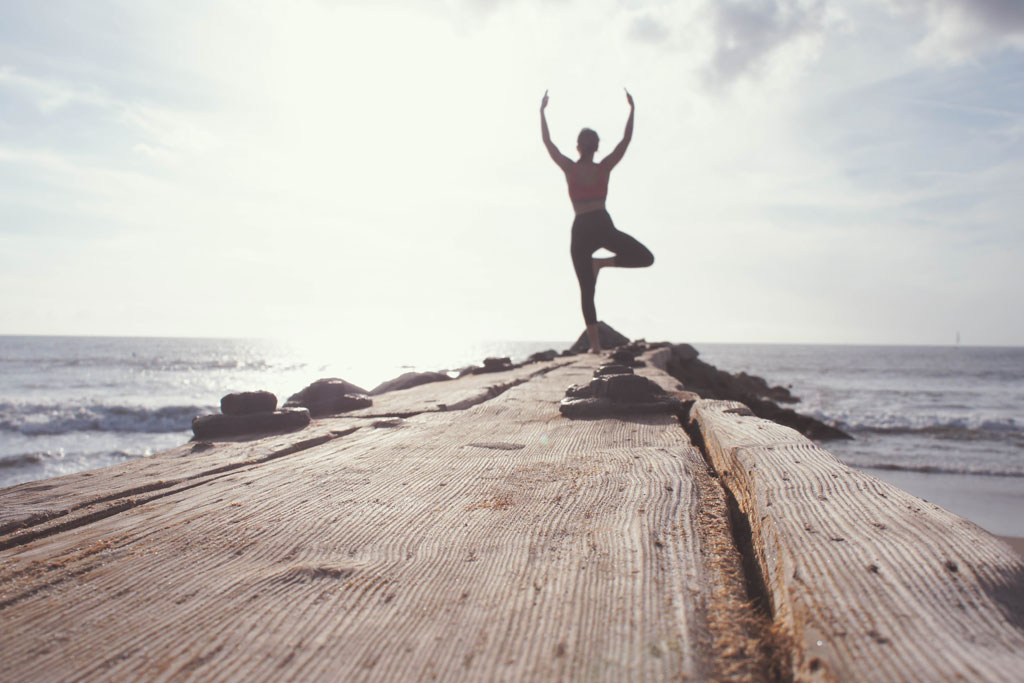 Nadia Narain's Simple Ways to De-Stress
---
Looking to boost your wellbeing this month?
April is Stress Awareness Month – which is, frankly, quite timely. From oil pulling to a good night's sleep, holistic expert and yoga instructor to the stars, Nadia Narain, shares her top tips for boosting your wellbeing. Read her simple ways to de-stress… 
How to De-Stress
What is your morning regime?
I set my alarm half an hour before I need to get up so I don't have to rush. I hate rushing in the morning. The very first thing I do is put a spoon of coconut oil in my mouth and oil pull – you swig it around for a few minutes and it draws toxins from your body. Keeps the skin and teeth clear! Sounds mad but I think it keeps me feeling pretty good.
I start with a cup of hot water with lemon, then I make a cup of earl grey and some cereal. I have to eat as soon as I wake up. I meditate for ten minutes every morning and I'm learning to play the guitar so my teacher, as with anything, says I need to practice for a few minutes a day. I'm terrible but it's fun learning new things. I answer a few emails, do a bit of yoga or take a walk and then start getting ready for my day. My head feels clearest first thing in the morning.
What are your beauty hero products?
I use Emma Hardie Moringa Cleansing Balm morning and night and I love it. Then Zelens 3TS Cream. I keep it pretty simple and I try to be pretty natural with most things but I have noticed a difference with the Zelens Cream (maybe its an age thing!).
https://www.instagram.com/p/Bldun3QAww1/?hl=en&taken-by=nadianarain
Tell us about your perfume…
I created a pure perfume, it's called Lua. With no chemicals, completely organic and wild crafted. I have been working on it for two years with an aromatherapist Michelle Rocque O'Neil. I never wear perfume and only ever wear aromatherapy oils so this is a mixture of the smells I like, mainly rose and sandalwood.
I wanted to create a scent that wasn't overpowering but had properties that made a woman feel good about herself. I love scents but I get headaches when I smell perfume that I don't like, such as when you hug someone and their scent is on you the whole day. So I created something that I would wear and isn't imposing. Everyone comments on it and loves it. I've been wearing it for a while before it actually came out. But if no one buys it, I'll have enough of my scent to last a while so I'm happy!
What's in your make-up bag?
I love Chantecaille's Primer with 50SPF. It makes your skin feel moist and glowy. Then Terry's Sheer Stain on my cheeks. Terry's Rose Lip Gloss and I love Charlotte Tilbury's mascara… and always my perfume.
Favourite spa?
I have a secret place that I love and go to but it's getting harder and harder to get in so I can't give that away. I love The Four Seasons and The Mandarin for extra special girly time.
Places to relax in London?
My house. There is nowhere more relaxing than home. I love walking in Regents Park and being in the neighbourhood and not having to drive or go anywhere that I can't walk to.
Are there any particular yoga moves or breathing techniques that can help overcome everyday stress and anxiety?
Mainly I notice if I don't make the time to meditate, my mind gets the best of me. So sitting still for a few minutes each day really helps me to make a bit of space. Then I try and move slowly with my yoga at home so I can pay attention to what's going on. So a simple spinal twist lying on your back. A downwards facing dog and a few standing poses can take just ten minutes and help me feel grounded and strong and open.
Everyone says 'I don't remember any of the moves to do in an hour' so don't! Just do a few moves that you remember and you will notice that as you breathe better and feel better you start to add a few more things to help you. My DVD Everyday Yoga For Stress Release is designed in three 20-minute segments, so you've always got 20 minutes to do one segment at the beginning or end of each day.
Best tip for a good night's sleep?
I try not to watch TV before bed. Especially something stressful or action packed. I don't like the feeling of going to bed stressed. I usually have a hot bath or shower before bed and I always try to read for a bit. I also take magnesium at night. It's considered the relaxation mineral and helps with body and mind relaxing. If I'm stressed for a reason and wake up in the middle of night and can't go back to sleep, I try not to get stressed about it or get distracted and do a body scan relaxation or breathing exercises to try and settle my mind and go back to sleep. If nothing works I get up and do something!
From the Country & Town House print archives. 
The Best Exercise Classes in London | The Best Day Spas in London