Glowing skin comes from within; but what does this mean when it comes to your beauty regime? Paul Banwell, Plastic Surgeon & Skin Guru explains why drinkable technology like Skinade could be the key to glowing summer skin…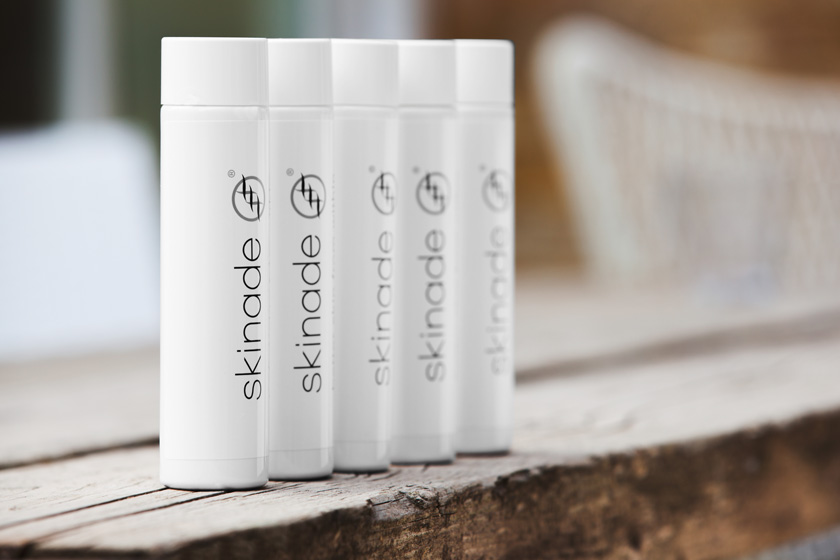 Drinkable Collagen: Future-Proof Your Skin
'Our natural collagen production slows down from our early 20s by 1-1.5% every year. By the time you turn 50, most individuals will have lost about 50% of the collagen in your skin (varies according to genetic & epigenetic factors) – leading to sagging, thinning and wrinkled skin,' says Paul Banwell. Sounds like bad news, doesn't it? But it's not all bad: 'This can be modified and improved by lifestyle changes, diet, nutraceuticals and good quality skincare as well as by other non-surgical means.'
Drinkable technology has been a firm fixture on the beauty market for several years now, and there's good reason for this. Collagen molecules are too large to be absorbed into the bloodstream or as topicals applied to the skin, but Skinade has another solution.
'Skinade uses hydrolysed collagen peptides in its carefully crafted formulation. Hydrolysed collagen means that the collagen molecules have undergone a light enzymatic process to be broken down into peptides with a very low molecular weight. The collagen peptides used in Skinade (the market leader nutraceutical) are the lowest on the market at 2kDal,' says Banwell.
So how does it work?
'It is key to really understand how Skinade works. It does not add the collagen peptides you drink to the dermis, but rather these collagen peptide fragments act as a feedback mechanism to trigger and upregulate your own natural collagen production.
'As a drink, it is absorbed before the digestive process kicks in (radiolabelled scientific studies have tracked this). Therefore it is essential that it is a liquid and from a doctor's perspective the engineering of this is critical – powder collagen preparations do not cut the mustard.'
Skinade in Numbers
Is there any proof that it really works? 'In two independent clinical studies, it been proven that the type of collagen peptides used in Skinade are absorbed into the bloodstream to trigger the body's natural production of collagen, hyaluronic acid and elastin, all essential to younger and better-looking skin.'
After drinking skinade for 90 days, subjects in a recent trial saw the following results versus the control group:
25.5% increase in collagen density
34% increase in skin hydration
28% increase in skin elasticity
And Finally…
Don't forget that collagen drinks like Skinade aren't a replacement for a healthy diet and good skincare regime, just the perfect accompaniment!
Find out more skinade.com
A C&TH partnership with Skinade
---