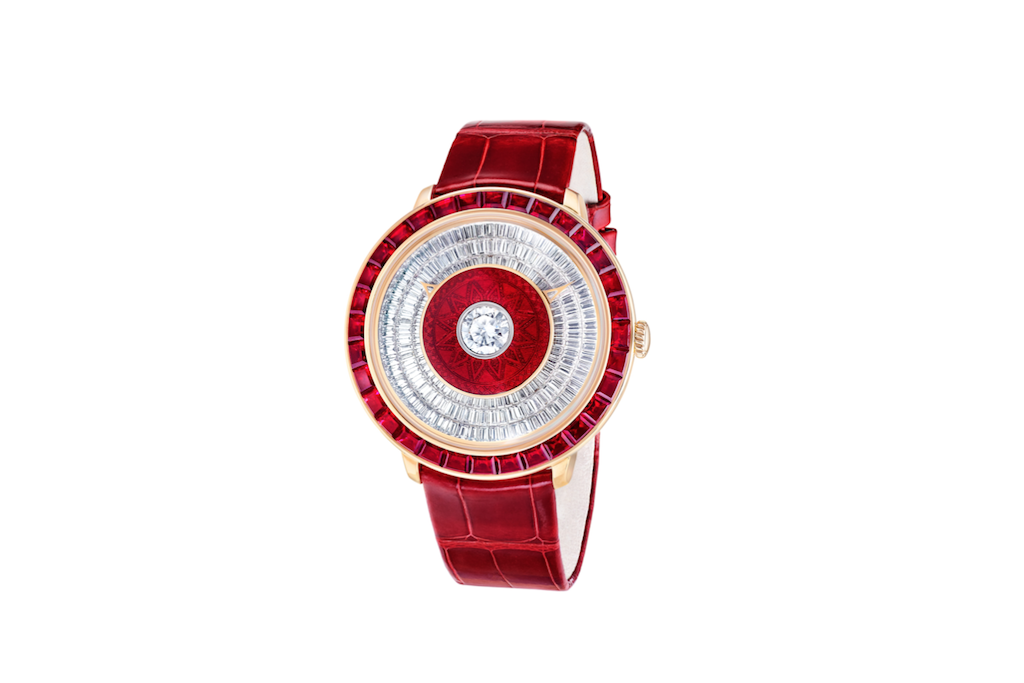 As a gemologist at at global supplier of responsibly-sourced coloured gemstones, Gemfields, and with over 15 years experience in the jewellery industry, Elena Basaglia has the answers to all of our ruby related questions.
How popular are rubies at the moment?
The rise in coloured gems has certainly been boosted by celebrities and young royals, recently seen to be opting for more colourful engagement rings and adding colour in their jewellery. Rubies, emeralds and sapphires are the most popular and valuable of the coloured gemstones.
Demand among end customers is robust and the sector has seen strong growth across all three gemstones – with double-digit growth observed in many countries. In particular, Gemfields have observed record-breaking rough gemstone auctions in recent years, with prices per carat reaching an all-time high, clearly demonstrating that the appetite for rubies is growing. International auction houses are now offering incredible collections of jewellery featuring the rarest coloured gemstones, with rubies often achieving the highest return. One such example is the Crimson Flame ruby, which achieved a "per carat" price that is still an unsurpassed world record.
Why do you think coloured gemstones are rising in popularity?
When combined with significant improvements in the supply chain, particularly in respect of reliable and responsible sources of supply, it is no surprise that we've seen such growth in the sector. The recent discovery of rubies in Mozambique in 2009 has been a real gamechanger. Mozambique has fast become the world's #1 ruby exporter, yielding record-breaking auction results for Gemfields. Following US-led bans in 2008 on rubies from Burma, Mozambique's consistency and transparency of supply has instilled renewed confidence in rubies, enabling high-end jewellery brands to create extraordinary capsule collections with fine rubies they would typically have spent years collecting.
Interestingly, people often forget that the well-known laws of supply and demand apply to "efficient markets", a term that cannot yet be used for the coloured gemstone sector. Gemfields' Kagem emerald mine in Zambia is a case in point: today it produces an estimated 25% of world emerald supply. Over the last decade its gemstone production has tripled while the prices received have increased more than six-fold!
Has a diamond had its day then – what with the move towards responsible sourcing etc?
Demand for coloured gemstones has grown markedly. A decade ago, diamonds were widely perceived by consumers to be the most prestigious of gems. Today, the swing toward precious coloured gemstones is overwhelming. The last decade has seen the world record prices for an emerald and a ruby surpass that of a colourless diamond on a per carat basis, with the current records set at auctions held by Christie's. It surely can't be long before sapphires (a record presently held by Sotheby's) surpass diamonds too.
We expect vibrant consumer interest and sector growth to continue. As appreciation of their beauty, rarity and value grows, so will demand. Responsible sourcing is increasingly important these days as many consumers want to know where their products and materials have come from and coloured gemstones are no different. Gemfields' core values of transparency, integrity and legitimacy speak directly to these concerns. Mozambican rubies and Zambian emeralds from Gemfields give back to the local communities, ensuring a positive impact at the place of origin.
What really is a ruby?
A ruby is a precious stone, beloved throughout history as much as it is today. In gemmological terms, it is the red variety of corundum, a mineral family that includes sapphires in a rainbow of colours. It is aluminium oxide coloured by traces of chromium mostly. Rubies are particularly rare – far rarer than diamonds. They vary in colour more than you might expect, from purplish-red to orangey-red with the most desirable hue as a pure vibrant red.
Traditionally the most prized colour of rubies is slightly bluish red body colour and the purer red fluorescent emission. As with all gemstones the colour should be evenly distributed throughout the gemstone. The appraisal and appreciation of colour is, of course, subjective to some extent.
Where are most rubies found?
Rubies are found in different types of natural deposits, mostly in East Africa, the Himalayas and South East Asia. The most important deposit in today's scene is Gemfields' Montepuez ruby mine in Mozambique, the largest and most prolific area where rubies have been found in recent years.
How are they mined as opposed to other gems?
The geographic area usually dictates the type of mining techniques used: in Mozambique for example, we currently mine two types of natural deposit: a primary deposit, where rubies are found in their original host rock, and a secondary deposit, which is an old riverbed, where rubies are found at a depth of only 10 metres below sea level. The methods of mining used for these two types of deposits are very different and the concentration of higher quality gems is much greater in the secondary deposit, where nature has already seen the strongest rough gems prevail after years and years of water activity, to arrive today in their most beautiful form.
Once cut and polished, gemstones tend to look far more similar as the uniformity is desired for jewellery pieces, so this distinction is more important for gemstones dealers and cutters, rather than the final consumer.
Which historical figures really loved their rubies?
Rubies, emeralds and sapphires are the most popular and valuable of the coloured gemstones. Not only are they the primary colours of light, but they embody unrivalled heritage, history, legacy and legend. No other gems quite channel the mystery and magic of centuries of kings, maharajas, Mughals, pashas, queens and tsars in the same way as 'The Big Three'.
Just recently HRH Queen Elizabeth II was seen wearing rubies for President Trump's visit to England, and rubies can count many fans in celebrities and royalty alike, from Penelope Cruz to Taylor Swift.
What do you think about the rise in lab-grown stones?
Lab grown gemstones have been manufactured since the late 1800s and they are most commonly used commercially. If transparently disclosed as such, they offer an alternative choice to those looking for certain characteristics that are not easily found in nature as well as those on a lesser budget.
What symbolic meanings does a ruby have?
Rubies are said to define passion, protection and prosperity. Rubies were treasured by early cultures as they represented the redness of the blood that flowed through their veins, and many believed that rubies held the power of life and so were often carried into battle for protection. To the spiritually inclined, such as is the case for people of Hindu faith who composed the earliest written accounts of ruby or "ratnaraj" (meaning "king of the gemstones" in ancient Sanskrit), the gem is as radiant as the "sun new risen" and "paints the whole house with crimson".
Do you see a big spike in jewellery sales in July as it's the month of the ruby?
There is definitely an increased interest in gems on their birthstone month, so July sees a rise in demand and increased interest in the mysteries that surround rubies.
Where would you turn to find wonderfully contemporary ruby jewellery? Can you advise?
Gemfields partners with contemporary and classic jewellery brands alike, who share a similar ethos and wish to celebrate the 'king of gems'. Most recently, Van Cleef and Arpels' 'Treasures of Rubies' collection, Cartier's 'Colortura' high jewellery collection and Dior's new 'Gem Dior' collection all feature the 'king of gems'. Gemfields' Mozambican rubies can be found in the creations of the fantastic Francis de Lara, Chelsy Davy's AYA pieces, and the truly outstanding bespoke designs of Bina Goenka.
---