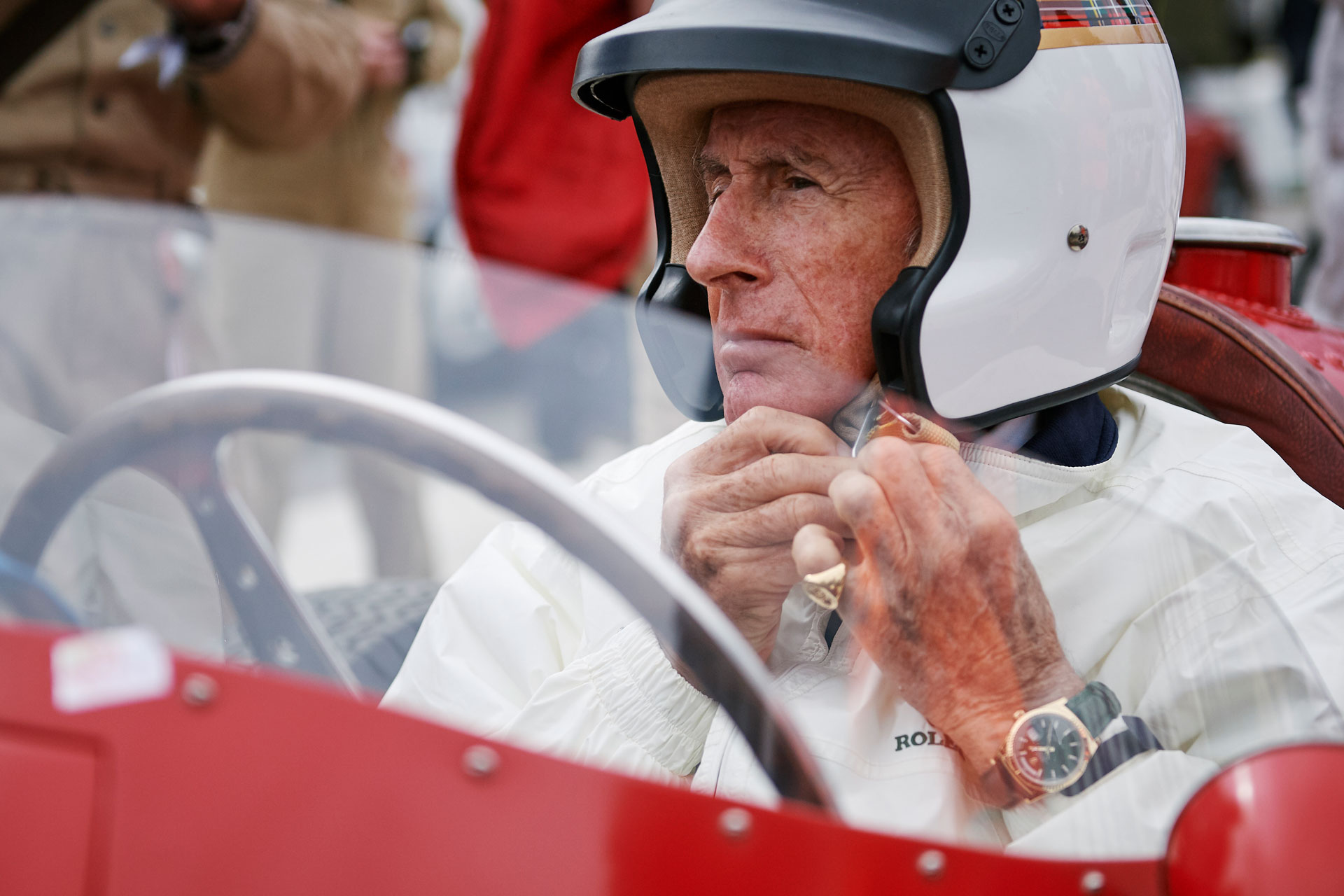 The Flying Scot: A Moment In Time With Sir Jackie Stewart
---
"Numbers are unimportant. It's what you do around those numbers that is important."
Former Formula 1 champion Sir Jackie Stewart, 81, has utilised his time well, so far. Three world championships (1969, 1971 and 1973), 27 race wins, 43 podium finishes and a dedication to changing the face of motor sport to make it a safer place, breaking a host of records along the way. One of these records stands to be broken this weekend after 55 years, when SpeedWeek at Goodwood takes place from 16-18 October behind closed doors. As we await the Timed Shootout, which will see professional drivers from multiple racing series compete to break Sir Jackie Stewart and the late Jim Clark's Goodwood Motor Circuit lap record, Rebecca Cox spent a little time (via Zoom, naturally) with Rolex Testimonee Sir Jackie to reflect on some of his more significant moments…
Sir Jackie Stewart Interview
Rebecca: You've held the joint lap record at Goodwood Motor Circuit for 55 years, how will you feel watching people competing to break it on Sunday?
Sir Jackie: Listen, records are made to be broken! I've always been of that opinion. I was lucky enough to beat the record of Jim Clark and Juan Manuel Fangio who I think still was the greatest driver that has ever raced. When I broke his record, I really thought 'this is heaven, allowing me to do this'.
Take Lewis [Hamilton], he has had a fantastic career [of breaking records]. He was fortunate to have picked up by Ron Dennis at McLaren and then now Mercedes Benz – the great Fangio raced for Mercedes when he knew they were going to win – Lewis chose the right time to go to Mercedes Benz so that was a good decision made by him. He's driven the fastest cars on the grid today, but he's driven them with consistency and consciousness. I take my hat off to him, he's done a good job.
R: I'd love to hear the story of your lap that day in 1965 – in your view, what has to go right to get that flying lap? Where do the extra hundredths of a second come off?
SJ: To actually achieve the fastest lap… Funnily enough I wasn't that big on having to be on the front row of the grid, it wasn't a big deal for me. Pole position today is a big statement thing, but it wasn't in my day, it was whether the cars were going to finish or not, rather than where they were going to start.
I remember Goodwood well, because I was a new puppy. It was my first season in Formula 1 and here I was with Jim Clark, Graham Hill, Jack Brabham and really top-line racing drivers and I got pole position. All I can say was, it was a very clean lap. You can't over-break, you can't over-accelerate, you can't over-steer. Everything's got to be gentle, almost a love affair with the car. You can't be abusive to it, or it bites you. You can't overdo it, or it disappoints you. It must be at its absolute limit of performance. The first corner at Goodwood is a double apex and then you go into some of the fastest corners in the world in motor racing. To get them right and not scrub off any speed, not brake too late, or too early; everything has to be done as perfectly as you can. And when you make the slightest error of judgement, you've got to cover that error that nobody's noticed, but you've noticed. That might have been the lap before I got the fastest lap, therefore I was ready for it when it came. It is a degree of science from a driver's point of view – the braking distance can't be too sharp; it should be a slightly gentle introduction so it doesn't upset the car. The car is like an animal, a highly bred animal. If you do something wrong, it magnifies your error and it bites you. Either in time or beyond time, if you have an accident.
I learnt my smoothness from Jim Clark and from watching the great Fangio. Everything had to be unspectacular. The spectacular racing driver pleases the crowd but doesn't please the bank manager. I learnt from my fellow Scot Jim Clark, who shared an apartment with me in London. We lived together, we laughed together, we cried together because racing was a dangerous time then. So that's the epitome of it and I really don't think it's any different today – it's that gentleness, it's got to be really finessed to the highest level.
Jim Clark met my lap record, but he did it after me, which to me was a big deal because it was Jim Clark! He was driving a Lotus that everyone thought was the best racing car in the world at the time.
R: On a day like that, can you feel it in the cockpit when you've really nailed a lap? What is the emotion?
SJ: You've got to be very cool. You must be without emotion. Emotions are dangerous, you do things and say things you wish you'd never done or said. As I said, Formula 1 cars are like highly bred animals. It's the most sensitive piece of kit that you could go to in mechanical terms. You don't grab the steering wheel, you feel the steering wheel. You feel the brakes, you don't hit the brakes. At the end of the day that's what makes or breaks you. You can't be angry with the car, you can't be sleepy with it, and you certainly can't take liberties with it!
R: Although, you do see drivers getting fairly angry with their cars at times…
SJ: Not the good ones!
R: As a racing driver work life is all about time and utilising every second and nanosecond on the track and in the pits, does this spill over into the rest of your life?
SJ: I was lucky enough to be a shooting man. I shot for Scotland and then for Great Britain and I learnt so much from my sport from the age of 14 to 21. I had good ability to begin with, but I didn't have good mind management. Whether you're a businessman, a medic or a journalist like yourself, mind management and time management are vitally important, and I learnt that and that had a lot to do with me adapting as quickly as I did into Formula 1.
R: How do you view time differently at 81 than you did during your years as a racing driver?
SJ: Exactly the same. Time for me is about the people you're working with. I've been with Rolex for example for 52
years, but the quality of that relationship endures. It's exactly the same in sport. I learnt from sport a lot to do with these long-term relationships.
R: What has been a watch that you've had a particular connection or affinity to over the years, and why?
SJ: My first Rolex watch was way before they kindly asked me to join them. I had done quite well at Indianapolis Motor Speedway in qualifying and the entrant paid me quite a lot of money and he lived in Houston Texas. I went down with him and I decided I was going to buy a Rolex watch. He took me to the Rolex shop, and I bought a top of the line yellow gold Day-Date and that was the biggest thing that had ever happened to me. I had never bought anything of that value in my life. This was 1965 or '66, and since then I've always worn a Rolex. I still love the Day-Date and the Daytona. I've got quite a few Rolexes and I love watches; it's one of the few things a man can have that you can touch and feel and take pleasure from.
Lynn Barber On the Art of the Celebrity Interview
R: If you had to pick a moment in time to revisit from your life again, what would it be?
SJ: Apart from meeting Helen, my wife, (which was a big deal,) in terms of motor sport starting out with my man Ken Tyrrell who really started me into the big time. Winning the championship for the first time was pretty nice and winning the last one was OK. The life is very glamorous, it's very colourful, very exciting, and in my day of course it was also very dangerous. Sadly, most of my friends died. Helen, my wife, counted 57 people. So that time was a peak and valley of excitements, glamour, achievements, both financial and otherwise and then at the same time it was huge loss, up close and personal.
R: With regard to that, such a huge part of your legacy in motor sport is your campaign to make the sport safer, are you prouder of your work in that area or of your record on the racetrack?
SJ: I think for me, the proudest thing I can call upon has been to make motor racing safe. I joined in the swinging 60s and 70s, motor racing was dangerous, and so exciting in other ways. I think my moves toward safety will maybe be the thing I'm most remembered for. My three world championships were fine, in those days there weren't many championship grand prix races so the title for me lasted quite a while. Alain Prost was the man that beat my title and I was very pleased that he had done it, I was at the race when he achieved it and we sprayed champagne together and we drank it, together. I was proud to have achieved what I did, but I knew I was going to get beaten. Numbers are unimportant. It's what you do around those numbers that is important and my motor racing safety campaign, for that reason, will probably be the thing I'm most remembered for, apart from driving a racing car, which was actually not too difficult…
R: With the advantage of time and hindsight, what one piece of advice would you give to young drivers starting out now?
SJ: I think they should look back to the history of the sport of which they are going to be part of. Way back in the 1930s, Malcolm Campbell doing the world land speed record over 300mph (wearing a Rolex!), for example. You've got to appreciate where the sport has come from and who are the greats of the past. It's not necessary to think that everyone who's winning today is better than anyone who's ever been there. Mohammed Ali was a great boxer, Pelé was a great footballer; is there somebody better today? They could be as good. But that's where I think sport is wonderful. There's a great record of champions. I was very lucky to be in that world.
The other thing is that you've got to be with the right people. I'm alive today because of four mechanics and engineers in total. I didn't have wheels fall off, I didn't have mechanical failures, I never drew blood from my body, because they were the best at what they did. They were better at what they did than I was at what I did.
R: Sir Jackie, it's been a pleasure, thank you and enjoy Goodwood this weekend.
SJ: Goodwood is a wonderful thing. I'll drive the BRM that got the lap record in 1965, I'll drive the Tyrrell that I won the world championship with and I'm going to drive Stirling Moss' car that he won the Monaco grand prix with. Even at my young age (I'm actually only 18, because I'm dyslexic), I'm getting as much pleasure out of it as I ever have and still going to big and great events with Rolex.
Sir Jackie Stewart will attend SpeedWeek at Goodwood from 16-18 October 2020. He has been a Rolex Testimonee since 1968. 
Feature image credit: ©Rolex/Guillaume Mégevand | Sir Jackie Stewart driving at the 2017 Goodwood Revival