Summer is upon us, and it's time to start thinking seriously about swimwear. As great as the classic swimwear brands are, there's always space for something new in your suitcase. This year, choose a new swimwear designer to make your mark on the beach and induce some serious swimsuit envy. We've picked 3 of the best new designers to know now. Prepare to be asked who you're wearing multiple times a day…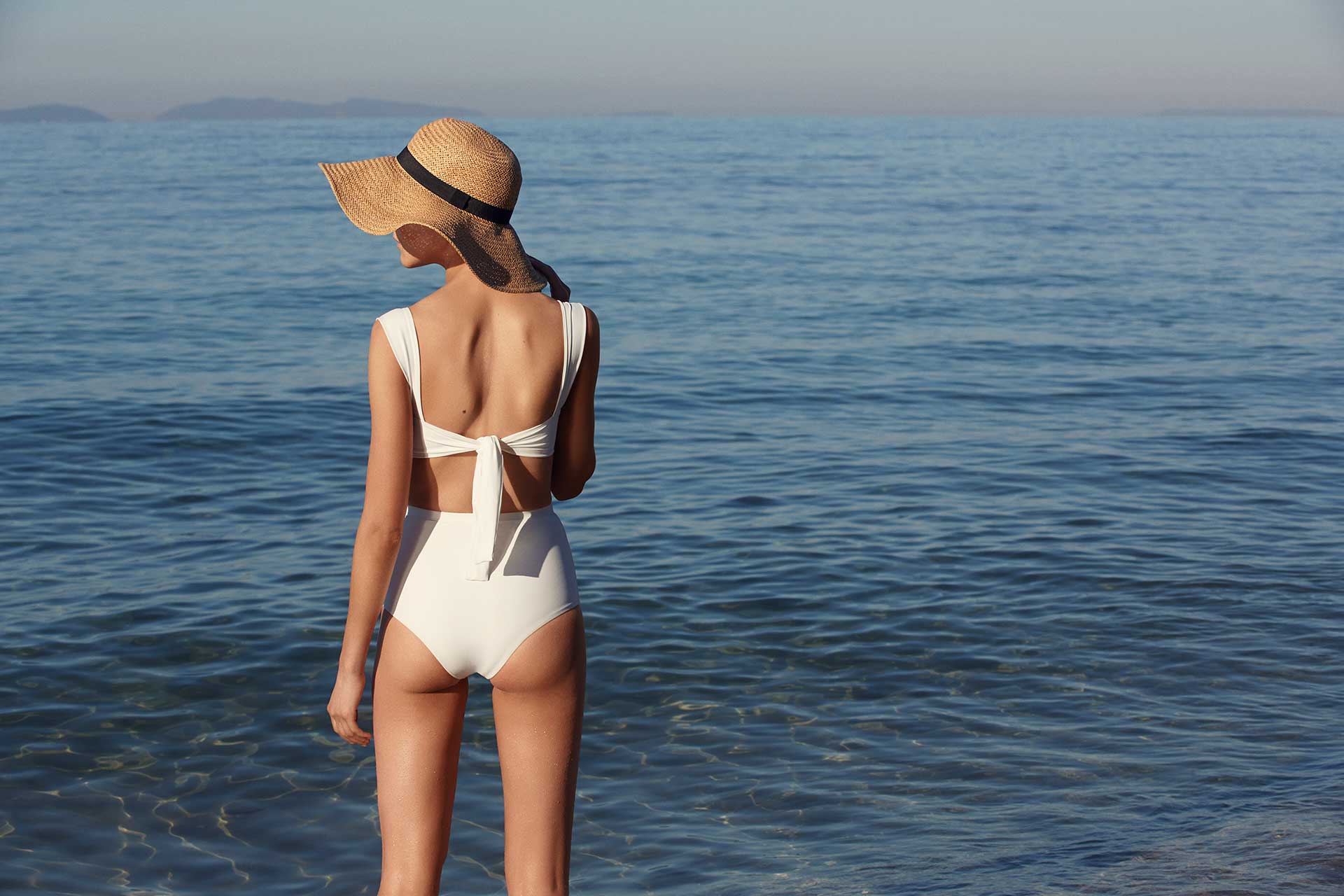 Only launched last year, Arabella London is reinventing swimwear as a multi-functional garment which can be worn beyond just the beach. The swimwear collection bridges the gap with ready-to-wear, with pieces that quickly become wardrobe staples. With a strong consideration of how a woman wants to look and feel in body separates, AL cut their signature convex curve into every brief which creates a refined silhouette, sitting on the bottom at the most flattering point. The pieces speak for themselves: stylish, elegant and expertly crafted, Arabella London has already been given the Vogue stamp of approval, so it won't be a secret for long…
Q&A with Arabella MacRitchie
Tell us a brief history of the brand?
Despite my love for the beach, it all began with the cut on the bottom! I was completely dissatisfied with the swimwear available, especially the silhouettes which were often clumsy at the seams or at best resembled granny pants. As the sun set and women moved on to their next venue, swimwear was completely covered up and became little more than the uncomfortable underpinnings for a new outfit. Being a bandeau, bralette and bodysuit lover myself, I began to reimagine swimwear as a multifunctional garment, stripped from its traditional context. With this in mind, I was determined to create a line of flattering and fashion-forward body separates that were both transitional and transeasonal, designed to be worn beyond the beach.
What makes your pieces special?
On a personal level, the innovative details and construction involved. My formal education was in Art History not Contour Design, so I am fascinated by the work that goes into creating structured, underwired, high-quality swimwear. My naivety at the beginning meant I had no boundaries- I had no understanding of how complex my ideas would be to create and the perseverance involved. The beauty has been achieving this- the Contour Bra took around 8 prototypes to crack!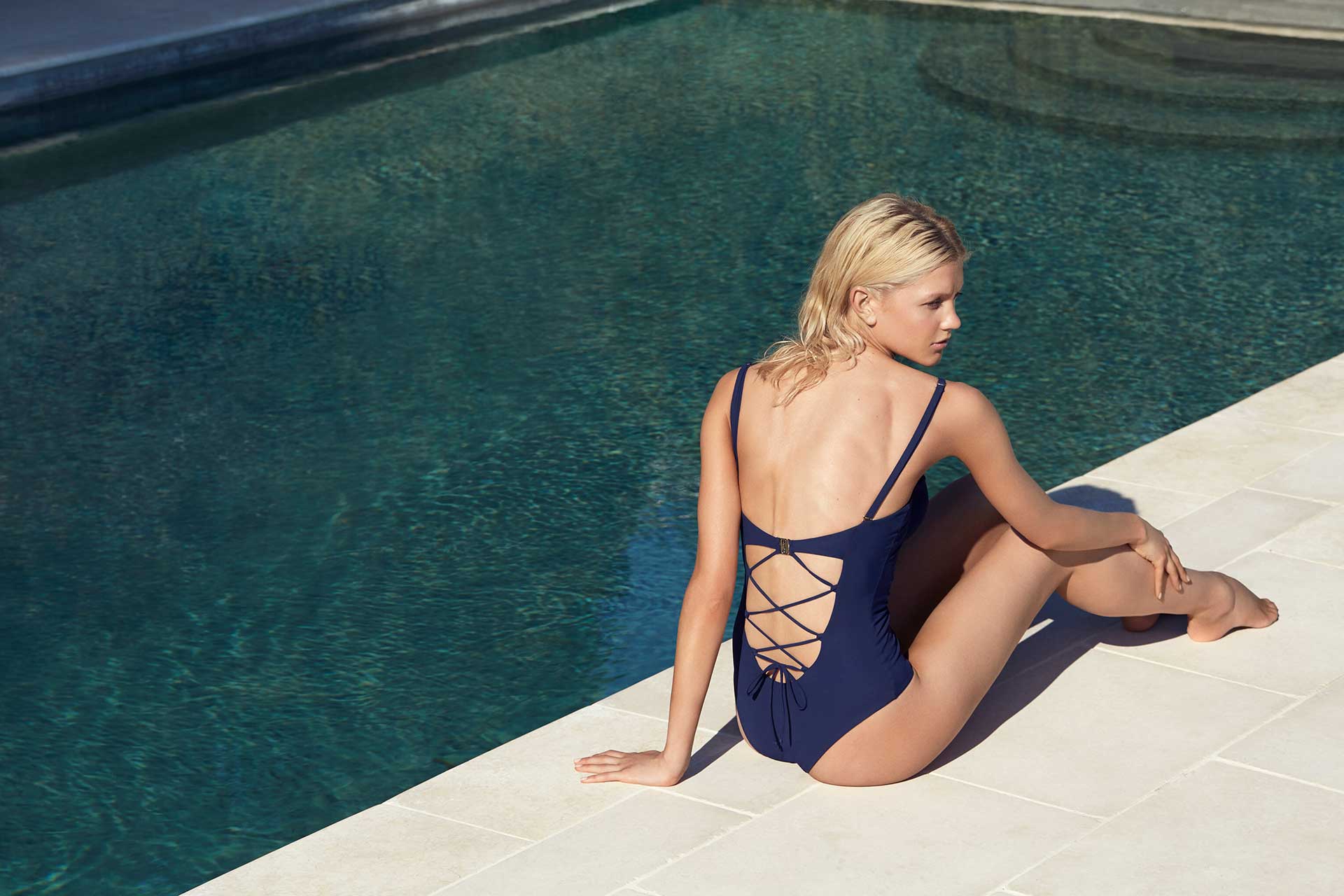 The concept of 'beyond the beach' definitely makes the collection unique as each style is crafted with this in mind, the designs made not only for the beach but also for every day. This is reflected in my choice of an Italian fabric with combined swimwear, activewear and ready-to-wear properties. The more sophisticated pieces can be worn right into the evening, whilst the more relaxed styles can be worn as "swimtimates" on a lazy day.
What's the key to confidence on the beach?
Finding that style that makes you feel fabulous is key. I recommend two things: go high-waisted, and consider cupped and underwiring! Even if these aren't your initial choices, many people are amazed and pleasantly surprised by the sculpting effect they have.
What is your favourite piece and why?
Currently the Modern Bustier in True Black; the ruched straps and striking wire detail make this a glamorous addition to my wardrobe, whilst the One80 and Plunge Crop in Ivory are currently working as my go-to bras layered under summer white shirts.
Anything else we should know?
The cup sizes are growing- stay tuned!
Available to buy on the Arabella London website.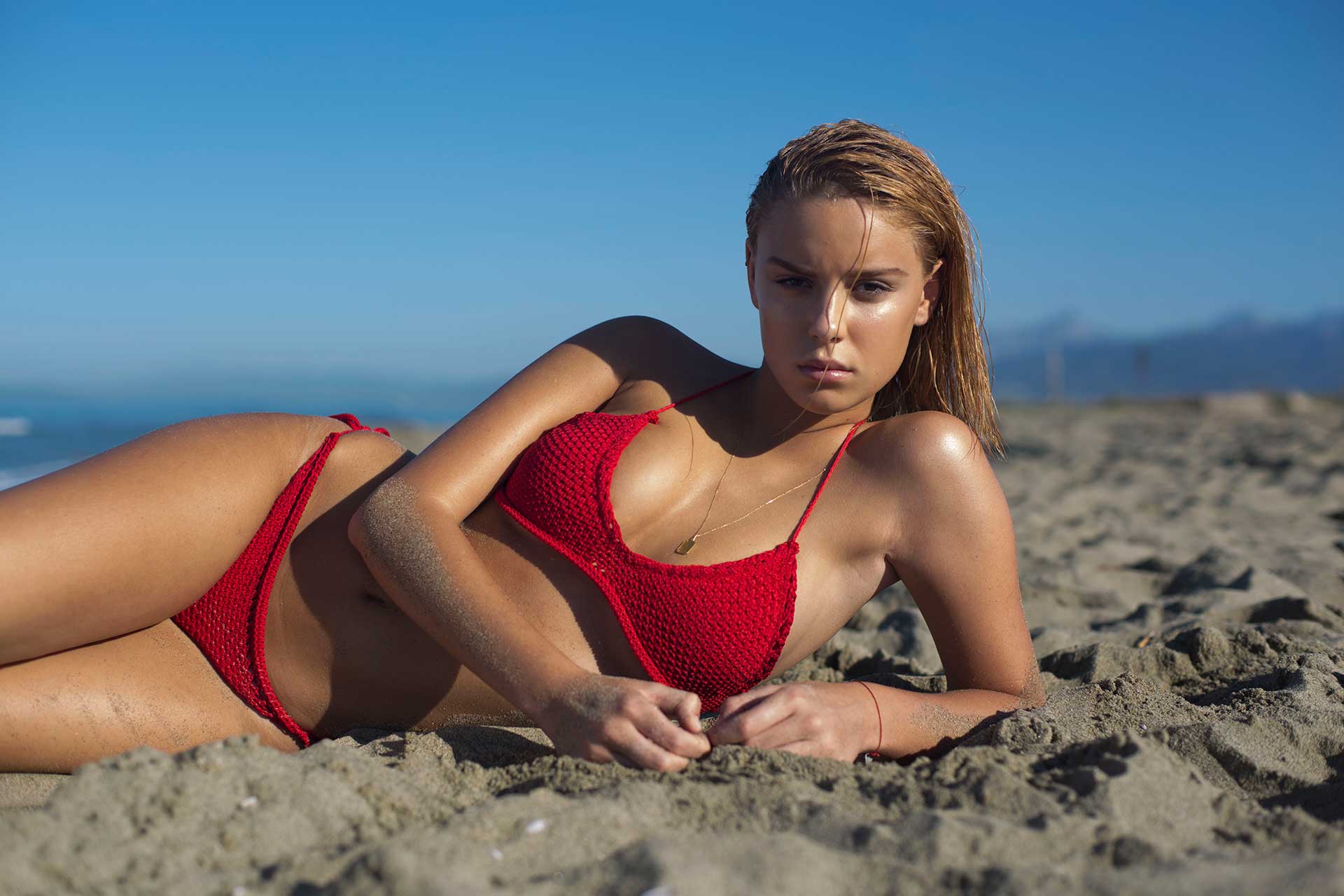 Created by Rebecca Larsson, an uber-glam Italian-Swedish it girl, ACK Mare was born from a blend of two passions: sports and the sea. Blending functionality with femininity, ACK's super cool swimwear pieces aim to flatter and accentuate the female form without compromising on comfort and aesthetic. ACK's innovative silhouettes adapt to different body shapes, and all the pieces are of the highest quality and 100% made in Italy. Larsson is Head Designer for sunglasses brand Retrosuperfuture and a regular on Grazia's website, so it goes without saying that her swimwear is some of the coolest around.
Q&A with Rebecca Larsson
Tell us a brief history of the brand?
ACK started in 2014, but I have been used to spending all summer every year at the seaside, by the beach. I love the ocean, the feeling of the sand beneath my feet, the watermelon and all the summer fruits, and boat trips… Beachwear for me has therefore always been an essential and important part of my wardrobe. But I started to find it more and more difficult to find pieces which met my needs, and so creating my own line seemed the natural thing to do.
What makes your pieces special?
When I created ACK, the swimwear industry had a distinct lack of products in high-quality materials that offered simple, sensual lines as well as comfort- something sexy that wasn't at all vulgar. I am a great lover of sports and I wanted to create something which would incorporate functionality too. Plus, thanks to a deep understanding of the natural female form, each piece is crafted to enhance every body type.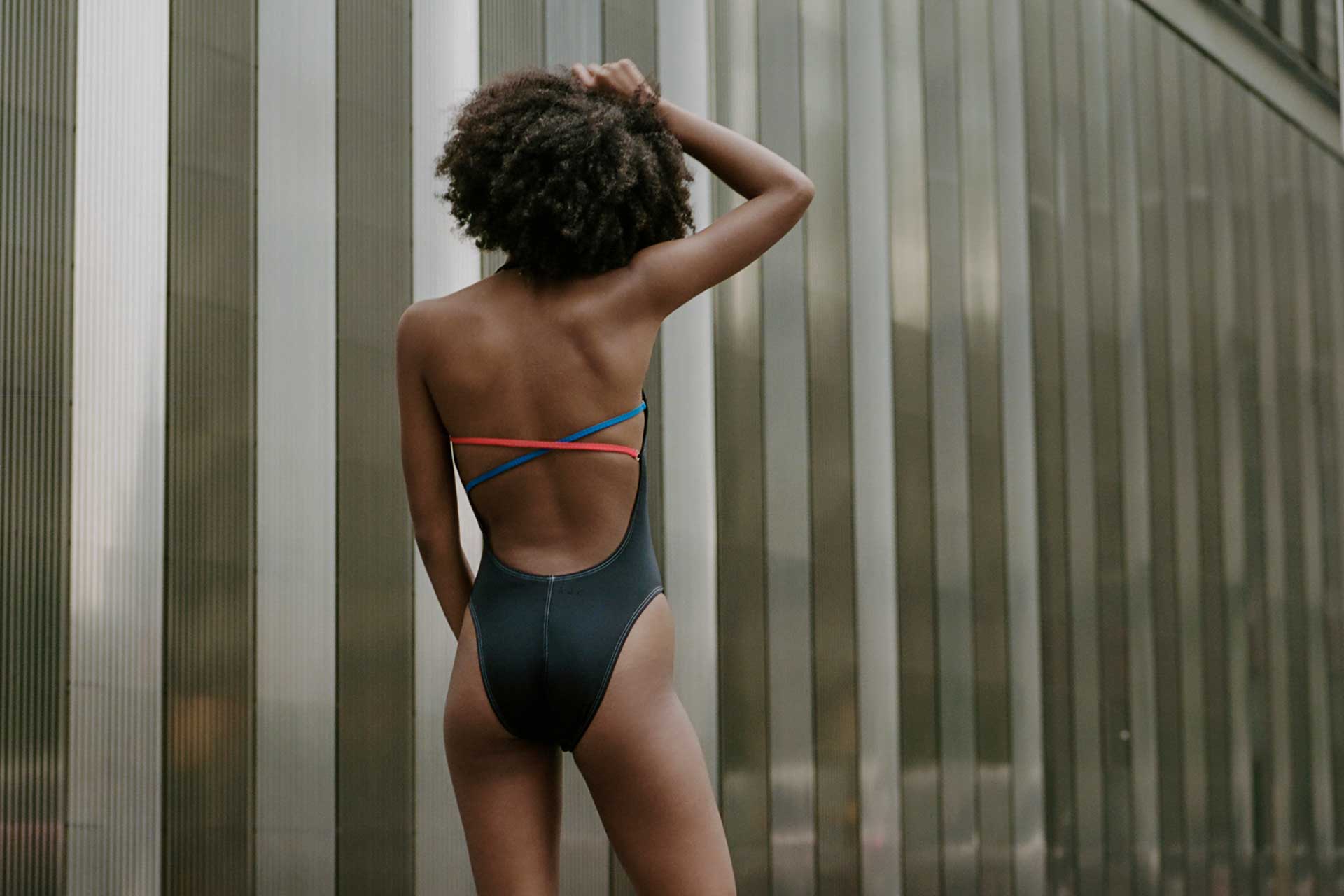 What's the key to confidence on the beach?
I'm half Swedish and half Italian. My mum's figure is Scandinavian while I have a more Mediterranean shape. It took a while for me to accept it and understand that my body type is beautiful too. I think that the key to confidence is to stop comparing yourself to others, even your loved ones. It sounds cheesy, but nobody is perfect: we all have different breasts, bums and legs, as well as varied strengths and weaknesses. You just have to learn to understand and love what you have, and have some fun playing around with it.
What's your favourite piece and why?
The Fine is one of my favourites because its super minimal shape allows you to get a perfect tan without too many lines and it's very comfortable. I also love our Fisico Spugna one-piece with the ACK logo pattern and low-cut back which perfectly highlights your physique: it's a must-have!
Anything else we should know?
Our latest collection (SS17) features the splendid work of the sexy and talented designer Ana Kraš. Check it out on our website. It's available to buy online as well as in selected stores in around Italy and in the US.
Available to buy from the ACK website, or from Farfetch, NeedSupplyCo and MNZStore.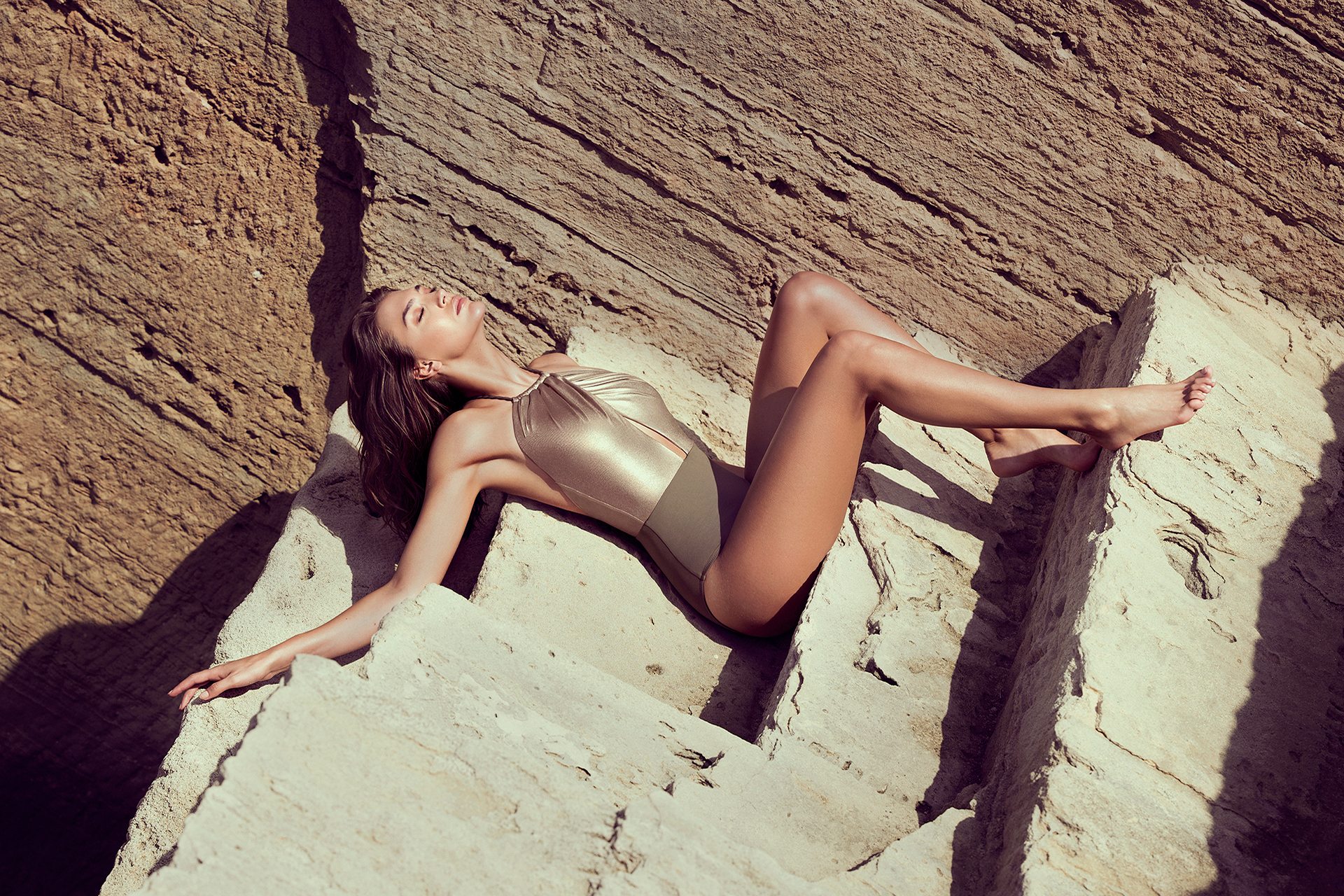 Nina Deckers is the brains behind LAZUL with her extensive experience of the industry thanks to a 30-year family heritage of being one of Europe's leading manufacturers for luxury swim and resortwear. Based in London, LAZUL is a luxury resortwear brand which mixes 1970s-inspired elegance with modern design. Made for the elegant, worldly and playful but stylish woman, the pieces are made from the highest quality materials and are designed to seamlessly transfer from daytime on the beach or boat, to dinner and night-long dancing. Featured in top tier fashion publications such as Vogue, ELLE and Grazia and favoured by countless celebrities (Kate Moss, Naomi Campbell, Rihanna…), LAZUL's pieces are a staple in the wardrobes of those in the know.
Q&A with Nina Deckers
Tell us a brief history of the brand?
Lazul was born out of a need for a resort wardrobe that is fashion-led, of exquisite quality and that differentiates itself through exclusivity and a specific direction: effortlessly cool elegance, but very playful and feminine. I am obsessed with silk and wanted to create kaftans, dresses and jumpsuits that work with the swimwear on the beach but that will also be special pieces to wear for a chic dinner or long lunch.
What makes your pieces special?
The work and the love that goes into the collection. The extensive research for inspiration from all cultures, mystical worlds, flora and fauna as well as architecture and art. Hand-drawn prints are revised for 5 months until they're ready to be screen printed on silk and lycra, luxurious fabrics from small mills in Italy and France that are dyed and finished with special washings to achieve the LAZUL look. The fit of the swimwear and ready-to-wear pieces such as the long jumpsuits is amazing and really enhances the beautiful feminine silhouette. Swimwear accessories such as charms and hexagonal rings or sliders and tassels are made just for LAZUL- we develop the steel moulds and our customer knows she will never see the same in any other brand.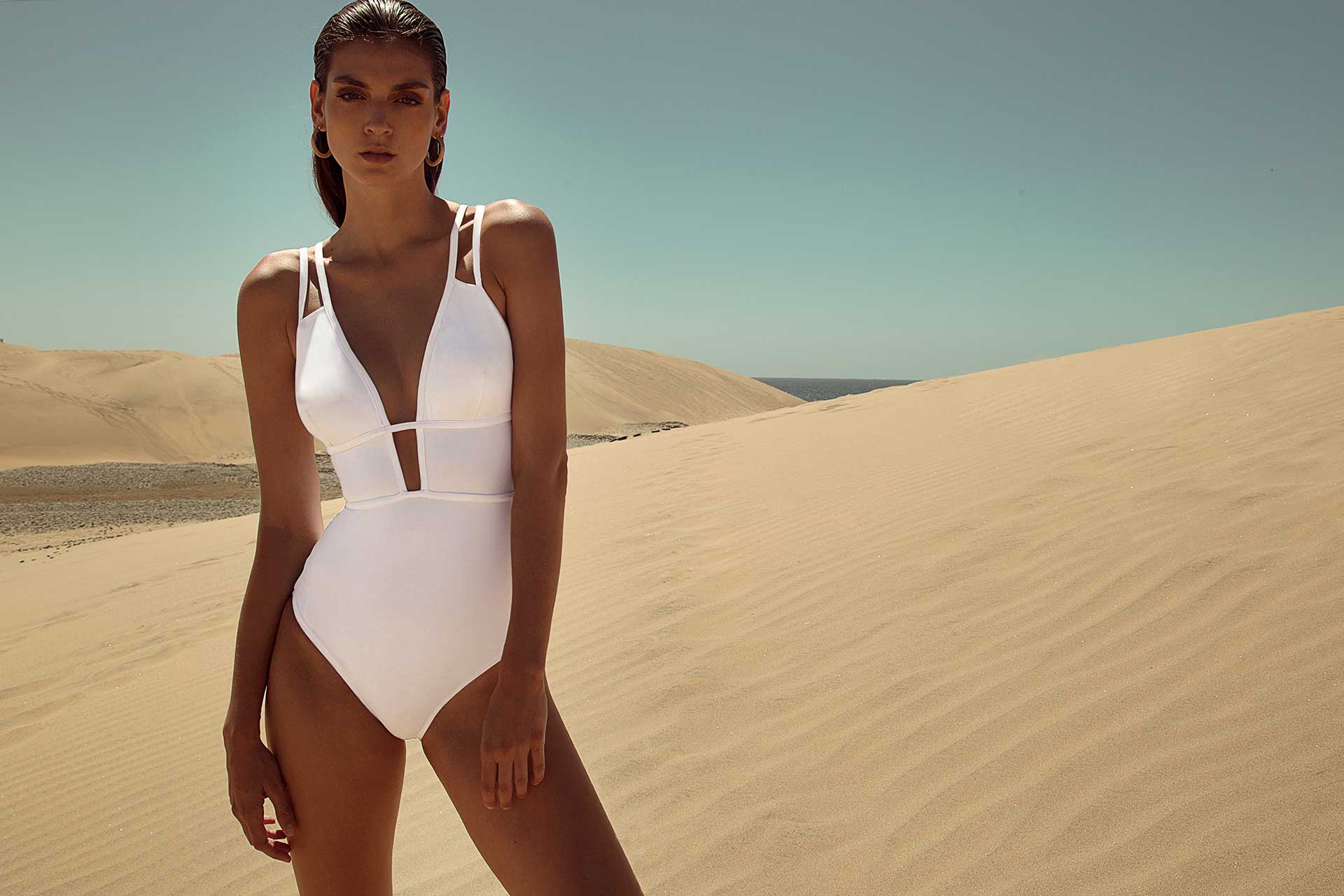 What's the key to confidence on the beach?
To like yourself, and to feel beautiful in your own skin- despite flaws. Then to enhance that individual beauty by choosing a piece that reflects your own style, and owning it!
Your favourite piece? 
A long silk jumpsuit, or a long silk kaftan. Nothing creates a fluid and feminine silhouette and sexy floaty movements quite like silk does.
Anything else we should know?
Don't think more coverage and bigger bottoms make a better figure: they don't! In fact, often the opposite happens. Also, when on holiday you should try and explore colour as much as possible. Colour does not make you pale, it actually creates warmer, glowy skin tones, so it's worth a try even if you're a navy blue kind of girl. Life is too short to wear the same tones on the beach and in the city!
Available to buy from the Lazul website. Stockists include Harrods and Selfridges. 
MORE SUMMER STYLE: Best Jewellery for Summer | Summer Beauty Tips | Best Hats for Summer 2017 | How to Dress for the Social Events of the Season
---