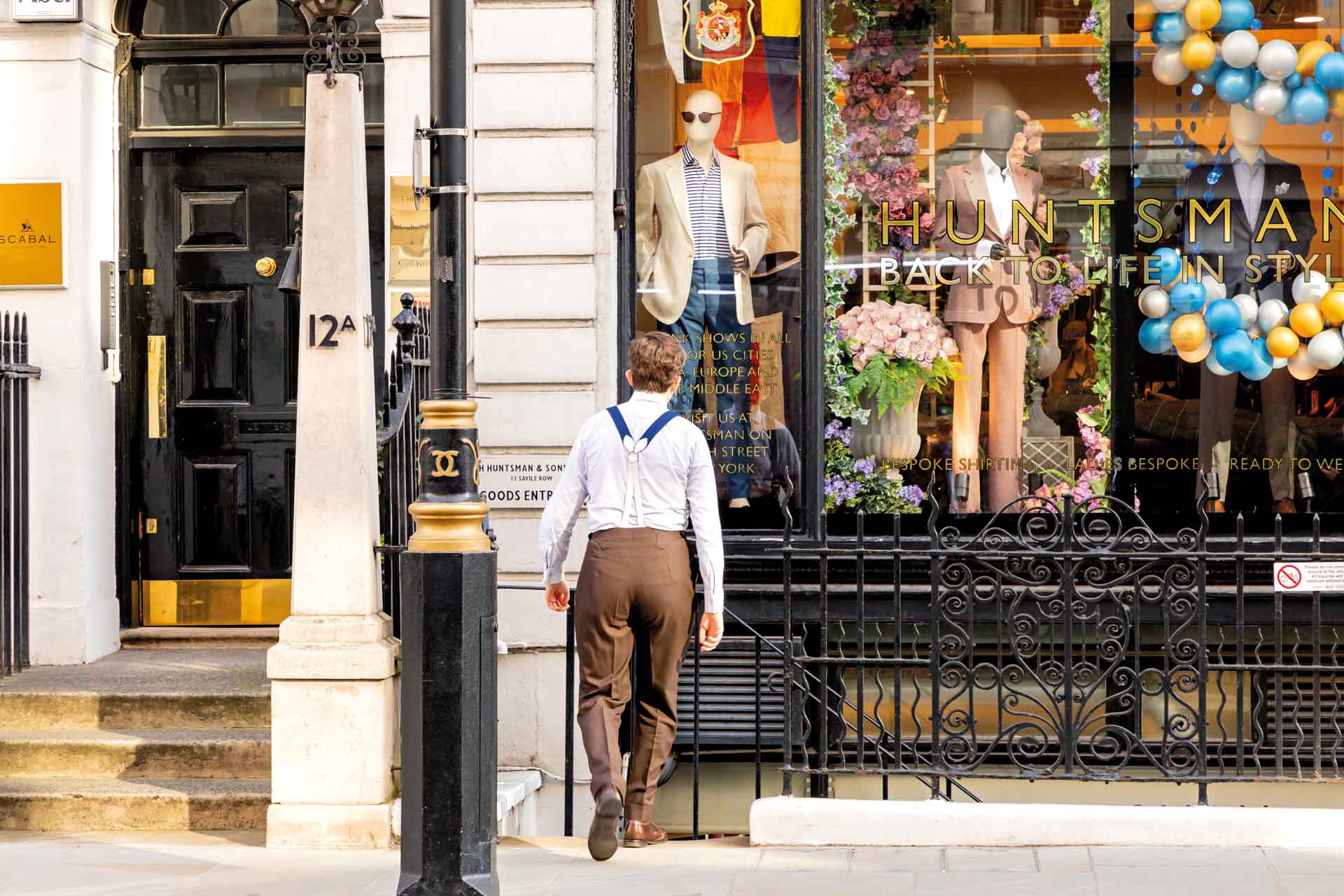 Savile Row: A Fashion Icon Of Our Age
---
Savile Row is a Great British Brand 2023
Savile Row is an entry in our Great British Brands 2023 book. 
Savile Row: Great British Brand 2023
Towards the end of 2022, Campbell Carey, Huntsman's Chief Cutter and Creative Director, was quoted in The New York Times saying that anyone who tells you the suit is dead is talking rubbish. His confident statement is fulsomely backed by reports of record sales enjoyed by Huntsman, Cad & The Dandy and The Deck. Since Henry Poole & Co established itself on Savile Row in 1846, the small street has earned a mighty – and still immensely popular – international reputation for offering the finest craftsmanship from the best bespoke tailors in the world. 
Despite its long history, Savile Row constantly adapts to change and remains relevant, there is simply no other street like it anywhere in the world. Many of its historic buildings still only permit tailors to take up residence if they are continuing the tradition of hand-tailoring garments on the premises. This is partly what gives the Row its unassailable authenticity. Visitors immediately sense that behind all those discreet, historic façades, there is the continual buzz of artisans and craftsmen at work.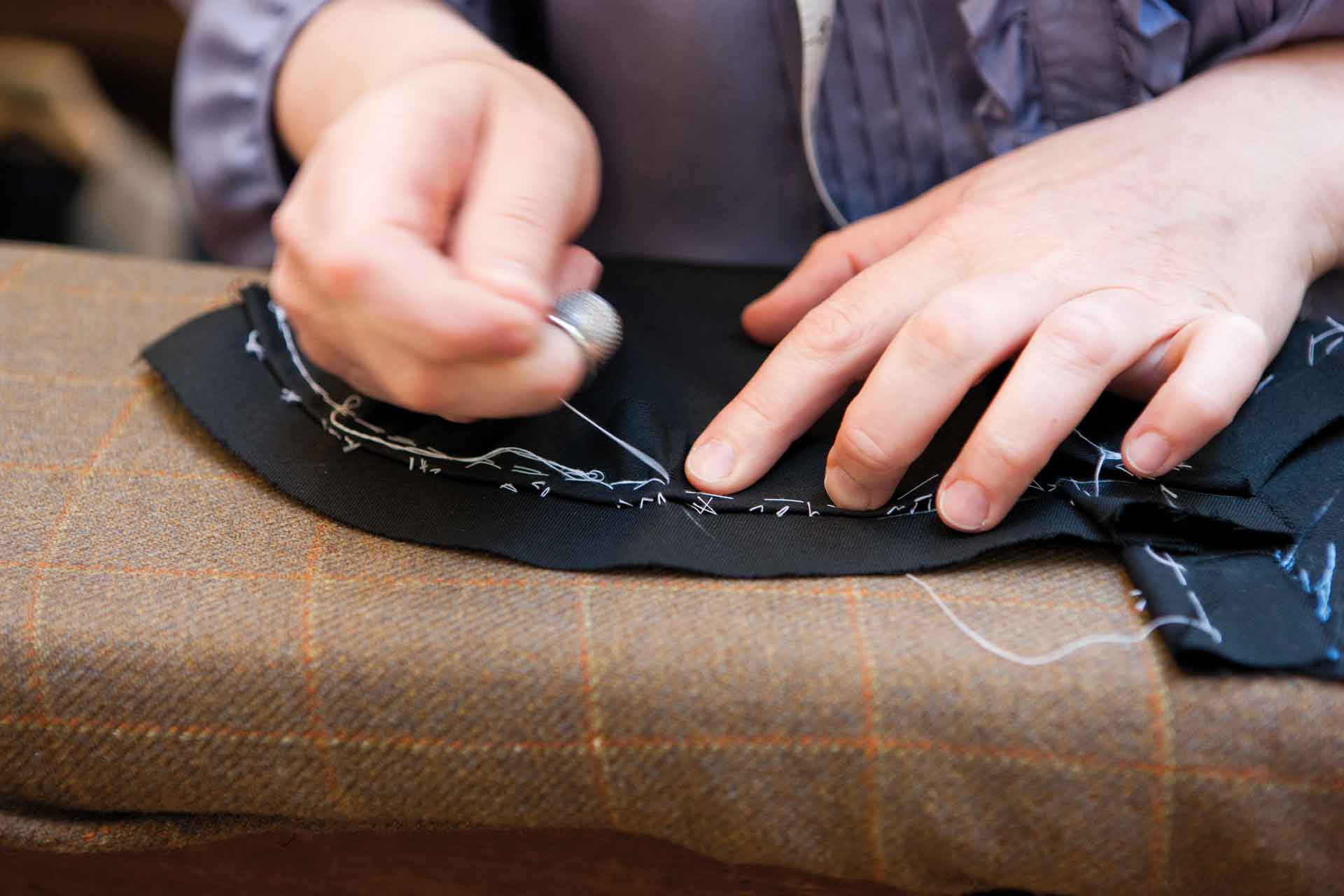 The street is lively and busy, not least the coffee shop, The Service, which is a hub for the tailors and as such one of the most stylish places to enjoy your espresso. This year 'Pop-Up at the Cop Shop', the Crisis at Christmas Pop Up, returned to Savile Row. The Christmas charity fundraiser hosted a calendar of events alongside selling brand new donated womenswear, menswear, accessories and gifts with all proceeds going to Crisis, the national charity for people experiencing homelessness in Britain. Savile Row bespoke tailoring is inherently sustainable, with the bespoke model offering little to no waste, while the cloth that Savile Row favours is almost invariably pure wool and tweed, renowned for being environmentally friendly. Robert Charnock, owner and Chairman of Dugdales, says, 'Our wool either comes from responsible farms in the UK or Australia, Tasmania and New Zealand. Our cloth lasts forever. Add that to Savile Row handiwork and you create a masterpiece for life, a family heirloom.' 
On top of that, every Savile Row suit is made with such experience, craftsmanship and care, that it is usually passed to the next generation. Though all tailors are united in their commitment to excellence, they remain colourfully distinct with very varied histories. Dege & Skinner has an unsurpassed reputation for uniforms. Huntsman, of course, has been immortalised by the Kingsman films, and is sought out for its morning suits and tweeds. 
Cad & The Dandy started in the City and remains popular for a sharper, younger look. It now has a ready-to-wear collection in its new store at 7-8 Savile Row, in collaboration with Arthur Sleep, the first-ever British shoemaker to make shoes on Savile Row and London's first shoe-making factory in over a century. Hackett took over the Hardy Amies store to launch its bespoke line, JP Hackett, and also has a ready- to-wear collection exclusive to Savile Row. Anderson & Sheppard is sought out for more flamboyant party wear, like the pink velvet suit that Daniel Craig wore on the red carpet – and Fran Lebowitz, the outspoken American author, is recognisable for her suits that she has made there. King Charles III has also had his suits made there for decades. Chittleborough & Morgan's signature is its stitching and the embroidery it puts inside clothes, from Welsh dragons to the Suffragette colours. Norton & Sons takes an idiosyncratic minimal approach, more akin to a Bond Street atelier, only ever displaying one immaculately dressed mannequin in its window, while inside there is just a blue sofa and walls hung with very good art. Richard Anderson makes jackets with plentiful, clever pockets for the intrepid traveller.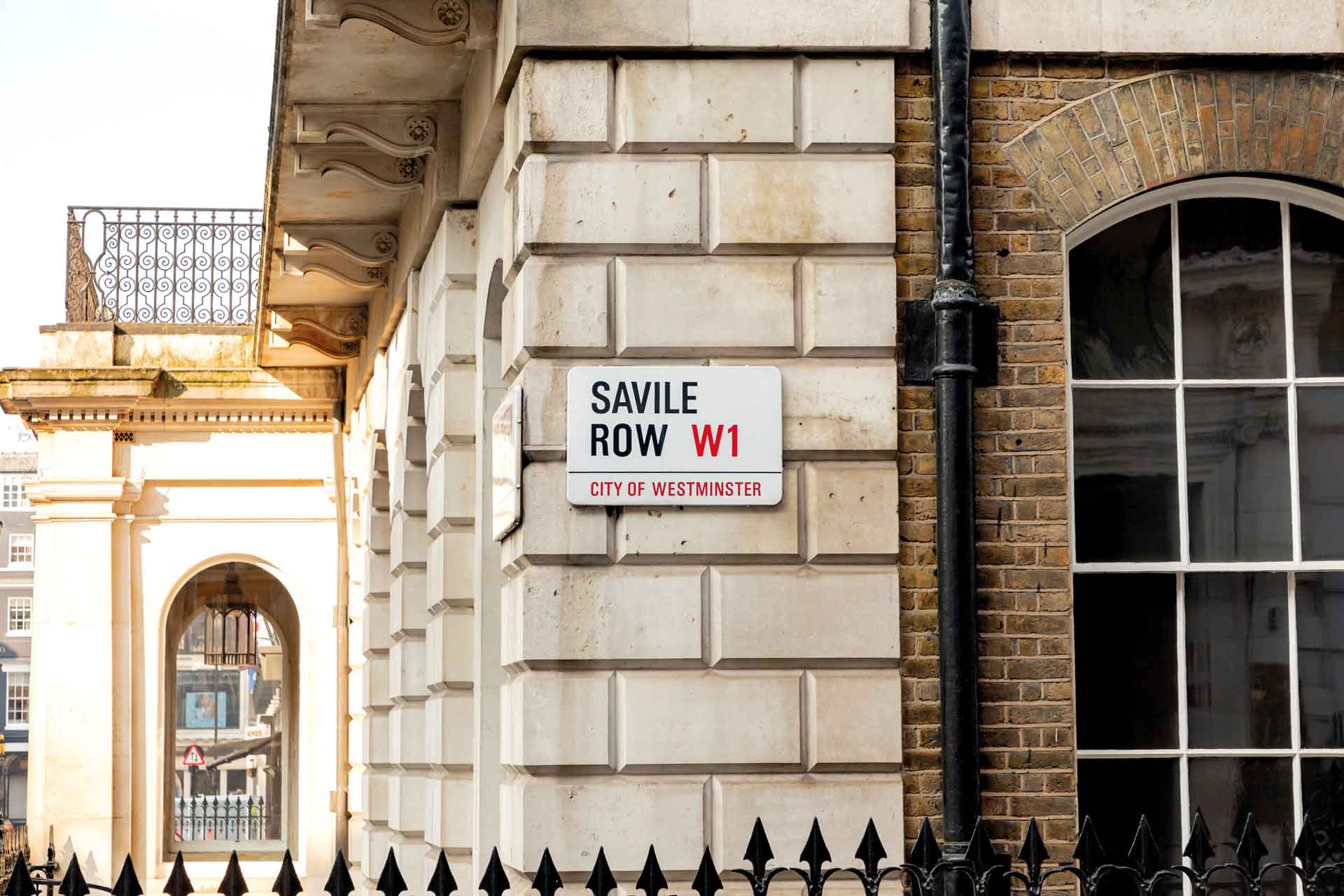 Following the inaugural Concours on Savile Row in the early summer, the eagerly anticipated  second edition will be taking place in May 2023. The event will once again see tailors partner with a car marque, for example Henry Poole with Range Rover, Hackett with Aston Martin, Huntsman with Bentley and Norton & Sons with Lotus. New to the row is clothsurgeon, the first bespoke street brand to settle there. The Deck, launched by Daisy Knatchbull as the first shop front on Savile Row catering exclusively to women, is about to expand to having one of the biggest shopfronts on the street, with six windows at Number 32. In 2022, Huntsman launched a collection in honour of its renowned female clients catering to the modern day woman, called 'Huntswoman of Tomorrow'. Finally, the revered Edward Sexton, renowned for his signature sharp lapels and strong shoulders, returned to the row from Knighstbridge. Savile Row might look elegantly restrained and traditional, but it is bursting with innovation and variety to suit all ages and genders. 
The concentration of extraordinary talent and ideas in one tiny area of London gives the Row its energy and reputation that are guaranteed to survive for further generations, along with its superbly crafted hand- made clothes. Savile Row remains a testament to the fact that quality and fine craftsmanship will always be in demand. It's official – the suit is alive and thriving. 
Timeline
1674
The first house is built on Savile Row in the heart of Mayfair, at what is now the site of No 1 Savile Row.
1846
Henry Poole moves to Savile Row and is the first tailor on the street. It would later go on to invent the dinner suit.
1969
The Beatles stage an impromptu concert, their last public performance, from the rooftop of No 3 Savile Row.
2010
Savile Row welcomes sheep onto the street in celebration of Wool Week, a key fabric used by tailors along the street.
2022
Savile Row hosts its inaugural Concours, hosting over two days of spectacular cars on the prestigious street.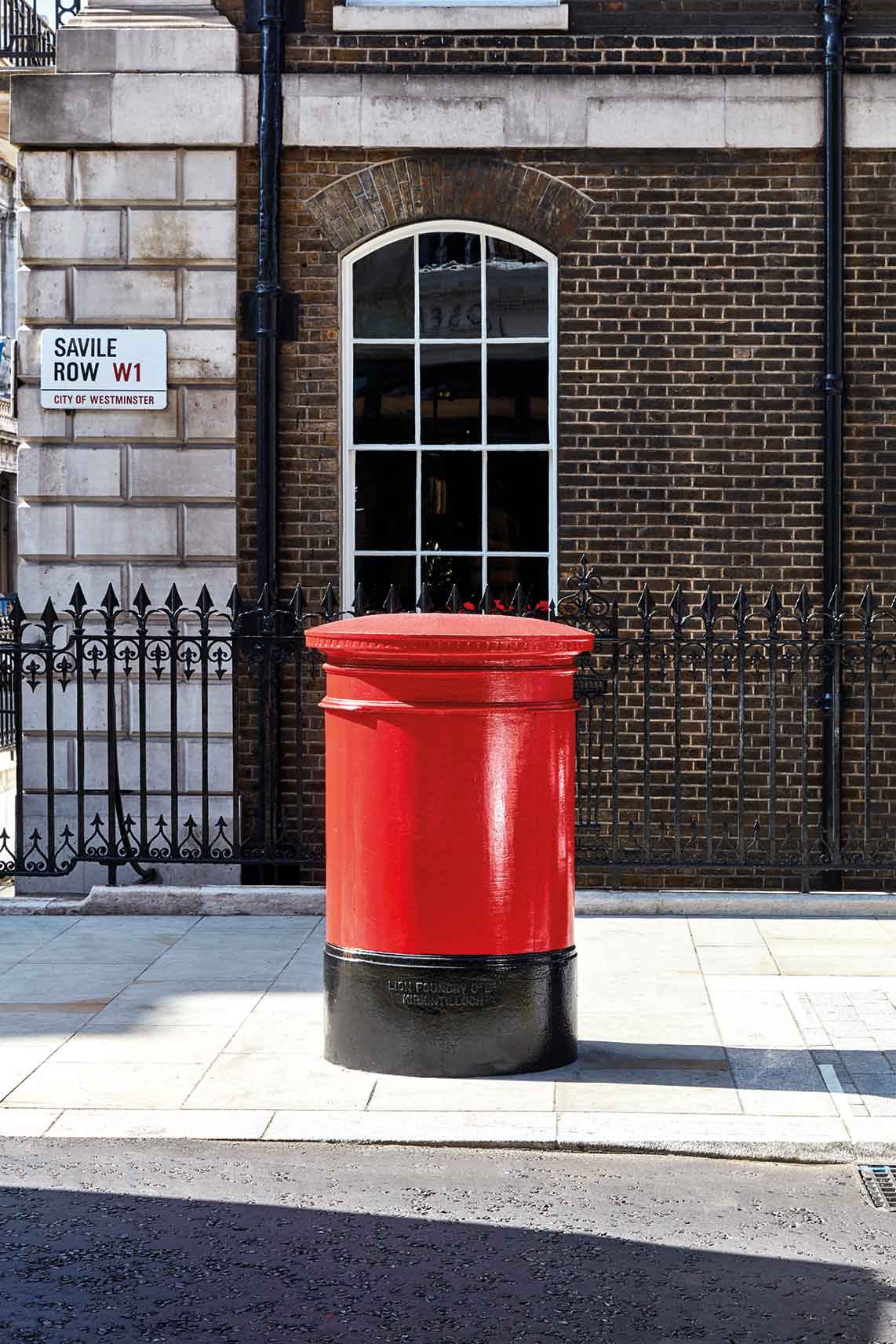 DID YOU KNOW?
The historic street, known as 'The Golden Mile of Tailoring', is named after Lady Dorothy Savile, the wife of the Earl of Burlington.

In 1865 'Bertie', Prince of Wales (later King Edward VII) wanted a coat he could wear to informal dinners at Sandringham. Henry Poole shortened the traditional tailcoat and presented the evening dinner jacket, which was soon popularised in America as the tuxedo. 

From firearms and diamonds to magic tricks, Savile Row tailors have perfected the art of creating secret pockets. 

Huntsman made trousers for Hollywood star Katharine Hepburn at a time when it was illegal for women to wear them. 

The Savile Row Bespoke Association is dedicated to protecting and promoting the practices and traditions of bespoke tailoring.
SAVILE ROW
Savile Row, London W1