Emilia Wickstead epitomises the very essence of a Great British Brand. Born in New Zealand, inspired by Italy and based in London, Alice B-B meets the woman whose feminine designs are sought the world over.
Fashion direction by Nicole Smallwood Photography by Rachell Smith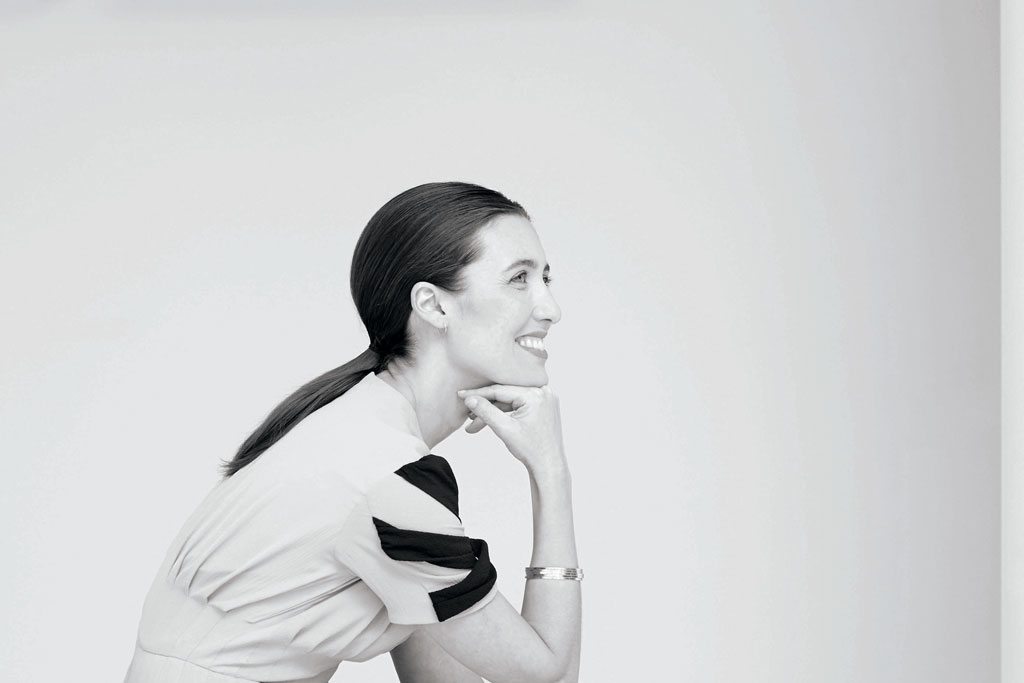 Meeting Emilia
She's the poster-girl designer for ladylike chic. This year alone, she has dressed royalty – both the Duchesses of Cambridge and Sussex, and Hollywood royalty Gwyneth Paltrow and Amal Clooney. And even today, sick as a dog, Emilia Wickstead is the epitome of elegance. Most people with pneumonia would be snuggled up in bed, smothered in hot water bottles. But not Emilia Wickstead, who meets me in her Sloane Street shop, wearing her signature black pants, a houndstooth jacket and a sleek ponytail… not a hair out of place.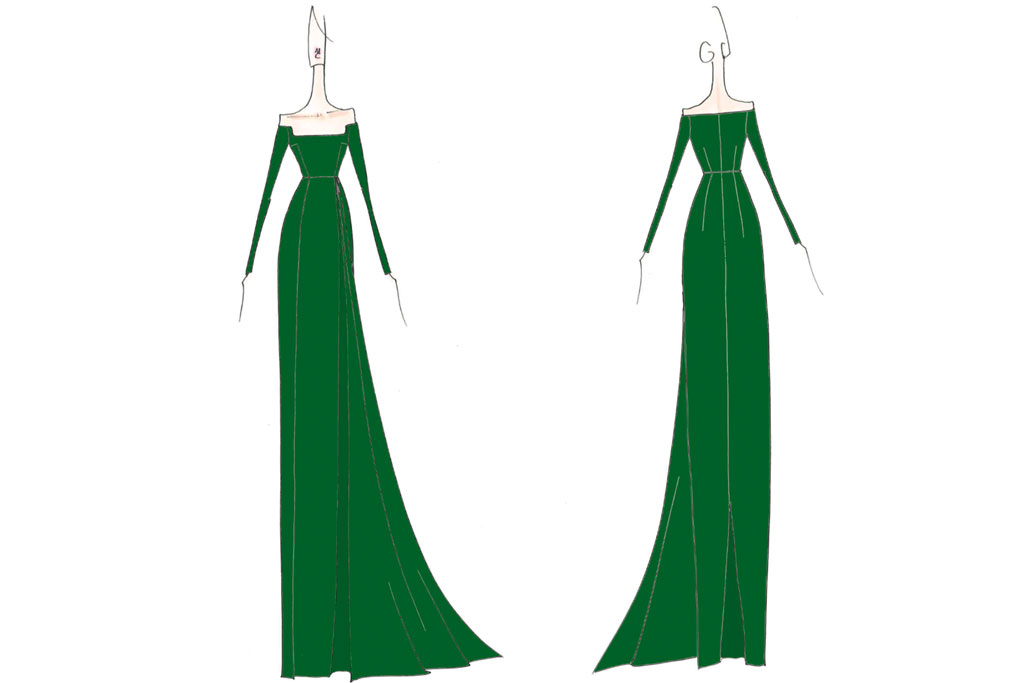 It's this professionalism and unswerving drive that's seen a little girl with a big dream become one of Britain's most celebrated fashion designers. 'There was a "fight for what you want" and "get up and do it" attitude growing up in New Zealand,' explains Emilia. It helped that her mother was a fashion designer with her own business, so unlike most kids living in Auckland in the 80s, Emilia had access to fashion imagery. 'In those days you couldn't just buy international magazines,' she explains. 'So my mother would have British, American and Italian Vogue air freighted in every month.' Emilia would pore over the glossy pages and pin favourite Steven Meisel shoots to her bedroom walls… Wickstead's trajectory was in motion.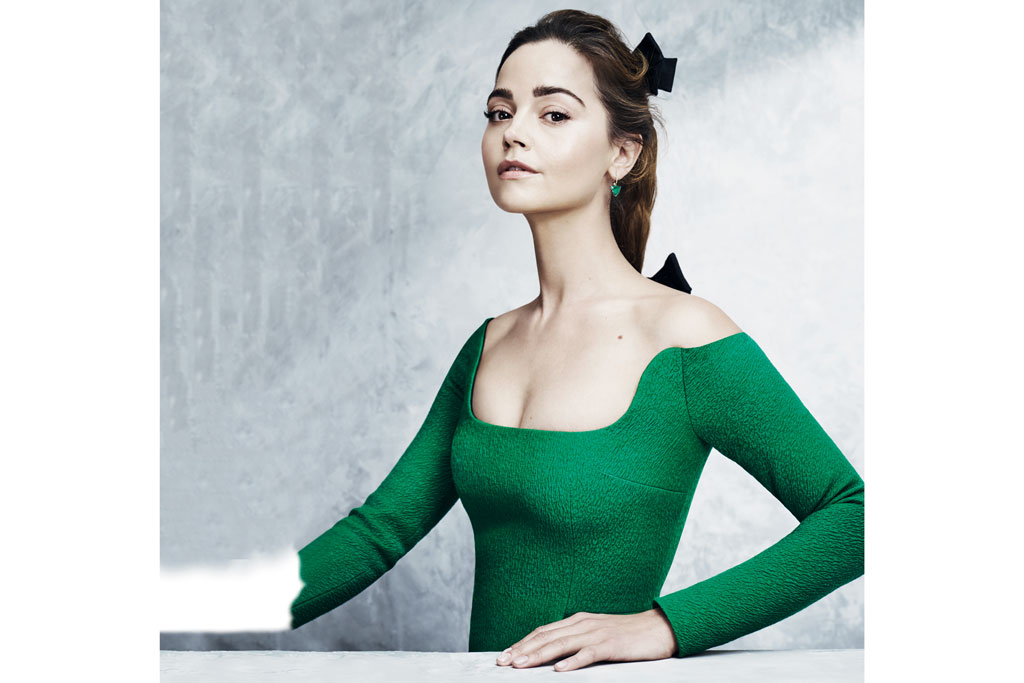 Freedom to Create
Then, aged 14, Emilia's mother married an Italian, so the family moved to Milan. 'I felt very foreign because in those days Milan felt hard, obsessed by consumerism and totally different to New Zealand which is so free,' explains Wickstead. 'It wasn't until I was 18 and moved to London that I felt free again.' Emilia studied at Central St Martins, filling any spare time watching footage of Vivienne Westwood and Alexander McQueen shows, learning about how the British Fashion industry champions those who push boundaries. Post graduation, Emilia began making clothes in her living room. Word of mouth meant that two years later, aged just 24, she had enough clients to open her first shop, an atelier in Belgravia. Everything was bespoke and made-to-order with seamstresses beavering away in the basement. 'We couldn't afford to carry stock and we didn't understand the concept of wholesale. But working in Britain made me feel like I could achieve anything I wanted. There is a freedom of thought and a freedom of creativity in this country that I felt from the moment I arrived.'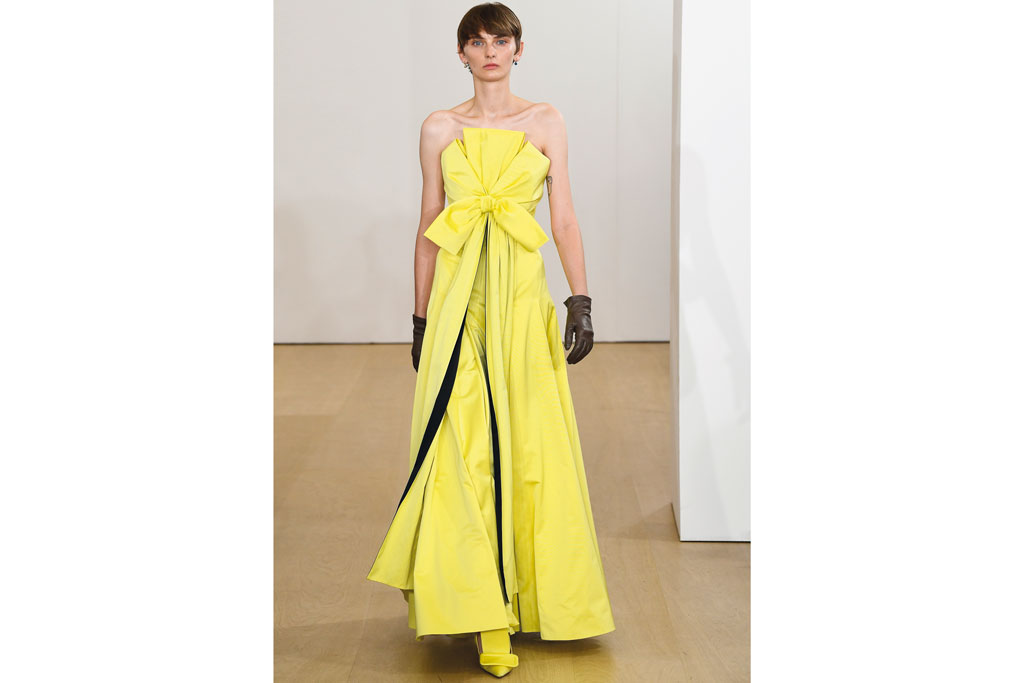 Doing her own thing, away from the traditional machinations of the fashion industry, meant she built up a loyal following organically. Emilia's model was an old-school way of shopping; she hosted fashion shows for her clients rather than for press. They had a list of looks, would tick what they liked and then shop the next day. 'I learnt how to produce garments, manage a team and make a business, but most importantly, by working in that shop every day for five years, I learnt what the customer wanted.' And her customer liked what Emilia gave them. 'When I design a collection, it's not about sitting down and sketching a pretty dress,' she laughs. Emilia is a mother of two, a wife and head of a successful fashion empire. She acknowledges the pressure of combining these worlds, while understanding the power of clothes to make the wearer feel sexy but subtle, feminine but in control. And there's always a curtsey to old-school glamour. 'I love the art of dressing up, I'm sure I'm from another age,' says Emilia. 'As a designer I'm lucky that I get to live in a fantasy world and mine is definitely a very glamorous one. But I'm from New Zealand, which couldn't be more casual. I think it's the perfect balance… a realistic balance.'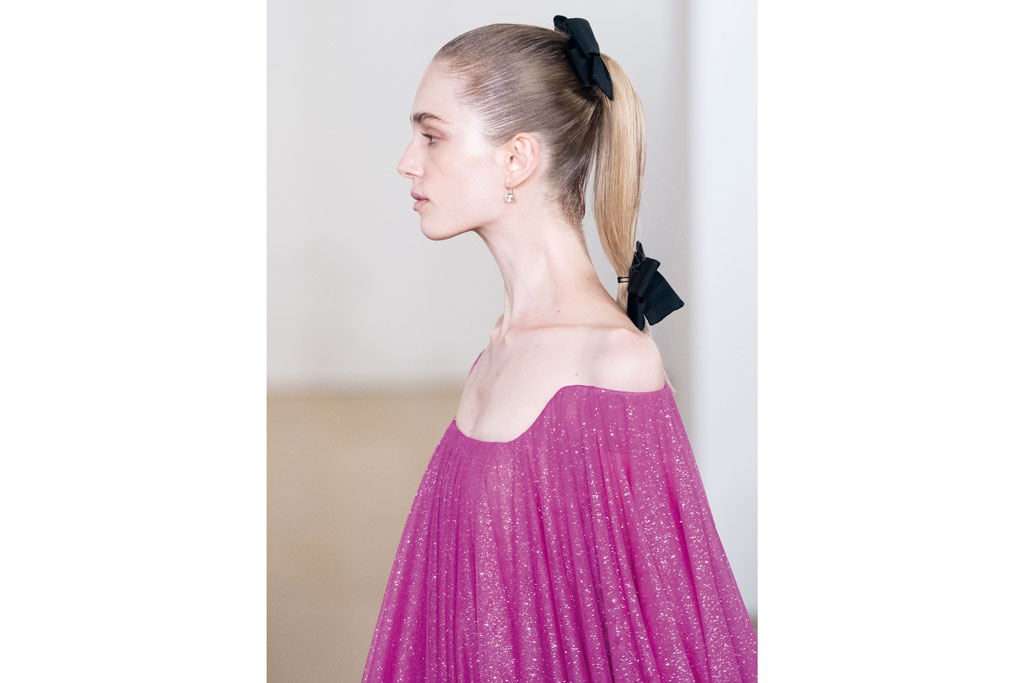 Dreams Come True
Then in 2012, Emilia was approached by the British Fashion Council to show at London Fashion Week. 'I was excited beyond belief,' says Emilia. 'It was my ultimate dream to show at London Fashion Week.' She was no longer a secret whispered among the ladies of Belgravia. Suddenly Emilia needed to make a physical jump and moved her flagship to Sloane Street. 'We took a huge leap of faith moving to this shop,' says Emilia of her pretty pink store, 'and it worked. All of a sudden we shifted into an international spectrum of clientele.' Keeping her customers sated means that this year alone Emilia created four main collections, two of which were shown at LFW, and three further capsule collections, including swimwear with Matches Fashion, sportswear with Bodyism and table linen with Moda Operandi. But it's not all as rosy as her chintz-inspired dresses. 'When I became part of LFW, the pressure was extreme, because I always want to do bigger and better things. Every season I get so excited about what I'm going to do next, I put my heart and soul into it. It's tiring and intense,' she says.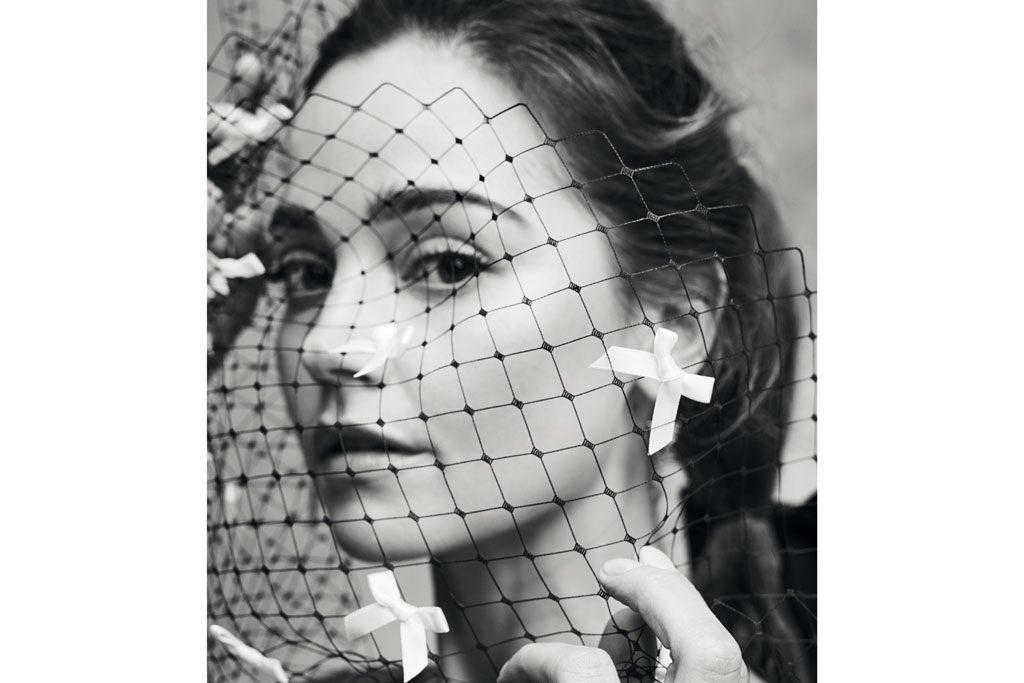 But however exhausting, one thing that will never change is the made-to-order and bespoke element at the heart of Emilia's business. 'We're the only store on Sloane Street to offer either a completely one-off couture design or a variation of a current design that we can turn around in just 20 days. And it's all produced in the UK,' she says proudly. An example of this is the dress Jenna Coleman wears for the Great British Brands cover. When it originally sashayed down the catwalk for S/S'19, it was a light apple green. But for the Great British Brands cover, Emilia reworked it in a shade of leafy fern. 'I love that dress,' says Emilia. 'The rich green is a nod to English heritage. It's a very strong sculptural cut, but very feminine in the way it shows off your shoulders.'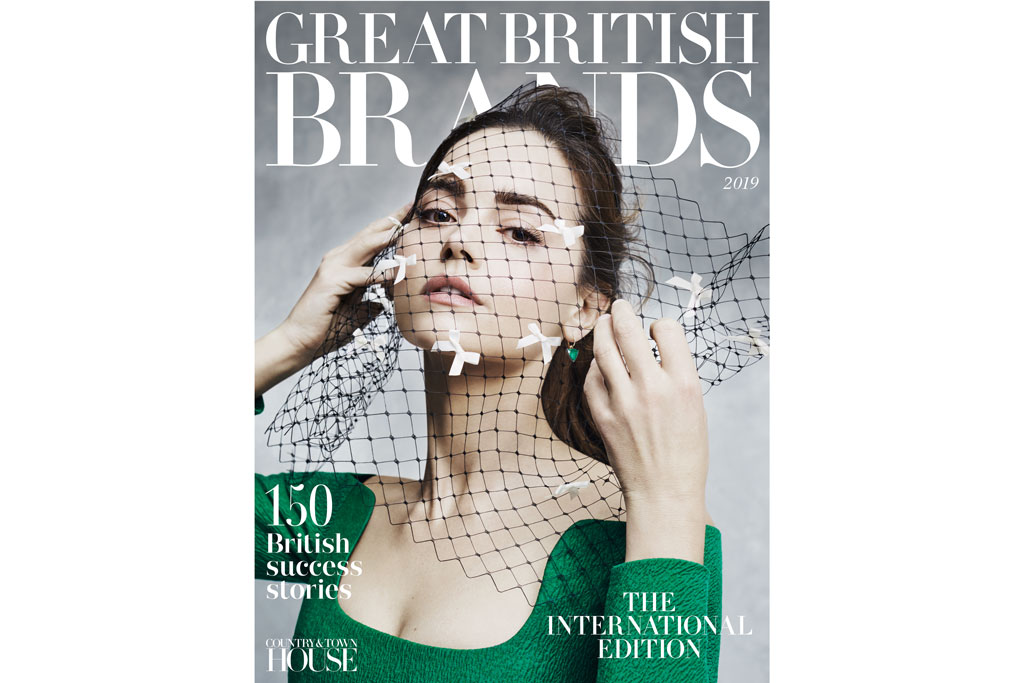 It's almost impossible not to consider Emilia's career from a macro viewpoint and observe where she sits within the fashion world; her feminine aesthetic, fulfilling clients' dreams while creating fashion-forward collections that appeal to the press and staying true to her couture roots. This would all seem to point to a big job at a major fashion house. What, I wonder, would Emilia do if, say, one day Christian Dior came knocking? 'Who knows what the future holds!' she says laughing. 'But right now I'm so immersed in the brand, I don't even have time to read a book.' Watch this space… But in the meantime, I suggest that Emilia reads as many books as she can, because I've got a feeling that this elegant, exacting, talented woman's life might get a lot busier.
Buy The Book: Great British Brands 2019, The International Edition
---