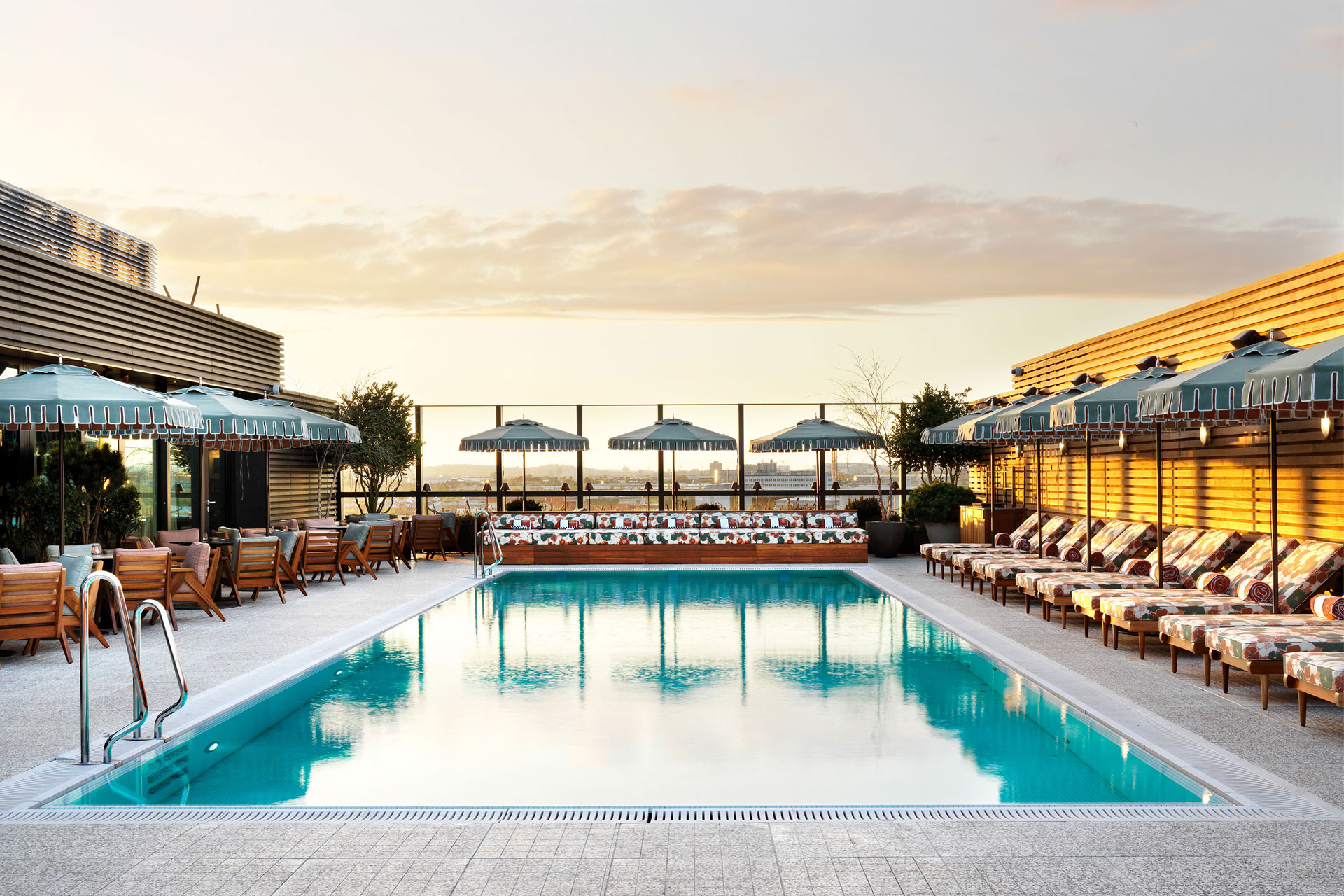 Best Rooftop Pools in London
Swim with a cityscape view
It's getting hot out there – what better way to cool off than with a rooftop pool? It puts a little elegance back into the sweltering heat this summer – and, in London, we're spoiled for choice as hotels, members clubs and private properties recurrently try to one-up each other (we're looking at you, Sky Pool). Allegedly, there's even a rooftop pool coming to the top of Liverpool Street station. So many gorgeous pools with dramatic views; lucky us! Whether you're here with the intention of swimming or just to lust over the luxurious options out there, here are the best rooftop pools in London…
Partial to a lido? Here's our guide to the best lidos and outdoor swimming pools in London
Best Rooftop Pools In London
Shoreditch House
This members-only open-air 16-metre pool is fully heated and open all year round. With a poolside bar, blue-tiled décor and Gatsby-esque red and white striped loungers, if you're not in the club, be sure to start buttering up your member mates now for that coveted +1 spot. You'll want to find your lounger and stay parked for the foreseeable. shoreditchhouse.com
The Ned
A 20 metre-long heated pool overlooking St Paul's Cathedral, The Ned's rooftop pool is an unparalleled London staple. There's also a spa and gym, and a rooftop bar serving delicious food and drinks. All available to members, of course – worth an investment for the Instagram potential? thened.com
View this post on Instagram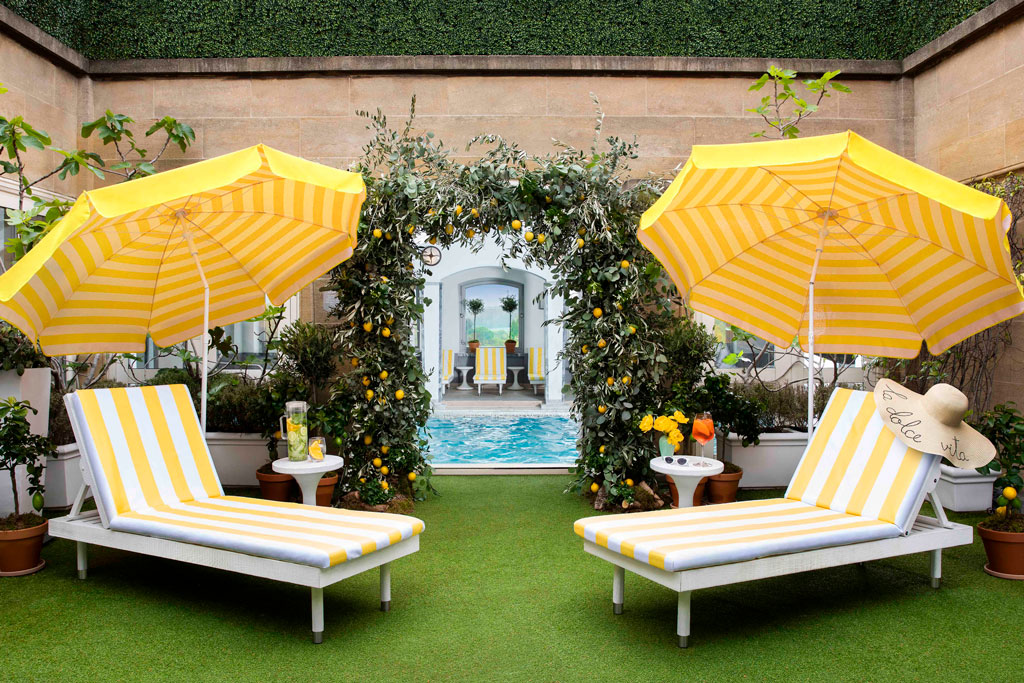 The Berkeley Hotel
A luxury London hotel with a rooftop pool is a rare gem; and the Berkeley's offering should be top of your wish list for a hot summer's day in the capital. With panoramic views over Hyde Park, a Tuscan-style terrace and a retractable roof, this is one of the best places for an alfresco swim. the-berkeley.co.uk
White City House
The newest Soho House outpost and the third West London home for club members, White City House occupies part of the former BBC Television Centre. Among its many appeals is the gorgeous rooftop pool with playful paintwork, brightly coloured loungers and jungalow vibes. Expect fewer crowds than Shoreditch House… for now. whitecityhouse.com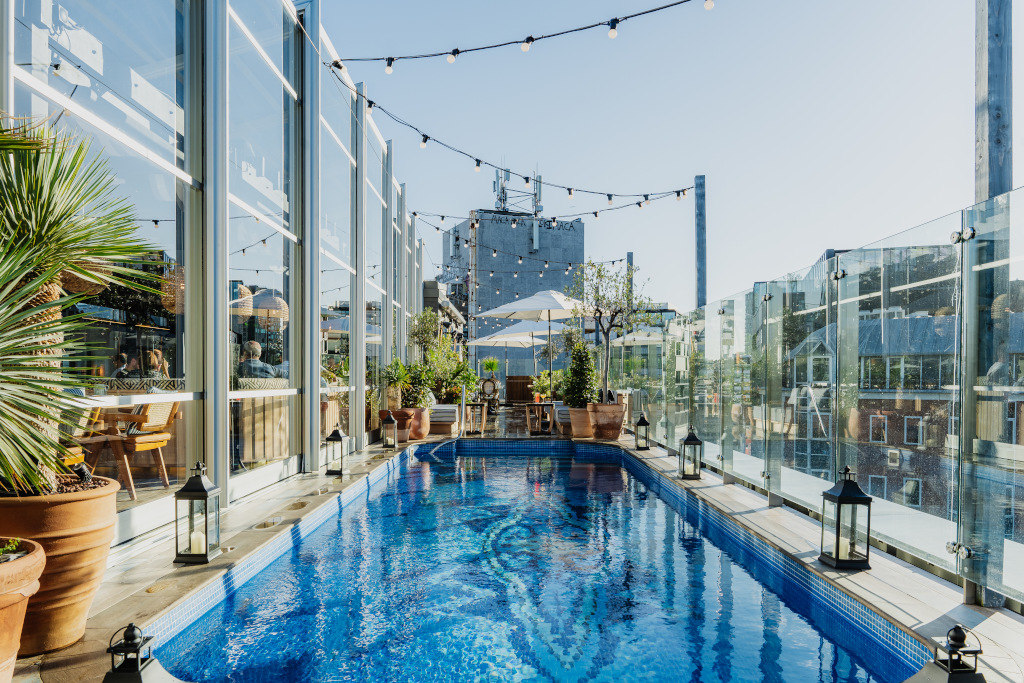 The Pool at The Curtain Club and Mondrian Shoreditch
Entry to this exclusive rooftop spot on a summer's day is one hot ticket, and one well worth a membership at The Curtain. The pool is also accessible to guests at Mondrian Shoreditch and Curtain Club members, and is a child-free zone from 12pm onward. Day to night rooftop hotspot Laurel's On The Roof serves up fresh seasonal fare with LA pool party vibes, against sweeping views of London's skyline. The real allure though is the fully retractable roof, plus the floor to ceiling bi-folding doors which open out onto the small – but not tiny – pool. Grab a towel from the chest and go for a swim before tucking into sea bream tacos, a Malibu shrimp cocktail or a cobb salad, or just dangle your legs in the water while sipping on a frozen margarita. thecurtain.com
180 House
Pics or it didn't happen? Not at 180 House, where rooftop snaps (and any other snaps for that matter) are against House rules. If you're a member – or lucky enough to be friends with one – take a trip to 180 House on The Strand, where the rooftop pool and accompanying bar have gorgeous views across Soho and beyond.
View this post on Instagram
Sky Pool, Embassy Gardens
Worth a mention for its notoriety, Sky Pool at Embassy Gardens has changed the rooftop swimming pool game, both in London and across the world. Suspended between two apartment buildings 10 stories high, Sky Pool is a crystal clear, 25-metre pool, complete with rooftop bar, spa and gardens. Access is restricted to Embassy Gardens residents and their guests – time to get networking!
Featured image: White City House.