Usually adverse to intensive ski holidays, Maya Monro-Somerville was won over by the offering at Chalet Rosière in the French Alps. She tries out a new type of ski holiday with a focus on yoga, meditation and vegan food in a state-of-the-art eco chalet, a holiday which promises to relax, restore, and re-energise…
Chalet Rosière Review
What?
If you are anything like me, the idea of spending a week on the slopes with family or friends can be problematic. Firstly, unlike everyone I know, I am a terrible skier – slow and a lover of fluffy snow, and green and blue runs. I have absolutely no desire to go fast, and, despite yearning for the fresh mountain air, a Folie Douce party vibe or week of raclette and Jägerbombs is not as attractive as it once was.
Don't get me wrong – food, wine, and skiing with friends are one of life's greatest luxuries, but after visiting Chalet Rosière for a long weekend of wellbeing, skiing and vegan food, I came away feeling better than ever. A new type of ski experience – just as fun and perhaps more pampering – is out there, but with yoga, meditation and a healthy ethos of sustainability.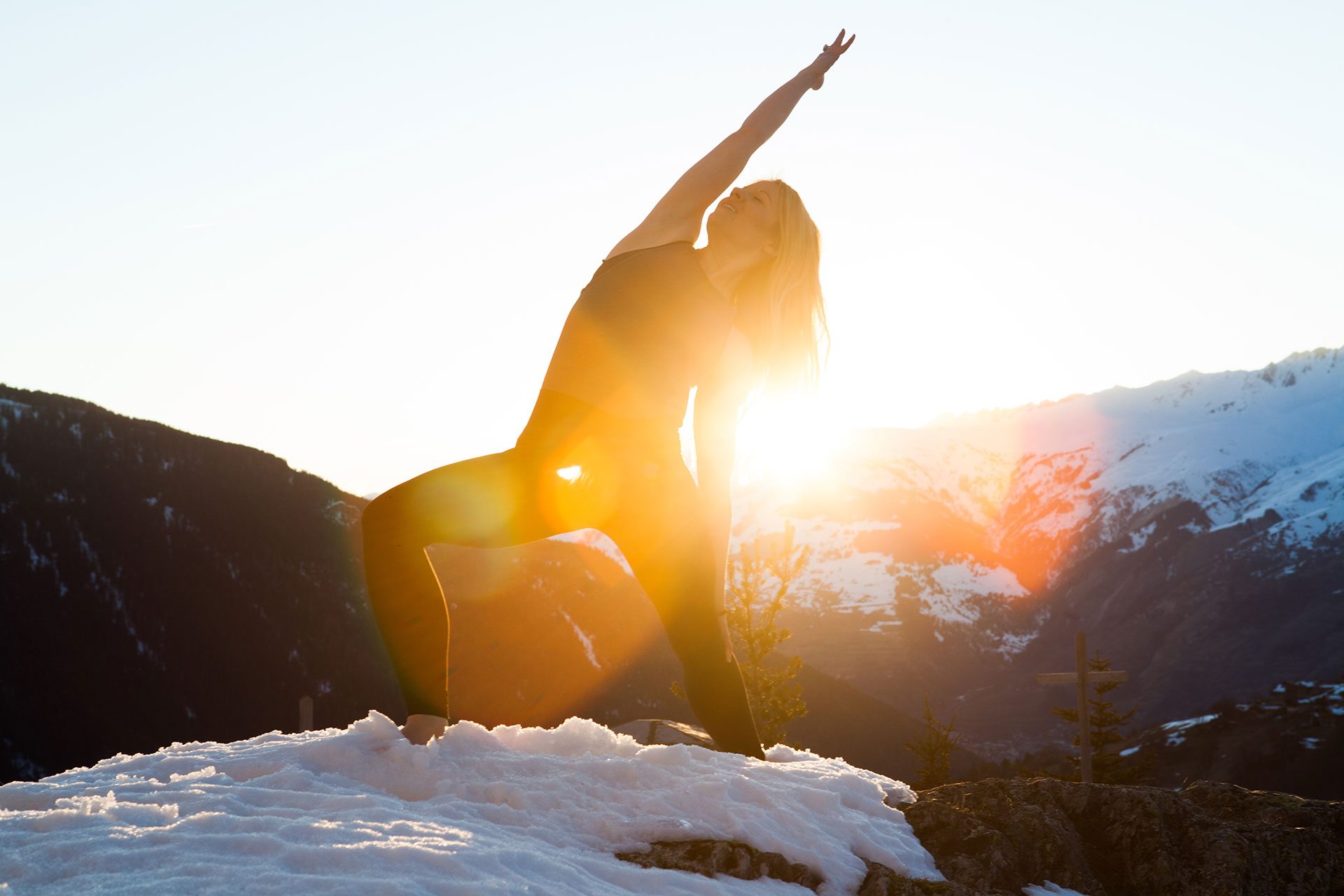 Opening its doors for its first winter season, Chalet Rosière is a boutique lodge looking on to the Tarantaise valley. With views of craggy alpine meadows and forests to the South and West, it feels rural and off the beaten track. The ideal environment for a week of yoga, meditation and mountain adventure, and where you're likely to spot an eagle circling the valley and deer or wild boar in the local forest.
To set us up for our first day of skiing, we woke up early for an hour of mindfulness in the tipi outside of the chalet. Sitting around an open fire with green tea (and wearing lots of layers to keep warm) Becs Black took the group through a calming pre-ski meditation before a hearty breakfast. Our skiing day depended on ability. The experienced skiers headed off for a day of off-piste guided by Phillip who runs the chalet, while me and the weedy beginner group were sent for a day under the watchful eye of Jo, an expert ex-ski jumper.
Who?
This was all arranged by Alex and Philip Volkers who have a hands-on approach to running Rosière, and who spent lunch teaching us about the 'philosophy' behind the chalet. Aiming to be completely off-grid within five years, sustainability is central to their vision, and the eco-chalet already uses composting, permaculture and renewable energy to reduce its carbon footprint and create harmony with the local environment.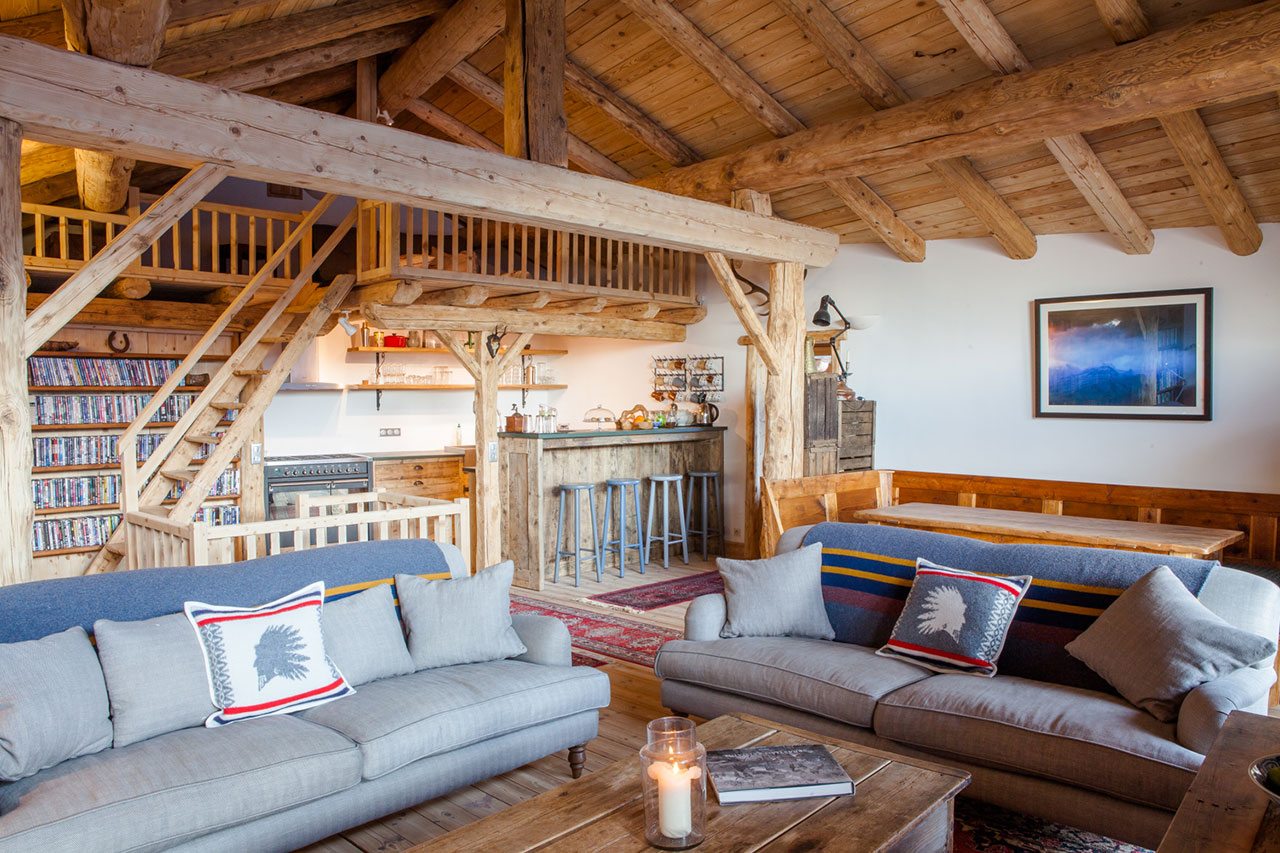 When Alex and Philip left their busy London lives behind, they wished to share the magical restorative powers of Chalet Rosière with other 'weary souls'. After more post-lunch skiing and a delicious afternoon tea, we spent the rest of the afternoon enjoying holistic therapy treatments in the outdoor spa with its wonderful sunset views, followed by an evening yoga session with Becs to avoid post-ski stiffness.
The Food?
The chalet offers two fine dining options; the vegan detox menu, or the Gourmet Savoyard. For supper, we were treated to the latter which was made up of classic Savoyard dishes and accompanied by the best regional wines, straight from the chalet's own wine cellar. The menu was rich, yet nutritionally balanced; this is not only necessary to fuel such energy-intensive mountain sports, but is also a perfect reflection of Chalet Rosière's capacity for nourishing the mind, body and soul, in total luxury.
The next morning, we sampled the vegan detox breakfast before taking a forest walk. Relaxed, restored and re-energised, we no longer had 'weary souls', but instead heavy hearts to be leaving.
How?
Chalet Rosière offers year-round wellbeing experiences for up to 12 guests, as well as bespoke retreats. For more information, head to www.chaletrosiere.fr or email [email protected]
Get there: Fly to Lyon/Chambéry/Grenoble where you will be taken straight to the chalet with free airport transfers included in the price of your stay. Alternatively, catch the direct Eurostar Snow Train from King's Cross St Pancras to Bourg-Saint-Maurice train station (just 20 minutes from the chalet). La Rosière give guests travelling by train 2% cash back on arrival to say thank you for choosing a lower-carbon travel option.
MORE TRAVEL: 10 of the Best Ski Chalets in the Alps / Après Ski Style Essentials / Luxury Wellbeing in Ibiza: Island Retreats / Why Bali is Still Asia's Top Wellbeing Destination
---