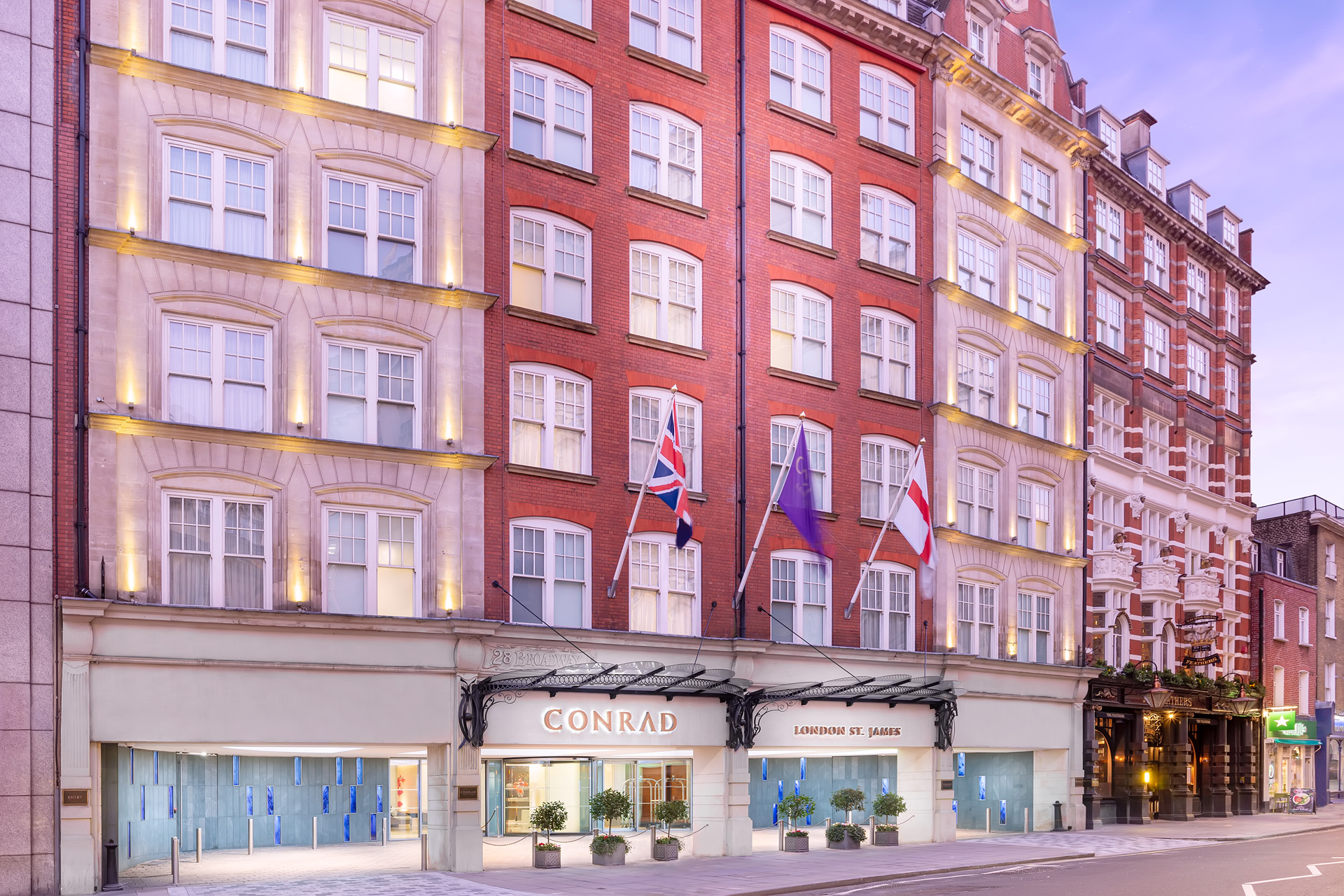 Sleek and Central City Stay: Conrad London St James – Review
---
A luxurious base to explore the city
Located in the former Queen Anne's Chambers, the Conrad London St. James has a 19th-century façade that blends seamlessly with its Westminster surroundings. But, as you step into the sleek, marble foyer of this hotel, ultra-modern interiors blend with the traditional. With a world-class art collection adorning the public spaces and walls, the Conrad is ideal for a central London stay.
Review: Conrad London St. James
STAY
Though the Conrad doesn't appear especially large from the outside, the sleek and expansive interiors tell another story. Five floors of spacious rooms with ultra-modern finishes are accompanied with touches of the traditional: classical light fittings, ottomans, original windows (albeit with newer double glazing). 
There's cooling air conditioning – ideal in these sweltering summer months – alongside large TVs integrated into glass walls, Nespresso coffee machines, and large comfy beds with soft, cosy sheets. 
The bathrooms set the bedrooms apart: large and segmented – with separate shower room, toilet room, bath and sink – with natural stone finishes, glass doors and expansive mirrors.
EAT & DRINK
If you manage to push aside the tempting room service menu, there's plenty in-house to enjoy. During the day, there's afternoon tea in The Orchard Room. Or, for posh pub grub, head to the Blue Boar Pub with a pub frontage onto Tothill Street, offering British classics such as Shepherd's Pie, Beer Battered Cornish Cod and Sunday Roast alongside local craft ales. For a more private sip, ask for one of their cosy cubbies – or, for a pretty cocktail, head further into the Conrad to try the Hedgerow, a floral and plush bar with a bespoke drinks menu.
The real star of the show, however, is The Pem – a rosy-hued, art-deco inspired dining experience overseen by award-winning head chef, Sally Abé. Named for prominent suffragette Emily Wilding Davison (affectionately nicknamed 'Pem'), The Pem has feminism at its heart, without being preachy or prescriptive. 
Abé – who was previously Head Chef at the Michelin-starred Harwood Arms, and was included in CODE's 100 Most Influential Women in Hospitality 2022 list, along with general manager, Emma Underwood – has curated an impeccable menu, with refined dishes reimagined with a lively, contemporary edge. Her hand-picked senior team includes Michelin-trained Head Chef Laetizia Keating, and Underwood, who has a special knack for making guests feel uniquely cared for.
The waitstaff team is brimming with advice, suggestions and extensive knowledge of the delicious a la carte menu. Try the Salad of Confit Duck for a creamy, exciting start, and move then to the Roast Herdwick Lamb for melt-in-the-mouth meat, a sweet and deep jus, and the most delicate confit sweetbreads. Say yes if wine pairings are offered: the sommeliers adeptly provide unique wines to suit each guest's dishes. 
Make sure you pin down a Waitographer while you're there – Hilton's new scheme whereby over 500 team members across the globe have been trained by renowned photographer Roger Moukarzel to capture lovely photos of guests. Backed by Fred Sirieix, the scheme was introduced after two in five Brits claimed photos taken of them by waiters in the past were 'bad', with the most common faux pas including cutting off people's heads, not getting everyone in the picture, taking an unfocused shot, a finger covering the lens, and only taking one picture rather than several. (Our pictures, taken by a friendly Waitographer at The Pem, turned out lovely.)
DO
A stone's throw from St. James Park (both the underground station and the park proper), and situated less than a mile from Westminster Abbey, Big Ben and Buckingham Palace, the Conrad is ideally situated for a chic city stay.
Staff are equipped to offer curated city excursions, or go it on your own: this part of London is extremely walkable, and extremely well-connected to the underground and local buses.
FINAL WORD
A chic city stay, the Conrad is ideal for London visitors looking for a luxe base from which to explore everything the city has to offer. Don't miss in-house dining experience, The Pem, for a female-led, unforgettable dinner.
BOOK
READ MORE
The Best Hotels in London / Hot New London Hotels / London's Best Day Spas