Here Fiona Duncan tells us why staying at the Domes of Elounda makes for the perfect break in Crete, be it a family holiday or romantic getaway.
Crete, the largest island in Greece, has a rich history and boasts many ancient ruins to visit such as the Malia Minoan palace. For those that prefer to take it easy on holiday, the coastline is 1,000 kilometres long with an abundance of coves and secluded beaches. Foodies will be in their element here, many of the rural taverns serve their own homegrown produce and catch their own fish. Domes of Elounda acts as the perfect base for anyones Cretan adventure.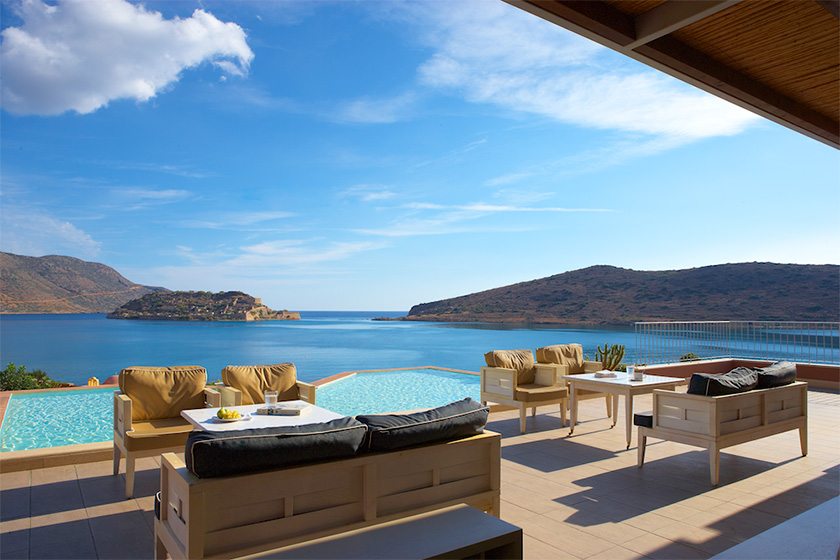 1. New, equally suited to families and couples, it's surprisingly intimate, with lovely staff, like guest relations head George, villa manager Ionnna and the buggy driver who was an expert on Homer. Domes? On the roofs. A bit odd – remind me of the Teletubbies.
2. The way the five-star resort unfolds. Check in with Spinalonga Island as a stunning backdrop; take a buggy up pretty winding lanes past the pool suites, then descend sharply into what looks like a Bond villain's secret lair: the very private pool villas complex.
3. Some never leave their own luscious private villa, but I do: for lunch on the olive-shaded beach…
4. … lazing by the adults-only pool with that view of Spinalonga…
5. … or a serious work-out in the 70-metre one.
6. While the kids splash about in their own play pool and kids' club.
7. The Cretan cuisine: olive oil; tangy cheese; grilled lobster; traditional barbecues.
8. A bliss-out Cretan massage in the sybaritic spa, using honey, oil and local herbs.
9. The pretty pool suites: less expensive than the villas but more characterful, also sleeping up to four.
10. It's in Greece: Europe's holiday heaven.
Suites from £175; villas from £570 (domesofelounda.com). Book at bespoke tour operator, Western & Oriental (westernoriental.com).
READ MORE: Your guide to a weekend in St Petersburg
READ MORE: Best adventure holidays for thrillseekers
---