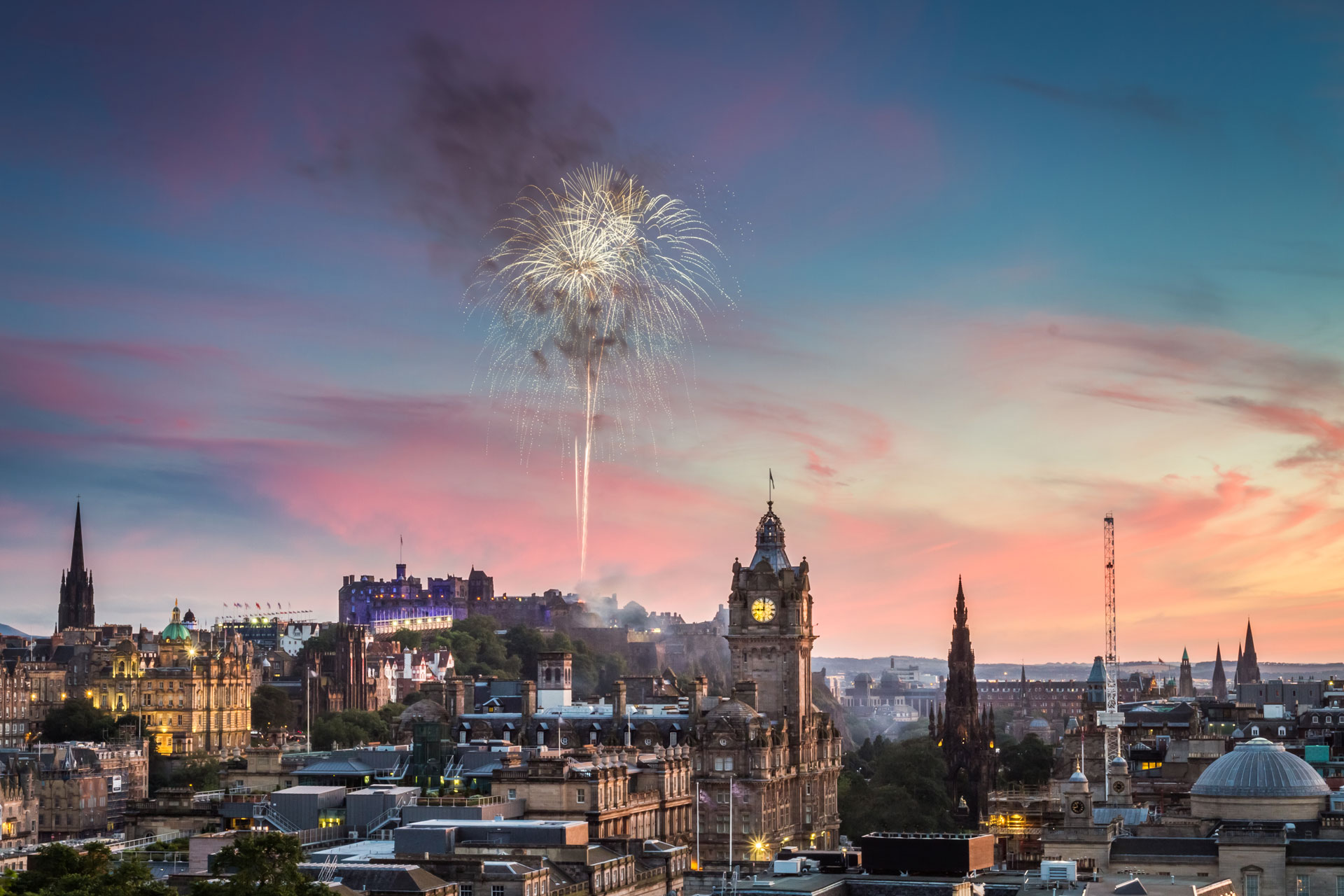 Guide to Edinburgh's Hogmanay 2021
Ring in the New Year Scottish-style
With buzzing street parties, traditional Scottish ceilidhs and dazzling firework displays popping up across the city, there's something for everyone at Edinburgh's Hogmanay. If you're heading there this New Year's Eve, prepare for an abundance of tartan, whisky and good cheer…
What is Hogmanay?
Hogmanay – the Scots' word for December 31 – is the three-day festival synonymous with New Year's Eve celebrations in Scotland. Its origins date back to the winter solstice festival celebrated by the Vikings in late December, and like most Scottish holidays it goes hand in hand with countless customs. The one that's practised most widely is first-footing: a tradition which involves bee lining for the homes of family and friends bearing gifts the moment the clock strikes midnight, setting a positive precedent for the new year.
What's On in Edinburgh?
Hogmanay is celebrated throughout Scotland, but capital city Edinburgh is the central hub of revelry. Every year around 150,000 people attend Edinburgh's Hogmanay festivities, which run from 30 December – 1 January. So what's in store this year?
December 30
Torchlight Procession: The festival kicks off with a procession of torchbearers weaving through the heart of Edinburgh's Old Town, down the Royal Mile, around the Scottish Parliament and culminating in the historic Holyrood Park. On reaching the park, torchbearers will be asked to light a slow-burning candle that will eventually form an image over the course of the event. Tickets from £16, book here
Dougie MacLean: National treasure Dougie MacLean is renowned for his unique blend of lyrical songwriting and instrumental composition, with his most famous song being 'Caledonia'. This December, he'll be performing in a concert at the historic Greyfriars Kirk. Tickets from £26.50, book here
December 31
Party at the Bells: Dance under the stars at Party at the Bells, Edinburgh's spectacular New Year's Eve party which features music from Basement Jaxx and BBC Radio1 DJ Arielle Free. Party-goers can also enjoy street performances from Close-Act Theatre, and, at midnight, catch the fireworks at Edinburgh Castle. Tickets from £27, book here
Eddi Reader: Join Eddi Reader at Greyfriars Kirk for an evening of pop, folk and jazz. Tickets from £42.50, book here
January 1
Loony Dook: Come New Year's Day in Edinburgh, brave locals shake off their hangovers by jumping into the freezing Firth of Forth at South Queensferry. Many dippers wear fancy dress, while others are fully clothed from the night before – but everyone is there to raise money for charity. Tickets cost £12.50, book here
For more information, visit edinburghshogmanay.com
READ MORE:
Best Places to Spend NYE Around the World / London's Best New Year's Eve Parties