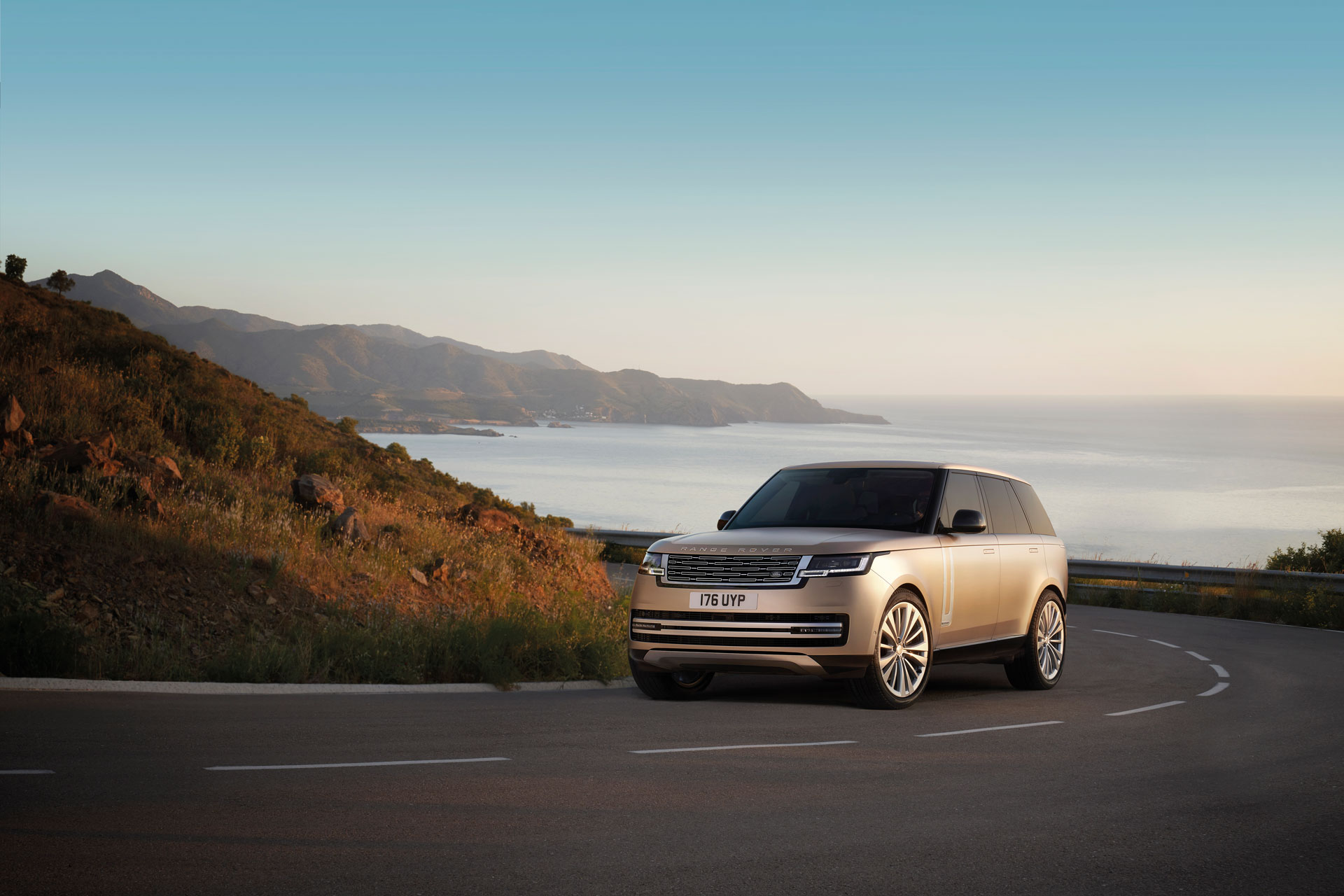 A Guide to the New Range Rover
---
Step inside the fifth generation SUV
The new Range Rover has been unveiled – Jeremy Taylor gives Land Rover's flagship model the once over
Lighter, faster, more economical and now available with seven seats for the first time, the next generation Range Rover will set a new benchmark for go-anywhere, luxury SUVs. A British motoring icon, the fifth-generation model is the culmination of more than 50 years of peerless refinement.
I was one of the first journalists in the world to step inside the all-new version. Inside the cabin, it's not just the trademark quality, luxury and space Range Rover owners have come to expect – there's also something extra about this fifth-generation model. Combine a clean, elegantly designed and uncluttered dashboard with a panoramic driving position and there's an air of serenity normally reserved for a Scandinavian yoga retreat. And if you want hot massaging seats, you've got that too.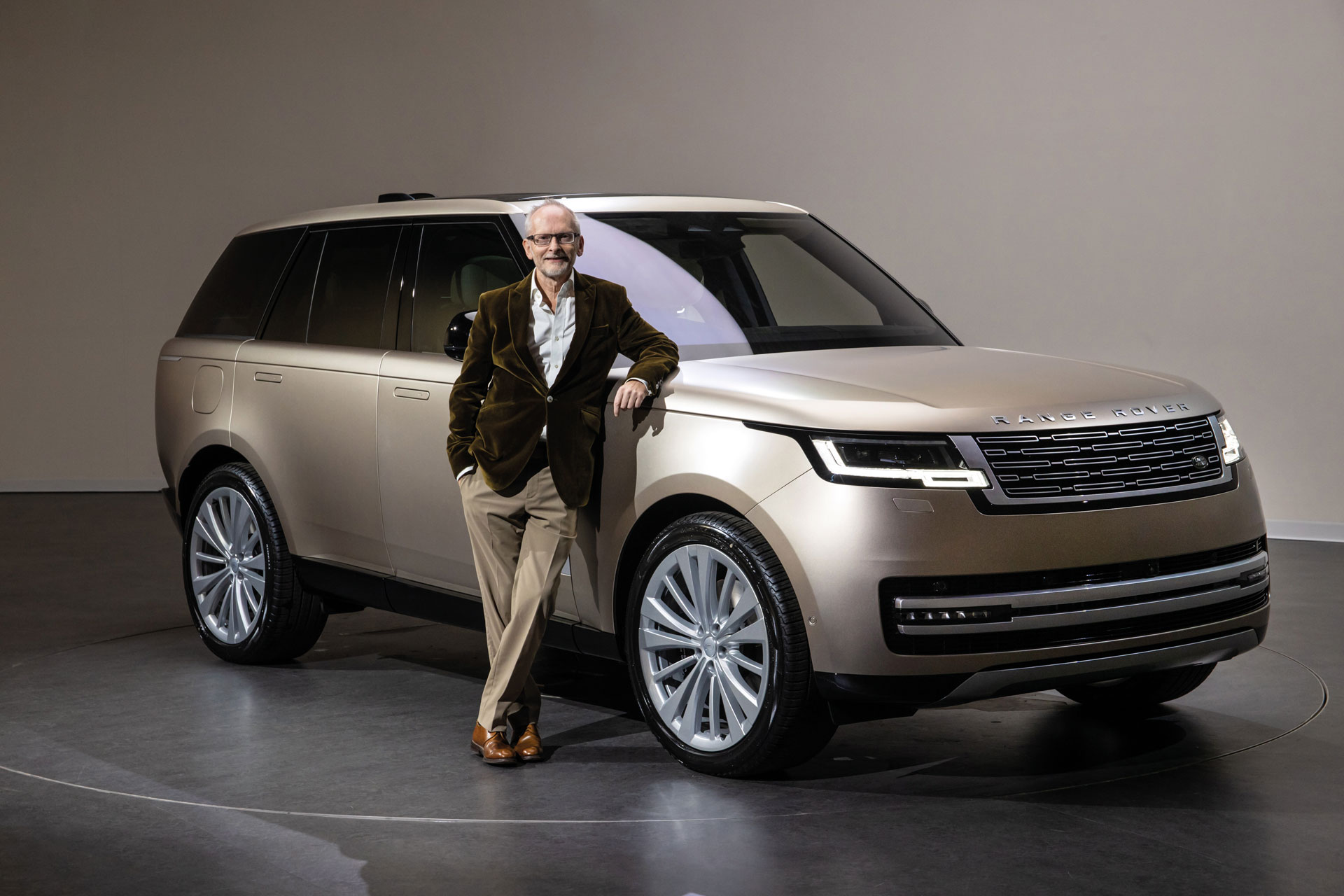 Comfortable, composed and equipped with all-conquering ability, the latest Range Rover, styled by design guru Gerry McGovern, is set to retain its crown as the class-leading luxury SUV that's equally at home in town or manoeuvring up the side of a mountain.
An evolution rather than a revolutionary overhaul of the current model, the latest design has a breathtaking modernity. It also boasts a presence and formality that will excite existing owners, who urged Land Rover not to 'change it, just make it better'. Equipped with mild and plug-in hybrid technology, as well as petrol and diesel engines, some versions will offer an electriconly range of up to 62 miles*. It means many owners will now be able to make their daily commute on pure battery power, with CO2 emissions as low as 30 g/km*.
A new, twin-turbo petrol model will be the flagship of the range, providing sensational performance and the raucous rumble of a V8 engine.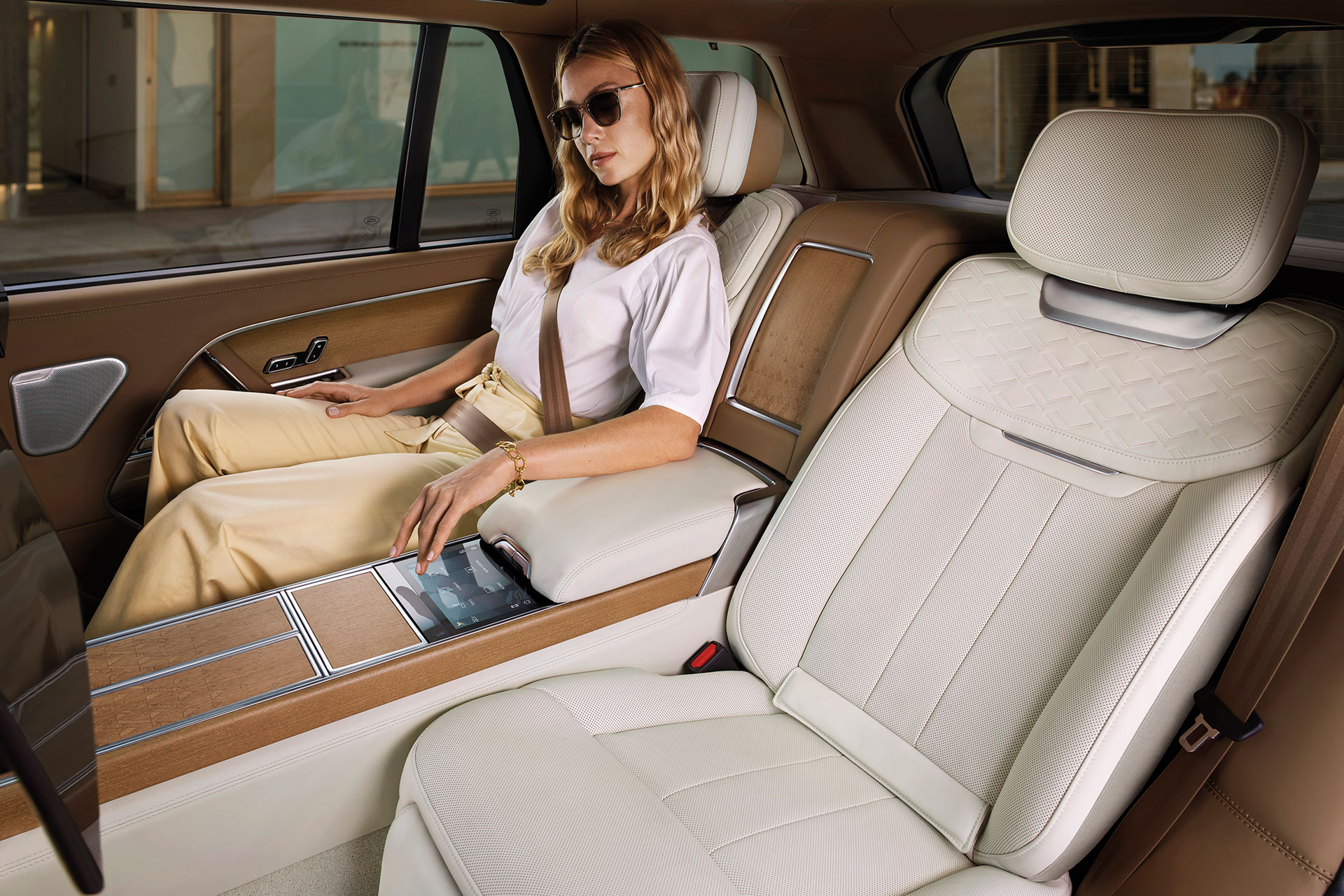 New Range Rover offers a choice of four, five or seven-seat options in standard or long wheelbase form. Specifications range from SE, HSE and Autobiography, to more personalised SV versions. A First Edition model will be available during the first year of production too, with the first-ever all-electric version due in 2024.
McGovern's sleek and uncluttered design is underpinned, as you'd expect, by its incredible off-road ability and on-road agility.
Like the all-conquering Defender, new Range Rover features a suit of technologies that will take this Land Rover to places that other SUVs fear to tread. All-wheel steering adds to manoeuvrability, while next generation air suspensions takes the rough and the effort out of off-road driving.
Sat inside, the cabin is pure Range Rover but with improved technology and a more modern design. Land Rover's boffins have worked hard to reduce cognitive load on the driver, thanks to the noise cancelling headrest, lack of endless buttons and the haptic touchscreen that allows users to feel what they see on screen, meaning that you will arrive at your destination refreshed.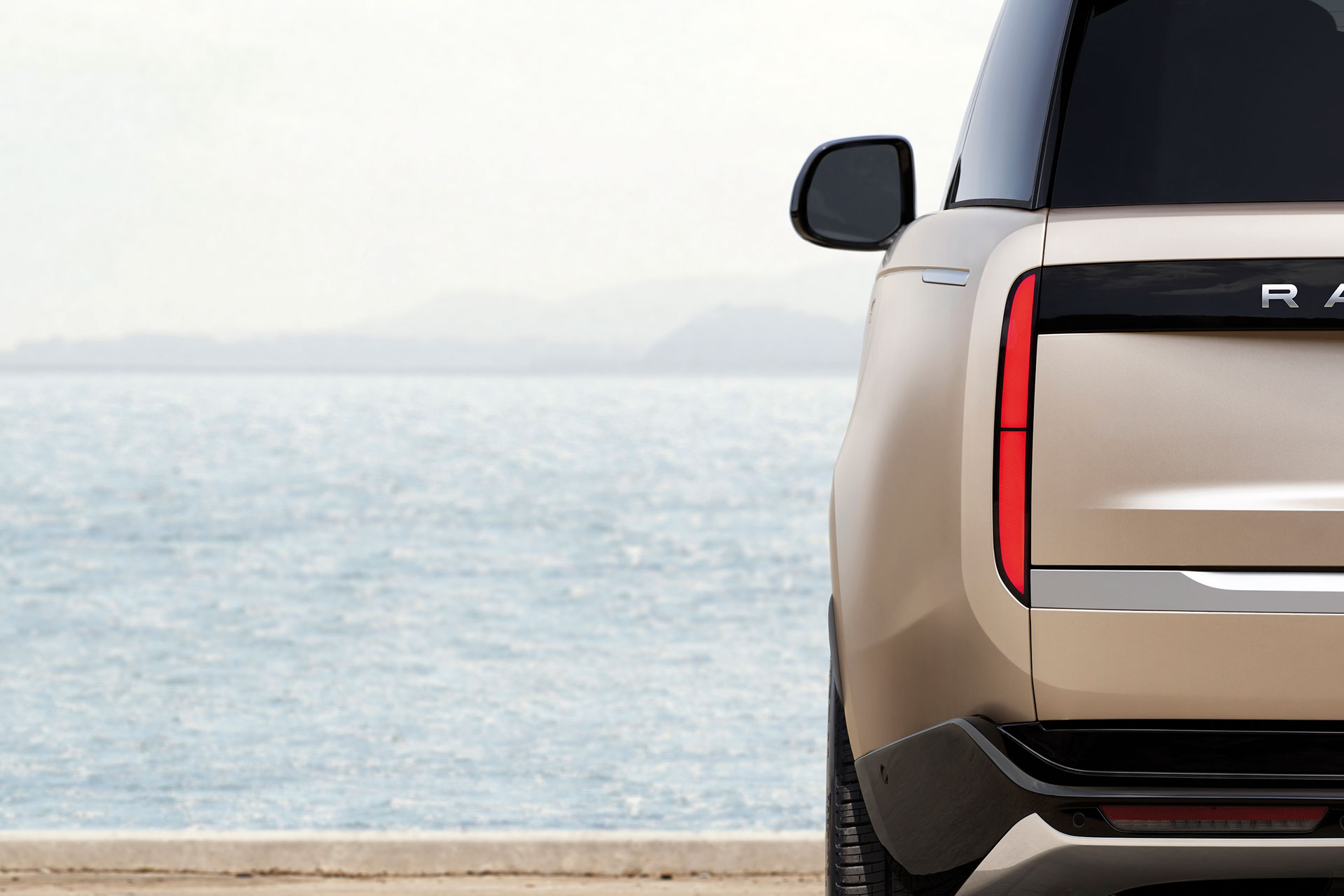 The front seating position has been improved too, with Land Rover's Command Driving Position, aided by a lower dashboard fascia, improving forward visibility. The main instrument cluster appears as a stylish, semi-floating glass panel in front of me.
In the rear, it's first-class travel all the way, especially in the four-seat version that treats passengers to aircraft-style luxury armchairs. There's an array of charging sockets, with the options of multi-media screens too.
The first-ever seven-seat version promises comfort for even six-foot passengers, while the Range Rover's famous split-opening, two-piece tailgate has been improved with an 'Event Suite', offering bespoke leather cushions.
Best of all, Land Rover has pulled out the stops to ensure the interior materials are as environmentally-friendly as possible. A remixed wool blend fabric called Kvadrat is a leather-free option, with a soft-feel that is super plush!
Land Rover has also used Econyl yarns, which are produced using 40 per cent recycled industrial plastic, fabric offcuts and reclaimed ocean plastics. Customers can still opt for leather, with a new aniline choice that is softer, with fewer treatments and less artificial pigmentation.
Even the 12 paint options – including Belgravia Green and Batumi Gold – have been created to minimise environmental impact.
Designed, engineered and built in the UK, the next generation Range Rover may look similar to the current model but it's a huge step forward for the Land Rover. The company filed 125 patents for the latest design, everything from pioneering chassis technology to the very latest batteries.
After tens of thousands of miles of testing – plus 140,000 miles of computer simulations – the new Range Rover is now ready for the road. It's a design masterclass from Gerry McGovern, retaining all the best elements of the car branded the world's original SUV.
On sale now, prices start at £94,400 for the entry-level diesel version, rising to £131,900 for the long wheelbase V8. I can't wait to drive it.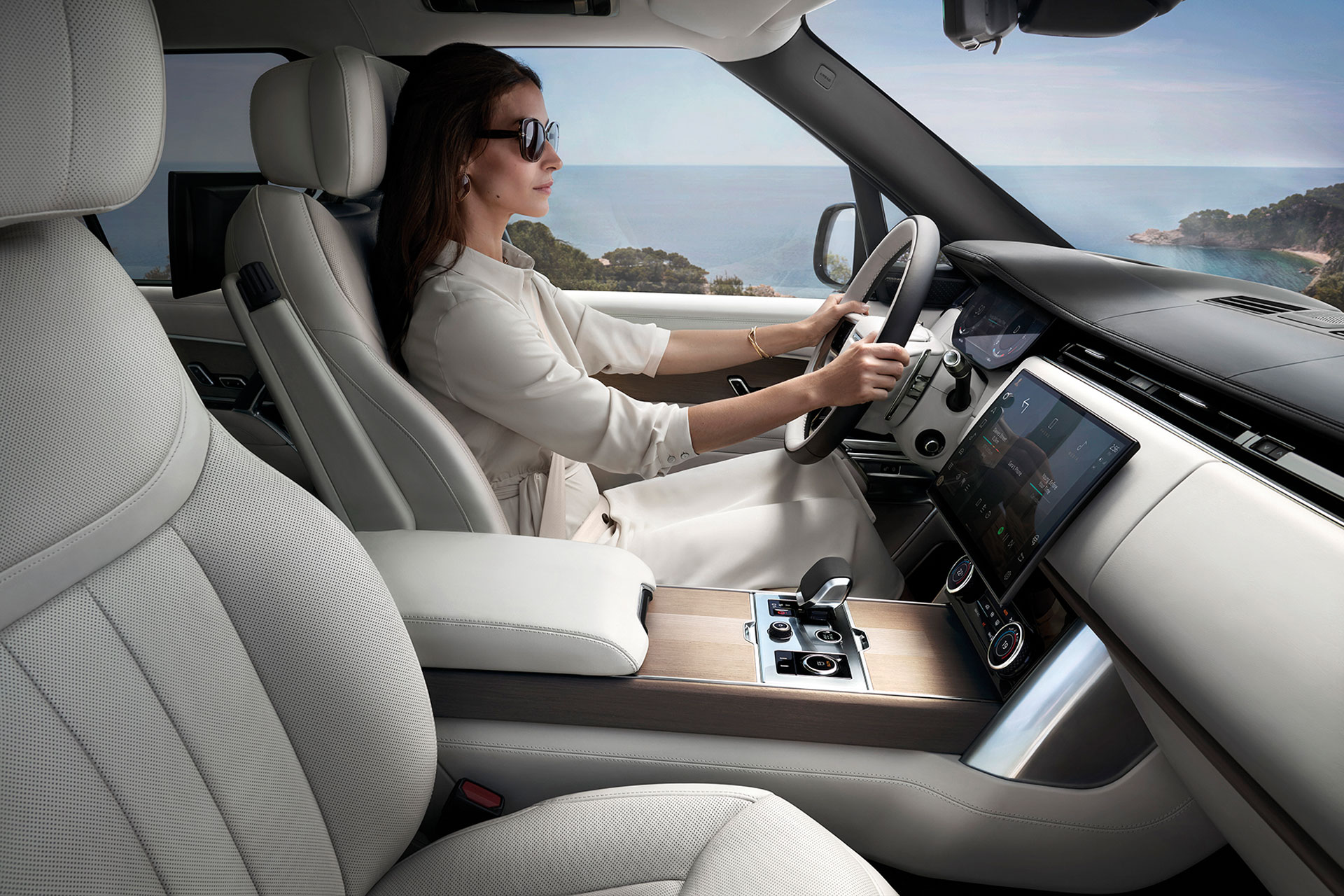 Key Features
Next generation noise cancelling for extra cabin refinement
All-wheel steer cuts turning circle to equivalent of a small hatchback
Twin turbo V8 trims 0-60mph to 4.4 seconds
Built-in Amazon Alexa minimises distractions
High-tech cabin air purification significantly reduces bacteria and allergens including Coronavirus 23-inch alloy wheels available for first time
Over-the-air updates keep the new Range Rover up-to-date just like your phone
New manoeuvring lights spread beam to the sides of the vehicle
Sound system includes 1,600w Meridian unit with noise cancelling Spotify app delivers seamless playback from home to car
Power-assisted doors take the strain for passengers
Auto-folding load space cover means no more chipped fingernails!
READ MORE:
Chasing Perfection: The Past, Present & Future of the Range Rover