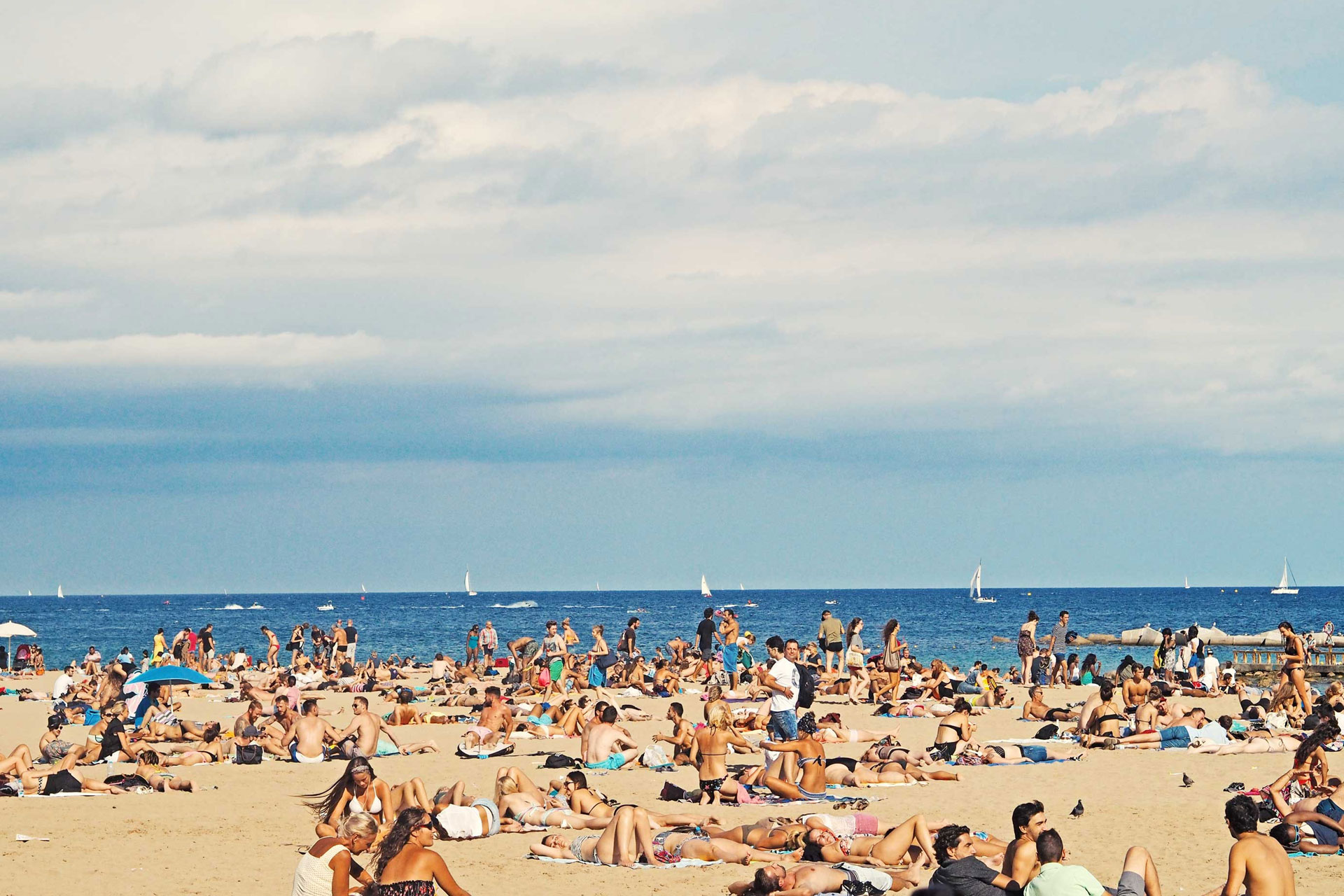 How Can We Tackle Overtourism At Beaches?
---
As many flee to the beaches, how can we protect our coastlines?
Planning an escape to the sea? So, it seems, is the rest of the world. After the best part of a year spent at home, people are more desperate than ever to get away, and not only are people flocking to the coast for a holiday, but many are also thinking of making the city to seaside move permanent. But what does this mean for our coastlines, and beaches the world over? This question, along with many others, are addressed in new book Overtourism: Lessons for a Better Future, edited by Martha Honey and Kelsey Frenkiel. Read an extract from the book here, on finding solutions to the overtourism of beaches and coastlines.
Beaches and Coastlines: Overtourism Solutions
From Overtourism: Lessons for a Better Future, Edited by Martha Honey and Kelsey Frenkiel, Published by Island Press
For decades, beaches, islands, and coastlines have been the most rapidly bought up and built up pieces of tourism real estate. This upsurge has led to a range of problems, including marginalization of established coastal communities; competition for fresh water, land, and other resources; rising real estate prices and cost of living; mounting traffic, trash, and pollution; and overcrowding, which often morphs into over- tourism. Such problems, in turn, lead to a decline in the quality of life for locals and in the quality of the vacation experience for visitors.
Overtourism in beach destinations, perhaps more acutely than other types of destinations, is intertwined with another major calamity, climate change. As Andrea Sachs noted in chapter 5.1, "Seaside towns are struggling with sand erosion, the loss of coral reefs, a plunge in marine life, algae blooms, and beached animals. Although climate change is a primary cause, overtourism is no friend to the fragile ecosystem either. In fact, among overtouristed areas, the combined forces of these perils seem to be hitting beachfront destinations the hardest." The convergence of climate change and overtourism has enhanced the complexities of seeking solutions.
To date, there are few international, national, or regional templates or sets of procedures for visitor management on beaches such as have been developed for national parks and protected areas. Instead, there were, through 2019, a range of experiments to address overtourism at specific beach sites; if the method appeared to work, it might be duplicated elsewhere. Some of the most extreme methods used in recent years have been beach closures to stop coral and beach erosion and let the ecosystem rest and recover. As Sachs explained in chapter 5.1, full closure has been used most notably, beginning in 2018, at two famous and overly popular beach destinations in Asia: Maya Bay in Thailand and Boracay Island in the Philippines. The once secluded and pristine Maya Bay, which began attracting five thousand visitors a day after appearing in Leonardo DiCaprio's film The Beach, is now to remain closed until 2021. Beyond that, it may cap visitors at twelve hundred a day. Boracay Island was closed for six months, during which time illegal buildings were demolished, a new waste infrastructure was installed, and a long list of "can no longer do" restrictions were put in place. Since reopening, Boracay has become an exemplar of sustainable beach management. Because total beach closure is unpopular with both tourists and local communities, however, these extreme measures are likely to be reserved only for the most poorly managed beaches on the brink of environmental collapse.
More common are programs to limit the number of beachgoers and better manage their behavior. For instance, as both Sachs and Frank Haas describe (see chapters 5.1 and 5.4), Hanauma Bay Nature Preserve, outside Waikiki in Hawaii, has implemented a program to curb the crowds by halting entrance once the three-hundred-spot parking lot is full. Visitors must also watch a film about the bay's ecology before proceeding to the beach. The preserve's program to control entrance numbers and educate visitors has been hailed a success and is being viewed as a model for other beaches in Hawaii.
On Scotland's Isle of Skye, which Sachs noted was being overrun by "volume tourists"—short-stay, selfie-snapping visitors jamming, in particular, the North Point at sunset—authorities have set out to change visitor behavior. They began to promote other trails and scenic lookouts, encouraging travelers to visit during off-peak months, to slow down, and to stay longer, all under the directive, "Stay Longer. See Less. Experience More."
A number of coastal, beach, and island destinations have used improved stewardship to build a "culture" that controls overtourism. This technique takes many forms. For instance, on Catalina Island, just off the coast of Southern California, where both space and fresh water are limited, the chamber of commerce has created "Care for Catalina," a widely distributed guide targeting the million-plus visitors a year. As Sachs put it, the guide "preaches the holy commandments advanced by many overtouristed destinations"—avoid peak travel times and get off the beaten track—as well as good behavior tips on water and fuel conservation, plastic reduction, trail usage, wildlife protection, and cell phone etiquette.
On the other side of the United States, on Cape Cod in Massachusetts, another stewardship program, CARE for the Cape and Islands, engages tourists, businesses, local organizations, and residents in raising funds and awareness for environmental stewardship programs. In oceanfront destinations around the world are other examples of good stewardship programs, often started and led by tourism businesses themselves. In Jamaica, for instance, boutique hotelier Chris Blackwell has created the Oracabessa Foundation, which runs a successful fish sanctuary and supports a range of community projects financed through guest donations. On a grander scale, in the Dominican Republic, the large international resort corporation Grupo Punta Cana runs a foundation that supports a range of social and environmental programs, including coral replanting, a private ecological park, a huge recycling facility, and a high school that offers training and jobs to local students. Grupo Punta Cana has also overseen construction of one of the first environmentally sensitive airports, "green" golf courses, and low-rise hotels designed to control density and protect the environment.
Stop Flying & Save The Planet?
A final category of reforms to address overtourism in beaches, coastlines, and islands is better management by tourism organizations and government agencies. In recent years, there have been a range of initiatives to broaden the role of destination marketing organizations (DMOs) from their traditional laser focus on increasing tourism arrivals (marketing) to a more holistic focus that balances the needs of visitors and residents through sustainable master planning for the destination (management). As Jonathan Tourtellot elaborated in chapter 6.1, "Ever so slowly, the DMOs' pure focus on marketing is beginning to change."
In Hawaii, for instance, the Hawai'i Tourism Authority (HTA), the island's DMO, is striving to expand its mandate beyond marketing. Since 2019, the HTA has defined its four areas of focus as natural resources, Hawaiian culture, community, and brand marketing and has tied its success not simply to increased arrivals but to several key performance indicators. As HTA director of communications Marisa Yamane explained to Sachs, "HTA has shifted its priorities away from increasing visitor arrivals and is focusing its efforts on enhancing the quality of life for residents and the visitor experience." She added, "The measures of success are visitor satisfaction, resident sentiment, per person per day spend, and total visitor expenditures." This approach works to address overtourism, as well as other tourism-related problems, through the all-important dual framework of good management and sustainable practices.
Beaches and Coastlines: Postpandemic
As with national parks, the coronavirus ended the overtourism crisis on beaches and islands around the world almost overnight. With the crowds gone, wildlife quickly returned for a brief period. Endangered species of sea turtles, for instance, quickly reclaimed beaches for nesting. Along Brazil's northeast coast, about one hundred hawksbill turtles were spotted hatching on beaches after locals were forbidden to visit, while in Juno Beach, Florida, scores of undisturbed loggerhead nests were visible on the beaches, and the turtles were spotted mating closer to shore in waters once dominated by boaters. Around Miami, no people and boats also meant less trash, including plastics, less noise, and fewer fuel leaks. Biscayne Bay, at a crucial tipping point of losing its sea grass ecosystem, was suddenly beaming with life, including pods of dolphins and two rare, highly endangered smalltooth sawfish. As videographer Mike Ruiz, who captured these sea creatures on camera, marveled, "The ocean was crystal clear, neon blue; you could see right through the bottom of the ocean. I've never seen the water that blue in the years that we've been filming in South Florida."
Keeping a lockdown on beaches proved difficult, though, especially as temperatures rose and summer approached. In late April, California, a state that had ordered one of the earliest lockdowns in the United States, opened a handful of beaches along its southern coast—with deeply disturbing results. Tens of thousands of people packed the beaches over the next weekend, abandoning physical distancing and other protocols and reigniting fears that large crowds in public space could reverse progress on containing COVID20"This virus doesn't go home because it's a beautiful, sunny day along our coast," warned California governor Gavin Newsom.
There were similar worrying scenes in other US states, including Florida, Texas, and South Carolina, where there were little to no restrictions on beach going. And even where beaches were opening with a range of restrictions, most tourism businesses remained shuttered, dealing devastating blows to tourism-dependent beach communities—and adding more pressure to open up in time for the summer holiday season.
Going forward, beaches in the United States, like national parks, will likely become even more popular travel choices, but unlike its parks system, the United States has no well-tested national-level framework for managing beaches and controlling crowds. Although undoubtedly states and beach communities will draw upon some of the techniques used, prepandemic, to control crowding and sustainably manage beaches, the reality is that overtourism, now complicated by public health and safety issues, is likely to become an ongoing challenge for beaches, coastlines, and islands.
Extract from Overtourism edited by Martha Honey & Kelsey Frenkiel. Copyright © 2021 Center for Responsible Travel (CREST). Reproduced by permission of Island Press, Washington, D.C.
Martha Honey is a co-founder and former Executive Director of the Center for Responsible Travel (CREST), based in Washington, DC. Her previous books include Cruise Tourism in the Caribbean: Selling Sunshine (Routledge Press, 2019), Ecotourism and Sustainable Development: Who Owns Paradise? (Island Press, 1998 and 2008) and Ecotourism and Certification: Setting Standards in Practice (Island Press, 2002). She worked as a journalist for 20 years, based in Tanzania and Costa Rica.
Top image by Federico Giampieri