Lapland: Autumn Auroras at Torassieppi Reindeer Farm and Lodge
Forget winter wonderland, autumn in Lapland is an altogether different kind of adventure. Husky hikes, lake swimming and glamping options? We're sold.
This post may contain affiliate links. Learn more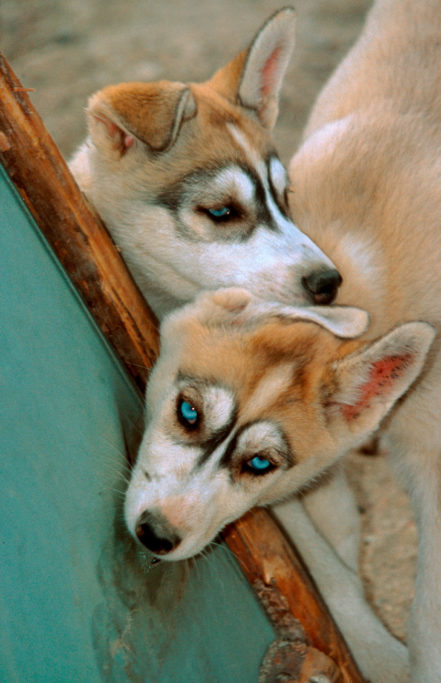 When one thinks of Lapland, scenes of Santa, sleighs and unbelievable amounts of snow are inevitably what first come to mind – but once the mercury surpasses the minuses, Finland's northernmost region is totally unrecognisable.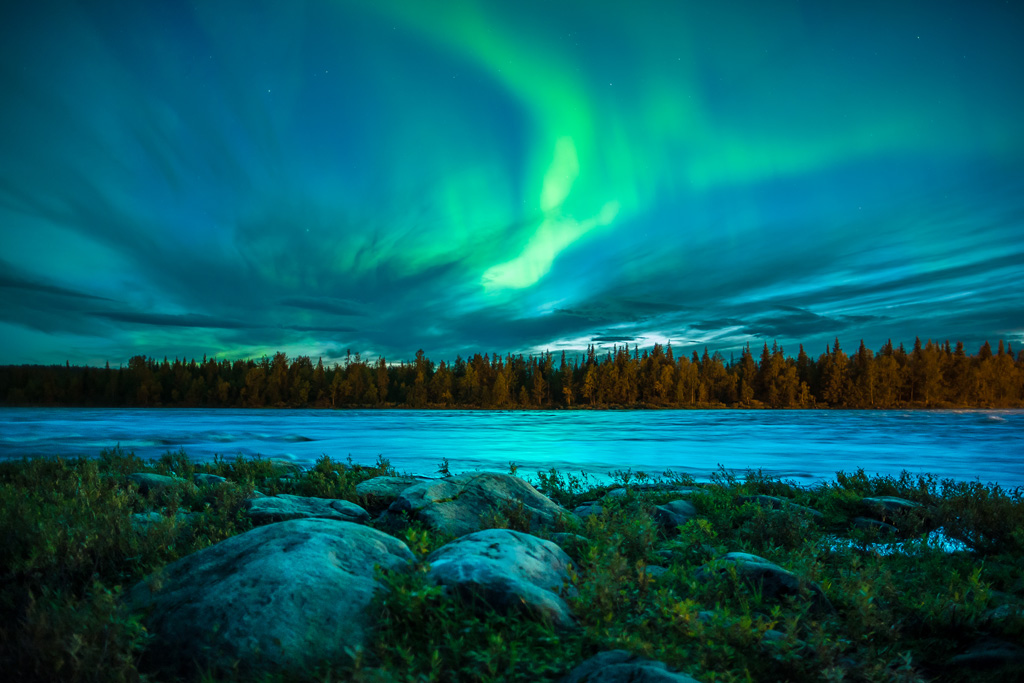 Autumn Auroras at Torassieppi Lodge, Lapland: Review
Step foot in Torassieppi, Lapland, in Autumn time and you'll find any and all preconceptions of Lapland simply melt away, just as the ice has done over the past few months. Between the clear skies, iridescent lake glittering in the sunlight and dense woodland across the water – not to mention the total lack of light or sound pollution – you'd be hard pressed to find a more relaxing setting. Forget winter wonderland, this collection of cottages is your childhood summer camp realised to its highest potential.
A Different Kind of Summer Camp
While Torassieppi, Lapland, didn't make it onto the National Geographic's 'places to visit' list because of its luxurious accommodation, the homey, rustic style cabins are definitely a welcome surprise – and the perfect place to rest after a day's worth of activities and exploration. While at first glance, the tiny shower-cum-toilet may leave something to be desired, the hot water and strong pressure more than makes up for appearances. For a change of setting on the final night, you can switch it up in one of the lodges's Aurora Domes. Set on the banks of beautiful Lake Torasjarvi and burrowed in Scots pine trees, the domes offer accommodation one step closer to nature. Rest assured, complete with double-beds, a fireplace, shaggy rugs and one glass wall designed for star-gazing (and potential Northern Lights spotting); these sturdy dome-shaped tents are not your usual camping experience. We suggest ordering a bottle of champagne, two glasses and watching the sun begin to set from your dome. (Be warned though, you'll definitely be needing the head-torch supplied to go to the nearby toilets after nightfall.)
Nordic Adventures
The lodge bills itself as 'the best in wilderness' for a reason, and while normally bold sweeping statements like these aren't to be trusted, in the case of Torassieppi simply none other would suffice – and while the seven-day husky safaris, snow-mobile adventures and ice-fishing in the winter may be the usual allure, the lodge's summer activity offering is equally enticing.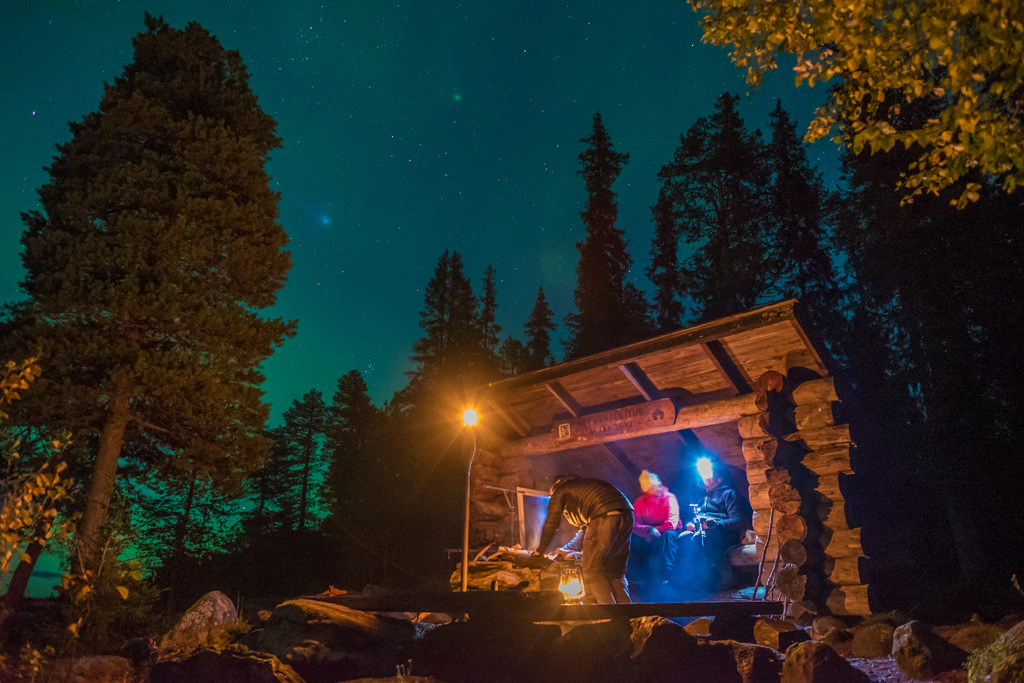 Husky Hiking
First up was hiking with huskies; trade the sled for a harness and you've got yourself a summer exercise that's much more appealing than the treadmill. We met our guide at reception and took the short walk to the nearby husky farm, where we were met with excited howls from the 96 beautiful huskies in residence. After meeting our husky helpers (an introduction which primarily consisted of furry cuddles) we donned the harnesses, connected the leads and got going into the woods. Although amongst the smaller of the bunch, mother-and-daughter dream team Pulma and Ines were surprisingly strong and instantly we were infinitely grateful we weren't attached to the bigger alpha males. On the hike the guide shared both his love of these working dogs and his infinite knowledge of their distinct personalities; conversation flowed as we were told tales of their intellect, loyalty, strength and playfulness – interspersed with expert knowledge of the surrounding flora and fauna. The two-hour hike winds through the woods, stopping at a vista point for an especially scenic mid-morning snack before circling back to the husky farm (while picking some fresh blueberries along the way).
Horse-Riding in the Midnight Sun
If you don't know your saddle from your stirrups, the midnight sun horse-riding excursion can feel daunting in the days leading up to the trip, but the reality it is an incredible experience suitable for all abilities and ages. After meeting Toressiepi's horse guide Rose at the stables, we took our time getting to know our horses before setting off for the night's activity. Although embarking no earlier than 9pm the skies remained a brilliant blue with nightfall still an hour or so off; the dusk provided an altogether different backdrop to experience the Nordic wilderness with everything in sight taking on an enchanting purple hue. From road to path and then into dense woodland, atop our horses we slowly made our way deeper and deeper into the forest, until I was sure I'd spot The Groke amidst the trees in the dark. Fulfilling all cowboy fantasies and despite initial nerves, we chose to take Rose up on the offer to try out a quicker canter for an exhilarating end to a night of languid riding.
Check out more photos of Autumn Auroras at Torassieppi Lodge, below. 
Around the Campfire
With some months lived wholly in the dark, it's no surprise that the Finnish know their way around a campfire. On our final night we took part in the cherished tradition with our wilderness expert who, as well as helping us not burn the pancakes on the fire, was a fountain of knowledge when it came to anything and everything about this magical, unique corner of the world. If you have any burning questions, now is the time to ask them.
Finnish Foraging
The Nordic countries have quickly established themselves on the culinary map for foodies wanting to explore truly locavore cuisine – and even after just the welcome dinner here, we quickly came to see (or rather taste) why. At Torassieppi, the team takes pride in the simply delicious meals they prepare for their guests, taking the time and care to explain each dish and its provenance as they laid them down before us. Burrowed in the abundance of fertile Finnish wilderness, all the food is expectedly fresh with every ingredient being 100% organic – and more often than not, sourced from somewhere within walking distance. We sampled – and loved – traditional Finnish dishes like sauteed reindeer (sourced from the organic farm just up the road) served with berries picked from the surrounding grounds, and potato and salmon soup that definitely overtook my obsession with the M&S tomato and basil. Mealtime here comes with a wonderful 'living off the land' feel and is a wholesome experience that feels like a natural extension of your immersion in the wild rather than the usual hotel buffet.
For some interactive insight into the local foraging practices, Torassieppi, Lapland, offers guests the chance to be led by a local guide who will impart knowledge and take them to the best places to seek and pick their own seasonal wild ingredients like berries, herbs, vegetables, and even fish before using them to prepare a meal on an open fire.
Take It Easy
While you're not feasting on Finnish cuisine, searching for the Northern Lights in Lapland on horse-back or hiking with huskies, days can be spent in a build-your-own-adventure fashion. When the sun's shining, a dip in the lake followed by an afternoon of sunbathing on the deck is hard to beat. But for something more strenuous, you can take out the canoes, stand-up-paddle boards, or go fishing on the banks. We adopted a pre-dinner time ritual of grabbing a book, pulling on a sweater and perching on one of the many wooden swings as dusk fell and the whole of Torassieppi came into a golden glow – heaven. And while we may have set out in search of the aurora borealis, we found so much more.
BOOK
For more information or to book, visit theaurorazone.com.
See more photos of the trip in our gallery, below. 
MORE LIKE THIS: The Guide to Svalbard, Norway | Hiking in the Swiss Alps | Adventure Holiday Ideas
---