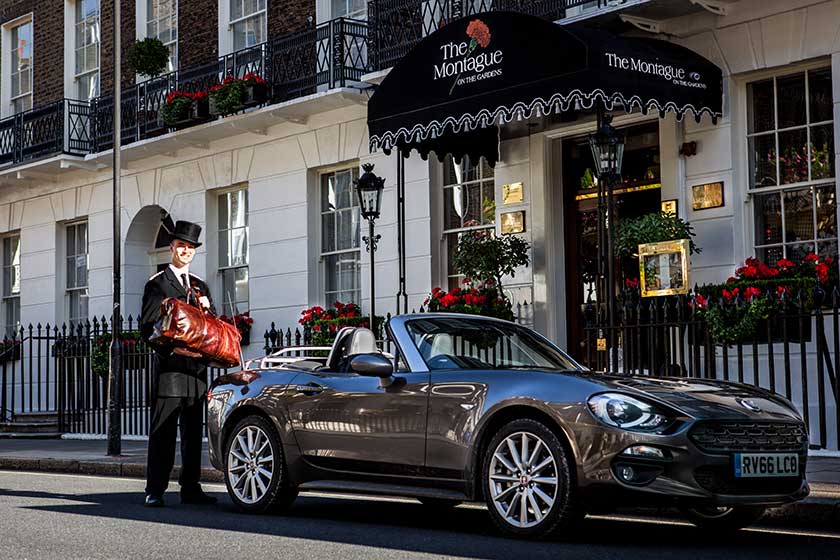 Ever wanted to experience all four seasons in one car? Jeremy Taylor drove from London the the Artic Circle, and tells us about the journey here…
It's October in the Arctic Circle and night-time temperatures have already dipped to -6 C. In a month's time that will drop to -40C – forcing departing aircraft to be blasted with de-icer before they take off at snow-bound Lulea Airport.
The Swedes have swapped their summer clothes for winter layers and stuffed the car glovebox with snus – moist tobacco pouches that drivers suck for a nicotine hit. It helps keep them away on the long, slow journeys through this woodland wilderness.
Silver birch and fir trees – millions of them blanket the countryside inside the Arctic Circle. Even the trucks are heaving with arrow-straight trunks bound for pulp and paper mills. Every load leaves a vapour trail that fills the open cockpit of my Fiat 124 Spider with eau de Christmas tree.
I'm content on a heated seat with the fan on full blast. It's cosy in the tiny cabin, while Fiat's long-awaited roadster is clearly giving a nation of Volvo owners a warm, fuzzy feeling too.
It could be the raccoon fur hat keeping my ears warm, or the fact that I've driven from London with the hood stowed but I haven't seen Scandinavian's this happy since Abba stormed Brighton in 1974.
The Spider is retro cute, easy to drive and relatively inexpensive. Surely driving it from England to the north of Sweden with the roof down will expose a few weaknesses…?
"Driving to the Arctic Circle in a Fiat? You'll never make it pal!" London cabbies have an opinion on everything. Twenty years ago I might have agreed but then I remind him the 124 is the sister car of the iconic Mazda MX-5.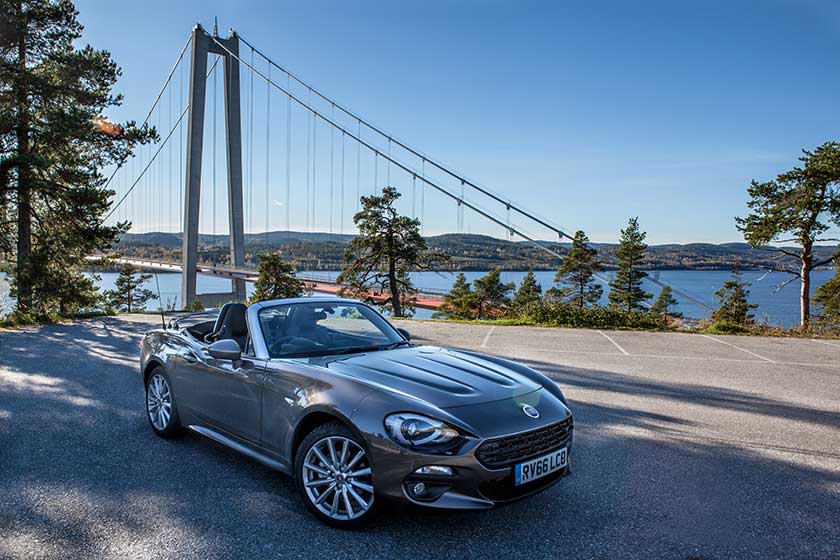 He's taking me to the start point for my Arctic adventure – the quintessentially English Montague on the Gardens, in Bloomsbury. London is enjoying a warm spell and the Magnetic Bronze Fiat has even impressed the hotel doorman, who is more used to loading a cavernous Bentley.
The manual hood folds flat in a couple of seconds and soon I'm purring along the Embankment, with the sat nav locked on the Channel Tunnel. So far, the 1.4-litre turbo engine is coping well with the capital's stop-start traffic and it feels a bit nippier than the MX-5.
Unfortunately, industrial north France and Belgium don't pass in a flash and it takes a frustrating nine hours to make Amsterdam by nightfall. The migrant crisis isn't helping and there are various check points along the route.
I imagined the Dutch capital on a Friday night would be less than sober. Instead, I find a city of calming canals, cobbles and cyclists. There's hardly any traffic and those pedaling give hand signals – most unlike London.
The recently-opened Waldorf Astoria is an amalgamation of several grand, 17th century properties. It looks over a UNESCO-listed canal on the Herengracht and is packed with art work. Best of all is a breath-taking staircase, designed by the architect of Louis XIV.
There's barely time to enjoy a passing narrowboat the next morning before loading up to head for Hamburg. I'm not certain how the Fiat will fare on the high-speed autobahn but it holds its own at around 95mph. The heater is powerful and I can still hear the Bose sound system.
The traffic jams continue for the rest of the morning. The only transport moving slower than me in Hamburg are the monster Triple E supertankers, manouevering on the River Elbe. I stop to buy fuel and German sausage – it's another five hours to Copenhagen but at least the scenery is improving.
The Danish capital has a nautical vibe but today the sky is grey and rain is falling. I'm a big fan of crime drama The Bridge. It's not just detective Saga Noren's 1970s Porsche 911 but the bleak scenery that adds to the atmosphere.
I can see the towers of Oresund Bridge rising out of the mist from my room at the busy Bella Sky Hotel. I determine to rise early the next day to drive the five miles across to Sweden. Twelve hours later and the weather is even worse, so I point the Spider north and cross the freezing straits to Malmo.
In the remoter parts of Sweden, telephones are a vital piece of safety equipment during the winter months. Studded tyres are allowed from October and everybody carries a candle – a low-tech source of heat if the worst happens.
No need for that in Stockholm, which is enjoying sunshine. However, I'm staying at Hotel With – an unusual underground hotel without any windows. It also prides itself on having the fastest broadband in Sweden! Upstairs is the trendy Urban Deli, a popular spot for city types.
After leaving the capital I head north and it becomes more remote with every passing mile. I take a break at Gavle, where an incredible two-metres of snow fell in one day in 1999.
Traffic is really scarce by the time I reach subarctic Umea and pass the 63rd parallel. I'm staying in a hotel converted from a seamen's mission. The bar at Stora Hotel is empty, candles are glowing and it feels like Ingmar Bergman could walk in any minute.
I'm about five hours from the Arctic Circle here and the next morning pass cars dusted in frost and ice. It's only a couple of weeks before snow really starts falling but not to worry because today it's kanelbullens dag – Cinnamon Bun Day.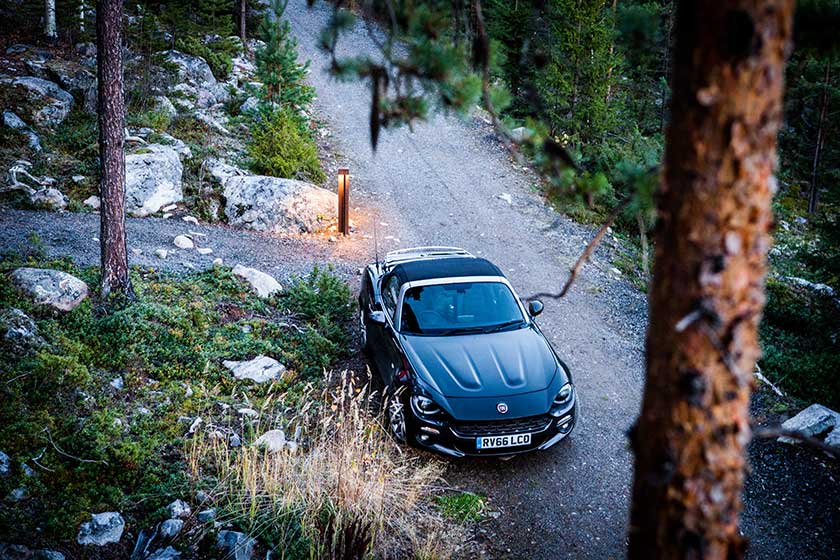 At every fuel and coffee stop I'm presented with a cinnamon bun. The floor of the Spider is sprinkled with sugar, while even the fur of photographer Mitstrom's hat has taken a hit. I'm heading for a place called Jokkmokk, where daylight lasts less than three hours in the winter.
The road cuts through pine forests, past crashing rivers and occasionally snow. There are few signs of life until an ugly metal road sign comes into view. I'm half expecting a white line painted across the tarmac but this is it – the Arctic Circle.
I'm 66 degrees north on a latitude that passes through Greenland, Alaska and the very north of Russia. I've not seen an interesting car since Stockholm and the little Spider seems strangely out of place – mainly because it isn't a 4×4.
Then to cap it all, that evening I see the Northern Lights while staying in a funky tree house at the Tree Hotel. It shimmers above the Spider for hours, as ice forms on the roof and the windscreen turns opaque. We've covered just over 2,300 miles in five days and the Fiat hasn't missed a beat.
The 124 Spider may live in the shadow of the mighty MX-5 for a while but it is far more than just a re-bodied Mazda. It has true character and will appeal to a different audience. And if I had the number of that London cabbie I'd bloody well give him a call…
Five freezing facts…
1. It's cold where the Arctic Circle cuts across north Sweden but the North Pole is another 1,650 miles further north.
2. Apart from cinnamon buns, Swedish drivers live to fend off extreme cold eating semla. These carb-loaded cakes are flavoured with cardamom, filled with almond paste and lashings of whipped cream.
3. The Arctic takes its name from the Greek word 'arctus', meaning bear. The term is a reference to the Big and Little Bear constellations.
4. The Circle is moving because it depends on the Earth's axial tilt. It fluctuates and is currently slipping 15-metres further north every year.
5. North Swedes loves eating reindeer but also meatballs. They are served with gravy, boiled potatoes and lingonberry jam.
The Route
Day 1. London to Amsterdam via the A13 and M20 in England. Calais to Antwerp on the E40, via Bruges and Ghent in Belgium. Total – 355 miles.
Day 2. A1 to Bremen and Hamburg. Due north to Kolding, the east across Odense Island to Copenhagen. Total – 575 miles.
Day 3. E4 north-east to Stockholm, via Jonkoping. Total – 425 miles.
Day 4. Continue on E4 due north, via Gavle to Umea, on the Gulf of Bothnia. Total – 405 miles.
Day 5. North again on the E4, via Pitea and the Arctic Circle to Jokkmokk and Harads. Total – 516 miles.
Travel facts
Jeremy Taylor stayed in London at the Montague on the Gardens (www.montaguehotel.com); the Waldorf Astoria Amsterdam (www.waldorfastoria.com); AC Hotel Bella Sky in Copenhagen (www.marriott.co.uk); Hotel With in Stockholm (www.hotelwith.se); Stora Hotellet in Umea (www.storahotelletumea.se); the Tree Hotel in Harads (www.treehotel.se). He was kept warm wearing clothing supplied by 66 North (www.66north.com).
READ MORE: Are you up for an adventure holiday?
READ MORE: Touring Switzerland's alpine passes in a Maserati Quattroporte
---