As part of our feature 11 ways to keep the kids happy this half term, we popped down to The Arch London, to check out their family-friendly kids package.
Finding a good hotel that's family friendly can be tricky. Shiny (and clean), modern furniture with head-height sharp edges. Minibars full of miniatures at a way-too-reachable level. Other adults trying to enjoy a night away without your loud children running riot. Enter The Arch London.

Above: The Abbey Suite
The Arch London
One of our Great British Hotel picks, this small and luxe boutique hotel is located in the heart of Marylebone, a stone's throw away from Selfridges and Seymour Place.
"Better described as one of the new breed of townhouse hotels rather than that 1990s phenomenon, the boutique hotel. It's luxurious all right, but it's not grand. Public spaces are art-filled, smart and glossy, but intimate too. The 82 striking bedrooms have been superbly executed and, for their quality and location, they offer excellent value for money. The heart of the place, and its cleverest feature, is the subtly curtained cocktail lounge that flows into a zinc-topped bar area and on into the Hunter 486 (that's the 1950s dialling code for Marylebone, in case you were wondering), with open-to-view kitchen and wood-fired oven. You could almost be in New York." – Great British Hotels guide, 2016
So where do kids fit in to all this?
The idea behind the half term family package is to give your little ones a London VIP hotel experience (without a human dressed as a cartoon character or plastic-filled ball pit in sight).
Enter my son Jack. At one, he's a little younger than the half term audience, but was willing to try his hand at hotel reviewing, for the good of Country & Town House's school hols guide.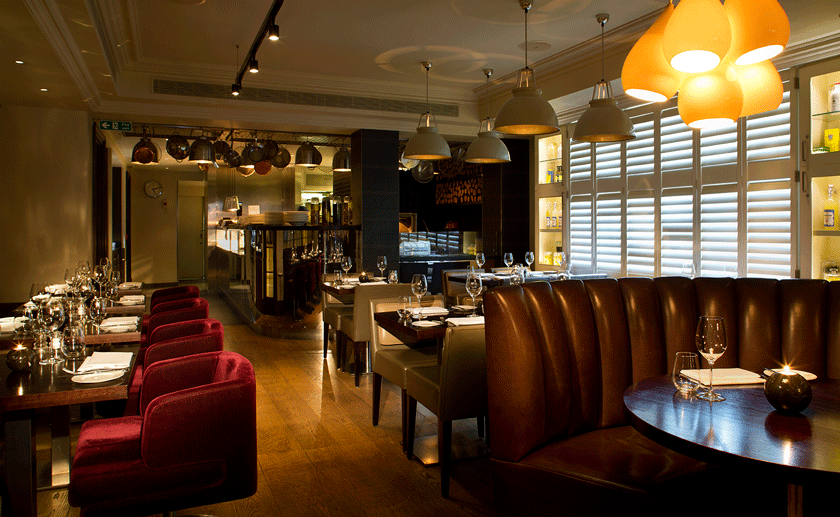 Above: Hunter 486
On arrival, Jack was welcomed warmly by hotel staff, and in our room his cot was set up ready, with a special Archie bear sat atop a mini bath rope, slippers and bath products.
Dinner at Hunter 486 was a relaxed affair, with a special children's menu with plenty of options, an open pizza oven for the young ones to enjoy watching the chef at work, and staff so friendly your parenting skills become surplus to requirements.
(Jack would like to thank Milos in particular, who looked after him incredibly well, and made his evening by referring to him solely as 'the little champion' throughout dinner. Even after he fell asleep at the table.)
If your own 'little champion' can keep their eyes open past pudding (I'd recommend the lemon posset, despite Jack's failure to stay conscious), they can head over to The Arch's beautiful library, where children's books and milk and cookies will be on hand for bedtime stories.
Before checking out, your little one might like to make the most of a bubble bath with in-bathroom television. (While I hadn't intended to get up at 4.30am and watch Horrid Henry during my morning soak, Jack thought it important for this feature that we try it.)
And if Archie bear, TV bubble baths and story time aren't enough to keep them entertained, there is a chest full of toys in the reception area that should keep them happy while you enjoy a coffee (or cocktail) in the lounge.
We can't guarantee that you'll go home well-rested after your stay, but your mini-mes are sure to enjoy their taste of London luxury.
The Arch London's ultimate family package will be available throughout half term, starting at £390 a night. The Arch London, 50 Great Cumberland Place, Marble Arch, London W1H 7FD. For reservations, call 020 7724 4700 or visit www.thearchlondon.com.
---