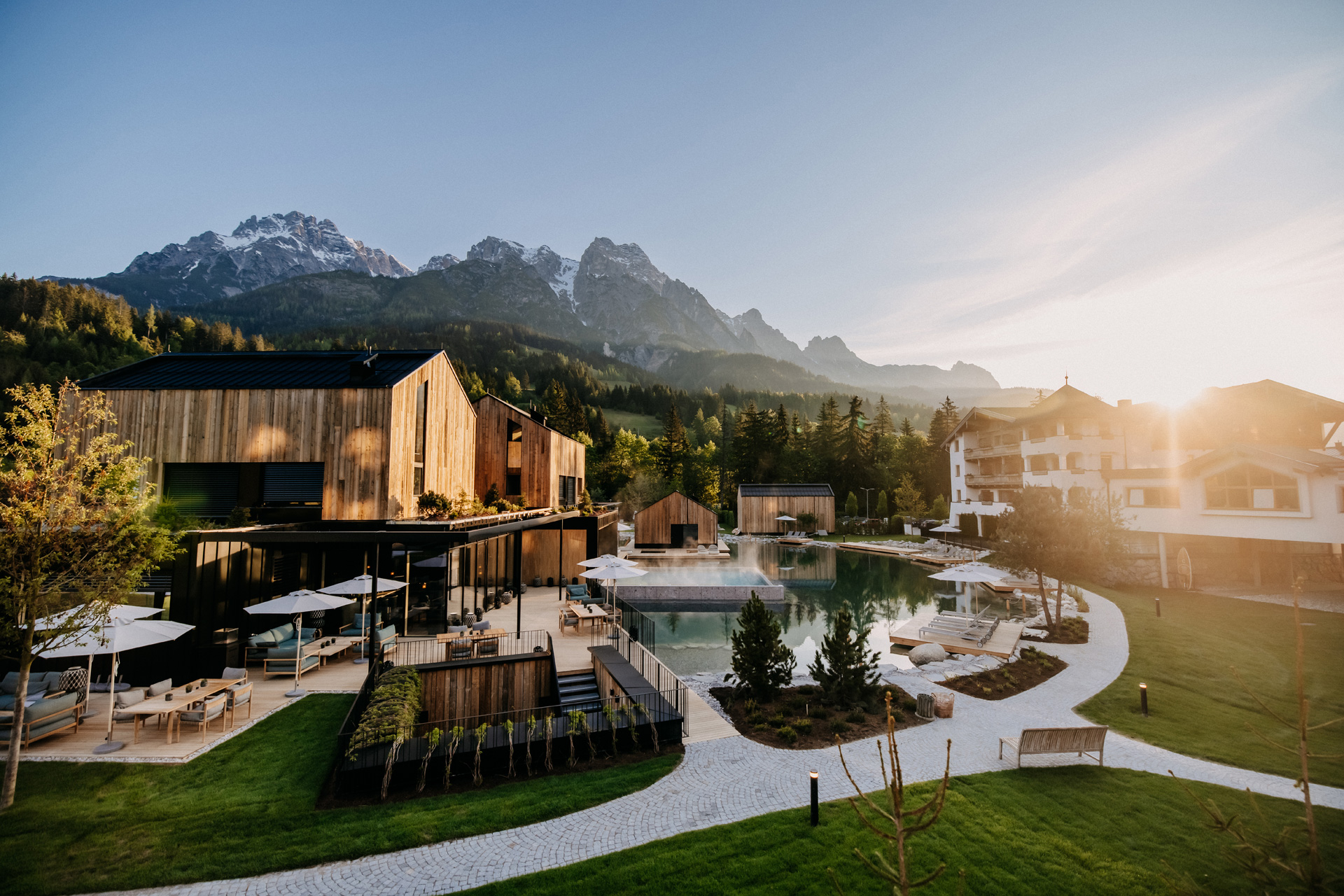 A Restorative Alpine Retreat: Naturhotel Forsthofgut, Austria – Hotel Review
Escape to the Austrian Rockies
Ann Lee checks into Naturhotel Forsthofgut, a luxurious spa hotel in Austria's Leogang mountains.
Naturhotel Forsthofgut, Austria – Hotel Review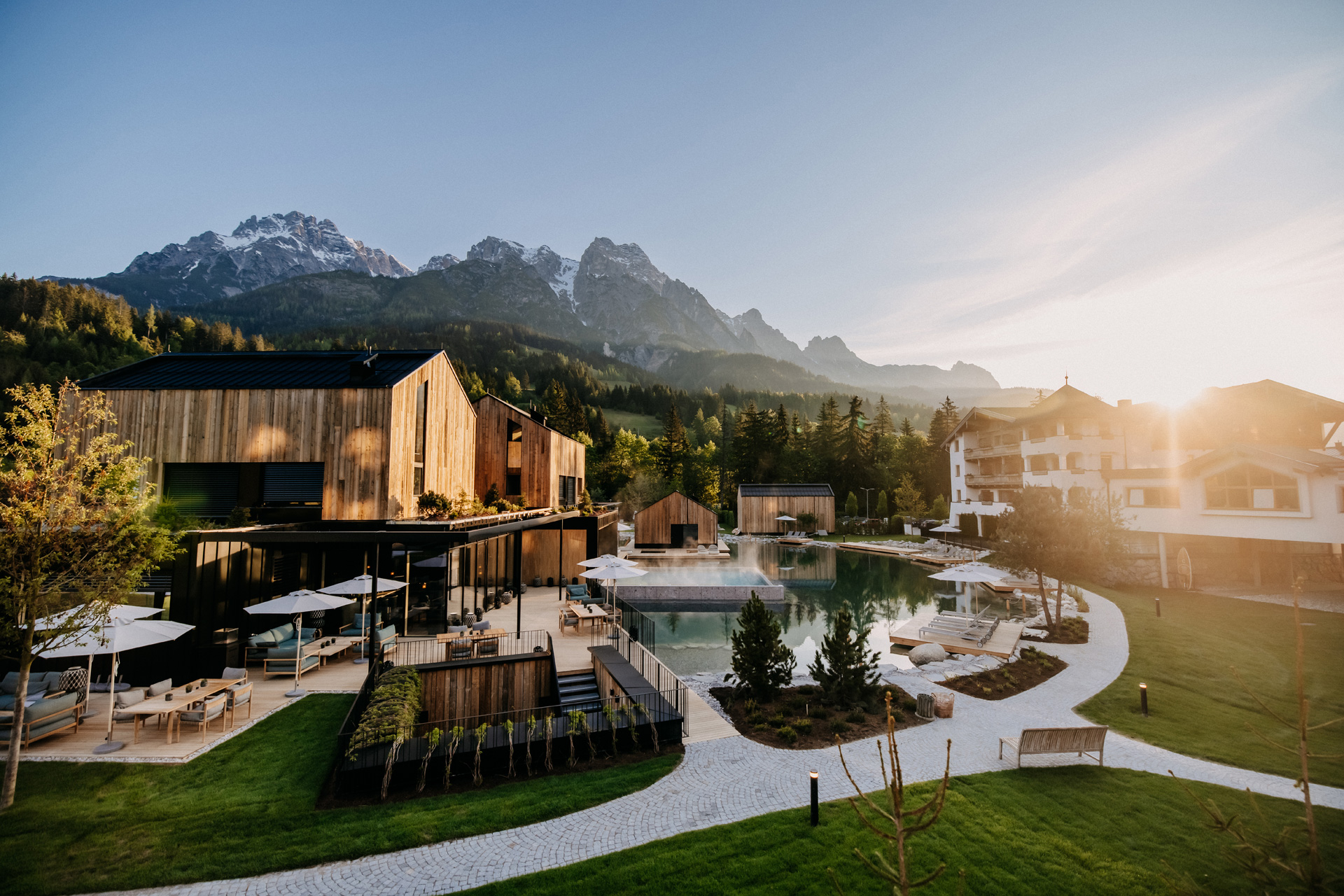 The sculpture of a giant headless man in a pale blue suit by artist Erwin Wurm stands protectively by the driveway as we pull in. It's my first clue that behind the pristine façade of cheerful Alpine wholesomeness that first greets us at Naturhotel Forsthofgut – the riot of pink and red flowers, green shutters and exquisite wood carvings – there's something altogether edgier lurking underneath. 
The sprawling resort is nestled in a picturesque valley surrounded by the magnificent craggy peaks and pine tree dotted slopes of Austria's Leogang mountains. Its magnificent setting makes this luxurious spa resort the ideal retreat for anyone looking to immerse themselves in nature or whizz up and down those slopes come winter when they're covered in a dusting of snow.
The family-run hotel started off in 1617 as a farmhouse and stables that was converted into a simple guesthouse. Husband and wife team, Christina and Christoph Schmuck, are the fifth generation to run the shop. The eco-friendly hotel has grown to a complex of 109 rooms that harmoniously merges rustic Alpine chalet chic with newer buildings, made up of trendy black metal and huge windows, that are a more modern take on traditional mountain cabins.
We take a short British Airways flight to Salzburg, enjoying the extra perks of Club Europe, and then it's a one hour 15 minute drive to the hotel, which is located in the absurdly pretty village of Leogang. I can't wait to sink into the pool, but it's hard to tear myself away from my terrace and those impressive views of the Austrian Rockies. My room is an inviting mix of puffy boucle furnishings and wood panelling with a marble tiled bathroom. It's an understated look that manages to be both warm and contemporary.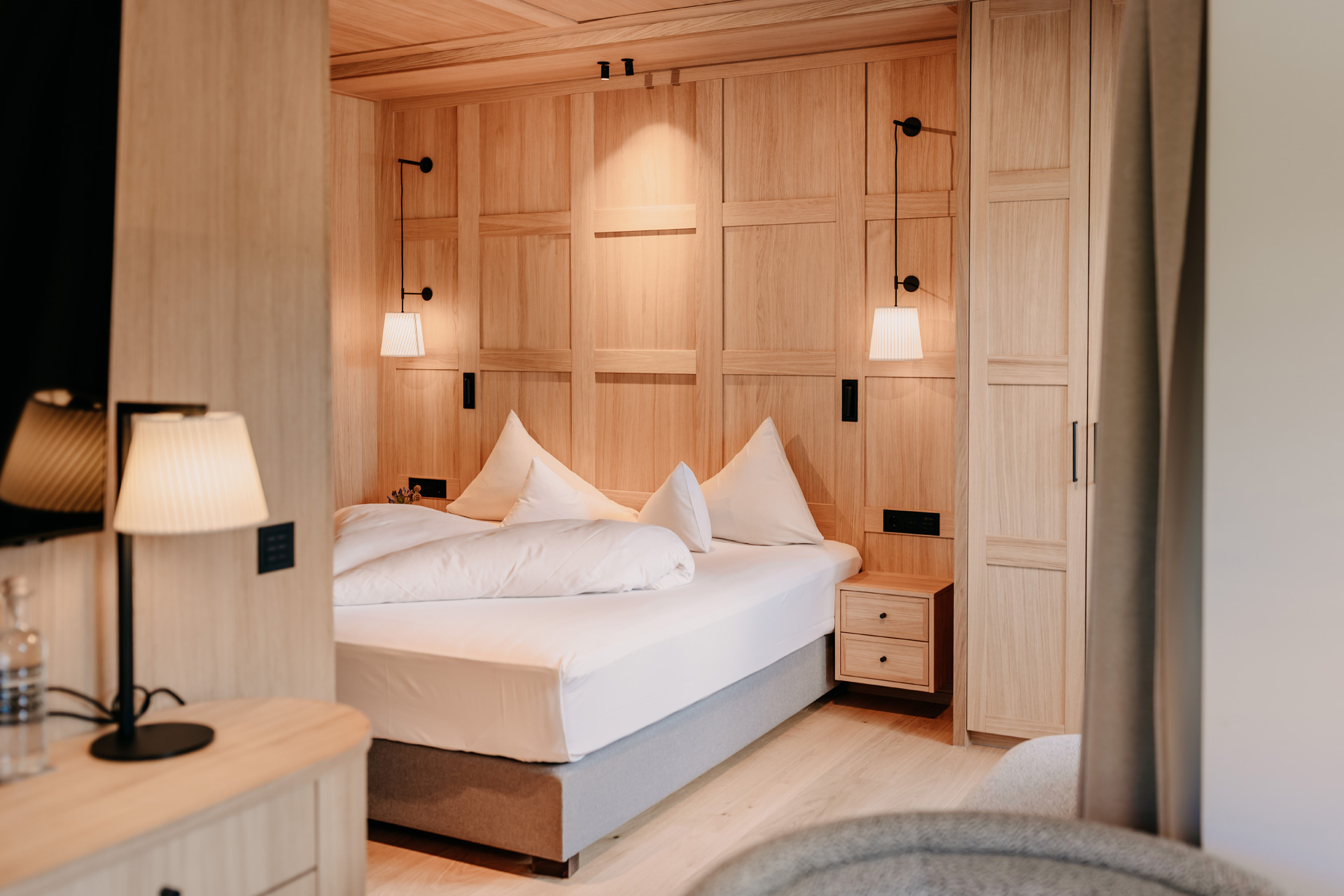 After a leisurely dip in the outdoor pool and some time in the sauna, I head to the Japanese onsen pool, warmed to a toasty 42 degrees. I gingerly dip a toe in, unsure if it'll be too hot, but it's bliss. The cocoon of heat, when coupled with the staggering sight of the lush green mountains, a few trees already turning red and golden yellow as autumn beckons, instantly obliterates any lingering worries about life back home. 
Once I've dried off and managed to rouse myself from my relaxed stupor, I head to the Asitzbahn, a cable car just metres away from the resort, that takes you right to the top of Asitz mountain. As I exit the station, I watch in awe as kamikaze cyclists speed past me, pumping uphill on thighs of steel, while I wobble my way up one of the many hiking routes. (The mountain is home to the Epic Bikepark Leogang, one of the biggest of its kind in Europe). Passing gangs of floppy-eared sheep, I finally get to a reservoir, complete with a mini waterfall and water shimmering vivid shades of teal and blue, right in the middle of the mountain peaks. It's one of those breathtaking sights that stops you right in your tracks.
After all the uphill hiking, I book myself in for a waldSPA meTIME massage, tailored to my specific needs, at the spa (there's an adults-only and a family one). My strapping masseuse Sladan works wonders teasing out the rocks that seem to have suddenly ballooned in my calves.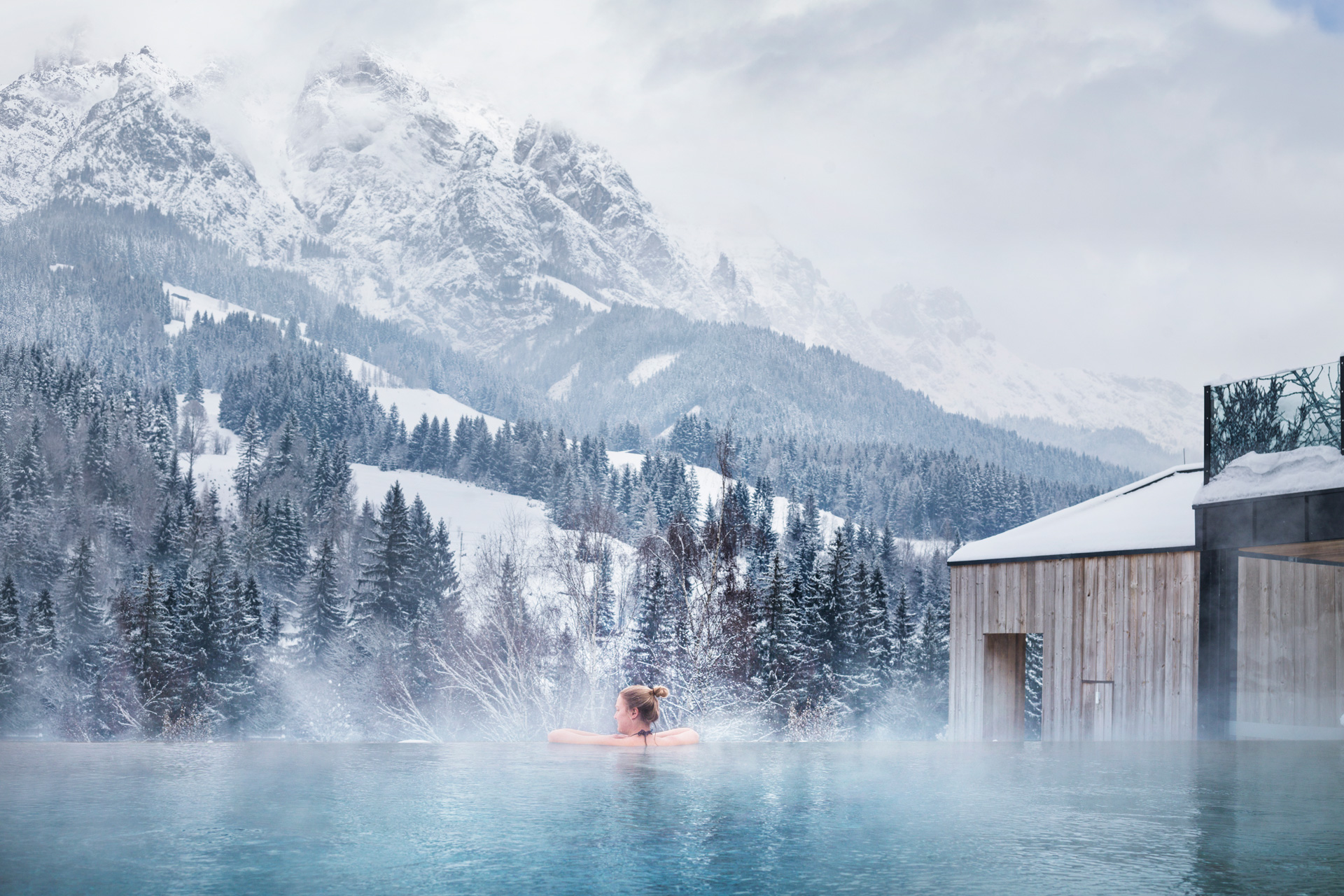 Before dinner, we enjoy an aperitif at the Botanist bar, where staff forage for ingredients that are used in the drinks. We settle into the plush velvet chairs as they whip up some delicious concoctions. As a non drinker, I very much enjoyed the waldSPA Refresher, a zingy mocktail of ginger ale, lemonade, lime juice, cane sugar and fresh mint while my companion tried an Immune Boost, made up of tequila, pine infusion, lime juice and acacia honey. 
There are several restaurants at Naturhotel Forsthofgut, each with their own individual personality and look, rather than one big dining area, including ​Mizumi, a Japanese eatery, while there are plenty of vegan options to choose from. We dine at 1617, the traditional Austrian restaurant, built with reclaimed wood and kitted out with dried wreaths. I have a delightful starter of prawn pasta with courgettes and then a juicy pork tomahawk steak, served with root vegetables, polenta and a delectable gravy. As I struggle to decide if I should have dessert, a staff member tells me encouragingly: 'Well, as they say, life is short, eat dessert first.' Wise words. I indulge my inner child and go for a banana split with lashings of cream and crunchy praline chocolate. 
The next day after a sumptuous breakfast buffet where I pile my plate high with fresh fruit, pancakes and multi-grain porridge, I head to the forest to do a yoga session. We climb another hill to reach some wooden platforms, tree branches framing another awe-inspiring view of the mountains in all their bucolic loveliness. As we wind down and cover ourselves with blankets, I watch crisp leaves float down and realise that Naturhotel Forsthofgut is the best kind of dessert; with its Alpine charm, beautiful setting and focus on total relaxation, staying there feels like the ultimate treat that is satisfyingly indulgent. It's an experience that is best savoured slowly so the sweet memories linger long after you say goodbye to the headless statue, promising you'll be back next year.
BOOK IT
British Airways flies London Gatwick to Salzburg from £45 one way. ba.com
Naturhotel Forsthofgut has rooms available from €220 (approx. £192) per night per person. This is based on two adults sharing a double and includes breakfast, afternoon tea and dinner. forsthofgut.at