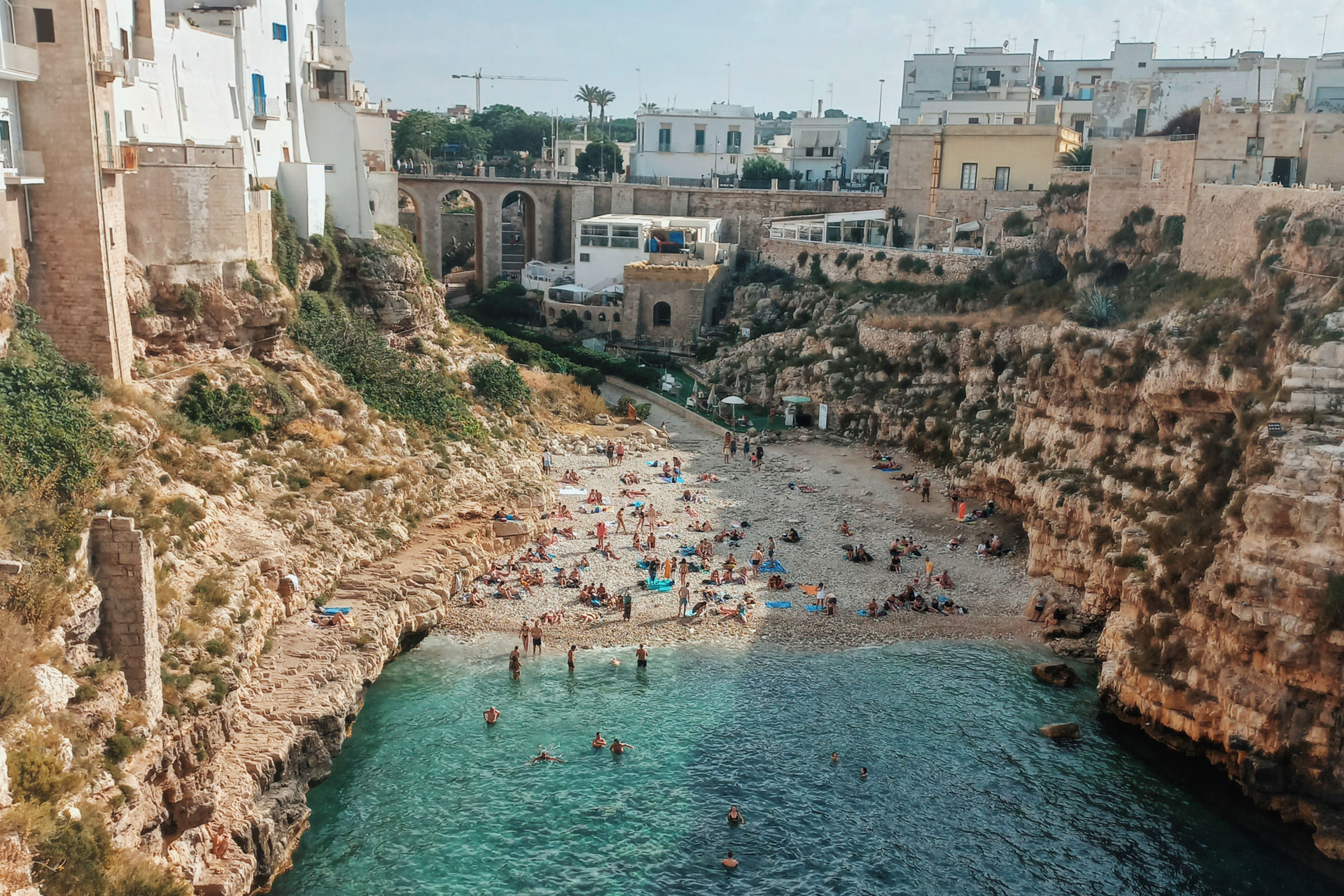 A Brief Guide To Puglia, Italy
---
It's wonderful, it's wonderful, it's wonderful.
When you're somewhere as stunning as Italy's Puglia, all you need accommodation-wise is a base from which to launch yourself into the breath-taking architecture, craggy cliffs, secluded coves and (very, very) delectable cuisine of the region. But why not make the base as appealing as its surroundings? Rebecca Cox checks in to Villa Katerina and finds a Puglia home away from home…
Puglia Travel Guide
STAY
Villa Collective's Villa Katerina, Puglia, Italy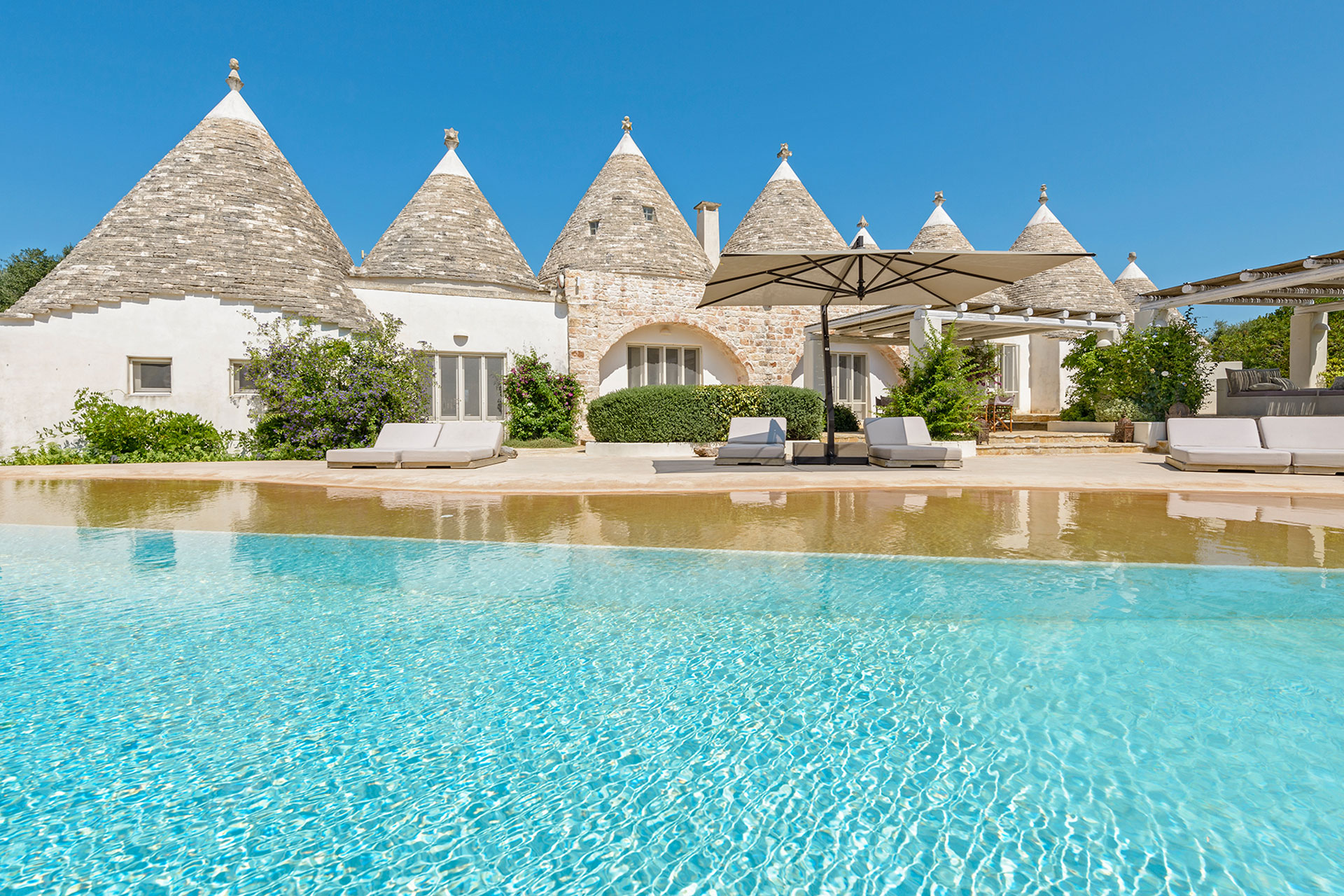 Built in the style of the region's unique Trulli houses, Villa Katerina is an impressive conical-roofed four-bedroom, three-bathroom property located 15-minutes from the beautiful Ostuni, aka 'the Città Bianca'. With beautifully landscaped grounds, this private sprawling home has its own pool, several living areas, open-plan kitchen-diner and plenty of pool-side lounging space. The pool is long, cool and edged by a shallow splash zone, perfect for kids racing up and down, or adults eager to emulate the lapping waves of the ocean's shallows without journeying to the beach. The villa's hammock is the ultimate relaxation spot, and it's big enough to wrap entirely around you should you wish to conceal yourself from your friends or family members for a few minutes (/days). The rooms feature huge, comfortable beds and never over-heat, thanks to the clever design of the distinctive roofs, and each set of bedrooms features an outside shower plus mini gardens and lounge zones, meaning there are plenty of places to find peace if the hammock is occupied. In fact, if you're travelling with kids, with the pool, enormous fully-stocked TV, lizards to hunt and grounds to explore, you may find an entire week has passed without so much as an 'I'm bored' to be heard. Villa Collective's on-the-ground manager will answer your Whatsapps about working the oven no matter what time of night, as well as organising more appealing pursuits from coastal horse riding to private chefs who will cook up an Italian feast (and clear up after themselves) while you sample yet another of the region's rosés on the terrace.
DO
As tempting as it is to lay by the pool sipping rosé all week as the mercury rises (and indeed we recommend reserving at least half your stay to do exactly this), to fail to explore Puglia would be seriously remiss. Secluded sandy coves hiding amongst craggy orange cliffs line this rugged and untamed coast, best chosen by simply driving the stretch of motorway between Bari and Brindisi and picking a random 'mare' sign to follow. Each of the region's towns holds its own appeal, whether the famous stony beach of Polignano a Mare (best observed from on high on one of the old town's cliff platforms) or the towering white walls of Ostuni, packed with alluring boutiques and appealing gelaterias.
EAT
Everything. Any trip to Italy should be at least 50% eating and drinking. The region's red wines are amongst the most popular in the country but if you're visiting in the summer, you'll want to sample the excellent local whites and rosés too. The rich coral pink Mjere Rosato is a favourite and goes with almost anything (particularly leisurely afternoons spent in hammocks).
When you're out and about, the many bakeries of Puglia hold endless temptations, from the Panzerotti (deep fried pockets of dough stuffed with tomato and mozerella) to the focaccia (available in endless variations). The many sweet pastries also appeal, from fig-filled biscuit bakes to the cream and sour cherry pasticcioti cake-like bites.
If you make it to Polignano a Mare join the crowds of locals and visitors at fast food fish sandwich shop Pescaria for a tiger bap as big as your head filled with combinations including shrimp, roasted aubergine, mozzarella and crisps (surprisingly good). Seafood reigns supreme in this coastal district, but you'll want to make space for at least a handful of pasta dishes while in Puglia, and pack some of the outstanding olive oil to take home with you, since the region is responsible for the production of 40% of the country's olive oil output.
THE FINAL WORD
If you're staying at a Villa Collective property, they'll even stock the fridge for your arrival: we'd suggest requesting a strong tipple to recover from the journey, should your sat nav mislead you (as ours did) through the steep and narrow cobbles of Ostuni (stacked with Italy's infamous drivers) in err. As we thought, the base is just as important as the destination, particularly if you're the designated driver.
BOOK
Sleeps 8-10 guests, from €6,950 per week | villacollective.com