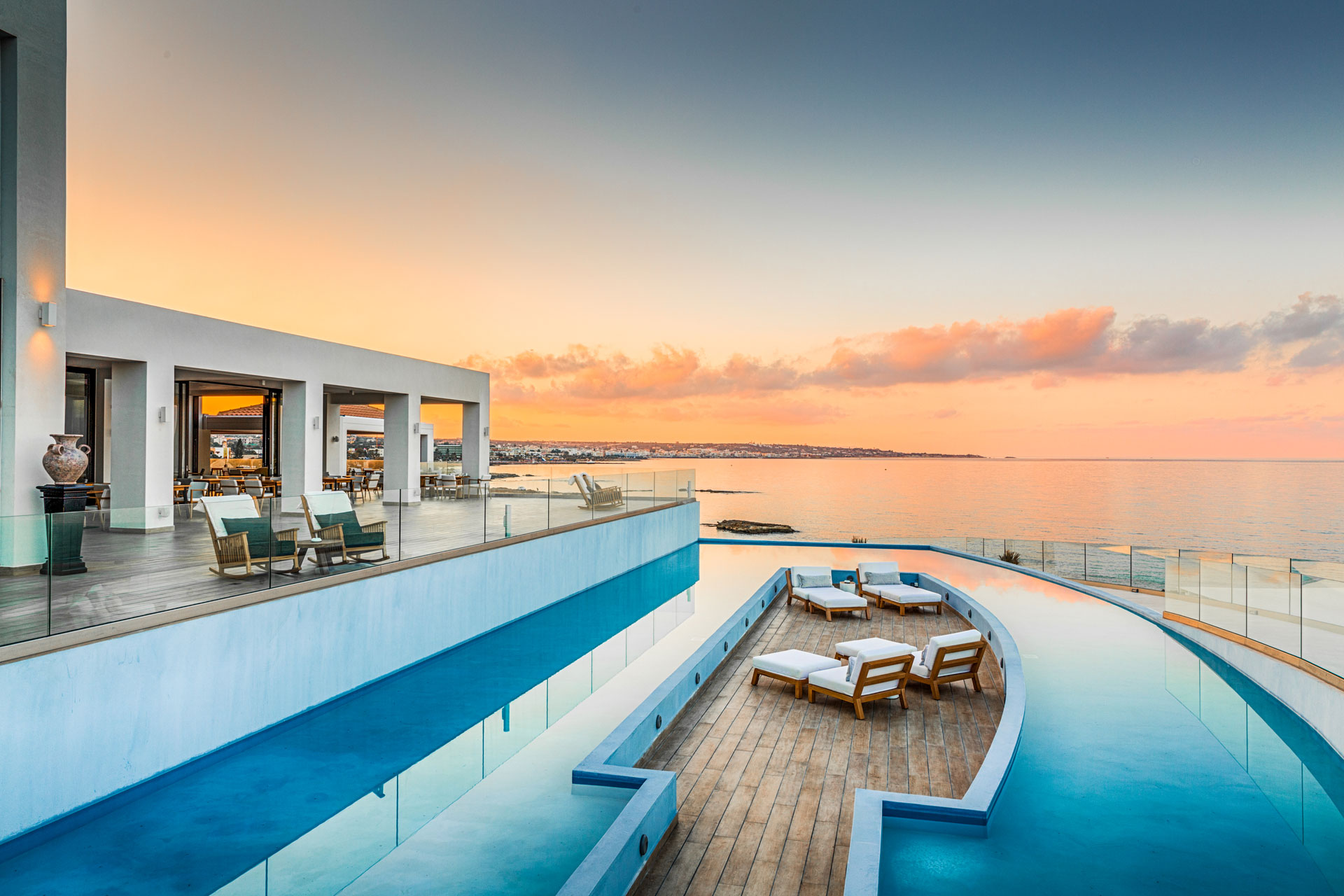 Review: Abaton Island Resort & Spa, Crete
---
This picture-perfect hotel on the north coast of Crete is a Greek paradise
The holiday resort often gets a bad rep. Why would you want to travel many miles to stay in one place, say naysayers? Abaton Island Resort & Spa in Crete is here to change your mind. This five-star hotel comprises everything there is to love about Greece in one place – from mesmerising sea views to friendly locals and great food.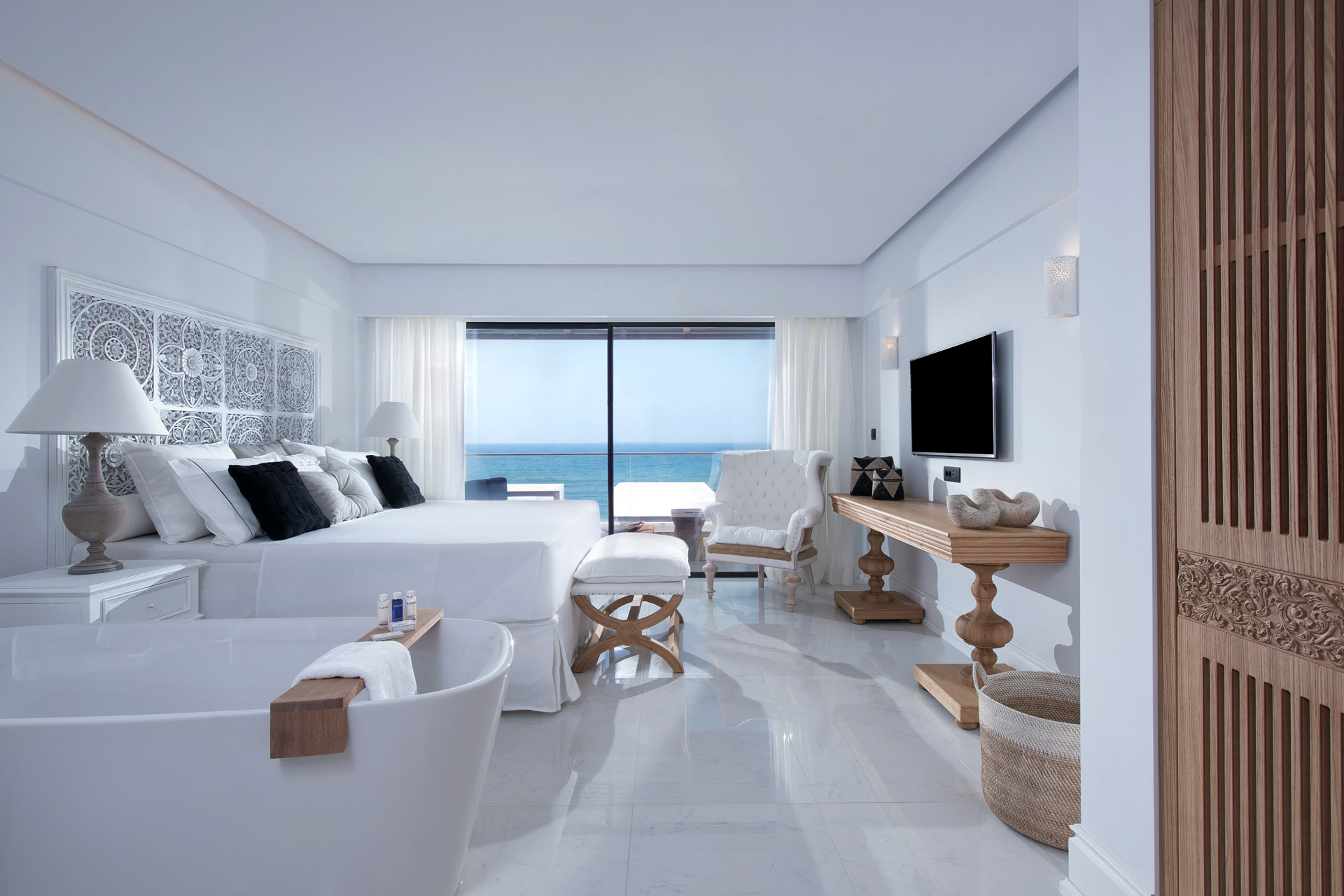 STAY
Located on a stretch of private coastline just half an hour from Heraklion airport in Crete, Abaton is impeccably designed. Arriving feels like stepping into a dream world, with lagoon-like pools, white buildings and a spa-like scent wafting through its walkways. Interiors are sleek throughout, all monochrome marble and grand chandeliers, with most of the hotel privy to sparkling sea views.
The central building is home to a reception – which, in itself, is a sight to behold – plus a spa, restaurant and outdoor deck complete with a beautiful water feature (come sunset, this is the money spot for photos). Hotel rooms, meanwhile, are spread across the site, with 14 different types to choose from including many with private pools and jacuzzis. The Loft Deluxe Sea View Guestroom is bright and airy, split over two levels, with ample space both indoors and outdoors plus a pool, a huge bed, a flat-screen TV and a free-standing bath.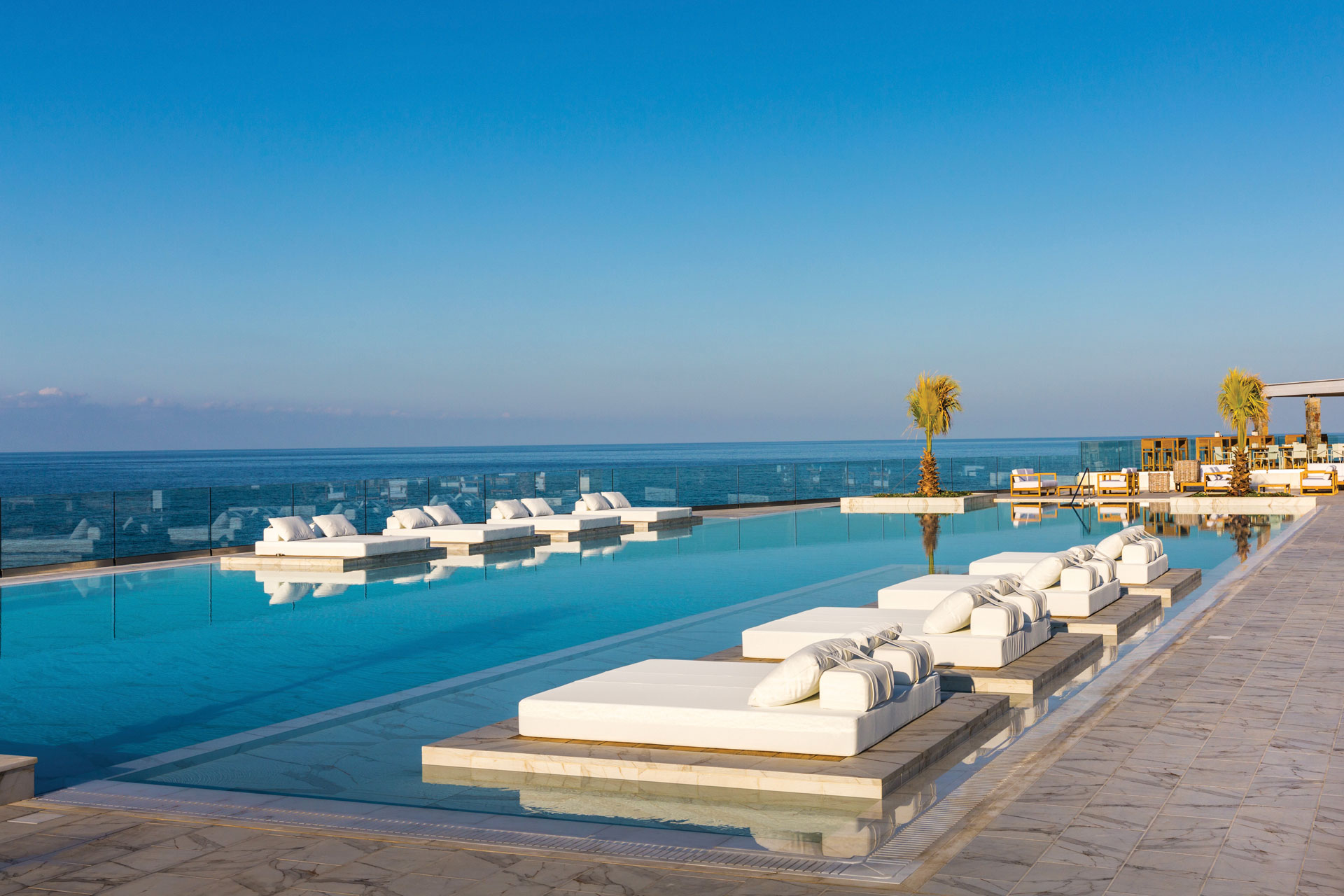 DO
Abaton is filled with spots for lounging – whether you're a sun worshipper or prefer the shade. The resort's central infinity pool has a mix of classic sun beds and white daybeds positioned in the water – but if you nab one of the latter be aware of the minimum spend (which is a little too easily met given the hard-to-resist drinks service, which sees tipples brought to your bedside at the click of a button).
The resort also boasts its own beach cove, which is dotted with sun beds as well as fringed cabanas – though direct access to the sea is tricky as the shore is lined with rocks.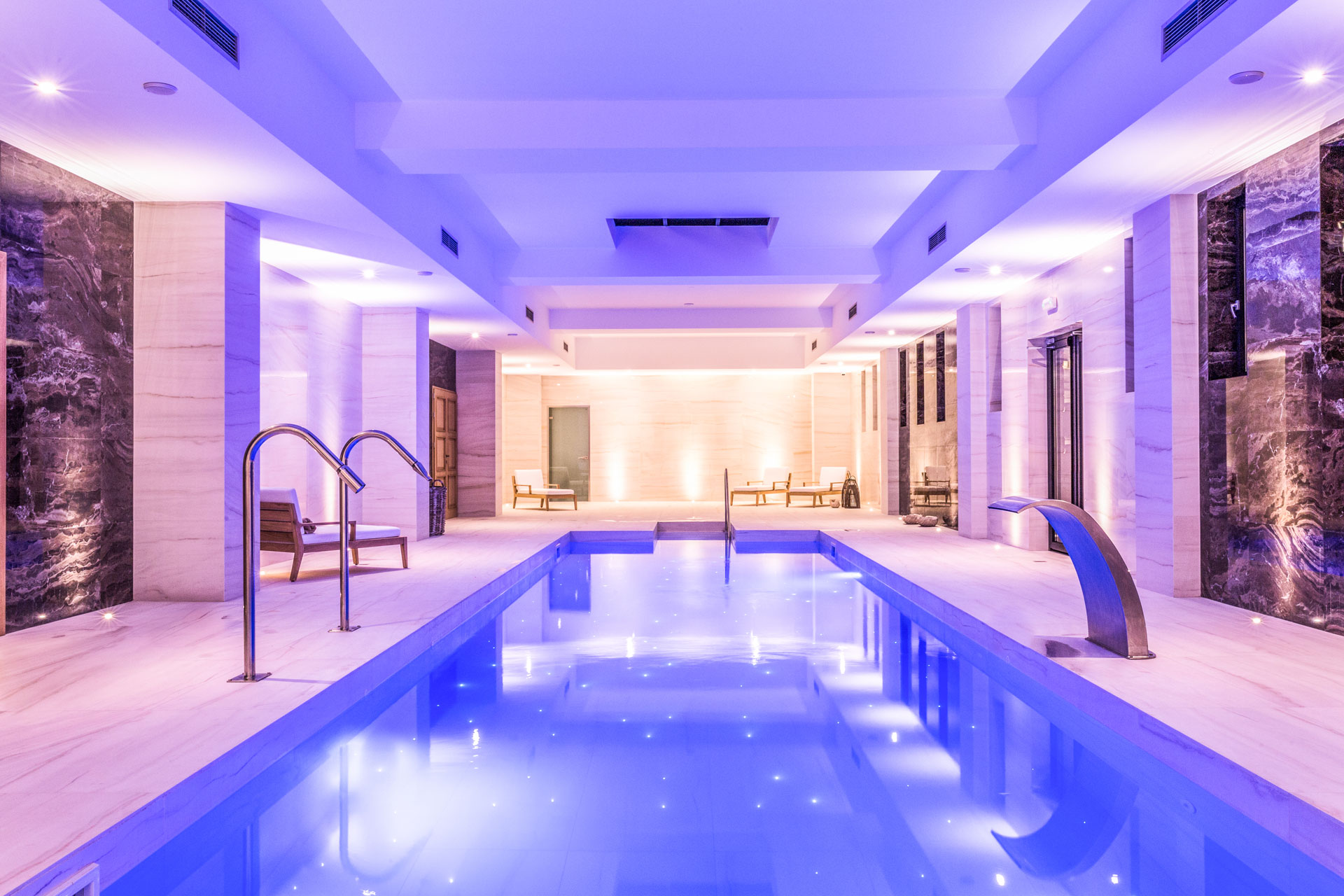 It's tempting to remain in one of these idyllic al fresco spots for the duration of your stay – but be sure to visit the Elemis spa too, which has its own steam room, sauna and indoor pool plus a well-equipped gym.
EAT
Food-wise, you'll be spoilt for choice. Abaton is home to five restaurants, all offering something different. For waterside lunches, Buddha Bar should be your go-to, with an extensive menu of Asian dishes to choose from – think sushi, robata yakitori, bao buns and gyoza. Guests can also enjoy food from here at the pool or the beach. The cocktails are a highlight here – particularly the White Princess, mixed with gin, lemongrass, sake, shiso and passion fruit.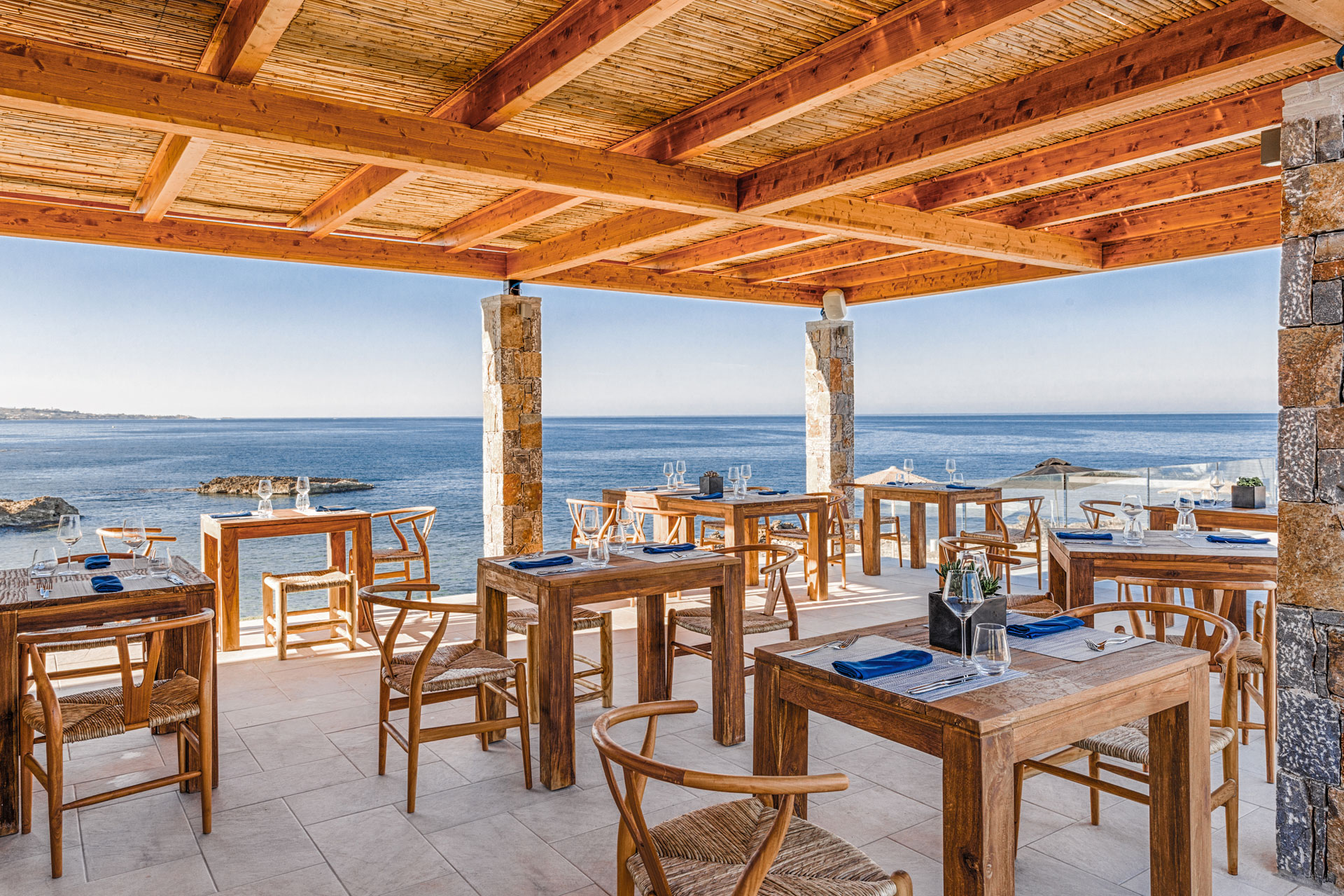 Elsewhere there's a seafood restaurant overlooking the water, Bony Fish, and a traditional Cretan restaurant, Elemes, open from breakfast through to dinner. There's also F-Zin Ivy League Restaurant, where food is served buffet-style – with a different cuisine on offer each evening.
Looking to go all out? Treat yourself to dinner at WOW Steakhouse. Waiters will tell you what cuts they have available that day – just keep an eye on the cost, as steaks are priced by weight, and big portion sizes mean things can get very expensive very quickly. The Kobe Japanese sirloin, for instance, comes in at 400 euros for 150g. Nonetheless, these steaks are some of the best we've ever tried – particularly when enjoyed alongside the dripping fried potatoes.
After dinner, head to the lobby bar Ladies & Gentlemen for a nightcap. The menu includes a wide selection of cocktails, spirits and wines, best enjoyed on the terrace as the pools twinkle below you.
THE FINAL WORD
Majestic views, faultless service and glitzy restaurants means Abaton attracts the rich and famous – but everyone will feel like a star at this endlessly luxurious resort.
BOOK IT
READ MORE:
The C&TH Greek Islands Guide / Review: CAYO Exclusive Resort & Spa