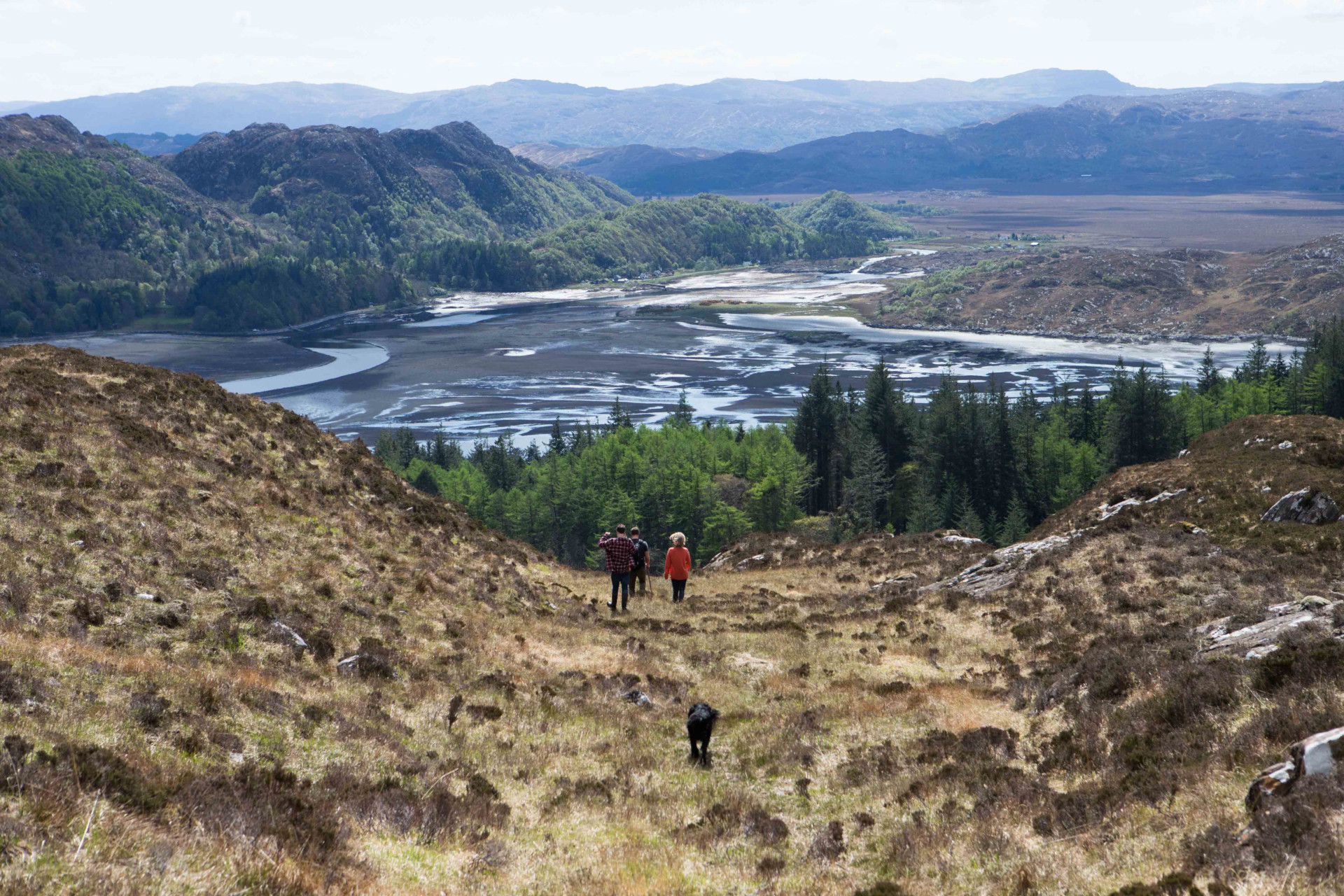 Review: Eilean Shona, Scotland
---
What to expect from the Eilean Shona Experience Break
The setting is, quite literally, the stuff of fairy tales. A RIB boat ride across tranquil Loch Moidart on the west coast of Scotland, Eilean Shona is a private island, back-to-nature paradise – so it's no wonder that JM Barrie was inspired to write the screenplay for Peter Pan while staying here.
It has been owned by Vanessa Branson for nearly 30 years (she is also behind El Fenn in Marrakech), a free spirit with an impressive art background who once had a contemporary art gallery in Notting Hill and co-founded the Marrakech Biennale. This is where she used to bring her children for the summer holidays, reading them Swallow and Amazons, and filling the days with magical adventures exploring the great outdoors.
Today, there's still that sense of go-slow escapism – whether guests want to while away an afternoon painting in the artist's studio, bird spotting by the shore, or wandering the wilderness without clapping eyes on another soul. There are nine cottages (some off-grid) on the island as well as the main house, which sleeps 16. Until now, the latter has always been for exclusive use takeovers only but this September sees the launch of a new series of four-night experience breaks, bookable by the room.
Eilean Shona
STAY
The former 400-year-old hunting lodge is far more like a family home than a hotel. Guests gather in the buttermilk yellow drawing room for tea and cake, with its mismatched sink-into sofas arranged round a crackling fire, window reading nook overlooking the manicured lawn and a grand piano. There's also a library with a billiards table and board games, and the dining room where a swirling abstract mural by Fred Pollock covers the walls. Bold, bright colour is everywhere; artworks include Grayson Perry prints, charcoal drawings by William Kentridge (Branson gave the now successful South African artist his first international exhibition), a Chantal Joffe family portrait and a wooden figure by Beezy Bailey made from flotsam found on the beach. All the rooms are decorated differently but feel equally cosy, from the carved wooden bedheads and checked curtains to embroidered throws on the beds. Shared bathrooms come with rolltop baths and bars of heavenly lemongrass-scented soap.
DO
Hike through ancient woodlands dotted with moss-covered logs, lilac rhododendrons and sun-dappled streams, before beginning the climb over rocky, heather-blanketed hills to the highest point on the island. The reward at the top is heart-soaring views of Muck, Rum and Eigg, and a reviving flask of hot tea and scones. For a different perspective, take to the water and spend the morning kayaking round to Shoe Bay (stay silent as you approach Seal Rock to glimpse plump pups basking in the sun), a white sand beach with turquoise water reminiscent of far more tropical climes. Other activities could include a walk round the edge of the island that cuts inland through long grasses and wild orchids to a newly renovated, stone picnic bothy for lunch; single malt whisky tasting with the team behind seven-year-old sustainable Ardnamurchan Distillery, based in Glenbeg; and invigorating pre-breakfast wild swims off the pontoon.
EAT
Previously a music tour chef for the likes of Ed Sheeran and Madonna, Angus MacKinnon swapped life on the road for island cooking a year ago. His mission is to showcase a proper taste of Scotland so expect steaming bowls of soup (cullen skink one day, cock-a-leekie the next), huge langoustines and the freshest salads for lunch. Dinner might be fish from Mallaig – oysters, followed by salmon and herring cooked outdoors over a fire Francis Mallmann-style, and a pot of mussels – served up at a long communal table decorated with tree trunk placemats and fern leaves in the rustic wooden village hall (one night a week this turns into a pop-up bar where everyone staying on the island can meet for drinks). Or a three-course candle-lit affair in the dining room that kicks off with haggis bon bons and Highland venison, and ends with steamed marmalade pudding, first made famous by The Three Chimneys restaurant on the Isle of Skye.
THE FINAL WORD
This is a natural wonderland, ideal for disconnecting from the world – and one where an anything-can-happen attitude is encouraged. The kind of place where someone pops over from the mainland to fix the wifi and ends up playing the bagpipes for guests as they arrive for supper. Where raiding the dressing-up cupboard for drinks seems like the most brilliant plan. And evenings sometimes end with a happy, champagne-fuelled, sing-song around the piano.
BOOK
A 4-night Eilean Shona Experience Break (eileanshona.com  01967 431249) starting on 7 May 2022 costs £1,700pp based on 2 sharing (or £2,500 for single occupancy) including all meals, house wine, all activities, and return boat transfers to the mainland.
Featured image: (c) J Brockway