These effective quick solutions will have you feeling a better version of yourself in no time.
Grand Resort Bad Ragaz, Switzerland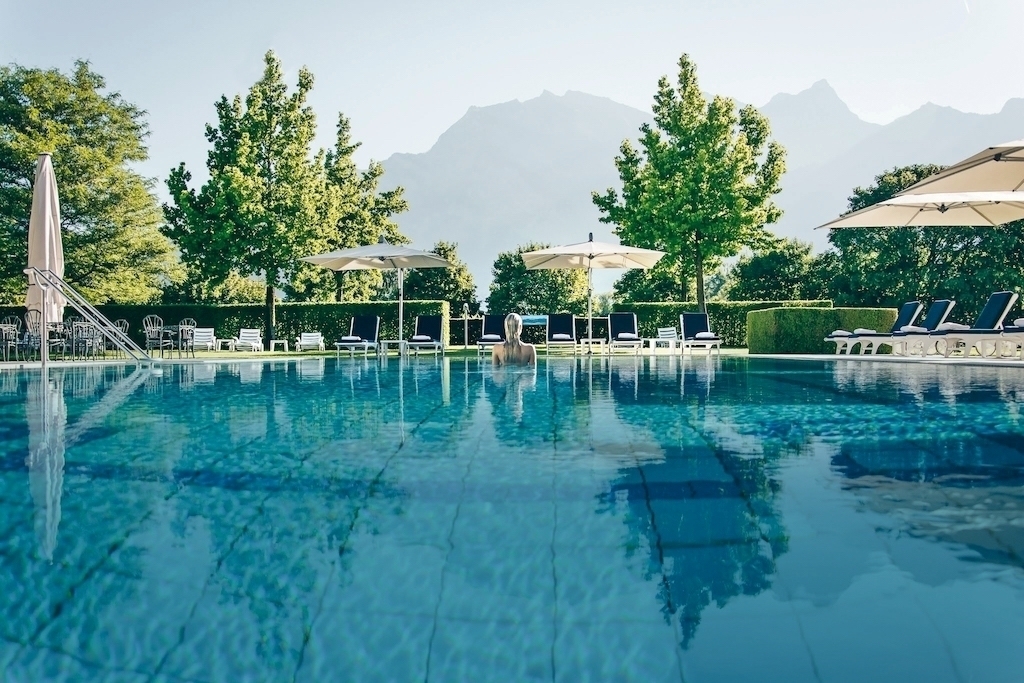 It's the mineral-rich thermal waters, known locally as 'blue gold' for their healing benefits, that keep guests returning to this pretty Alpine spa town. The resort is a complex of three hotels, each with access to the spa, including a minimalist tower of spa suites, with floor-to-ceiling views over the snow- capped Swiss Alps, and the assistance of a personal butler 24/7. Most are here with their health in mind, as the resort's medical centre houses 80 expert staff, offering everything from dermatology to dentistry, and even minor surgery. It's a hypochondriac's dream – albeit a pricey one. Soak it all in at the 'thermal water world', where gorgeous pools, big and small, indoor and out, are heated at varying temperatures that meltaway aches and pains. Service here is exemplary, individually tailored and friendly, with a professional 'hugger' on hand to wrap guests in heated towels. Indulge in La Prairie beauty treatments, wellbeing baths and a full menu of massages as well as eating at the Michelin- starred restaurant, IGNIV. Surrounded by mountains, green pastures and alpine air, depart with a renewed sense of vitality.
BOOK IT: Doubles from £454 B&B. resortragaz.ch
Chenot Palace, Azerbaijan
Programmes at this vast lakeside refuge wrapped in dense forest stress that only in its absence is health taken seriously by western culture (70 per cent of diseases are down to lifestyle). The three-day active detox begins with a medical consultation and bio-energetic check-up, detecting any weak or vulnerable organs with a frequency machine and fine-tuning your programme to any medical, emotional or aesthetic concerns. Old-fashioned TLC and medical insight are synthesised. Hours of energising massages, hydro-aromatherapy, phyto-mud and hydro-jet treatments have visible effects after just three days: a 'deflated', clearer complexion and improved posture. An abundance of state-of-the-art technology serves to jump-start (not achieve) the 'dream bod' ambition, from cellulite-rattling cryotherapy to gravity-free running machines that target fat. Both the physical and mental effects are astounding. By day three, the body feels lighter and cleaner, but it is the intense clarity of thought, alien to the modern digital slave, that is truly remarkable.
BOOK IT: Three-day Active Detox programme from £1,365 per person. chenotpalacegabala.com
Das Ronacher, Austria
At last, a spa with soul that understands the emotional side of detox. Intuitive staff encourage you to heed your body screaming 'I need rest!' and ditch the programmed morning alpine walk. This fourth-generation, family-run spa in sunny southern Austria is centred around centuries-old healing thermal waters, which pump four litres a second through the four mineral-rich swimming pools. Treatments are all about the water: you drink, loll, swim and exercise in it. Style purists might baulk at the dated decor, but overlook this, as you will find real heart. There's a strong spiritual vibe fed by the sacred church in the grounds and a little pilgrimage inside feels like a gift. Therapists are empathetic and skilled, while yoga is intensive and shiatsu world class. The alkaline menu is perfection: phenomenal salads and soups. Relaxation areas abound with water beds, hay- and rose-scented walls and silent areas. This is the place to come if you are worn out. The clientele are genteel regulars – no rich Russians screeching into mobile phones or selfie-obsessed poseurs. A blessed relief. Top tip? Buy their homemade risotto mix in the shop.
BOOK IT: Doubles from £158, half board. ronacher.com
Gräflicher Park, Germany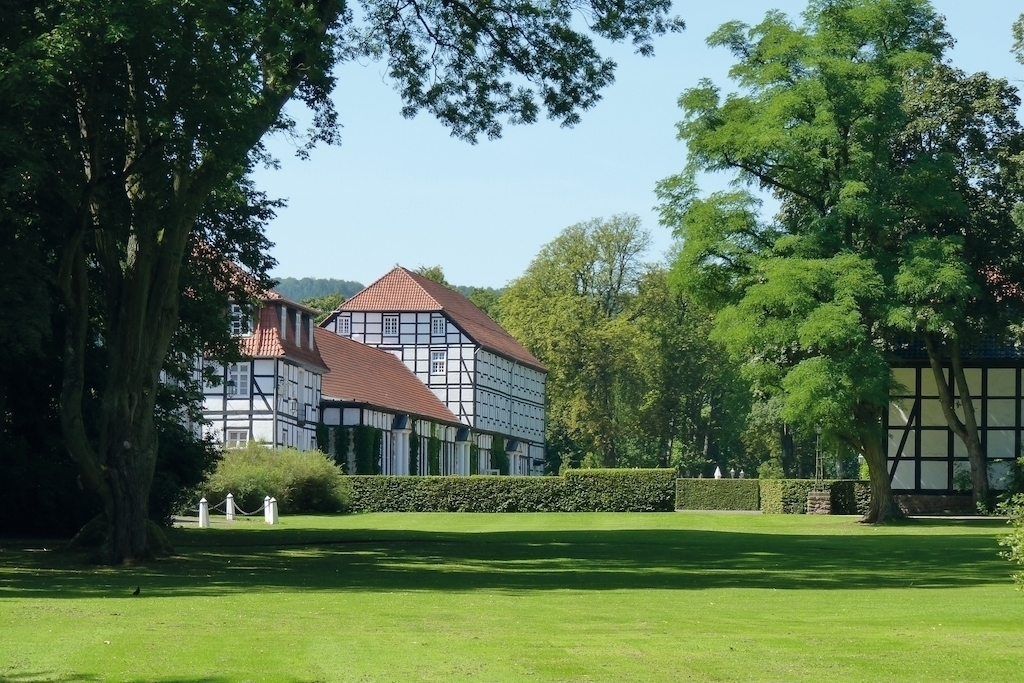 East or West? That is the question, for you can go in either direction at Gräflicher Park, a spa estate a little like Goodwood in Sussex, if a tad less polished. Privately owned, it has been in the same aristocratic family for 230 years, since Count Caspar Heinrich von Sierstorpff first built it as a fashionable spa destination. It is located in the healing spa town of Bad Driburg and the Wald region (glorious woodlands to walk in), with its mineral-packed mud and fresh spring water that also feature in treatments. Catering predominantly to a local German market (who tend to go East to the exceptional Ayurvedic centre headed up by Vaidya Kumaran Rajsekhar), the traditional Mayr Cure is also on offer. Presided over by the intensely passionate Dr Hietkamp, a third generation vegan who's bang up to date with the latest theories and oversees your occasionally gruelling Mayr therapy (health through fasting, learning to chew properly and regulating the digestion process) with kindness. It may not have all the bells and whistles of other Mayr clinics but the price reflects this and you still come away (in our case) half a stone lighter and with an iron will to cut down on meat.
BOOK IT: Seven-night FX Mayr Cure £855, plus accommodation from £107 per night, single occupation. graeflicher-park.de
Hotel Irma, Italy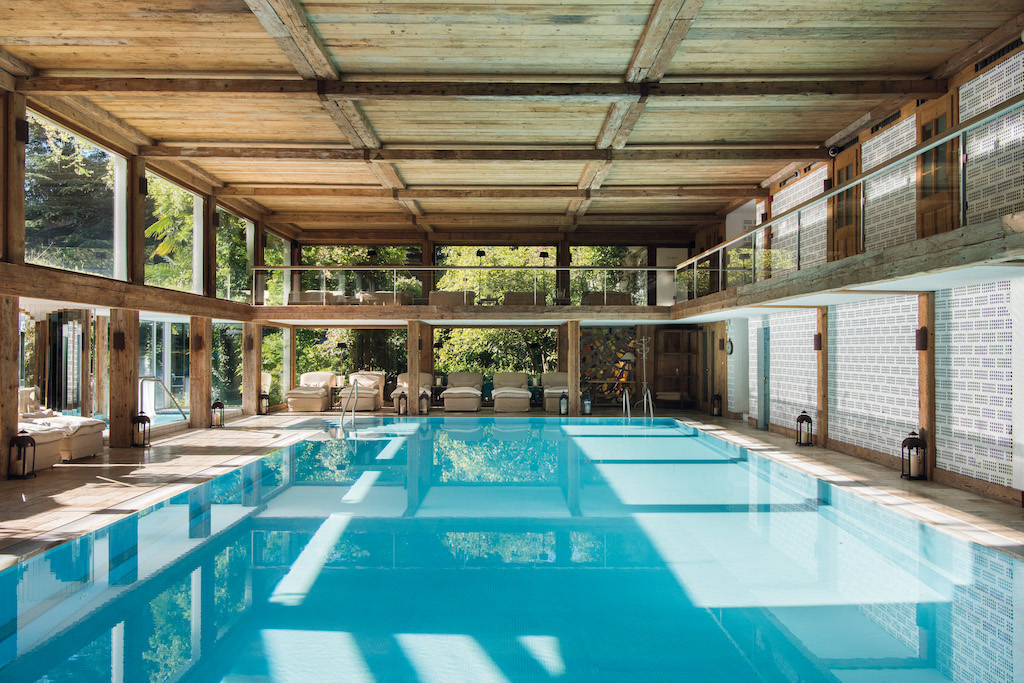 Tucked up in north-east Italy, South Tyrol was annexed from the Austro-Hungarian empire as a sweetener for Italy to join the allies in WWI. Nowadays most South Tyrolians speak German and eat sauerkraut for lunch but clink Aperol spritzes when the sun dips below the rolling Dolomite mountains. In this valley, where Pink Lady apple trees line the roads, Latinate romance fits nicely with Viking efficiency. In the family for 100 years, this hotel feels intimate, with Roman Holiday-style charm. After breakfast, the active and hardy hike into the mountains. Those left behind book in for reflexology or don dressing gowns to sit on the veranda in the lunchtime sunshine before meandering back to the hotel's spa. A phone-free utopia of cream cotton and antique oak beams, guests sail as close to sleep as is possible without drifting off to nod. At 6pm the dress code switches to a strictly non-towel affair. Guests gather in the bar for an aperitif before descending to the twinkly restaurant looking onto the rose garden for fresh pasta and German-style marinated meats. Prost to this wonderful hotel, or should we say 'saluti'?
BOOK IT: Doubles from £159 per night, including breakfast and dinner. hotel-irma.com; suedtirol.info/en
Wald Hotel, Switzerland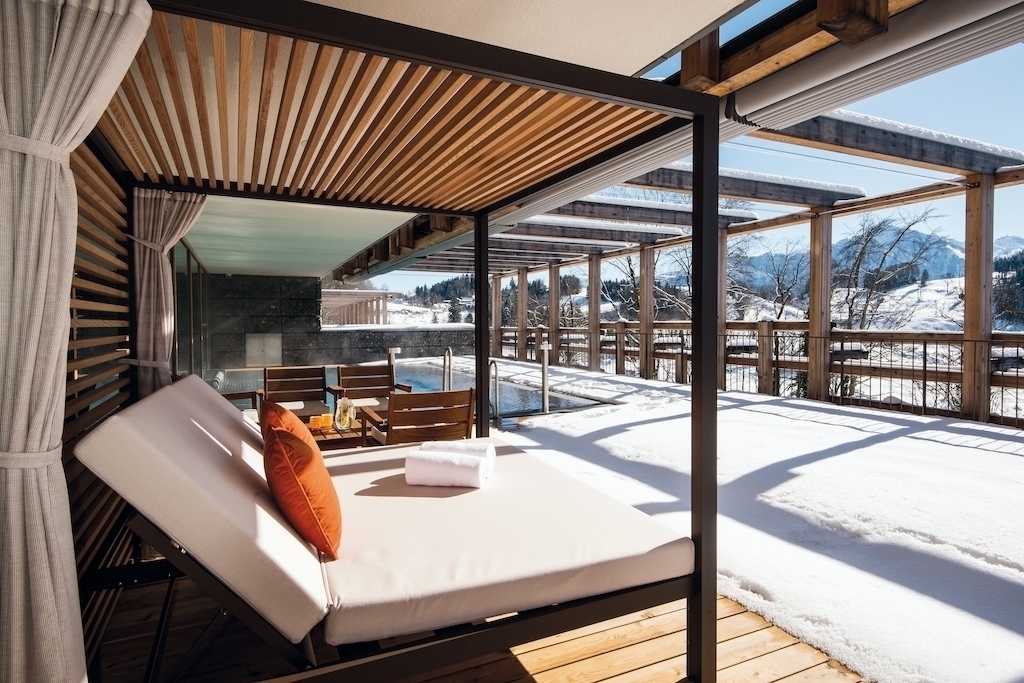 Like a spritz of expensive perfume, Audrey Hepburn's name always adds glamour and so it is with Bürgenstock, where she once had a home. A family of luxurious hotels and residences perched high above Lake Lucerne, the resort has recently emerged from a facelift thanks to Qatari investment. There are two historic hotels, the Palace and Bürgenstock, while Waldhotel is new and the one to know about. Designed by Italian architect Matteo Thun, the elegant modern structure resembles a giant game of Jenga, with conker-hued slats criss-crossing against the sky. Inside, the minimalist style continues, and rightly so when the views are pure Heidi. Gin-clear waters, bleached wood, nubbled stone walls and double-bed loungers entice you to linger. So too do the salt grotto, sauna, hammam and icelab. A pool meanders into mountain air via push-button doors and Kneipp therapy pipes turn water into fizzing massage jets at a touch. Beauty treatments blend science and nature while white-coated therapists dig deep into unexcavated muscle and emotion. You can exercise frenetically via treadmills or mindfully via Tai Chi. Think Swiss mountain rescue for untangling the brain and restoring joie de vivre.
BOOK IT: Doubles from £458. buergenstock.ch
DISCOVER MORE
---