It's been 60 years since the Surrey Hills were named an Area of Outstanding Natural Beauty; marking it as one of the most beautiful natural landscapes in the country and protecting it from development. There are hundreds of walking routes and picnic spots with stunning views to discover, but if you're looking for an alternative way to discover the area, why not let a llama be your guide?
Subscribe to our podcast here to hear our episode on the Surrey Hills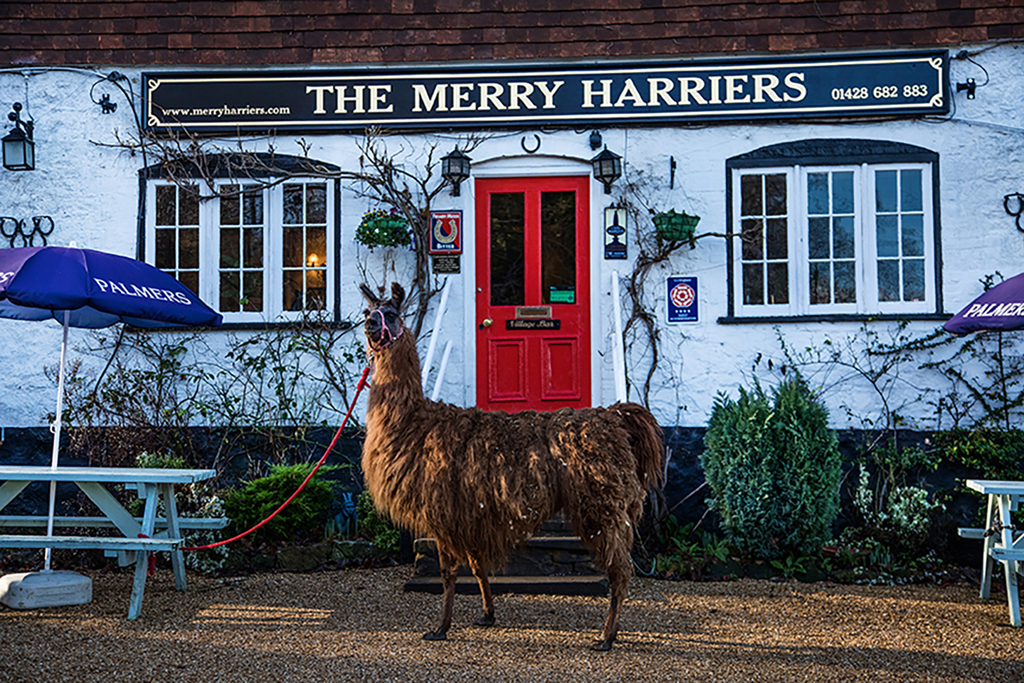 Exploring the Surrey Hills
'Areas of Outstanding Natural Beauty have some of the UK's best countryside for walking, cycling, horse riding and wildlife-watching. But there's also great caving, canoeing, sailing and fishing to be found too. In fact, if you can do it outdoors, you can probably do it in the outstanding landscapes of the UK's 46 AONBs. From quiet lanes, ancient woodlands, distinctive and attractive villages, flower-filled hay meadows, sweeping downs, wild moors and more, our AONBs include every aspect of the UK's countryside and almost every kind of bird, plant and animal in the country.' – Jill Smith, Landscapes for Life
STAY
Throughout the Surrey Hills, there are a handful of pretty English villages, each boasting country inns and free houses for fuelling long country walks or resting your head after a day in the country air. The Merry Harriers is located in the picturesque village of Hambledon, and as well as being a popular watering hole for the local community, owner Peter De Savary is renovating and upgrading the accommodation room by room. Expect beautifully preserved original features, comfy, cosy beds, classic country styling and beautiful little bathrooms. Make this your base for your explorations; the village has a local shop and not much else, but it's the perfect start point for a handful of hikes, and the hotel's unique walking offering.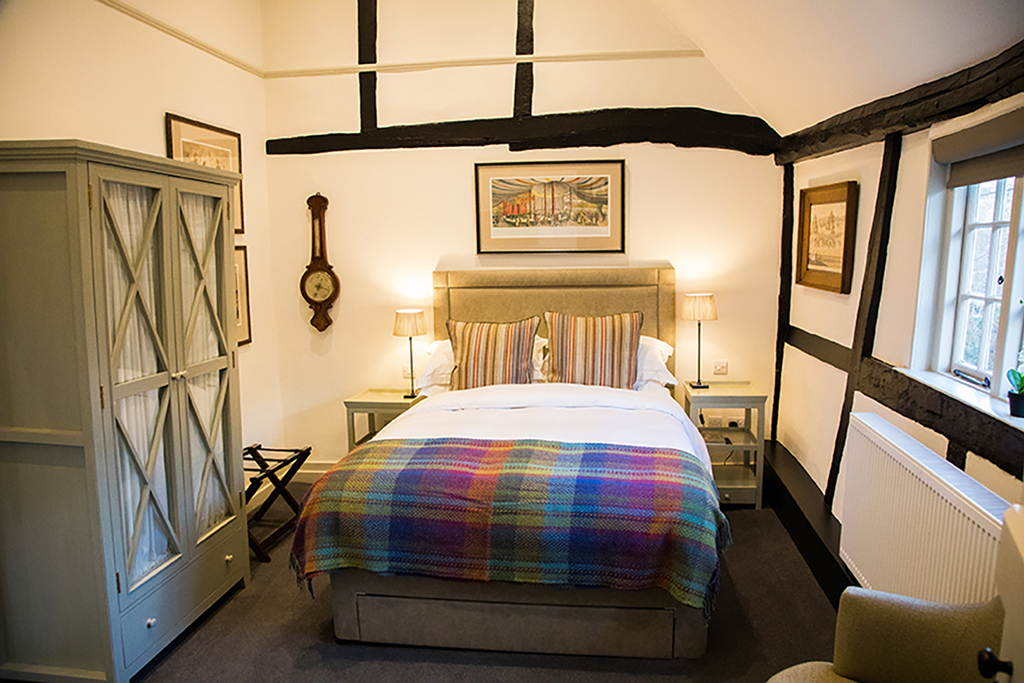 WALK
To celebrate 60 years as an AONB, you'll find 60 interesting places to see in the area on the Surrey Hills website; from viewpoints to mini woodland houses and all the bustling villages in between.
If map reading isn't your strong point and you don't want to join a walking group, the Merry Harriers has a different sort of guide on offer. A field full of llamas awaits, ready to lead you on a two-hour ramble through the beautiful Surrey countryside, with local guide John on hand to keep the llamas moving (they're prone to stopping for long leisurely lunch breaks at inopportune moments) and tell you all about the area and the llamas themselves. The llamas are a lovely bunch (you'll walk alongside your own for the entire walk to really get to know them) and each has a unique character and personality. They have an incredibly calming and therapeutic influence and make the ideal companion for trekking the outstanding natural beauty of the Surrey Hills. They move at a leisurely pace (largely because of their frequent snack breaks) making it an ideal activity for young and old (although the treks are not suitable for under 8s). The pace of the trek allows you to pause and discover the area's unique flora, fauna and history in a way you wouldn't on a hike or guided walk.
Choose from a winter morning walk, an English picnic trek or a luxury champagne picnic trek; there's even the option of a children's party or bespoke group trip with the llamas.
EAT
The Merry Harriers is steeped in history, with the landlords' names through the ages written on the pub walls. Chef Sam Montgomery-Page uses the freshest and best ingredients – foraged where possible (nettles, blackberries, wild garlic) – and sourced within a 15-mile radius. Expect hearty English pub food and chef's specials such as the hugely popular Wild Mushroom and Hambledon Nettle Risotto. The sticky toffee pudding is just what you want it to be (sticky, rich in toffee, the perfect pud) and it's all best washed down with a pint of the Merry Harriers Garden Cider (made using Hambledon apples donated by locals).
SHOP
Whatever you do, buy local. Wandering around the area you'll find plenty of independent pubs, bakeries, potteries and village shops, and by supporting them you're supporting the local community and character of the area.
'Visitors to these places can help to keep them special – the money they spend buying local products and using local services helps to sustain local communities, the communities that help to give the countryside its local character. Also, more often than not they can often enjoy these stunning landscapes and all they have to offer without having to take a car and by supporting local public transport instead – by doing so they do themselves and the countryside a power of good.' – Jill Smith, Landscapes for Life
BOOK IT
Doubles from £125 per night B&B, Singles from £100 per night B&B | Llama Trekking from £55.20 per adult, £27.60 per child (min. age 8) | B&B Trek Package from £384 per couple – includes a half-day trek with lunch, three course dinner and B&B | For booking please contact Danielle at [email protected] / 01428 682883 / www.merryharriers.com
SUBSCRIBE TO THE WHAT'S ON PODCAST
WHAT'S ON?
Aside from llama trekking, there's plenty happening this year to celebrate the 60th anniversary of the area being an AONB. Here are just a handful of the events taking place in 2018: 
Horseman's Sunday | 22 April
An event to celebrate horse riding in the Surrey Hills. surreyhills.org
Surrey Hills Sculpture Garden 5-28 surreyhills.org
Surrey Unearthed Exhibition | Leith Hill Place  6 – 22 July 2018
For 'an exploration of the materials beneath our feet' visit Leith Hill Place in July. The exhibition will reveal the fascinating history of these materials and how they have shaped our landscape over time. Innovative artists have immersed themselves in the landscape across the Area of Outstanding Natural Beauty, collecting, recording and researching in the build up to their ten projects.
Expect drawings, maquettes and sculpture amidst the exhibition, which will include; the beautiful paper structures of Jane Ponsford incorporating pigments collected on her walks; a fascinating art documentary by Amanda Loomes from her residency in sand quarries; and a photosynthesis piece by renowned artists Ackroyd and Harvey who are exploring the layers beneath Leith Hill itself. For more information, see www.surreyunearthed.org / www.surreyhillsarts.org
Guildford Fringe Festival | July
Happening throughout July, from the traditional to the quirky, comedy to tragedy; you will find everything during the fringe in venues all over Guildford. guildfordfringefestival.com
RHS Wisley Flower Show | 4 September rhs.org.uk
For more ideas visit visitengland.com
Listen to our podcast episode on the Surrey Hills below: 
Looking for events in London? Check out our Town Culture Diary
5 Things to Do This Weekend… Sign up to our weekly newsletter HERE
---