Reconnect with your childhood and nature by staying in a tree house. But, a five-star tree house this time around…
Who said treehouses were just for children?
If you have spent days dreaming about returning to the treehouse your father built for you at the end of the garden, why not branch out on your next trip and relive those nostalgic moments (real or imagined) by staying in one of these high-up hideaways that would make Tarzan and Jane jealous.
Now see our round-up of 10 of the best luxury treehouse escapes…
10 of the Best Treehouse Escapes Around the World
1. The Mirrorcube, Harads, Sweden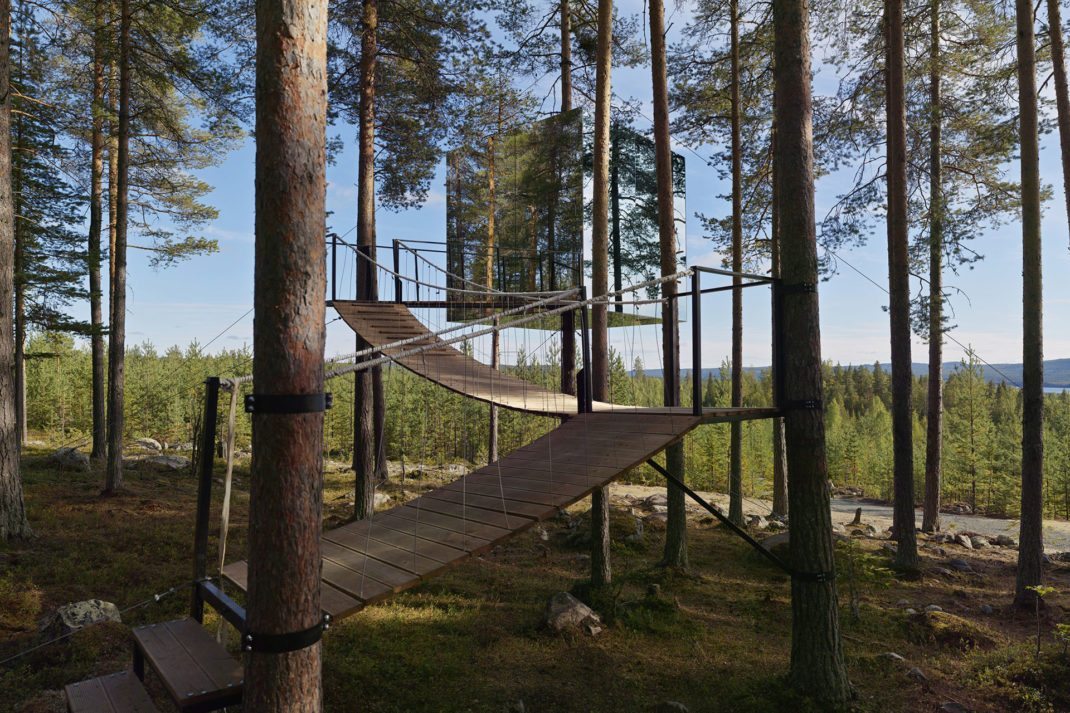 No scraps of wood or rusty nuts and bolts can be found here – The Mirrorcube is part of the modern Treehotel group, Harads, Sweden. This is a futuristic treehouse built from sleek mirrored walls and a minimalist plywood interior. The designed bedroom, living area and rooftop terrace only make The Mirrorcube that much more desirable as an ultra-modern treehouse experience. £450 per night (subject to change), treehotel.se/en
2. Playa Viva Treehouse, Mexico
Playa Viva's treehouse is perfect for those looking to switch off in a secluded and private escape whilst enjoying the raw beauty of Mexico. With each room overlooking the beach you really are in heaven. Indulge in a yoga session to really get the most out of your relaxing get a way. From £428, playaviva.com
3. 
The Woodman's Treehouse, Dorest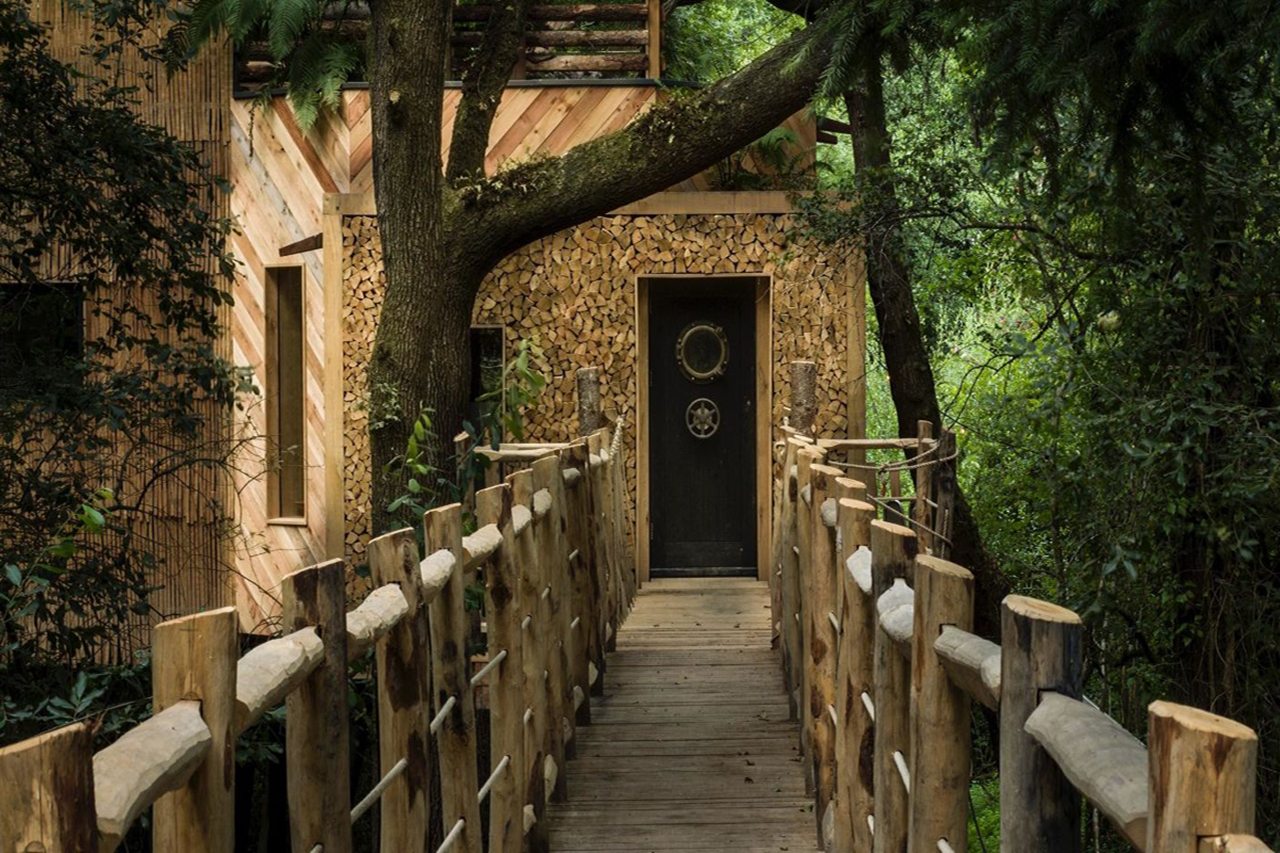 Escape to your own private world with the ultimate romantic getaway for two. With large copper soaking tub, private hot tub and sauna which can be joined together with picturesque views of the surrounding woodland. Stylish and contemporary the treehouse is made using local materials. Stays from £390 per night; minimum two-night stay weekdays and minimum three-night stay at weekends. www.mallinson.co.uk
READ MORE: 10 Unusual Places to Rent for New Year's Eve in the UK
4. Inkaterra Reserva Amazonica Canopy Treehouse, Peru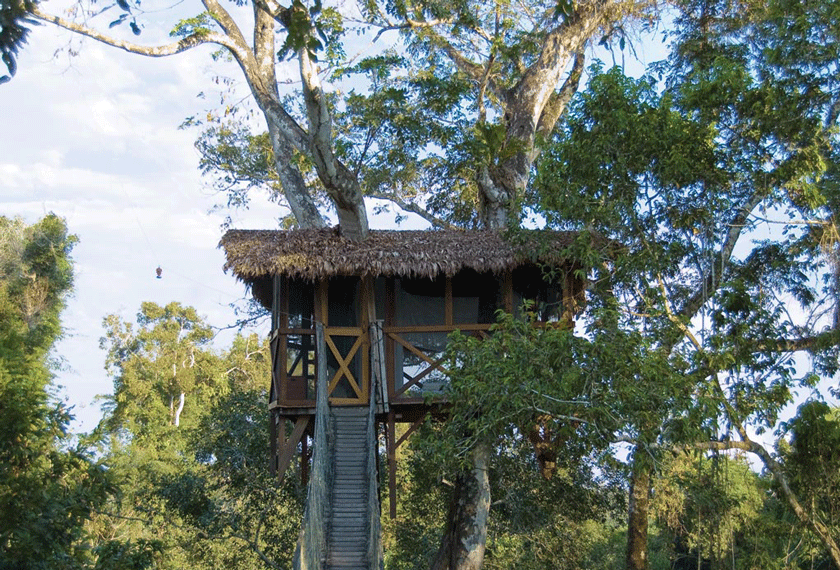 In this exotic location in a private reserve in the Peruvian Rainforest lies the Amazonica tree house. The Amazonica Suite comes with rustic luxuries such as hammocks and a king-sized bed with canopy mosquito net. From £195 for two per night. inkaterra.com
5. Treehouse Suites, Chewton Glen, Hampshire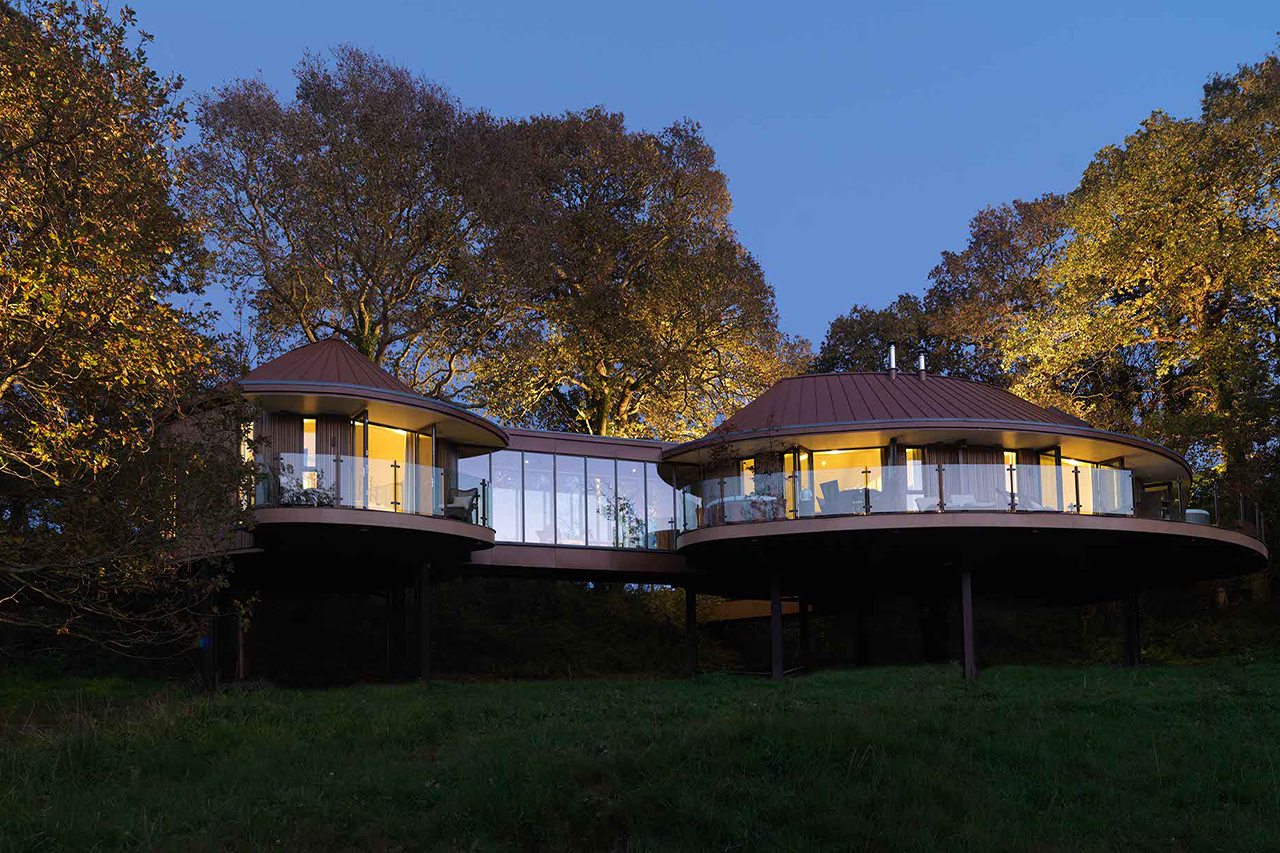 Surely the most glamorous treehouses in the UK belong to this New Forest stalwart of comfort and class. You won't be clambering up rickety stepladders to enter your luxury hideaway, oh no… there'll be no vertigo attacks, just sipping champagne in the hot tub, perhaps enjoying an on deck spa treatment before supper, lunch or breakfast is delivered through a clever little hatch. Each treehouse (a short stroll from the hotel) has two suites, so you can book individual suites or a whole treehouse if you're feeling like throwing a forest fiesta. From £850. chewtonglen.com/tree-house-suites 
6. Tranquil Hideaway, Kerala, India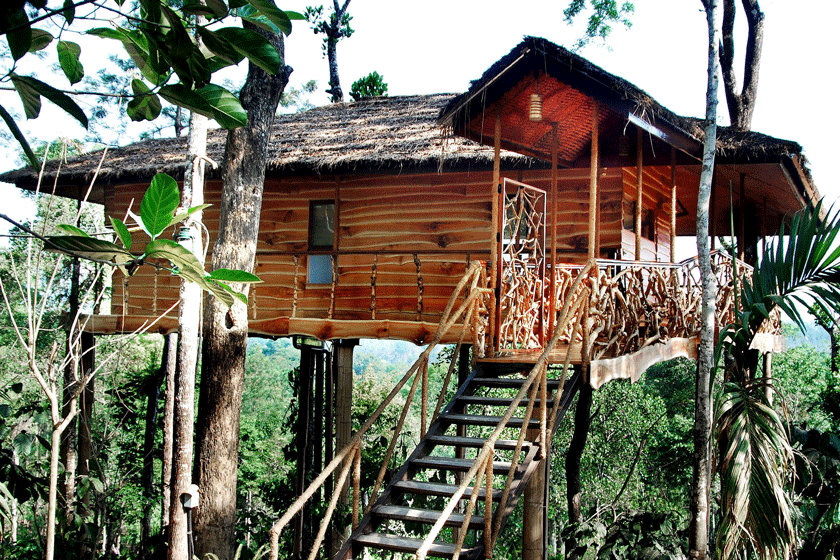 In the beautiful Wayanad rainforest, Tranquil resort offers a 'tranquillitree' luxury tree house. There are modern comforts (TV, mini fridge and tea and coffee maker) and the resort has a swimming pool and brilliant bird watching spots but you will probably be too busy checking out the amazing view from the balcony to move a muscle. tranquilresort.com/tree-houses
7. Tarangire Treetops, Tanzania

On the border of Tarangire National Park, these tree houses are supremely spacious and homely. The open-fronted room design ensures that guests can take in the breathtaking views of the Tarangire plains, sitting, standing or anywhere in between. From £325 per person sharing per night. elewanacollection.com
8. Tree House Hideaway, Bandhavgarh, India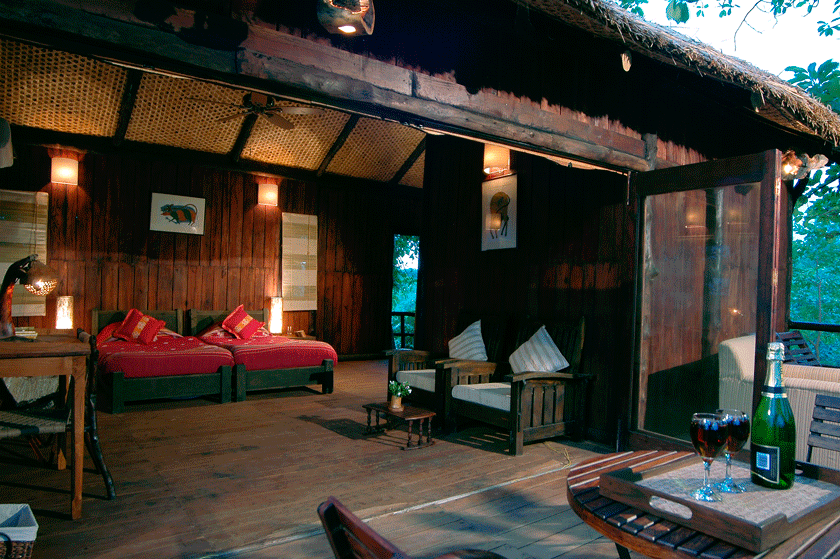 Fancy seeing some wildlife while you swing in the branches? Tree House Hideaway offers a choice of five tree houses that are located in the jungle, close to one of the world's best tiger reserves. Tree houses have rustic bathrooms with luxurious living areas. From £190 per night. treehousehideaway.com
9. Watamu Treehouse Hotel, Kenya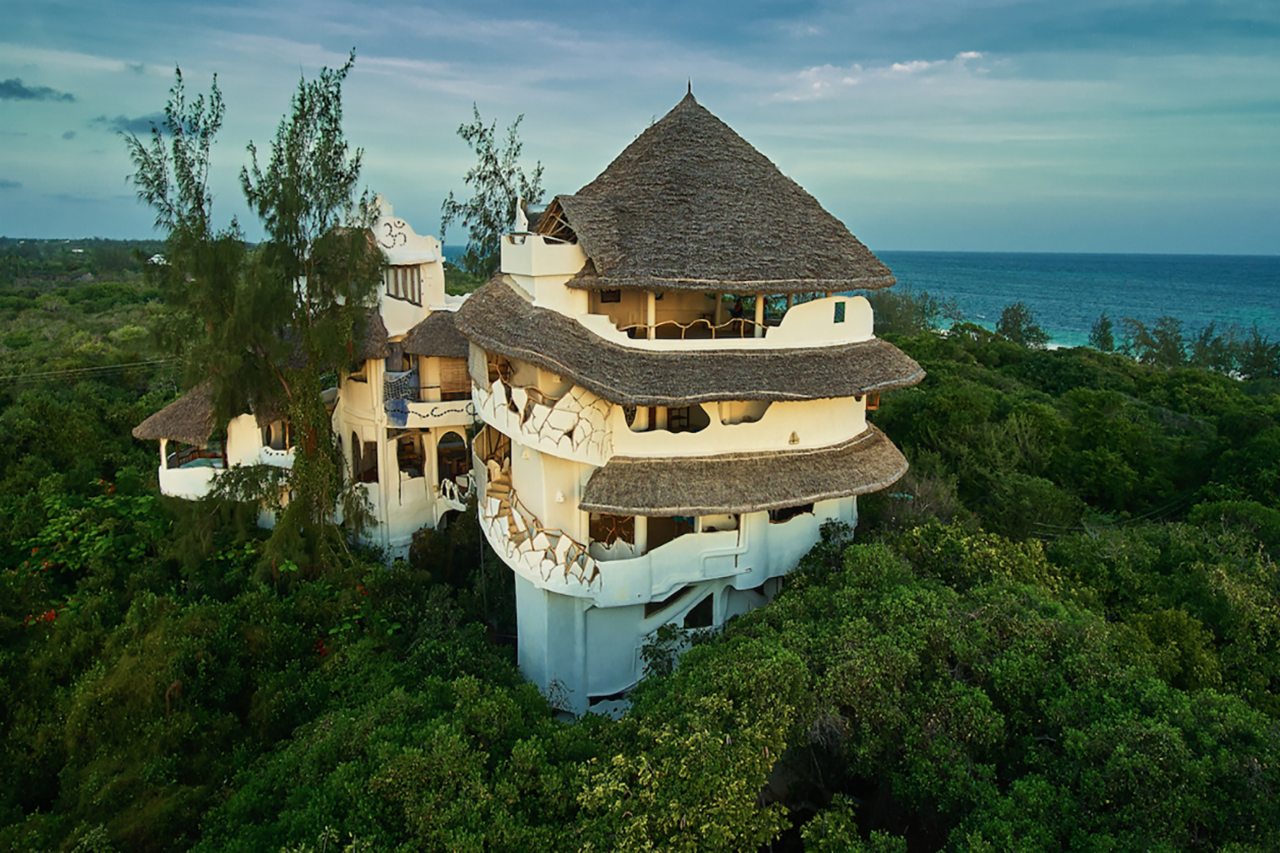 Accessed via a woodland walk and sandy beach trail, this enchanting treehouse is located on a peaceful stretch of the coast. One of the most popular rooms is the rooftop Star Bed, made of glass allowing guests to enjoy the evening views of the sky from their bed. A truly unique and unforgettable experience. Rooms from £73 per night. www.treehouse.co.ke/
 10. Living Room, Machynlleth, Wales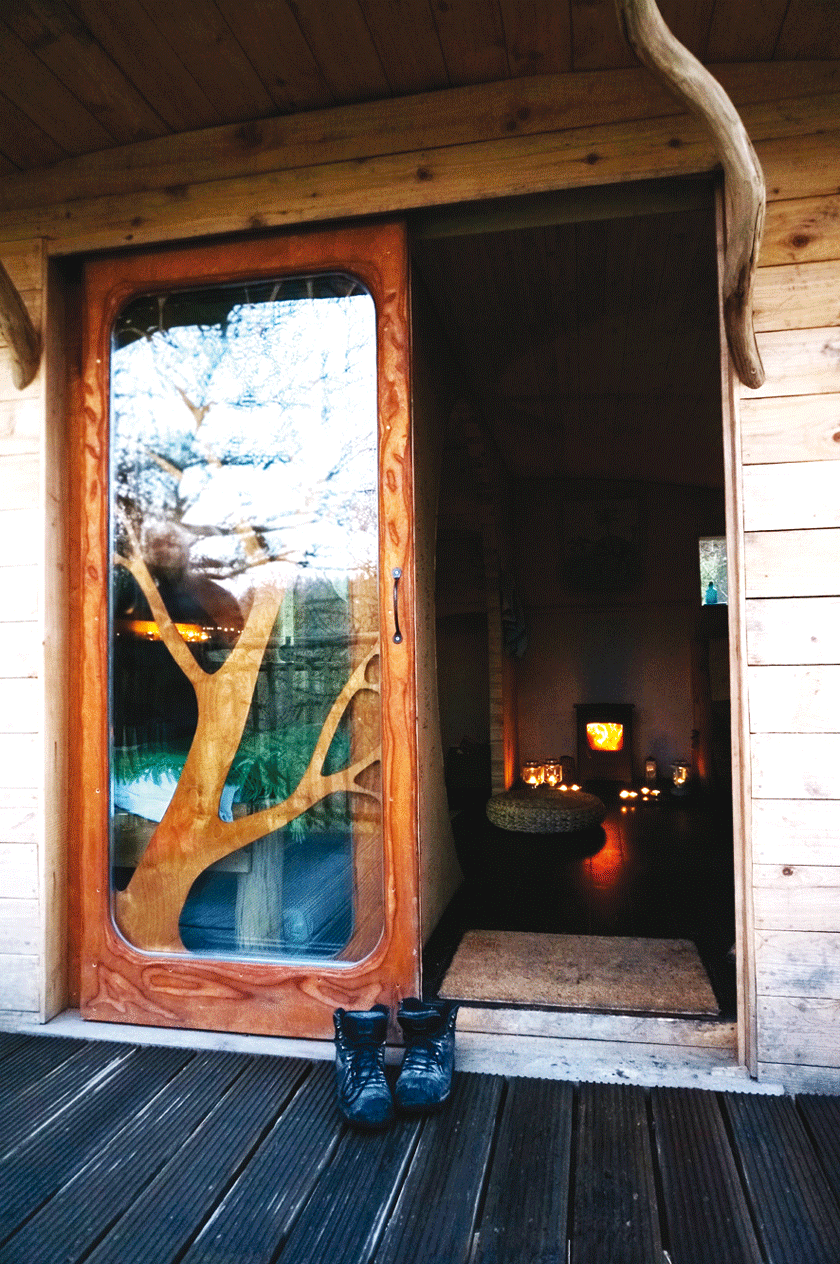 With just five treehouses, staying at the Living Room is supremely peaceful. These enchanting constructions feature a wood-burning stove but there is no electricity, meaning tea lights and lanterns bring a thoroughly romantic (if hazardous) atmosphere come evening. £339 for two nights. living-room.co
What's on this week in the town? And in the country? Check out our culture diaries before you fill in yours. 
---