Robert O'Byrne charts the epic and magical appeal of the Guinness's fairytale house, Luggala Lodge in County Wicklow that has forever drawn the great and the good to its distinctive beauty.

Luggala derives from the Gaelic Lug a' Lágha and means 'hollow in the ridge.' But over the past two centuries Luggala has come to mean so much more. It represents a place apart, quite unlike anywhere else, out of the ordinary, replete with mystery. In the words of actress Anjelica Huston who regularly stayed there as a child, Luggala is 'a sort of dream of peace, it's an enchanted place.'
Inaccessibility adds to Luggala's allure. Although less than 30 miles south of Dublin, it lies in the midst of the Wicklow Mountains and even today sometimes cannot be reached during the winter months. Travellers must first ascend almost to the region's highest peak before plunging vertiginously into a private valley. This terminates at one end in Lough Tay, a lake of impenetrable blackness and, after a long verdant swathe, at the other comes to a close with a house of unsurpassed prettiness.
Its very remoteness is what attracted the property's original owner, Peter La Touche, a scion of 18th century Ireland's richest banking dynasty. Searching for a retreat within distance of his main residence and yet completely removed from all evidence of daily society, he came across Luggala and understood its potential. Little needed to be done to the site other than the embellishment of a house whose romantic spirit would match that of the setting.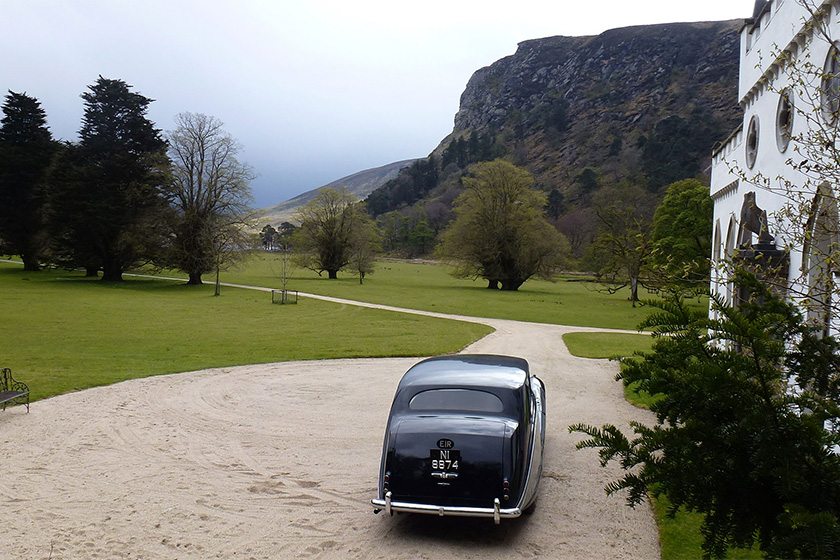 The architect of Luggala Lodge is unknown but whoever was responsible for this gothic delight, adorned with a multiplicity of miniature battlements, crochets and quatrefoil windows, understood exactly what was required. Scarcely had the building been completed than the legend of Luggala began to spread, aided by the generosity of the La Touche family who permitted visitors onto their estate. Soon guidebooks began to hymn its praises. In 1829, for example, the London Encyclopedia advised readers, 'Mr Latouche's demesne of Luggelaw is generally preferred by tourists as the most delightful scene of this class.' Similarly James Stirling Coyne reported in 1842, 'I can imagine no more pleasurable surprise than a stranger would experience on being led to this sequestered spot, without any previous preparation for a scene of such matchless beauty.'
Then, just as the arrival of the railways presaged additional sightseers, the gates of Luggala were firmly closed. The La Touches, having numbered among Ireland's richest families, lost the greater part of their wealth and were forced to dispose of assets like Luggala. A new owner, Mervyn Wingfield, seventh Viscount Powerscourt, was not interested in encouraging visits to his property. Luggala disappeared from public gaze, but the memory of its distinctive beauty lingered on.
So, when Lord Powerscourt's heir in turn found himself short of funds he was delighted to discover someone who knew of Luggala and wanted to rent it: the Hon. Ernest Guinness, second son of the first Earl of Iveagh. The latter had floated the family brewery on the London Stock Exchange in 1886, thereby making himself and subsequently his offspring inordinately rich.
Ernest Guinness was drawn to Luggala by the calibre of its grouse shooting, but his three daughters grew to love the place for its picturesque charm. Aileen, Maureen and Oonagh, celebrated in the 1920s as the Golden Guinness Girls, spent much of their childhood at Luggala and in adulthood continued to visit as often as possible. Ultimately it was the youngest, Oonagh, who became owner of Luggala, bought and presented to her by Ernest in 1937 after she married Dominick, Lord Oranmore and Browne.
The marriage didn't last, but Oonagh's love for Luggala proved more abiding; following divorce in 1950 this became her main residence and the axis of her social life. Once more, as in the days of the La Touches, the fame of Luggala spread and the place became known not just for its beauty but also for its hostess. Oonagh, as alluring as she was affluent, behaved like a Celtic Circe, drawing admirers from across the planet. Once enticed to Luggala, they invariably found it impossible to leave. Frances Partridge came to stay in the early 1950s and afterwards wrote, 'What a magical atmosphere that house had, charmingly furnished and decorated to match its style, dim lights, soft music playing and Irish voices ministering seductively to our needs.' Sixty years later, author and critic Francis Wyndham remembers Luggala as being 'the most romantic place I've ever known,' and recalls 'that sparkling little jewel of a house with the black lake before it.'
There was always an abundance of good drink and good talk, the first provided by Oonagh, the second by guests such as writer Brendan Behan and film director John Huston. Patrick Leigh Fermor regularly came to stay, so too did Lucian Freud – then married to Oonagh's niece Lady Caroline Blackwood – Cyril Connolly, Robert Kee and Claud Cockburn. As the 1950s blended into the 1960s another generation of visitors arrived, invited by Oonagh's equally irresistible children. Her youngest son Tara Browne's 21st birthday in March 1966 was attended by Mick Jagger and Brian Jones, John Paul Getty and Anita Pallenberg. Before the end of the year Tara was dead, killed in a car crash in London: he is remembered as the inspiration for the Beatles' song A Day in the Life.
Luggala, however, survived and thrived, the baton of responsibility passing to another of Oonagh's children, the Hon Garech Browne. Rightly renowned in Ireland for founding Claddagh Records which did so much to ensure the future of the country's traditional music, Garech has also continued to burnish Luggala's reputation as a place of outstanding hospitality. Like his mother, he casts a powerful spell over everyone. Garech, says U2's Bono, 'is different, a true bohemian, he dresses like a remnant of a more romantic time in our country…' Similarly Marianne Faithfull, another habitué of the house, remarks of Garech, 'I don't think I've ever known anyone quite so distinct. It comes out in every way: in his homes, his friends, his love of musicians.' Above all it comes out in his presence at Luggala, a place now seemingly impossible to imagine without Garech.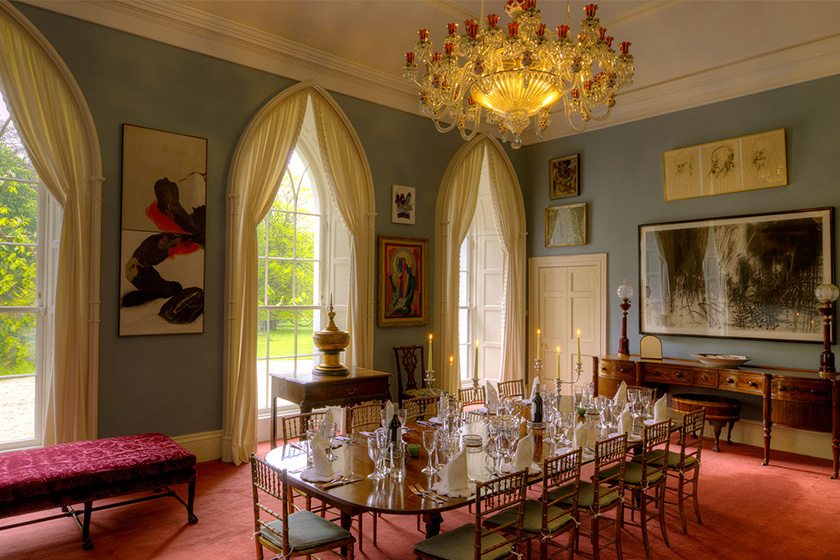 Thanks to his constant and ongoing ministrations Luggala today looks as enchanting as it did when first built by Peter La Touche. But the house is now a repository of memories, the accumulation of more than two centuries of acting as a magnet to all lovers of supernatural beauty. To pass through its gates is to enter into another world. 'The minute you start going down,' says Nobel Laureate Seamus Heaney, 'you do cross a line into a slight otherwhere. And when the house appears, there's a sense of destination.' That destination leaves a mark on everyone lucky enough to have spent time there. Actor John Hurt, who has known the house for almost 50years, speaks for many people, present and past, when he comment 'I'm not important to Luggala, but Luggala's important to me.'
Luggala Days by Robert O'Byrne is published by Cico Books 
Originally article posted 6 December 2012
---