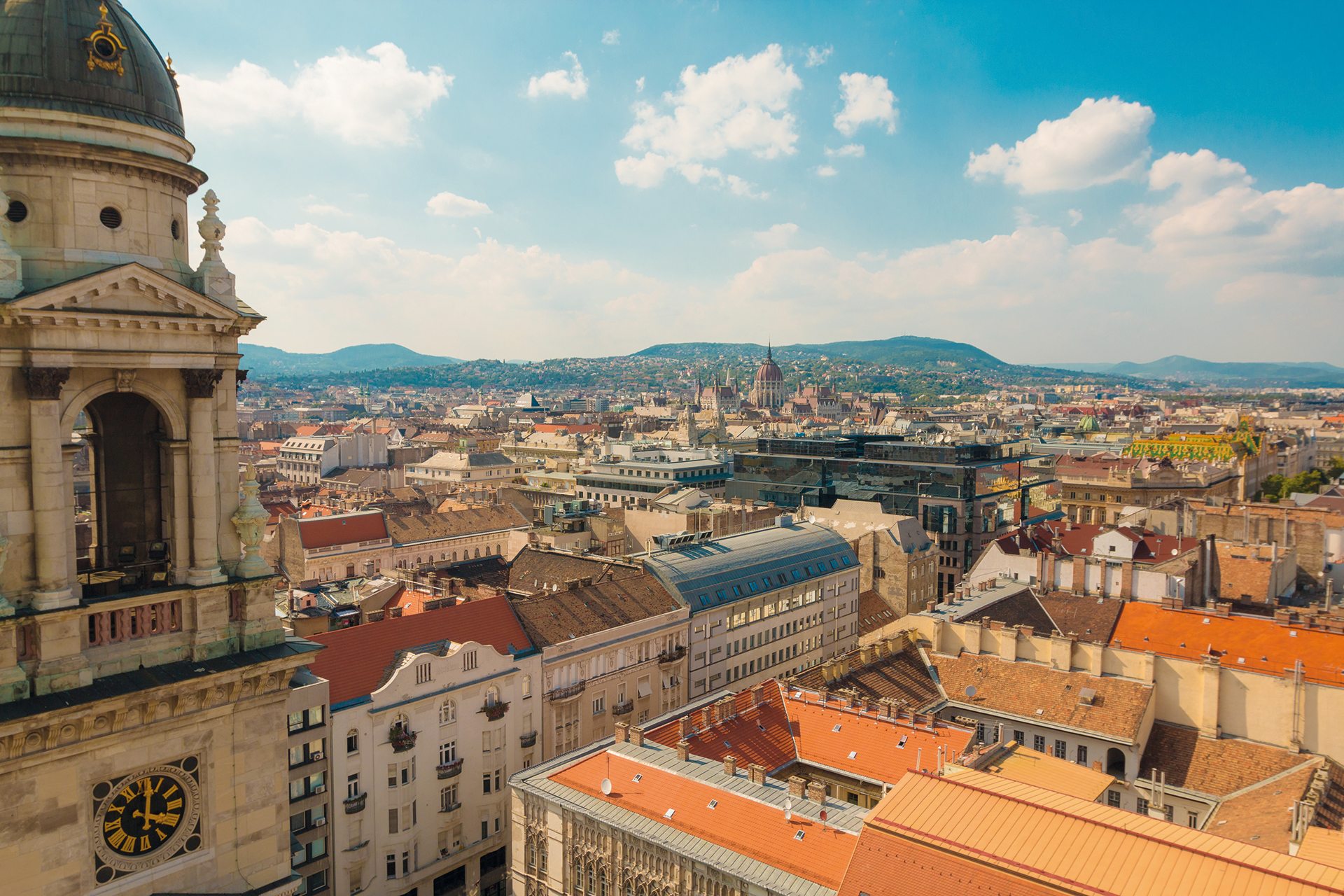 The Weekender: 48 Hours in Budapest
---
C&TH's exclusive guide to the ultimate luxury weekend in Budapest
Explore Budapest's ancient charm and wander around this uniquely charming city whilst soaking in all of its culture. 
Worldwide, wintry weather keeps most people at home – which is why these chilly months make the best time for a city break. Capitals crammed in summer tend to be enjoyably empty and at their most beautiful when blanketed by snow. They're also less expensive – many hotel rates plummet along with the temperature. Stepping inside a restaurant, bar or café brings a welcome blast of warmth, plus there's no problem finding a table. And it's a joy to visit museums, concert halls and opera houses when you don't have to battle crowds. So bundle up and bring on the bliss.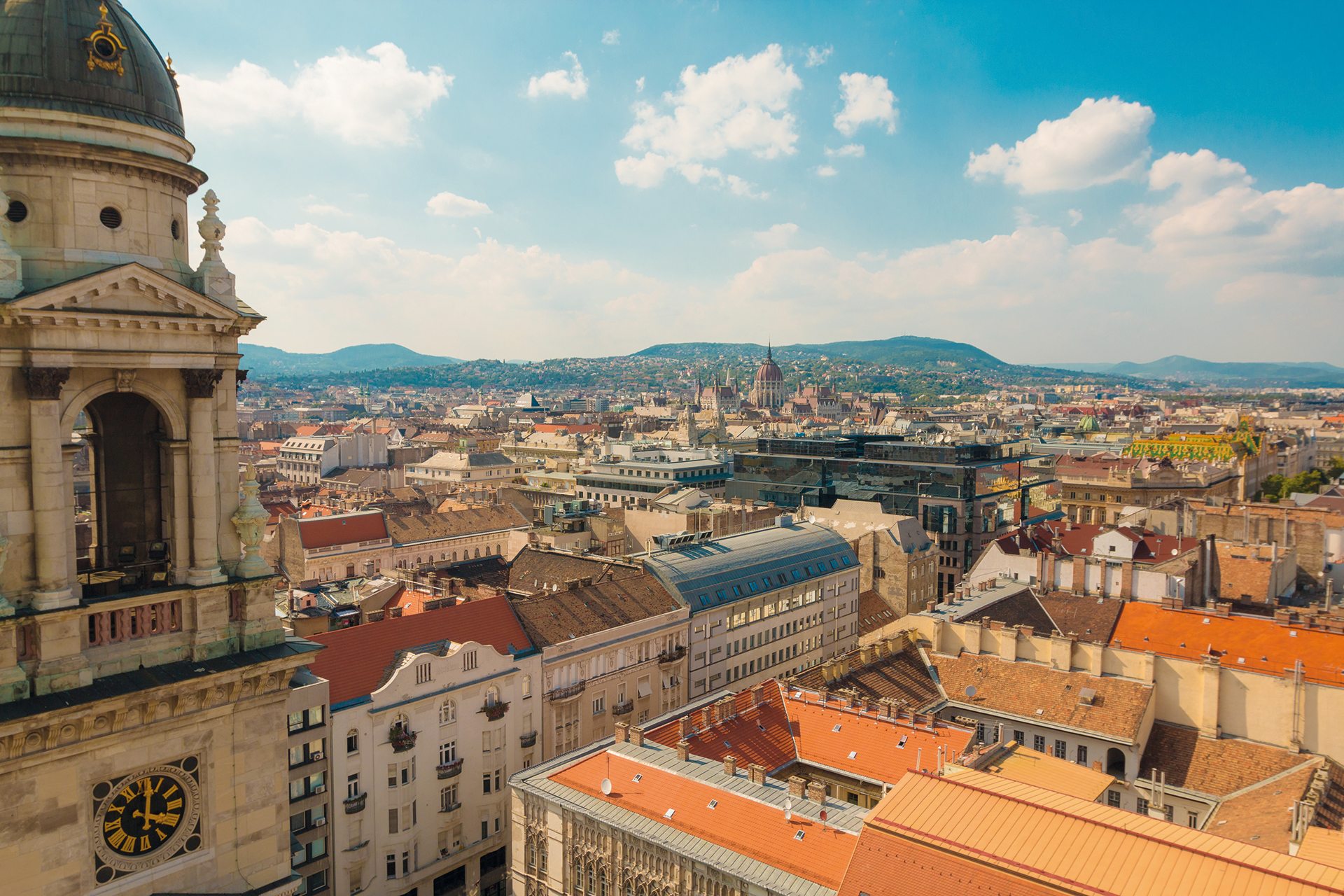 Medieval travellers claimed that there were three pearls in the cities of Europe; Venice on the water, Florence on the plains and Buda on the hills. In 1873 the separate cities of Buda and Pest, separated by the Danube river, joined to form the Hungarian capital of Budapest. Today, Budapest still glistens with ancient allure. It is so high on atmosphere with its crumbling palazzos and timeless architecture, that you can practically feel the charge of history seeping out of the leafy cobbled streets. Its charm lies in its faded grandeur yet it's also a funky city to visit, not formal or stuffy.
There's a contrasting young, vibrant pulse due to the plethora of film studios and production companies locating here.  It's not only filming that is considerably cheaper than in Europe. The buzzy bars and cracking restaurants make eating out far more reasonable than other European cities thanks to its currency, the trusty Hungarian Forint.
See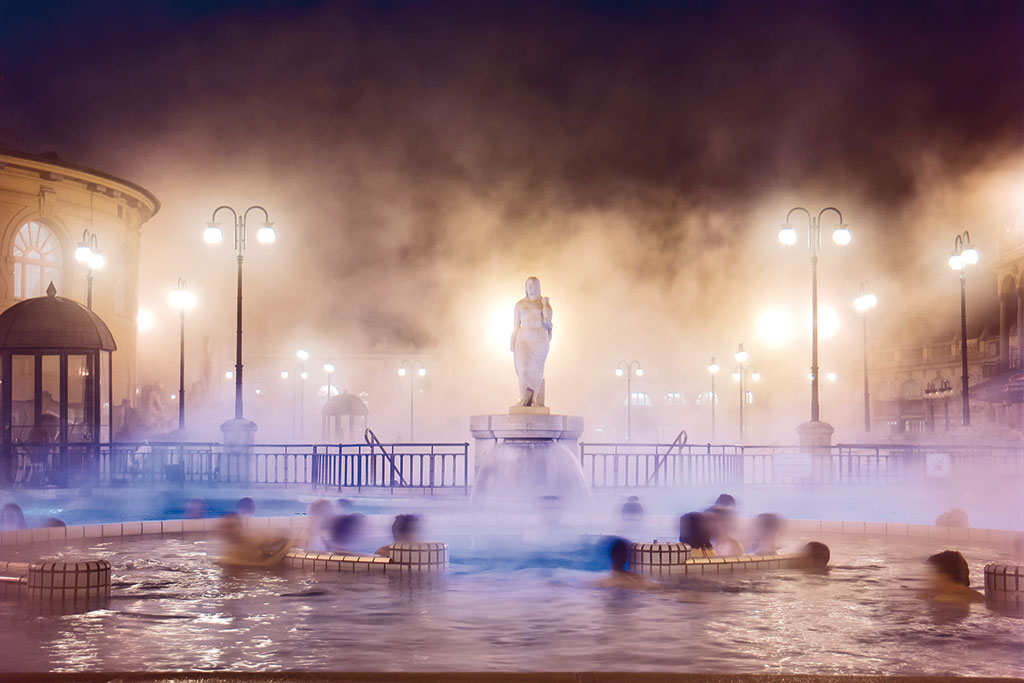 Bubbling below Hungary lie 1,700 thermal springs, and nowhere else has the kind of open-air naturally hot pools you find in Budapest. Extravagantly grand, their settings reflect the city's late 19th-century glory days, when Budapest was joint capital of the Austro-Hungarian Empire. After a day exploring, at dusk it's delicious to sink up to your chin into 76˚C warm water at the opulent outdoor Széchenyi baths (built in 1913), as steam rises, blurring the sight of turrets and gaunt trees. Open daily until 10pm; just take swimsuit and towel. The ten-minute trip back into the city centre on the No.1 Metro line is a treat in itself, in a little wood-panelled carriage. Then you can cross the Danube and take the toytown-like funicular up to the medieval streets below the castle for supper in a cosy old restaurant such as Bistro Deryne, in business since 1914.
An opera or concert: musical standards are high, seats start around £5, and Budapest has jewel-box 19th-century theatres. The glorious Hungarian State Opera House is closed for renovation, but the Budapest Operetta Theatre is all cherubs, chandeliers and red velvet, with champagne and canapés for under £10 at the interval.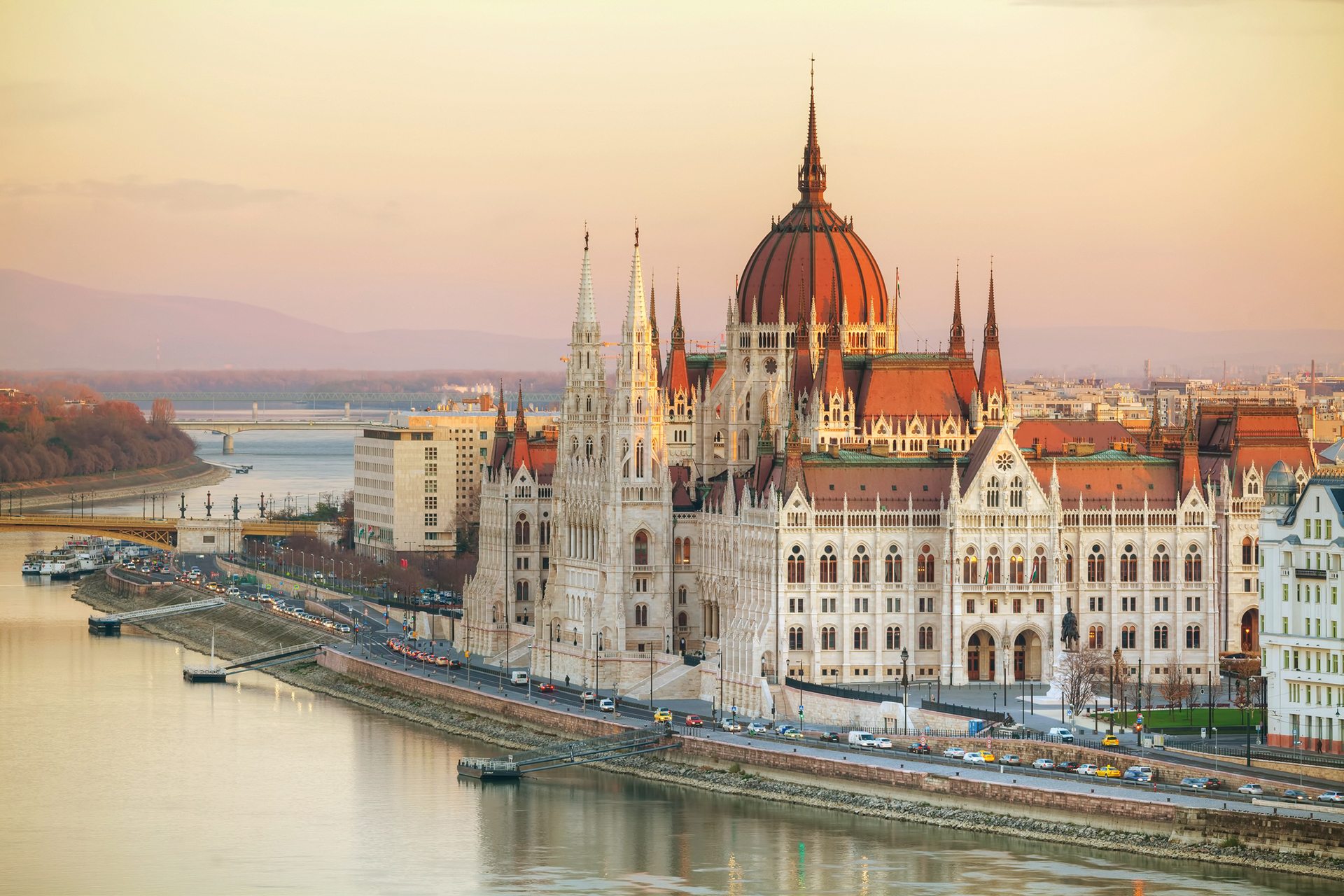 It sounds cheesy but the hour's tourist ride down the river Danube is great fun. Listen to the headphones and soak up cultural facts about Buda and Pest. Ogle the stunning cityscape with Baroque churches and the limestone extravaganza of Hungary's parliament, the National Assembly, with its intricate 365 towers.
Eat & Drink
The communists who kept Hungary in their iron grip from 1947 to 1989 closed many of the grand 19th-century cafés, but some are once again flourishing: the sumptuously gilded New York Café, opened in 1894; high-ceilinged Café Gerbeaud; wood-panelled Opera Café; austere Central Café.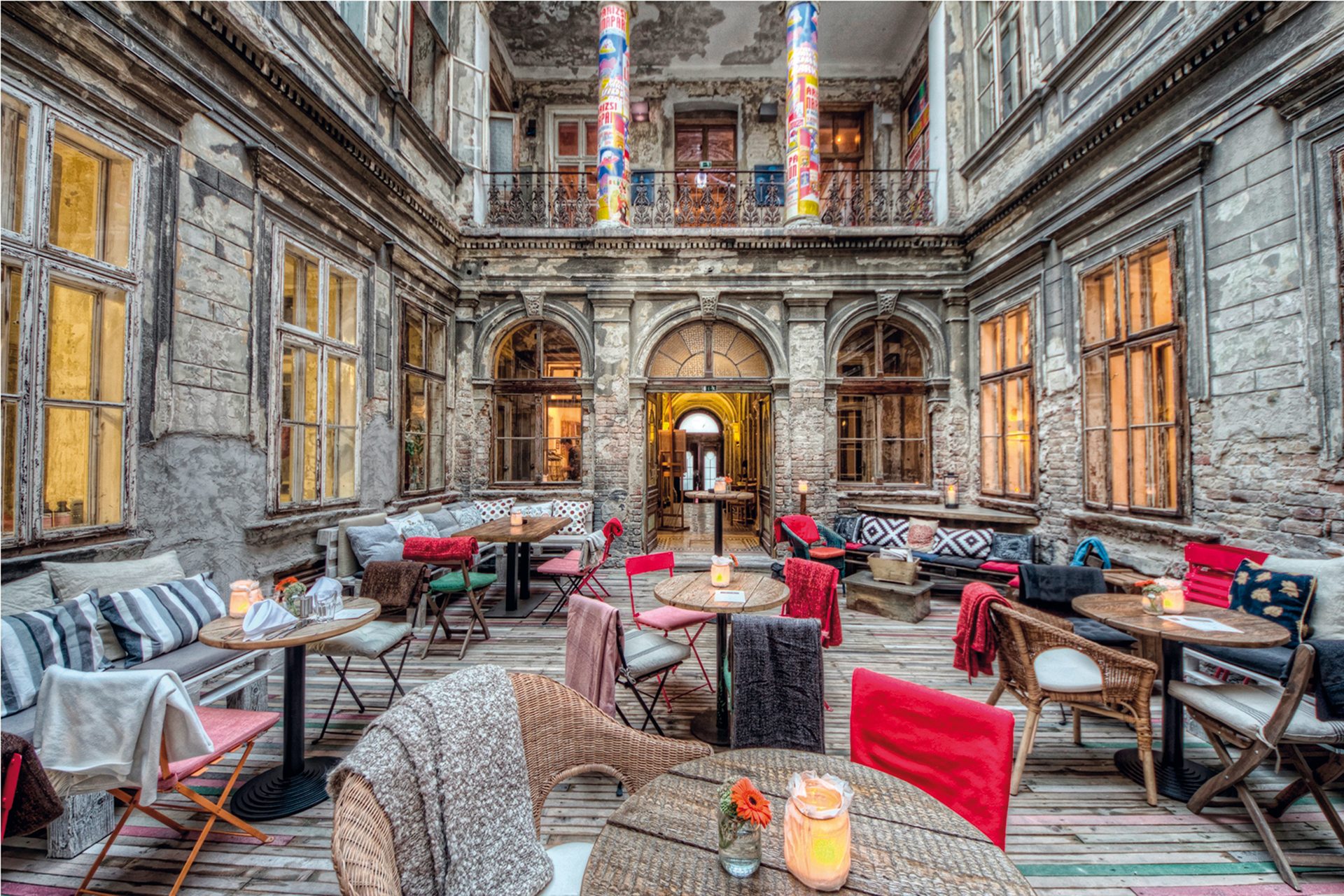 Brody Studios is the Soho House of Budapest; a private members' club that rocks. Spilling over many floors, with distressed walls and decoupage, a stunning inner courtyard with outdoor fires, the food here is as robust and clever as the ambiance. Skin roasted chicken with Jerusalem artichoke chips is memorable. For fine dining head to Babel, which serves exciting, innovative regional dishes with 75 per cent of ingredients sourced in Hungary. Try duck broth with pine and celery or seabass with lentil and black sesame then an ingenious pumpkin pudding cooked in hay. The garlic ice cream, however, is bizarre and off kilter. Kollazs, the brasserie at Gresham Palace is the perfect antidote if you've eaten a lot of traditional heavy Hungarian food – paprika chicken, glutinous noodles and goulash. Here, knock back the local spirit, Palinka, made from pears, with its medicinal qualities and share a steaming pot of black mussels with perfect grilled vegetables.
Buy
Visit the Central Market Hall – an architectural triumph – near Liberty Bridge on the Pest side to see every conceivable edible substance from pigs' ears to rare mushrooms. Sample street style food and buy local Hungarian lace. For something expensive but heirloom quality, buy famed Herend China. The pottery factory of Herend was founded in 1826 and Budapest has two flagship shops. This exquisite Hungarian porcelain was collected by Queen Victoria, the Rothschilds and the Habsburg dynasty. True, the animal figurines were pure eighties Sloane, favoured by Princess Diana, crammed on chintz covered tables, but there are some stunning plates and serving dishes.
Whatever you do…
Take the Budapest Metro, the oldest underground system in Europe.
Live like a local…
Go jogging on Margaret Island, wedged between Buda and Pest. Once called the Isle of Rabbits, as it was a favourite hunting ground for kings, today it is like Budapest's Central Park, with a tiny zoo and running lanes.
Stay
The Bohemian chic of Brody House, opposite the National Museum, is captivating. The ten quirky rooms set around an ivy-clad courtyard, are like a theatrical stage set with towering ceilings and double height doors. Host to endless photo shoots, the vibe is fashion savvy and happening. There's no restaurant but an honesty bar and a delightful breakfast in the airy sitting room. brody.land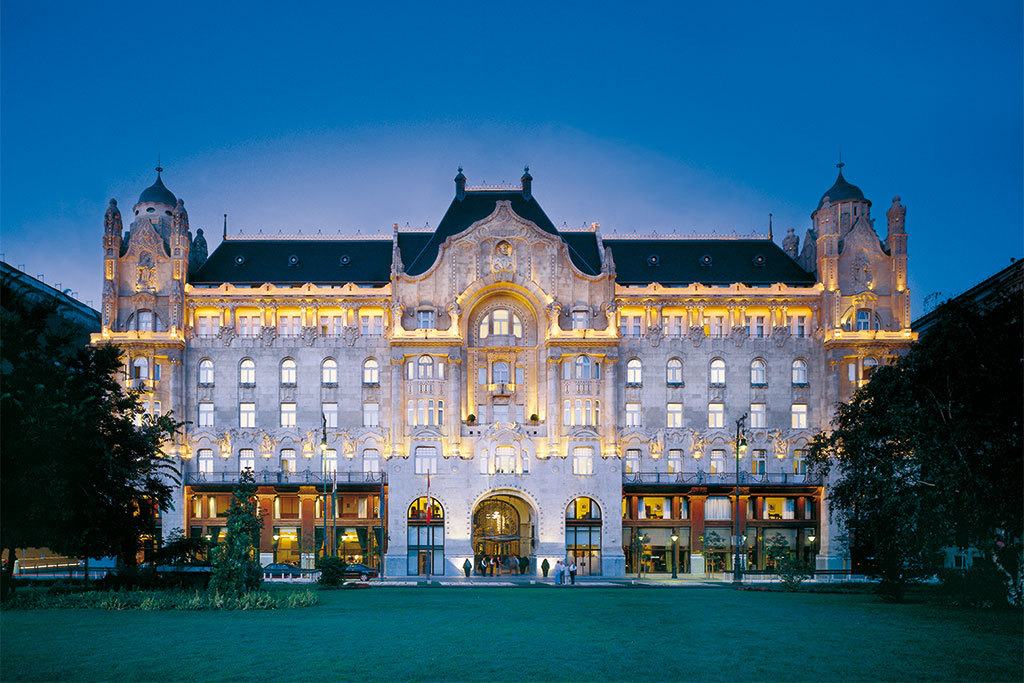 If you can't face lugging your case up the magnificent sweeping staircase (there's no porter or lift), stay at the Four Seasons Gresham Palace. Drop-dead beautiful, very central, right by the Danube at Chain Bridge, the Four Seasons Gresham Palace has art nouveau interiors restored to museum standard. From £350 fourseasons.com/budapest. Flights with BA from £84 ba.com.