Amsterdam may conjure visions of wayward stag parties, slow living and windmill peripheries but the city is fast becoming the creative hub of Europe, a marked return to its golden age of merchant prosperity and artistic flair…
The reopening of the Stedelijk, Van Gogh and infamous Rijksmuseum after years of renovations are testament to this, as are a host of new design-led hotels, restaurants and bars.
STAY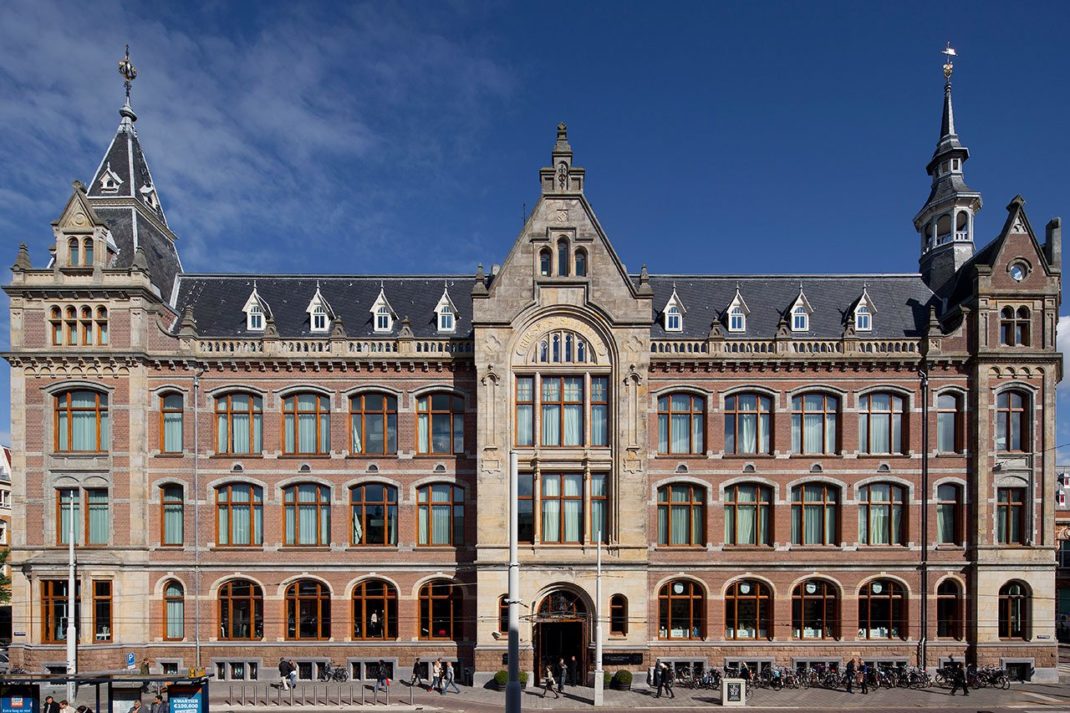 STAY
A cool blend of old and new, the design-led Conservatorium sits in the heart of Amsterdam with the Van Gogh and Rijksmuseum on its doorstep. Originally a savers bank then music school, Italian architect Piero Lissoni kneaded his modern design panache into the building's historic features to create something quite magical. With a vast glass atrium opening up the bank's original courtyard as a lounge and brasserie to the scattering of avant-garde artworks across the stone walls, modern additions pander to the building's past.
While the rooms may be minimalist in design, they are maximalist in every other sense, from seriously fluffy towels and plump pillows to remote controlled blinds and bathrooms hidden seamlessly into stone walls. Rooms smack of modern Manhattan, a striking contrast to the marble corridors echoing centuries of imperial prosperity. Well-heeled locals and guests mingle over the Conservatorium's indulgent breakfasts (think gooey brioche to warm Dutch pancakes), or even in the spa, a subterranean divinity with an enormous pool, and fully-stocked gym to work off those cocktails from hotel's swanky 'Tunes' bar.
Choose from an abundance of rooms, our favourite being the Grand Duplex Suite for sky-high ceilings and the bach pad you'll never have, or I Love Amsterdam if you're at home amidst old beams and a private roof terrace unlocking the Amsterdam skyline. Rooms start at £345.
EAT
Infused with the city's design status, Amsterdam's burgeoning culinary scene is pulling in a global crowd. Saying this, the pace is still slow… treasure it and don't pester the waitress for the bread basket. At Café Panache you'll only hear Dutch, the locals are keen to keep this gastronomic gem off the tourist circuit, filled with a warm amber haze and killer ambience. The cocktail menu is worth coming for alone, but the food is a cut above the rest with sumptuous continental dishes and mouth-watering steaks. Buffet Van Odette, a fresh, pushing Scandi spot on Princengracht serves food from local bakeries and farms (quiches, soups, pastas, cakes to more elaborate dishes), all reasonably priced. There is no shame in staying all day, watching the city go by. For a swanky evening and innovative take on fish, head to Bridge's restaurant where the Michelin-starred Ron Blaauw has devised the menu, and the wine list is second to none.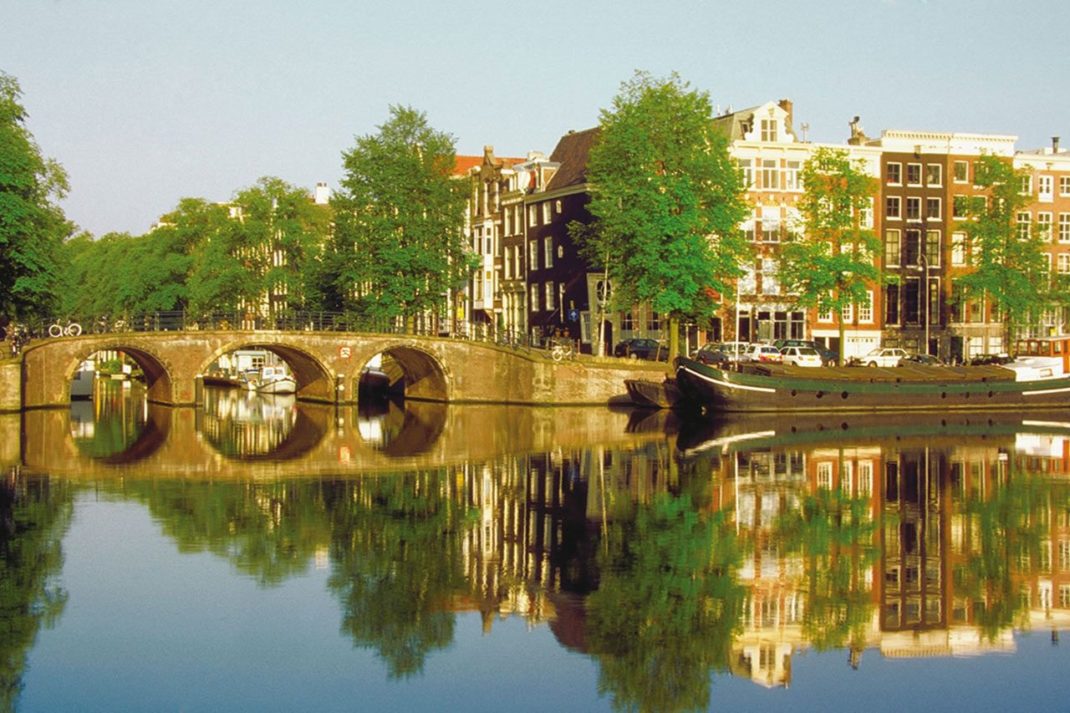 DRINK
Ask the hotel for the password for The Butcher, an achingly cool dive through the back door of a fast food joint in De Pjip (Amsterdam's trendy quarter). A password is essential (the locals are loath to ruin this spot where cocktails are made like they should be and the DJ keeps the crowd pumped till the early hours). Think Gatsby Hipsterism. Another speakeasy to try is the prohibition-themed Door 74, as difficult to locate as it is to leave once your parked inside with a large gin cocktail. The paired-back local drinking culture in Amsterdam is hinged on the city's 'brown cafes', stained by decades of heavy smoking. For an authentic neighbourhood feel, head to Café Thijssen or Café De Heuvel which remain immune to gentrification all round.
VISIT
Amsterdam may be the cavalier city of design with a fiercely modern outlook, but it is steeped in an imperial history worth revisiting. Wander around the Van Loon Museum to see how the old aristocracy lived then head across the river to the FOAM Fotografiemuseum for their state-of-the-art photography exhibitions, supporting up-and-coming photographers alongside the greats. Dutch art and history from the middle ages to now? It's the recently re-opened Rijksmuseum after a 10-year facelift which has an impressive design-lead café to recharge your batteries in. The Van Gogh museum is a must for the largest collection of the native's works, then the spectacular Stedelijk Modern & Contemporary Art (nicknamed the 'bathtub' for its bizarre shape) to immerse yourself in a treasure trove of contemporary culture. Work your way around the city on bikes through the parks (watch out for the motorcyclists who are allowed in your lane) or on the river, steering your own boat if you're feeling brave.
SHOP
Shop the distinctive Amsterdam style in '9 Streets' neighbourhood, a treasure trove of independent sellers of fashion, design items and trinkets (The Darling sells great homeware and silk pyjamas), then flex your minimalist muscle at Droog, the conceptual design company, famed for its functional and equally beautiful fashion and design marvels. Their bright and airy café with an idyllic garden begs for a post-shopping caffeine boost. For a Dutch take on Conran or Hay, it's Scholten Baijings for their striking studio and shop. DEPOT 304 is a trinket paradise of everything and anything (mostly new) from marble candle holders to china cacti ornaments, perched right next to the Amsterdam museum tracing the history of the city.
MORE TRAVEL: Why We All Want to Move to Amsterdam
---