Beverly Hills 9021-OMG. Steeped in history and culture, Belle Rice finds there's far more to this gilded city of the stars than first meets the eye.
From Clueless to Beverly Hills Cop, not to mention its eponymous soap opera, 90210 is by far and away America's most recognisable zip code. Renowned for its many associations with the glitz and glamour of its A-list residents, this small but perfectly formed city in the very heart of Los Angeles hides a wealth of art and design – not to mention historical intrigue – amongst its lush palm tree-lined avenues and perfectly manicured lawns. To spend a weekend in Beverly Hills is to immerse yourself in the Golden State's most iconic six square miles, packed with cooler-than-cool restaurants, galleries and gardens under its picture-perfect blue skies. Not just a treat for the avid celeb-spotter or serial shopper, culture vultures will love the relaxed atmosphere of sunny Southern California's most famous town, blended with a rich history dating back to the spirited days of the Gold Rush.
Beverly Hills Travel Guide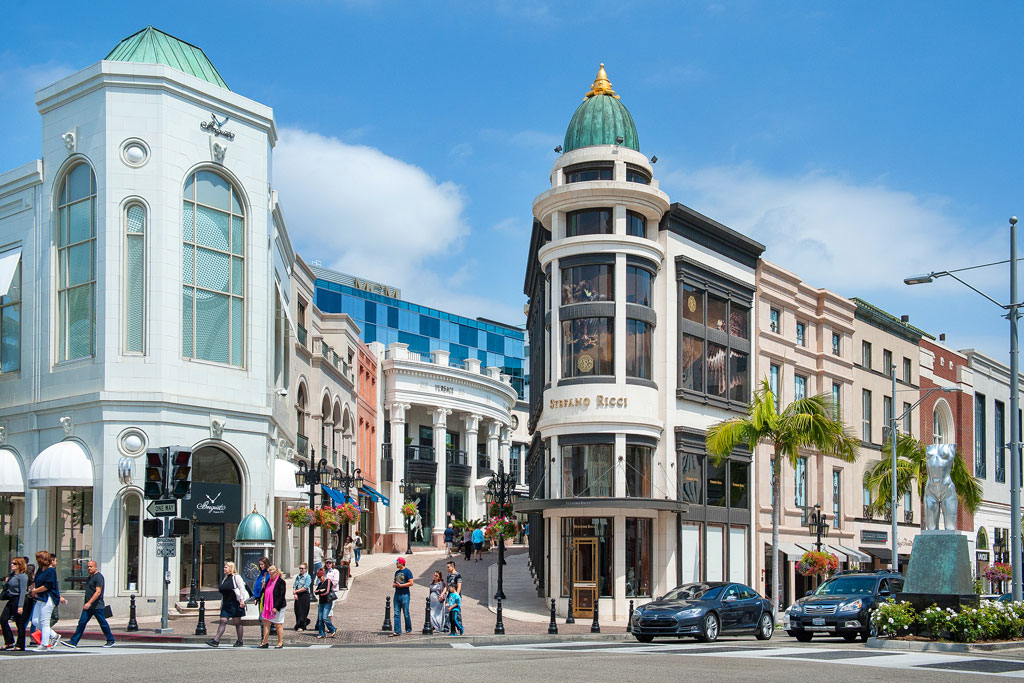 Where to STAY in in Beverly Hills:
Lovers of the ultra-luxe will find no flaws at the Waldorf Astoria, the most recent addition to Beverly Hills' roster of 5-star hotels. Towering over Santa Monica and Wilshire Boulevards, this little slice of paradise has a knock-your-socks-off marble lobby filled with light from its floor to ceiling windows and impressive chandelier. Head upstairs to the gloriously spacious rooms and suites and you'll find all the latest tech – from the iPads that operate your TV and air conditioning to an Alexa on every desk – not to mention the Dyson hairdryer on hand for a super-sleek LA blow dry. With pristine beds so comfortable you'll want to take one home with you, breakfast in your room is a must – if only so you can take in the views of the 'Golden Triangle' of Beverly Hills over the sweeping balconies. And if you have a head for heights? This is the prime location to get your bearings. Head up to the rooftop for pre-dinner cocktails at Jean-George's terraced bar where you can eye up the 360° views stretching for miles, or beat the jet lag with a sunrise swim in the turquoise waters of the cabana-lined pool. For a special occasion, book dinner at Jean-Georges Beverly Hills – the French master chef's LA outpost is handily located on the ground floor of the hotel.
And if you're after luxury for a little less, look just next door to the Beverly Hilton, the historic hotel that plays host to the Golden Globe Awards. Opened by Conrad Hilton himself in 1955, the great and the good of Hollywood old and new have stayed in its suites and walked the red carpet-covered driveway to the stunning International Ballroom. Decked out with smart terraces overlooking the city or the hotel's Aqua Star swimming pool, each deluxe room is a relaxed home from home, fitted with every creature comfort you can dream of after a day exploring the city. Need a break from running around town? We loved a sun-soaked afternoon with a cocktail by the pool, people-watching under the palm trees.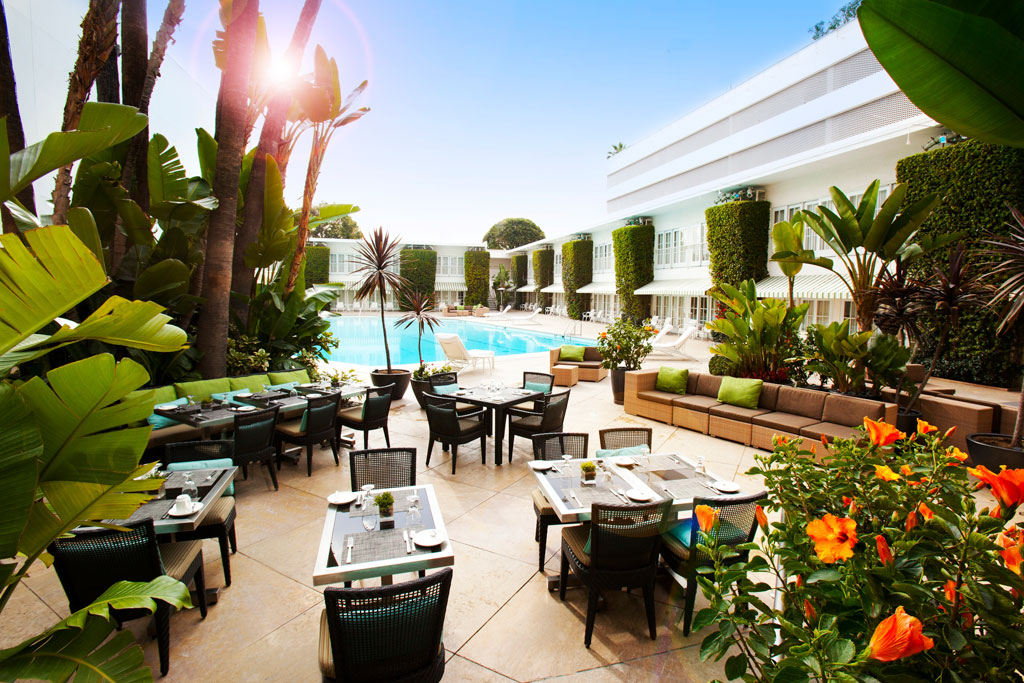 Where to EAT in Beverly Hills:
Whilst New York's reputation as the foodie destination of North America remains untarnished, Beverly Hills is fast on the rise as competiton with its sunny-side-up appeal to young restaurateurs. Perhaps the city's most famous (and celebrity-filled) eatery is Spago – and we found a multitude of reasons for its long-lasting popularity. This elegantly-designed destination restaurant has been on the scene for some time, but continues to reinvent itself under Wolfgang Puck as his company's flagship dining room. Guests can choose from the seasonal a la carte menu, or for those with more time on their hands, we'd recommend the real deal: the fourteen-course California Tasting Menu. Exquisitely designed, this one-of-a-kind experience represents the best of the west coast's cuisine.
For more laid-back bites, try Gratitude Kitchen and Bar. Nestled on North Canon Drive, this airy, relaxed eatery serves delicious artisanal meals, alongside light snacks and unique cocktails – all with a vegan twist. And for brunch? Don't miss Nate'n Al, a cosy Manhattan-style deli and diner with eggs and pancakes you'll definitely be writing home about. Opened in 1945, it's also the ideal location for a lazy morning of low-key celebrity-spotting.
What to SEE in Beverly Hills:
Nestled in the hillside above Sunset Boulevard, Virginia Robinson Gardens surrounds one of the first homes built in Beverly Hills, and this landmark estate was left to the city by the late Mrs Robinson herself. The last-surviving half of a successful department store-owning couple, she was famed for her legendary parties, and this historic pile played host to a coterie of names including Walt Disney, Charlie Chaplin and Marlene Dietrich. Shortly before Virginia Robinson's death in the late 1970s, she bequeathed the estate to the City of Los Angeles, and it is now open by appointment to the public. Whilst the house itself is an impressive remnant of the birth of Beverly Hills, it's the gardens that stagger. This lush six acres of greenery is a carefully curated menagerie of flora and fauna, a tiny piece of paradise that you would never know is waiting for you just minutes from the hustle and bustle of Saks, Bloomingdales and Rodeo Drive. Guided tours by extremely knowledgable local volunteers offer not just glorious views of the rolling hills, but an in-depth history of the house, gardens, and city of the city of Beverly Hills itself.
Once you've extricated yourself from the rich greenery of the Gardens, head back into the Golden Triangle (popping into the quietly sophisticated Grill on the Alley for lunch if you can) and immerse yourself in an afternoon of art. Jam-packed with hidden treasures, the galleries of Beverly Hills range from the ever-current Gagosian with its contemporary installations and roster of emerging artists, to Galerie Michael, tucked away upstairs on Rodeo Drive with a surprising 12,000 square feet of museum-grade exhibition space hosting works by Picasso, Rembrandt and other Modern Masters. Finally, Galerie 19C offers a unique perspective on the rich variety of 19th century art, with a wide-ranging collection focusing on lesser known works.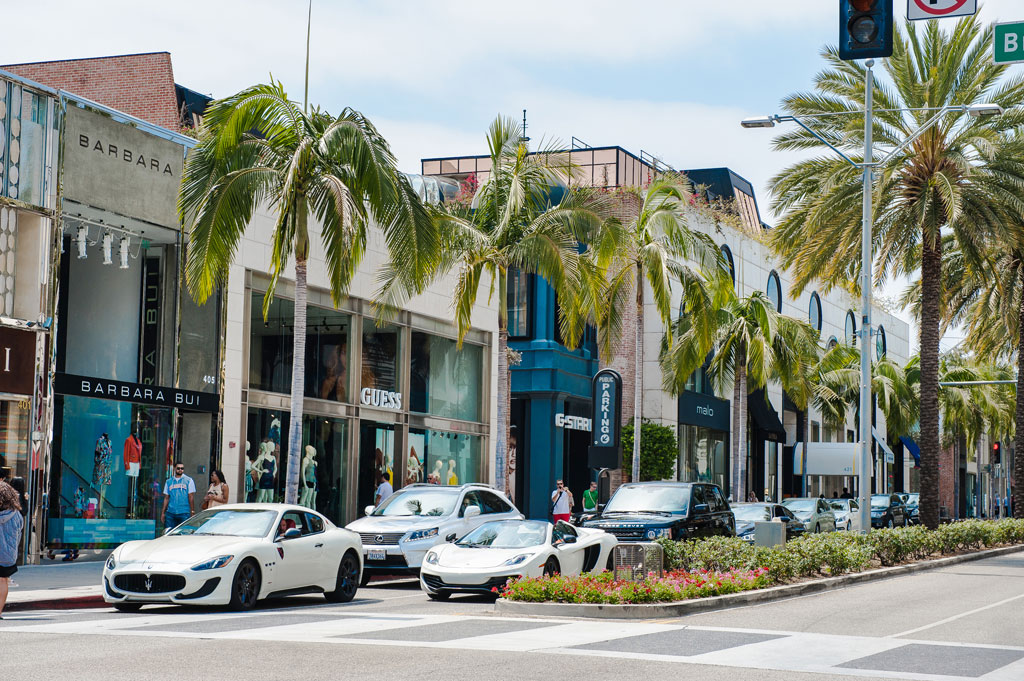 What to BUY in Beverly Hills:
Famed for its retail therapy, shopaholics won't be bored in Beverly Hills. With every designer label under the sun having a presence here, it's up to Lalaluxe to show you the way. Purveyors of the highly bespoke shopping experience, this in-the-know concierge service offers a sophisticated guided tour of the most exclusive retailers in the area, with behind the scenes access and personal shopping to suit any taste.
What to DO in Beverly Hills:
Fresh off the flight and feeling a little woozy? Hit Upgrade Labs, the ultra high-tech gym experience newly opened at the Beverly Hilton. With an array of treatments on the menu from cryotherapy to whole-body infrared beds, this biohacking centre is blazing trails with new ways to enhance physical and cognitive performance. The result? A quick but durable fix for jetlag, whether you experiment with The Big Squeeze full-body treatment or have an energetic PT session to get going again. Book in advance though – this A-list friendly spa fills up fast.
Culture vultures with a passion for history will delight in the fascinating story of the Doheny Greystone Estate. A popular filming location due for its exquisite Tudor Revival architecture, this imposing mansion overlooks the estate's perfectly manicured lawns and garden, but it's inside the house where the story gets darker. Built in the early 20th century by Beverly Hills' wealthiest oil magnate, this vast house is haunted by tales of corruption, intrigue and murder. For serious chills (even in blazing sunshine), book a Park Ranger guided tour of the house and garden, available once a month from January – April.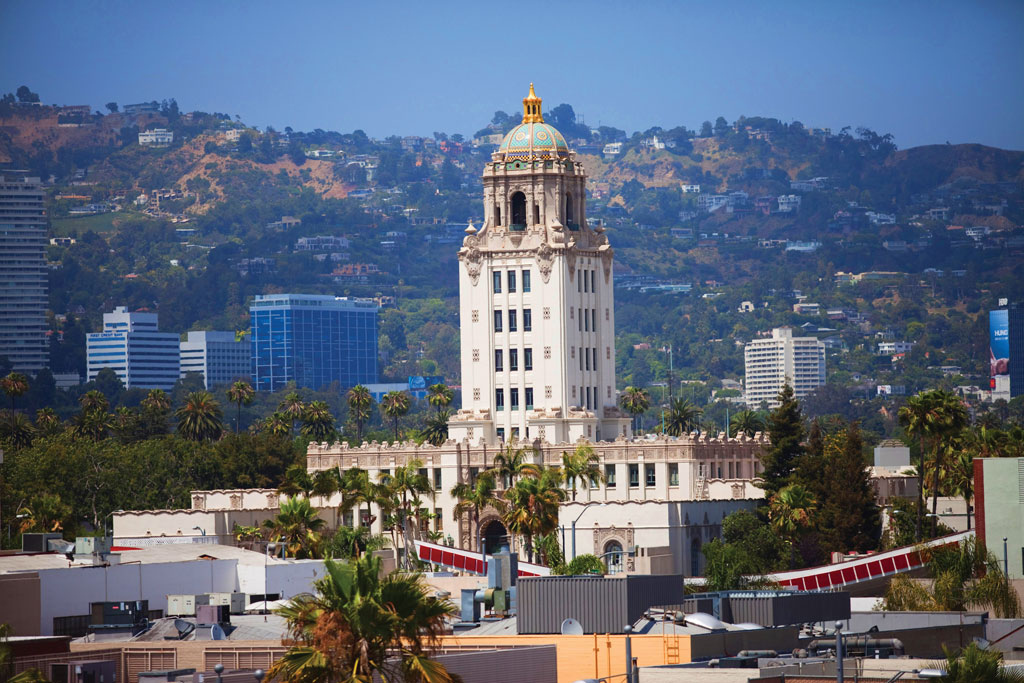 BOOK IT:
If you're not a fan of immigration queues (and who is?) The Private Suites at LAX ensure a stress-free airport experience like no other.  You'll be picked up in a swanky SUV straight off the plane and driven across the tarmac to the 'Celebrity Terminal' – a newly built gateway into the city with a private Homeland Security team that clears you within minutes of arrival. And on the flip side of immigration? There's a private hotel-like room just for you and your companions to enjoy, complete with shower facilities, endless champagne and a pre-ordered meal service so you can put your feet up post-flight waiting for your bags to be delivered before you hop into your car into the city. The outbound process is just as slick, with a designated team on hand to check you and your bags in and the same suites ready for you to wait for your flight in peace before being delivered to the plane in a VIP car service. You'll never travel in quite the same way again. Rooms at The Beverly Hilton start at $309*; suites start at $509*; * (tax and gratuity not included), beverlyhilton.com | Rooms at the Waldorf Astoria start at $815 (tax and gratuity not included), waldorfastoriabeverlyhills.com | Services at The Private Suites at LAX start at $4000 for international one-way flight for a non-member, theprivatesuite.com
DISCOVER MORE TRAVEL:
48 Hours in Gardone Riviera | 48 Hours in Bali | 48 Hours in North Devon
---