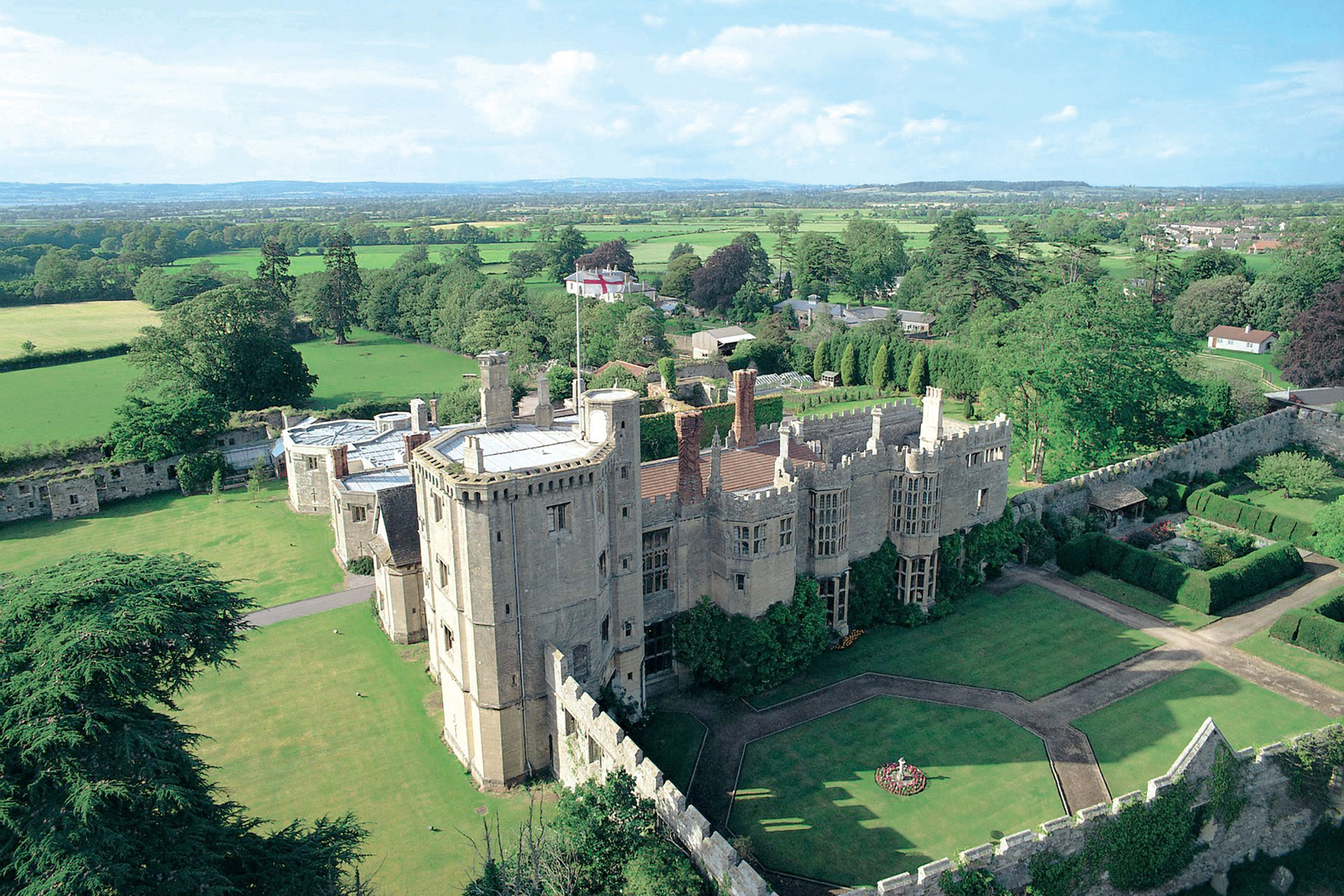 Queen Of The Castle: Thornbury Castle Hotel Review
---
A luxe makeover, 5* luxury, (just don't mention the ghosts)
Built in 1511 during the reign of Henry VIII, Thornbury Castle is the only Tudor castle in England that you can stay overnight in. One of the grandest buildings of its time in England, the castle has undergone a £10million refurbishment and reopened as a member of the Relais & Châteaux group. But does the castle serve up 5* service and palatial grandeur fit for a king or queen or is the castle a Tudor tourist trap? Rebecca Cox reviews…
Thornbury Castle Review
However nonchalant your approach to Thornbury Castle, there is something undeniably exciting about checking in to an actual real-life castle, especially one previously occupied by the kings, queens and dukes of yesteryear. King Henry VIII himself stayed for 10 days in 1535 with Anne Boleyn to avoid the plague in nearby Bristol, and nearly 500 years later the castle remains the perfect escape for a little post-pandemic staycation. Never completed (rotten Henry beheaded owner the third Duke of Buckingham before he finished the castle), since its transition to a hospitality destination in the 60s, it has been gradually transformed into a luxury hotel, with the current owners raising the bar to create something that seamlessly preserves the building's illustrious history while providing modern comforts. Original Tudor fireplaces are nestled against heritage wallpapers and modern fresco ceilings, portraits of previous owners and guests hang above inviting plush velvet couches. Cold castle walls contrast drastically with warm, light and airy lounges, open roaring fireplaces and bathrooms with underfloor heating. It's an authentic Tudor experience. But make it luxe.
STAY
Choose from 27 luxury bedchambers, all with rich histories and traditional English heritage fabrics and styling. Each is unique, from the main castle rooms to the spacious wing suites, most have four poster beds and some feature roll-top baths and features such as arrow slit windows. The three signature suites are frequently booked out months in advance and include the Jane Seymour suite, the Henry VIII suite (yes, the one occupied by Henry himself) and the Catherine of Aragon Tower Suite, sitting at the top of a 77-step spiral staircase and featuring 24-carat gilding and the largest four-poster bed of any UK hotel. On enquiring about the castle's history, we were assured that none of the castle's former residents was slain on site (even the third Duke of Buckingham, who met his end in London), and thus visitors should not worry about ghostly residents. Were the 6am heavy dragging footsteps on the private access spiral staircase outside our room the night manager making his rounds? Or a more sinister visitor from beyond the veil? Either way, with feather soft beds and thick castle walls, we slept like the dead.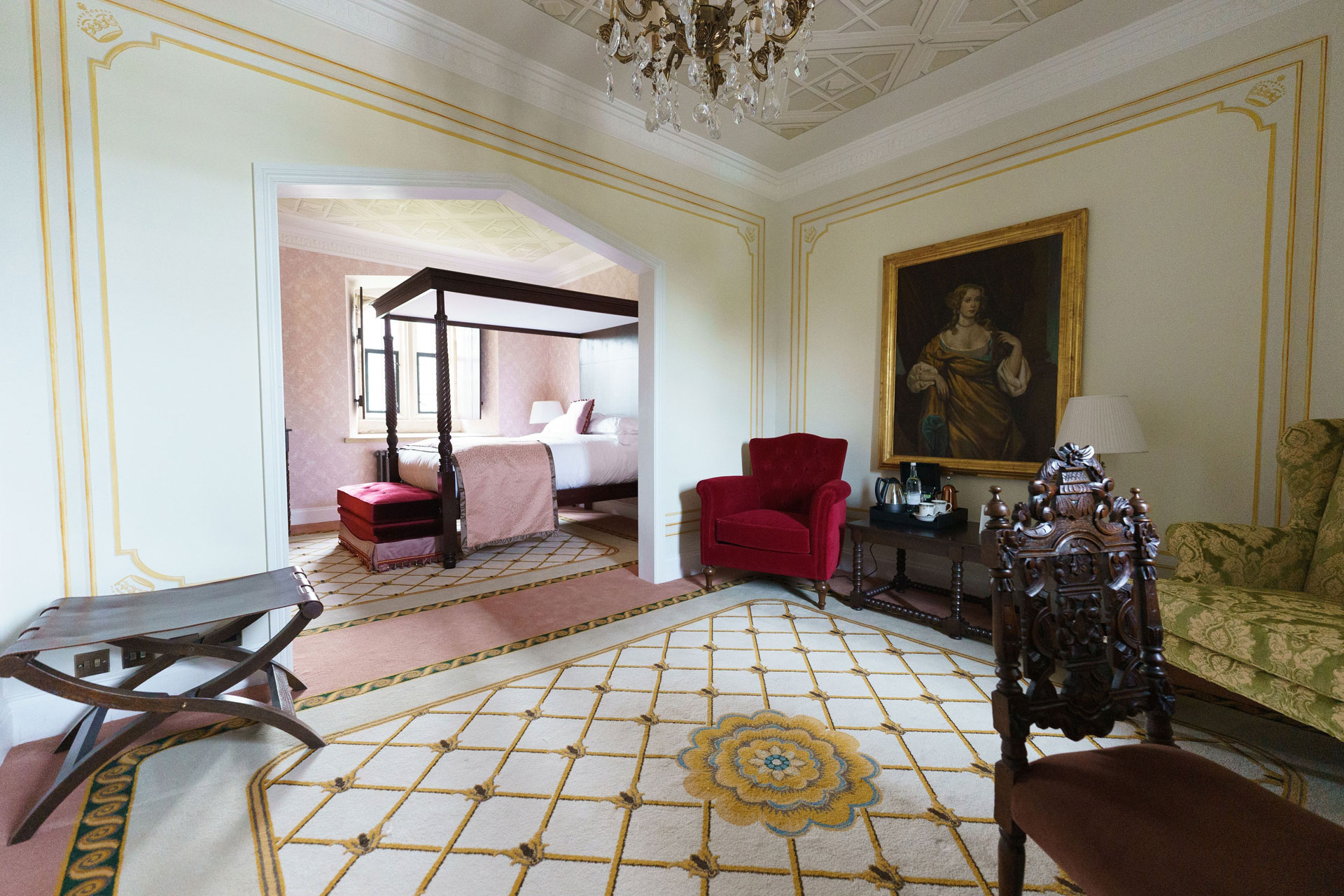 EAT
The dining rooms at Thornbury are fit for a king, one offering a 70s glam vibe thanks to former visitors Sophia Loren and Laurence Olivier. Others recreate royal Tudor grandeur in intimate spaces for romantic or celebratory dinners. Executive Chef, Carl Cleghorn brings sustainability to the table with a small, evolving menu championing fine local produce and an offering increasingly dependent on the crops from the hotel's new kitchen garden. Whether opting for a la carte or tasting menu options the evening starts with delectable snacks with an aperitif in the hotel lounge aside a roaring fire, the perfect appetiser before a meal of classic British cuisine. If you're sticking with three courses, finish with the cheese, or you might go to bed hungry, as while the flavours are outstanding, the portions are small. Especially if you've enjoyed a day of country pursuits in the castle grounds.
DO
New for 2022, Thornbury Castle is offering guests a host of on-site activities to complete their Tudor experience. Experience archery, axe throwing or falconry with local experts or for gentler pursuits, how about spending the day as a Tudor Queen, donned in traditional costume, with a lady in waiting, afternoon tea and a photoshoot to remember it all. For keen historians there are also history tours or further afield clay pigeon shooting. If being pampered is more your vibe (you're the resident monarch, you decide) book in with the visiting therapist for an indulgent spa treatment, our massage was truly transformative.
THE FINAL WORD
With all the talk of Tudor costumes, bloody beheadings, flying axes and a big international appeal, it would be easy to write a staycation at Thornbury Castle off as 'just not very you'. But the reopened castle perfectly walks the line of novel, never slipping across into novelty. Décor is rich, tasteful, comfortable and luxe, never garish. Service is impeccable (as you'd expect from a Relais & Châteaux outpost), the food outstanding, and while the building's history is rich and fascinating, it's only as much a part of your stay as you want it to be. And did the ghostly brush leave us feeling spooked? Not at all, we're rebooking to investigate further…
BOOK
Rooms from £249 B&B | Thornbury Castle Castle St, Thornbury Gloucestershire, BS35 1HH | thornburycastle.co.uk | +44 (0)1454 281182