Man's best friend? These pooches boast a special talent – digging for nuggets of gastronomic gold. In the woodlands of Tuscany, the fabulous fungi is the Strozzi Estate's secret delicacy. It's so good that they host a once-in-a-lifetime tour with plenty of truffle-infused food at the end. Jeremy Taylor experiences it for himself…
Digging for Gastro Gold: Truffle Hunting in Tuscany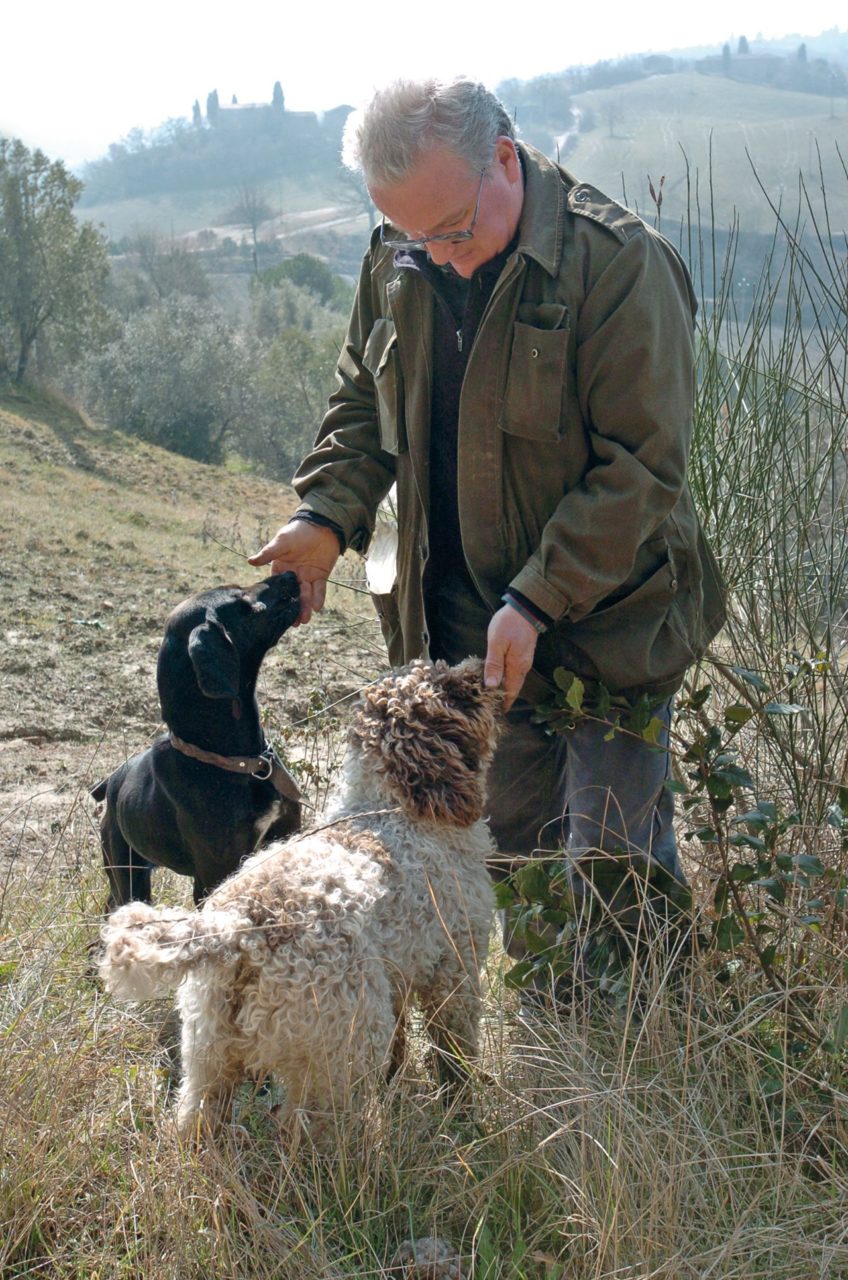 Bozzi and Macchia may look like oversized poodles in woolly coats but they also boast a very special talent – digging for nuggets of gastronomic gold. Although the Lagotto Romagnolo is traditionally a gun dog, Italian hunters now train the hounds for a different purpose. They have fine-tuned the breed's keen sense of smell to sniff out the highly prized truffle.
Today Bozzi and Macchia are earning their keep in a remote area of Tuscan woodland. I'm with them on the Strozzi Estate, famous for its plantations of red and white grapes that produce over a million bottles of wine a year. Every October, the estate host an exclusive Wine & Truffle Tour, organised by nearby Villa La Massa – one of the region's most luxurious hotels. A luxury car is included in the package – I've been exploring the region in the latest Maserati Ghibli.
Florence & Fungi
The once-in-a-lifetime tour allows hotel guests to luxuriate in some of life's guilty pleasures – culture, wine and plenty of truffle-infused food. Located on the banks of the River Arno, 16th century La Massa is just eight miles from Florence, birthplace of the Renaissance. The city attracts 13 million visitors a year and is a UNESCO World Heritage Site. La Massa has welcomed many famous guests over the years, including Winston Churchill, Clark Gable and Yoko Ono. David Bowie married model Iman in the hotel's tiny church.
In the steep-sided valleys around the Strozzi estate where vines could not be planted, 15 hectares of ancient forest now provide the perfect habitat for the valuable white truffle of Crete Senesi.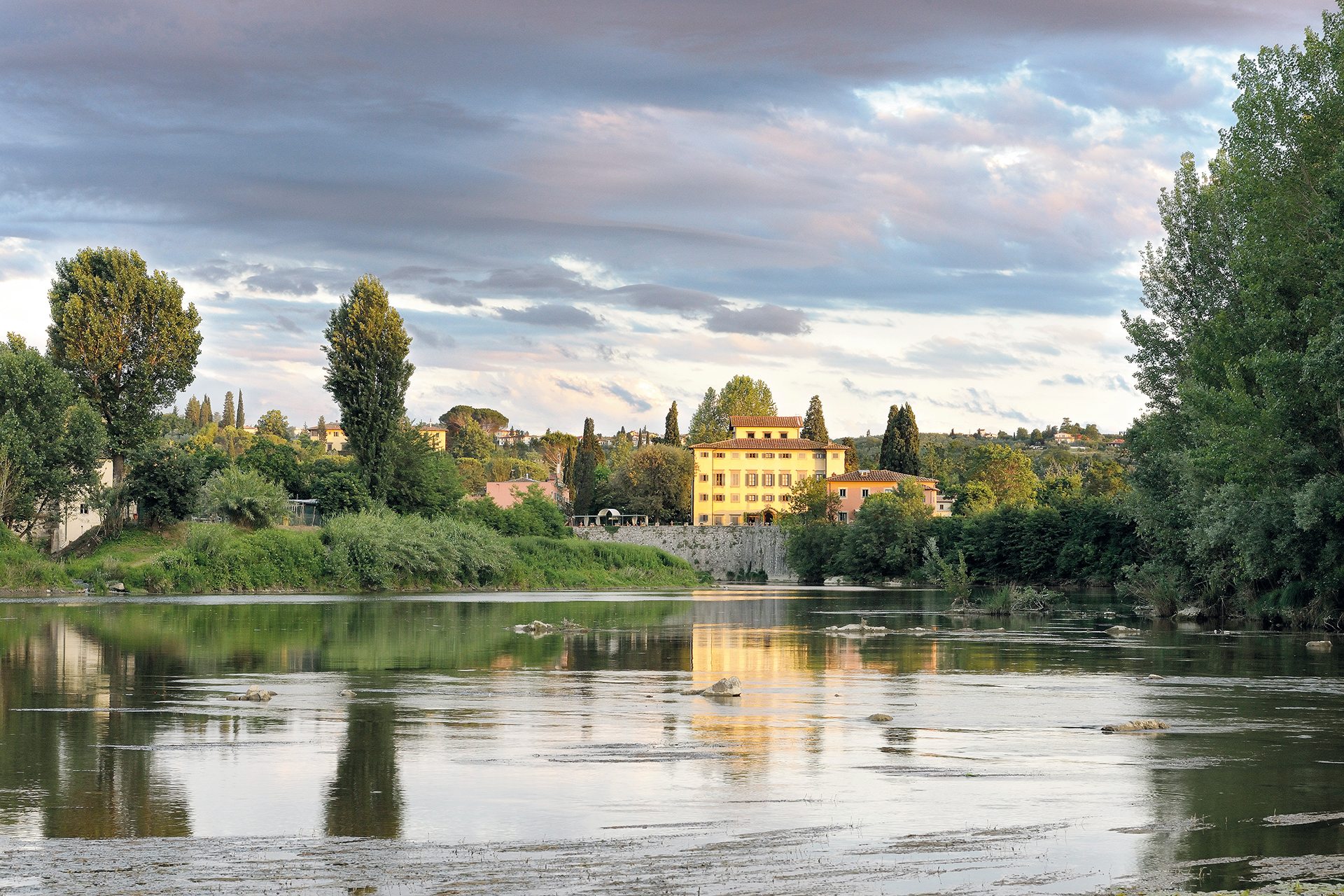 Buried in the soil between an inch and a foot deep, I've already discovered that truffles don't give themselves up easily. Renowned for their pungent smell, it would still be impossible to find them without our two dogs. Underneath a beech tree is a good place to start but it's anybody's guess where the spores of a truffle might fall and grow. Like most fungi, truffles have a symbiotic relationship with trees, attaching to the root system to produce their valuable fruit.
"It's time to find them ourselves"
Bozzi and Macchia are being guided through the leafy undergrowth by truffle hunter Andrea and the Princess Irina Strozzi – a highly trained exponent of the truffle hunt too. "The family always knew there were truffles here but the exact locations were always kept a secret," explained Princess Irina. "Truffles have become so valuable that we decided it was time to find them ourselves."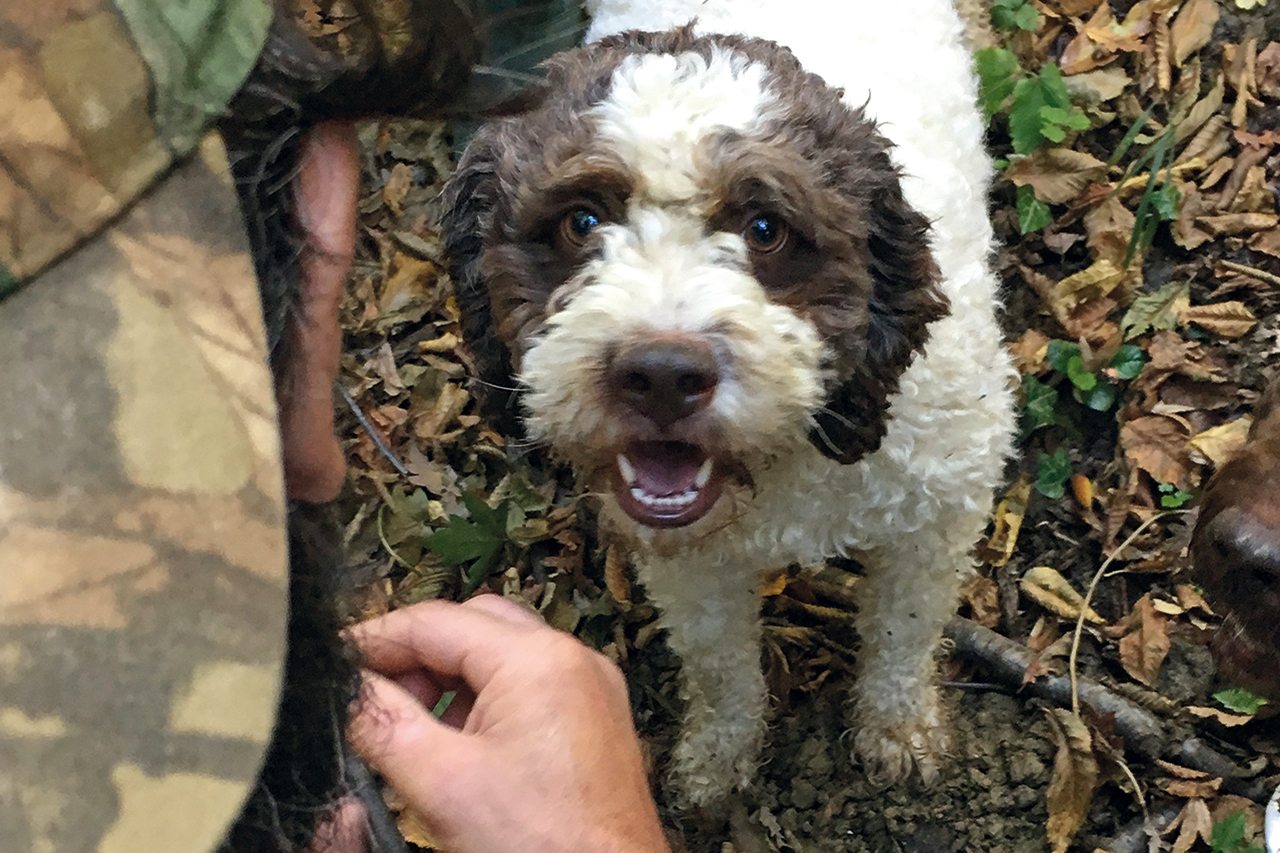 The 2015 crop in Italy was poor due to a lack of rain. However, heavy downpours last November (2016) made truffles more abundant. In turn, that has helped drive down restaurant prices – so there's never been a better time to eat this fantastic fungi.
Lagotto Romagnolo may be prize sniffers but they can be easily distracted like any other dog. Badger trails are a favourite and their ability to find rodent holes is amazing! It's more than half an hour before Bozzi starts to scratch at the surface, sending soil showering in all directions. Andrea is first on the scene and gently starts to dig around the spot with a hooked stick. "This is the exciting moment," says Princess Irina. "Truffles are delicate and need to be teased out of the ground. If the truffle is large, it can take up to an hour to work around it."
Truffle after truffle after truffle…
The world's largest truffle weighed just over 4lbs and was found in nearby Umbria. Most weigh just a few grams but each one is treasured regardless of size. Bozzi's find is a black truffle about the size of a squash ball. Andrea praises the dog before using a small brush to dust off the soil. He then pops the delicacy in a small linen bag.
Princess Irina explains that it's not all down to the dogs. "We look for signs of the earth being disturbed on the surface. Wild animals love to eat truffle too – sometimes they find one but are scared off before they can dig it up."
Within minutes Macchia is on the scent of another find. This time Andrea pulls her away and lets me sniff the ground. I'm on all fours like a woodland animal myself and there's no mistaking the heady scent of a fresh truffle.
We spend another hour meandering through the Tuscan undergrowth finding truffle after truffle. Andrea's pouch is almost full by the time we return back to the Strozzi villa and Princess Irina toasts our success with a bottle of the estate Chianti.
Finally, we eat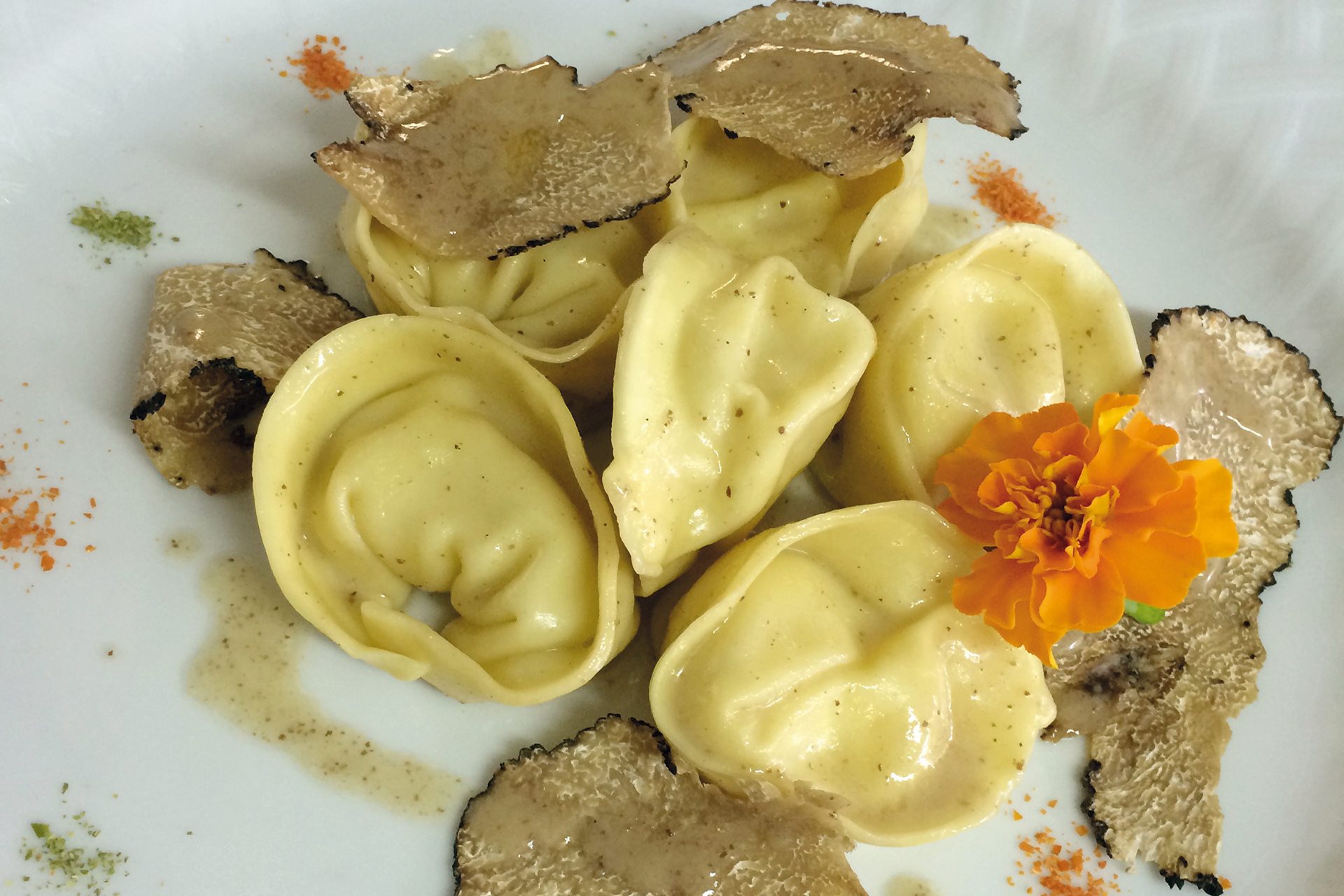 The truffles are then delicately poured onto a linen cloth. They are scrubbed under cold water and weighed on a set of scales. Our two-hour adventure has resulted in 136g of truffle, worth around €250. So what will happen to our finds? "We sell them to restaurants as far away as Spain and Holland. I also get a lot of phone calls from friends about this time of year asking how the truffle hunting season has been!" says Princess Irina. Later that evening I join the Strozzi family for a three-course truffle dinner at La Massa, prepared by executive chef, Andrea Quagliarella. It's more fungi than I've eaten in a lifetime but what is the princess's favourite truffle treat?
"I like to keep it simple. Grating truffle over a poached egg is a special treat – especially with a glass of champagne to wash it down."
Our evening is over far too soon but the aroma of truffle lingers on in La Massa's dining room. I fall asleep wondering if I can train my own dog to put his nose to work back home in England…
A nose For Italian Truffle!
Italy is blessed with a wide variety of truffle types:
Black Truffle
Tuber melanosporum vittadini is one of the most popular in the world. It is hard to find and therefore expensive. The outer rind is black and the fruit a brownish colour.
White Truffle
The rarest of all truffles, the white has a slightly yellowish rind, with a light brown centre. It's the most pungent and perfect for pasta and egg dishes.
Bianchetto Truffle
Similar in appearance to the white truffle but ripens in late winter and early spring – instead of October-November. A sharper taste and with a weaker aroma.
Book it…
Stay: Villa La Massa from £422 per room per night. Book your truffle Tour from £722 per couple – including a Tuscan lunch with truffles at Villa Cusona, hosted by Princess Guicciardini Strozzi  www.villalamassa.com
For further information on the Maserati Ghibli visit www.maserati.com
Flights: British Airways flies direct from London City to Florence with economy fares starting at £249 return, including taxes and charges. Book online at www.britishairways.com
READ: More travel ideas
---