After a renaissance as the epicentre of the Tamil movie industry, Chennai has adopted a cosmopolitan vibe without making concessions on its rich heritage, traditional crafts and bullock carts. Caroline Phillips takes you on a 48 hour tour of the city.
48 Hours in Chennai, India
The heat is such that you may feel that you're on the top shelf of an oven, but it's worth it. Chennai (formerly Madras), Tamil Nadu's capital, is in its north-eastern corner on the Bay of Bengal. It's really around 154 sq. miles of urban villages —home to the fourth largest population of India's cities —with one of the world's biggest city beaches. Its friendly people are a major plus: even strangers will stop to smile at foreign visitors in the street. And when you shop, the vendors don't have the hassle gene of their northern counterparts. You'll still find bullock carts amid families on motorbikes, motor rickshaws and cars. But the city's changed beyond recognition in two decades. These days Chennai —which enjoyed its renaissance as the centre of the Tamil movie industry —has a cosmopolitan vibe, luxy hotels, edgy boutiques, cool caffs and sophisticated contemporary restaurants. It's definitely the hot spot to head to for South India's artistic, religious and culinary traditions. There aren't zillions of attractions but there's some Raj architecture (buildings to please the most demanding Victoriana buff), plus tip-top bronzes in its state museum and classical music and dance performances.
Stay
Right from the welcome drink of pomegranate mocktail and cheesecake 'bite', it's clear that The Park hotel is going to be a little different. Set in the heart of Chennai, this 214-bed hotel was previously the Gemini Film studios. In your bedroom, you may find original images of, say, Grahasti (a Hindi family drama) being shot at Gemini.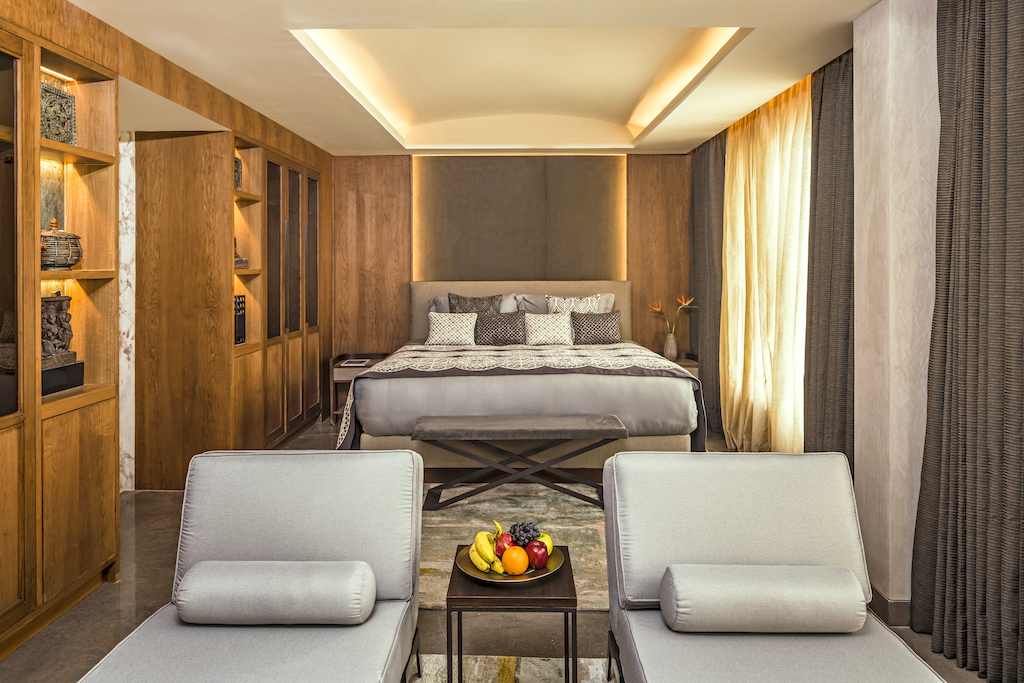 Bag a suite for its cantilevered ceiling, polished plasterwork walls and marble floors: all done in cool good taste. You'll find a little box of footcare cream, nail enamel and rose-petal toner in the bathroom. And a gift of seeds by the bed (four-poster sans canopy), to encourage guests to plant trees. Nothing ordinary about this place then. Breakfast on a buffet with watermelon juice and Karupati (jaggery coffee) in South Indian tin cups. Select from a mega spread that includes green pea paratha (bread), Chennai lentil stew and rice and lentil kedgeree. (For health nuts there are flax seeds, broken wheat and soya milk. Those truly in the holiday spirit opt for the breakfast ice cream bar and 'wall' of doughnuts.)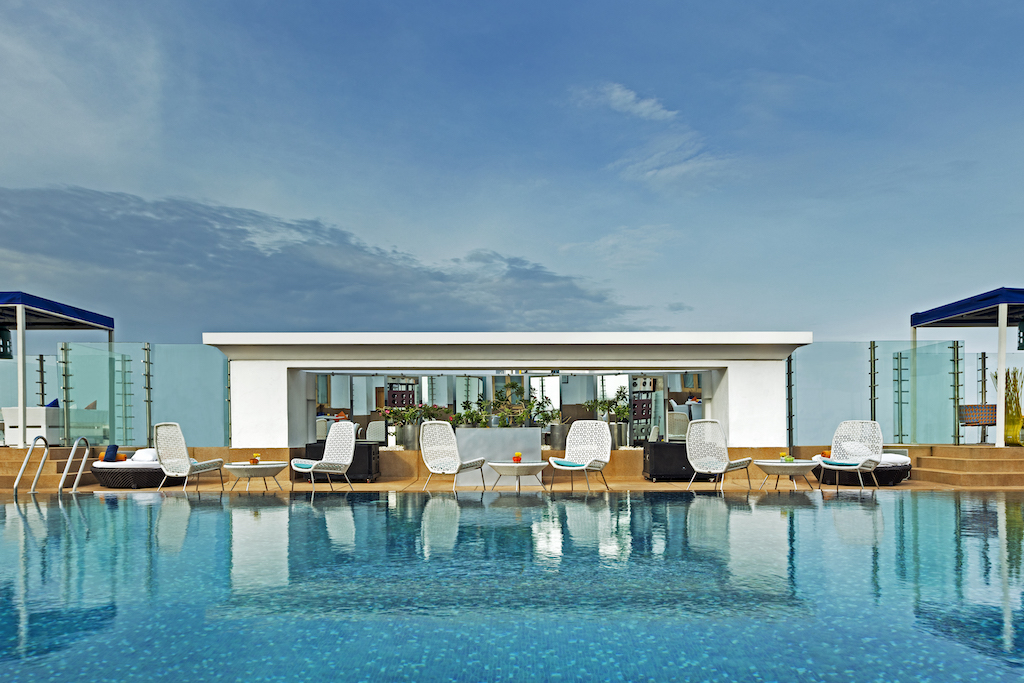 Best of all is the swimming pool on the 8thfloor roof. It's bliss doing crawl al fresco then looking over the city of tooting horns and blazing sun. Afterwards you'll lounge on a sunbed beneath a groovy, giant arc lamp or have sushi from A2, their international grazing menu.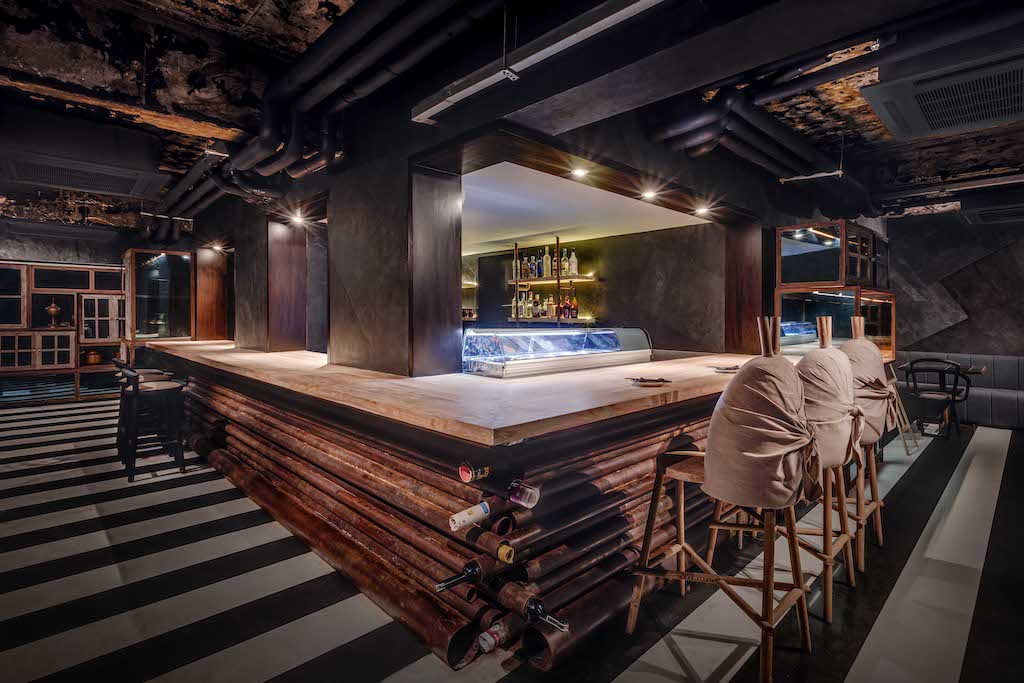 You don't need to leave the hotel as The Box has an eclectic and stylish collection of bags to necklaces to pop-up Ganesha cards, mango chutney and Rajisthani cushion covers. The hand-painted papier-mâché figurines of a wedding party are a must-buy.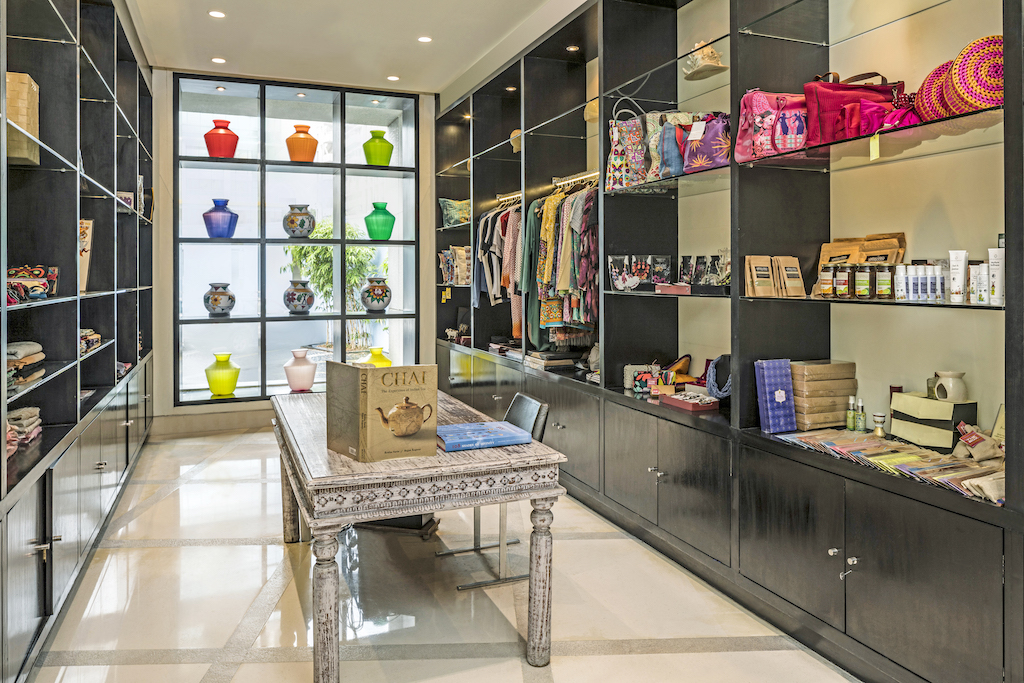 This hotel was a place that once created larger-than-life stars. Now it's offered it in its new incarnation as a theatre of dreams.
Eat
You're greeted by at the door by someone saying, 'Vanakkam' with palms together, a Tamil way of acknowledging the godhead, life force, oneness and divine in everyone. Welcome to lunch at Savya Rasa, a restaurant serving fine food and where they've curated the dishes of seven South Indian culinary regions. You'll eat on mahogany tables beneath traditional Indian pictures and beside big temple candle holders. They'll serve you a drink with a metal straw (salty lassi, say), then bring pappadums and little copper saucepans containing your chutneys. You'll dine off  a banana leaf on a copper tray. Don't miss ordering a thali for chopped banana blossom, chickpea dumplings, Seer fish with spicy green masala and griddled aubergine with tamarind. Finish off with betel nut tossed with ghee: a green leaf digestive.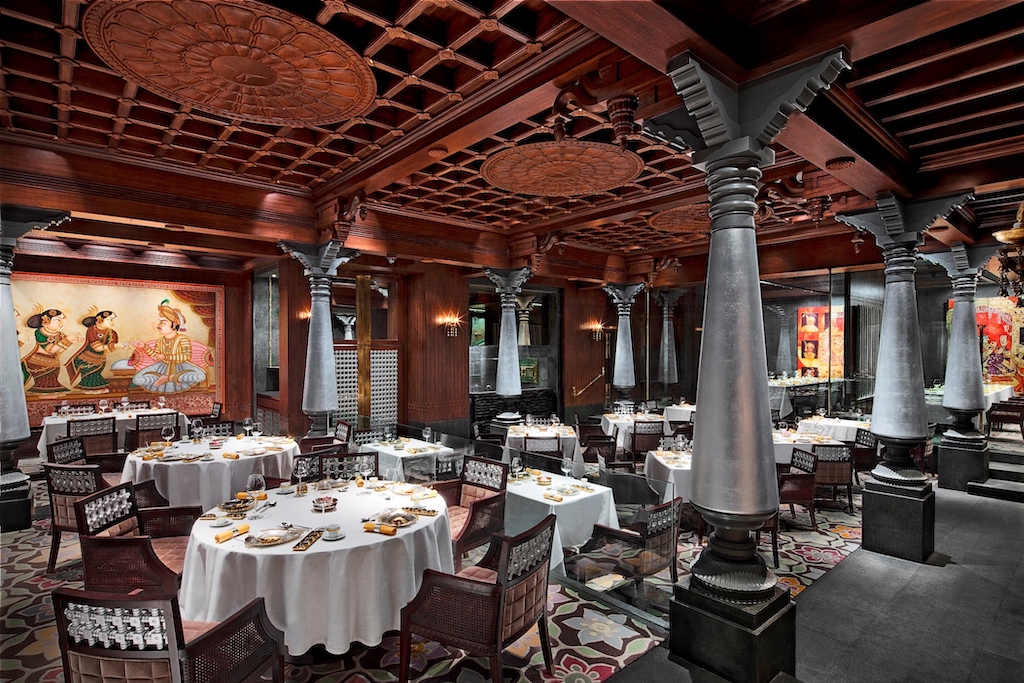 At Southern Spice there's a Keralan fortune-telling parrot to greet you at the door and 'tell' your future. The restaurant boasts fresh petal mosaics, temple-meets-palace interior and vegetable-dye murals. And it's where executive chef, Sujan Mukherjee, cooks South Indian cuisine fit for a Maharaja. This will be one of the best meals you'll eat in India. At dinner you'll taste dishes from all five chefs, each one representing a different southern state.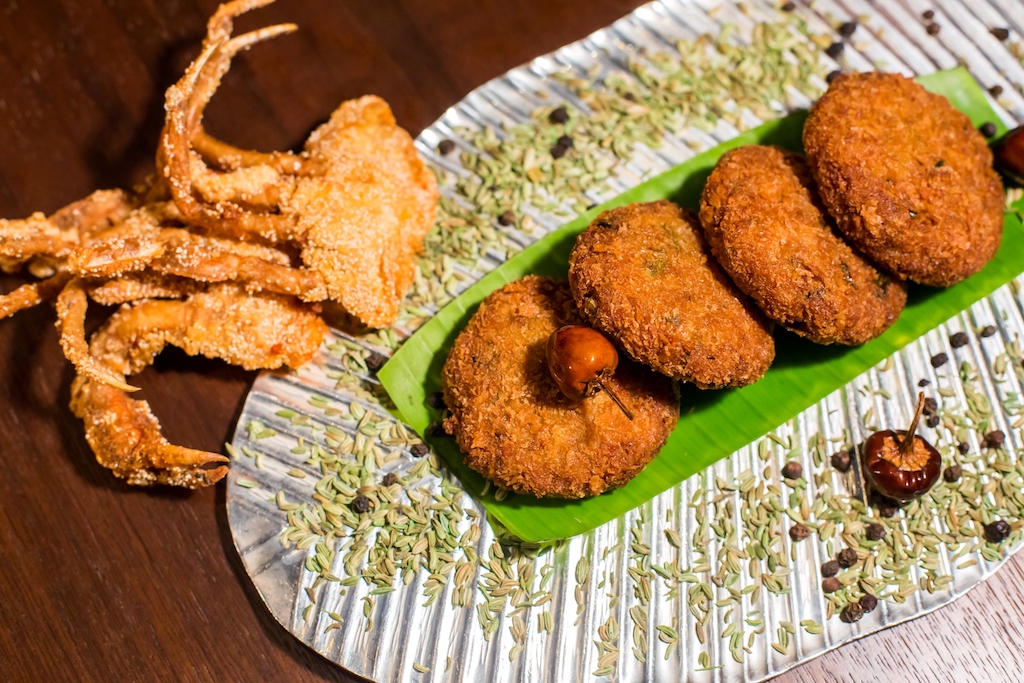 Go veggie and have a grand feast served with rice, bread, (the best ever) biriyani and three deserts (for 4250 rupees, about £48), whilst sitting amid the restaurant's columns beneath its ceiling of lotus wheels. There are excellent dishes such asciilantro (coriander) flavoured mud crabs, crispy fried drumstick leaves and lentil galette to jaggery and cardamom flavoured banana fritters. The eggplant stuffed with peanut and coriander seeds tossed in an Andhra style spice mix is a winner. The semolina-crusted soft-shell crab —served on a silver banana leaf —alone is worth the flight there. It's all served exquisitely by waiters clad in dhoti kurtas (about 15 ft of cloth wrapped around the waist and legs). You'll feast regally among a (largely Indian) crowd which generally arrives to sup after 10pm.
See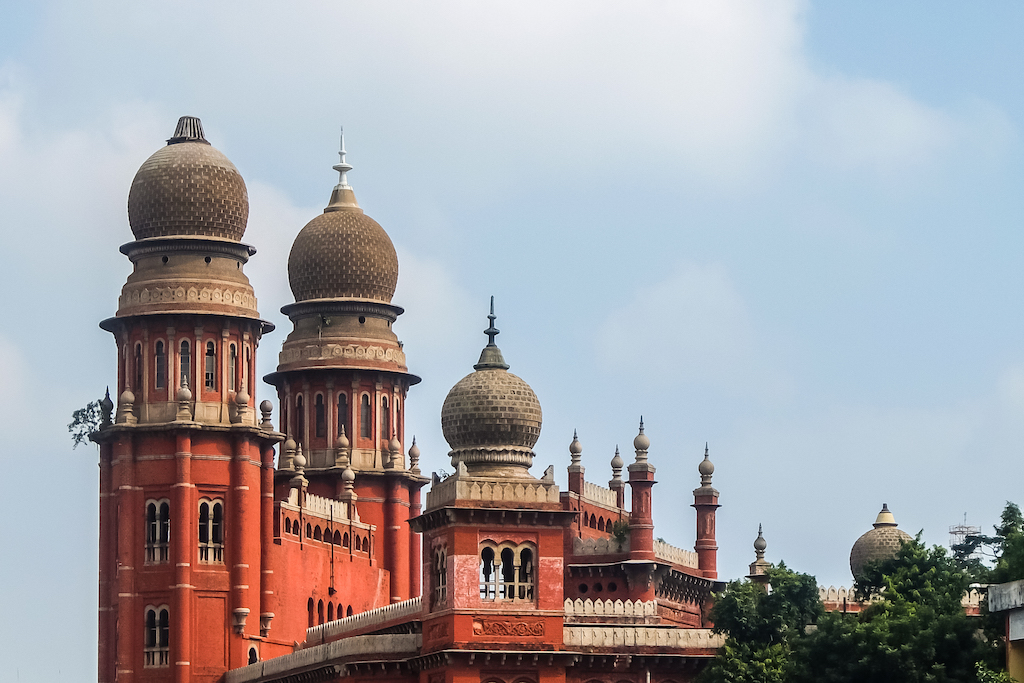 Take a car and driver from The Park (after all, he'll speak English and know where everything is) to pass buildings from the old Ice House (a 19thcentury facility to store ice) to Madras University (a premier example of Indo-Saracenic architecture). Drive on beside roadside stalls selling jackfruit and tamarind plus saree-clad women with birch brushes sweeping leaves off the road. Then go to see Fort St George, site of the first British outpost in India. It was founded as a trading post by the British East India Company in 1639. (Briefly lost to the French, the Brits re-established control of it under 'Clive of India' aka Robert Clive). It looks like a collection of colonial mansions, many of which are now offices. Don't miss the Fort Museum in the Exchange Building —for weapons, coins, prissy portraits of government officials, and erstwhile officials' woolly uniforms amid dusty fans and peeling paint. (Cost: 'Indians Rs25/-. Foreigners Rs 300/-') You'll become acquainted here with Nawabs (native governors during the Mogul empire), the Madras Governor's bodyguard and statues of the likes of Lord Cornwallis, Governor General of India.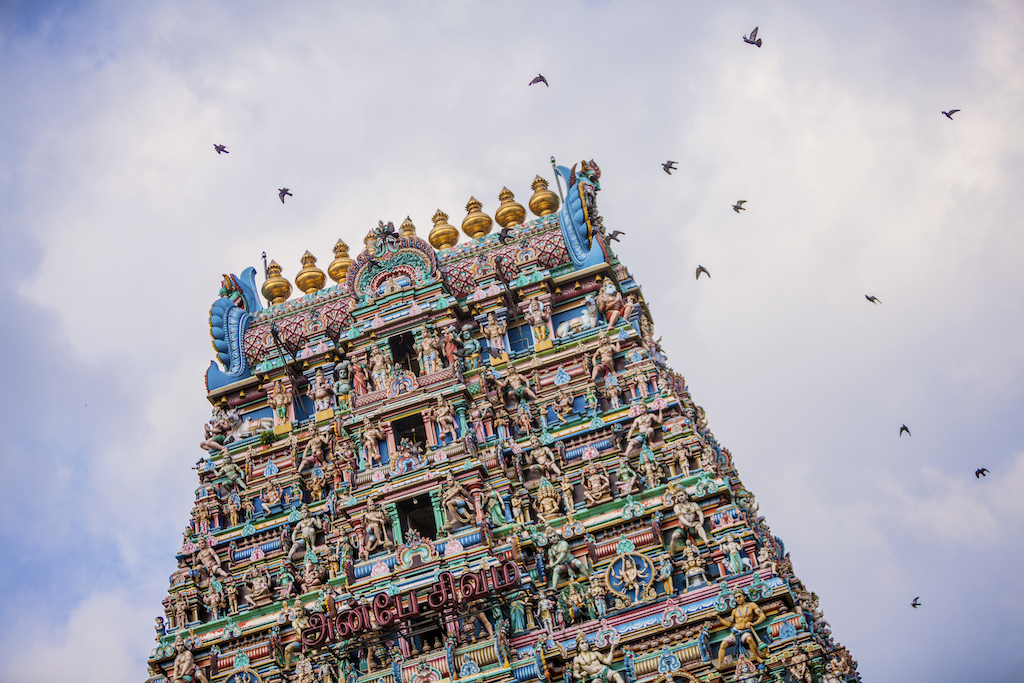 The Government Museum is well worth a visit —everything from stringed instruments to stuffed animals, whale skeletons and turtles; there's even a gallery of amphibians: think toads in jars. It's dusty and hot with squeaky ceiling fans and cobwebs, but that's part of its charm. And you mustn't miss the modern wing with its exceptional Chola (temple) bronzes: statues of Shiva, Vishnu et al. You can spend an absorbing morning wandering among Jain sculptures, fragments, stupas, friezes and sati stones (memorial stones to show where a wife was buried when she burnt herself on the funeral pyre of her husband). And you may be the only foreigner there. Kapalishvara Temple is dedicated to Shiva and dates from circa the 16thcentury. Once you've walked through its stucco-statue-covered 131 ft gopura (towered temple gateway) that was added 400 years later, you'll find lots of shrines and priests giving blessings. It's a buzzy place with almost constant pujas, chanting and dancing.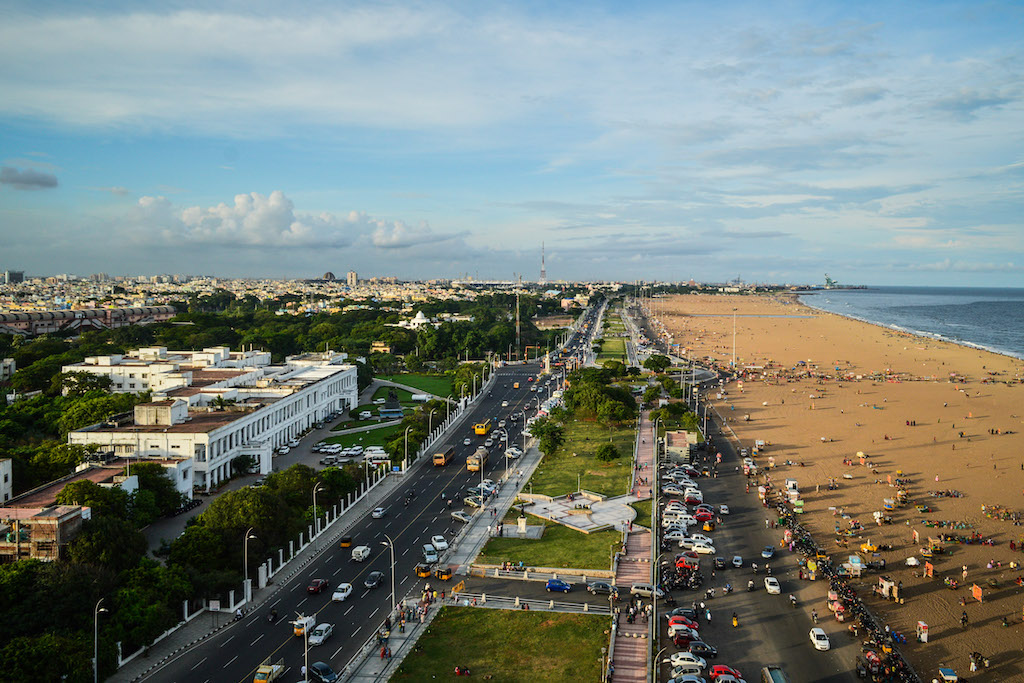 The Marina is the beach which stretches three miles from George Town to close to St Thomé Cathedral. Go there for its salty-fishy air, sugar cane juice vendors and Kwality (sic) Ice cream stalls. There's bound to be a cow eating out of a dustbin, Arab horse rides and gaggles of women sitting on the sand picnicking after dark. The beach lures up to 30,000 people during the day, even though swimming is prohibited because of the strong undercurrents. Finally, if you yearn for a bit of England, St Mary's (built 1678) is chokka with plaques to dead Brits and pix of Queen Elizabeth visiting.
Buy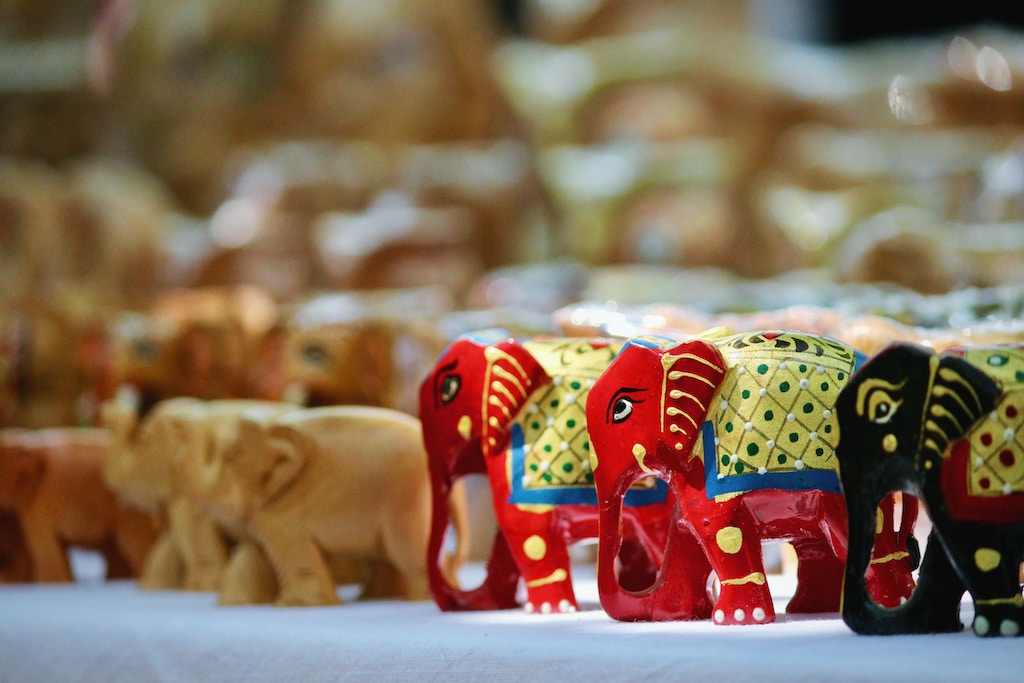 Best go shopping at the weekend —when there's less traffic —and remember that nearly everything opens around 11am. It would be hard not to love Nalli which has been selling silks since 1928, now with more sarees and floor space than it's possible to count. 'First and the finest,' as it boasts. Its shocking pink (mulberry silk) Kanchipuram sarees make cool lampshades and cushion covers. Another favourite is Good Earth, for stylish, sustainable luxury. Here you'll find bedspreads, frankincense natural resin for burning on charcoal, scented candles and the world's best rose damask soap. Plus pretty silk and cotton dresses. The aesthetic is western and so are the prices. Anokhi for handblocked cottons in natural dyes of brick, berry and sea. Get scarves and Western-style kaftans and blouses here. Naturally Auroville Boutique sells products that come from the laudable south Indian attempt at utopia: the International Township of Auroville, a non-profit and community formed with the aim of realising human unity. There's handmade jeera cheesecake through to wind-chimes, aloe vera face oil and some of the best essential oils you'll find anywhere. There's no child labour and it's all fair trade. Fab India  for handmade clothes and furnishings using traditional (block printing etc) techniques. If you have adolescent daughters or friends, they won't want you to miss Amrapali for designer silver and tribal bits.
Don't Miss
Difficult to say. It all makes a good weekend. The Chola bronzes (sacred temple objects) at the Government Museum: think dancing Shivas encircled by flames and standing on one leg — are a must. So too the Marina for an authentic taste of Indian life: you can hazard a ride in the fairground and take your life into your hands with some street food. A bit of retail therapy at Good Earth is essential: the rose damask soap is enough to make you wish you had OCD. And Nalli with its acres of sarees and fifties counters is as good as a living museum. You have to have a meal at Southern Spice at Taj's Coromandel hotel: say, fried bay prawn tail or Seer fish marinated with stone ground spices. And then go back to your hotel, The Park,to party till 5am or swim on the roof.
Book it
The Park Chennai:Double Luxury Room from £160 per night, inclusive of breakfast, use of swimming pool & fitness centre, and complimentary wifi. The Park Chennai is 17km from the airport (approx. 40-minute drive). The Romantic Getaway package offers couples a luxury stay from £285, inclusive of flowers and a celebratory cake on arrival, a specially curated candle-lit dinner by the poolside, complete with a premium selection of wines. Booking and more information here
---