Anastasia Bernhardt discovers why San Sebastian is one of the best destinations for dining out – spend 48 hours here and leave well fed…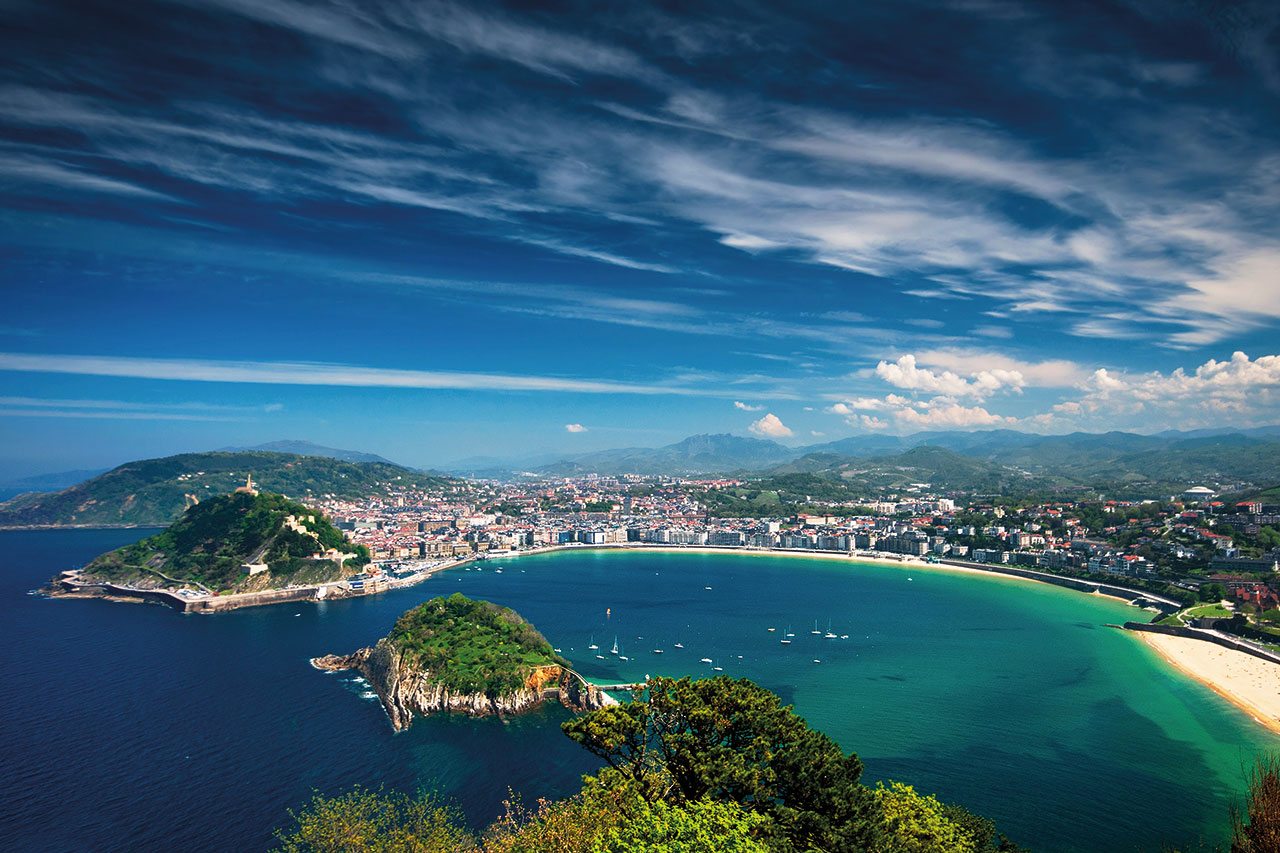 Aside from Kyoto in Japan, San Sebastián has more Michelin stars per square metre than any other city in the world – including Paris. Add to that a thriving and wickedly affordable pintxos bar scene, golden beaches, bay-front promenades and a rich cultural scene, framed by three stonking mountains, and this city ticks every box on the weekend break hit list.
Stay
There's plenty by way of Airbnbs to suit all budgets and sea-front hotels with a Basil Fawlty whiff to them, but if you want the full five-star treatment there really is nowhere better than the classically grand Hotel Maria Cristina. Its haughty Belle Époque design, prime location and well-oiled service explain why, come the film festival, Hollywood lays its collectively coiffed head here: Sienna Miller, Tom Hiddleston, Sigourney Weaver, Hugh Grant… the marbled hallways and sweeping staircases were made for swishing around in ball gowns. Opt for a room overlooking the Urumea River and watch the surfers cutting through the waves on Zurriola beach from your balcony.
Eat
Part French, part Spanish, the distinct cuisine of the Basque region is the main draw. What makes the food scene so vibrant is that you can spend as little as two euros on excellent pintxos stood at a heaving bar or blow out in some of the world's best restaurants. If you choose the latter put Mugaritz on the list (book months ahead – it's currently seventh best in the world). Andoni Luis Aduriz cooks close to the edge of contemporary, so don't expect to like every dish you are served. The 26-course menu will push your understanding of food; with intriguingly named dishes such as 'My guts are growling', this is Basque cuisine turned on its head. Expect to leave bamboozled but elated. If that sounds too out there, there's Bodegón Alejandro for traditional Basque fare at its very best. Order the local white tuna belly, which tastes nothing like its meatier red cousin.
Do
A pintxos crawl in the old town is compulsory. Order a dish with a glass of the local Txakoli wine, poured expertly from a height, then move on to the next. Bars are split into traditional and experimental; you'll find locals in the former and a younger crowd in the latter. Ask at the bar for their specialty dish. The best are: Borda Berri for pig's ear or veal cheek; Ganbara for kokotxas – hake throat in salsa verde… don't be put off by the unusual cut, it's delicious (San Jeronimo Kalea, 19, 20003); Bar Txepetxa for anchovies served over a dozen ways. Look out for pictures of Ian McKellan pulling pints behind the bar; Gamba Gabardina (prawns in raincoats) at Paco Bueno (Mayor Kalea, 6, 20003); La Cepa for traditional almond cake and La Viña for cheesecake; or for something altogether less Basque, the McKobe burger at A Fuego Negro. You can't afford to be British in these bars, he who shouts the loudest gets served first.
See
While San Sebastián has earned cult status in foodie circles, its rich programme of music and theatre won it the accolade of European Capital of Culture last year, so it's definitely worth scanning the listings of Centro Kursaal, which cuts a striking modernist figure on Zurriola beach. For rooftop views climb Monte Urgull to Castillo de La Mota, a Medieval fortress topped by what looks like a miniature version of Rio's Christ the Redeemer. Seek out the English cemetery, in memory of British soldiers who died in the Peninsular and Carlist Wars. Best seen at sunset, with the waves crashing 123m below.
Buy
While there are any number of tatty tourist shops in the town centre, anything from the San Sebastián Gourmet shop would make a much better memento. A few bottles of Txakolina (Itsasmendi Artizar's is particularly spectacular) and a pot of Maison Arostéguy's salt with espelette pepper will transport you back to the warren of old town pintxos bars faster than you can say ¡salud!. If you couldn't possibly eat another bite there are beautiful local ceramics and crafts at Alboka.

Whatever you do…
Rent a paddle board from La Concha Bay and make for Isla de Santa Clara, an hour's rental should give you enough time for a quick beer on the island before paddling back again. Even total beginners should be able to navigate the calm bay waters.
Live like a local…
Remember to order in advance for a slice of Bar Nestor's tortilla, cooked twice daily at 1pm and 8pm. There are only 17 slices each time and you can order up to an hour in advance.
Book it: Hotel Maria Cristina, doubles from €175.

---