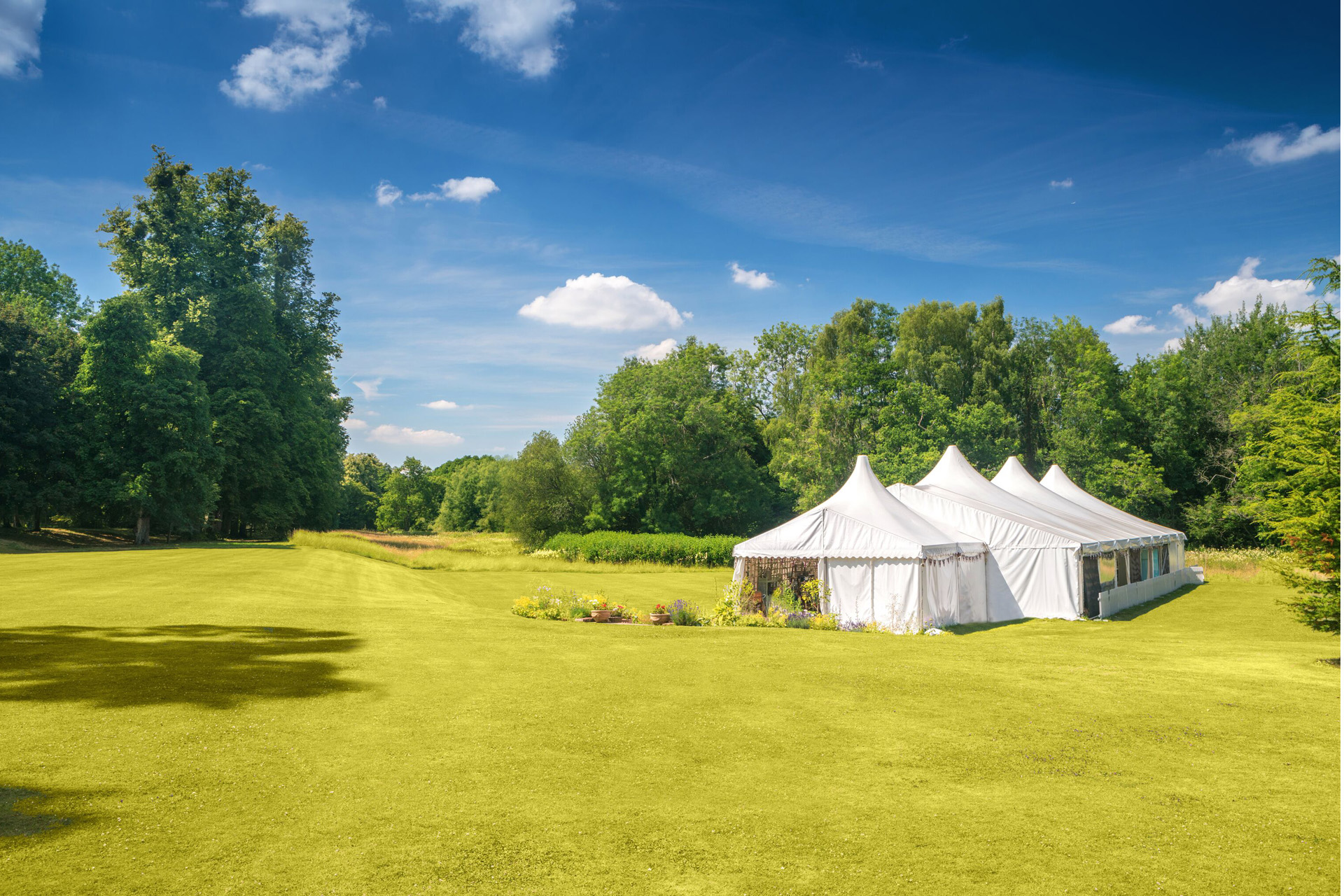 Where Is The Great British Bake Off Filmed? (& Can You Visit?)
---
Get ahead of the curve and visit before the 2023 series arrives in September
The Great British Bake Off is returning to our screens later this year (probably in September), with Alison Hammond joining the pack alongside Noel Fielding, and judges Paul Hollywood and Prue Leith. Picturing the sun-soaked, very British show, there's one thing that immediately springs to mind (aside from all of the mouth-watering bakes): the iconic white tent. Bedecked in bunting and full of wood-topped work stations with Kitchen Aids galore, the Bake Off tent is a TV stalwart, pitched up annually for around 12 to 13 weeks for filming. But where is The Great British Bake Off filmed? And can you step inside the iconic tent? C&TH reveals all.
Where Is
The Great British Bake Off
Filmed? (& Can You Visit?)
Where Is
The Great British Bake Off
Filmed?
The Great British Bake Off is filmed in the grounds of Welford Park in Berkshire, with the white marquee pitched up alongside the beautiful Grade-I Listed Welford Park House and its pretty round-tower church. Filming typically commences in April, stretching for 10 weeks into the summer – inevitably when an ice cream related challenge is scheduled for some annual stuffy tent, melted mess drama. 
The series has been filmed at Welford Park since 2014 (series five), aside from a two-year Covid-related relocation (see below). Before 2014, The Great British Bake Off was filmed at Harptree Court in Somerset (series three and four in 2012 and 2013) and at Valentines Mansion in Redbridge (series two in 2011). 
But long-time Bake Off fans might remember a quirky feature of the first series of Bake Off in 2010: every week, the tent would relocate to a different part of the UK related to each week's theme:
Week 1: Cakes – filmed in the Cotswolds

Week 2: Biscuits – filmed at Scone Palace, Perthshire

Week 3: Bread – filmed at Sarre Windmill (near Sandwich), Kent

Week 4: Puddings – filmed at Bakewell, Derbyshire

Week 5: Pastry – filmed at Mousehole, Cornwall

Week 6: Tea Party – filmed at Fulham Palace, London
It goes without saying that this tent-on-tour feature was a one off for the first series.
Can You Visit The
Bake Off
Tent?
While you sadly can't visit the iconic Bake Off tent – it is only put up for filming – you can visit the estate where The Great British Bake Off is filmed: Welford Park. Once a monastery, then Henry VIII's hunting lodge, Welford Park has been privately owned by the same family since 1618. While you can't casually stroll onto the property throughout most of the year, the House puts on a series of events every year, including flinging open its gates every winter and welcoming visitors inside to see their spectacular snowdrops (in 2023, this took place from 1 February–5 March – so anticipate similar timings in 2024). Other events include musical and theatre performances, which visitors can enjoy this August. Plus, new for 2023, there will be the 'Festival of Light' – a light trail guiding visitors around the grounds Thursday to Sunday from 20 October–12 November.
View this post on Instagram
Where Was
Bake Off
Filmed During Covid?
Series 11 of The Great British Bake Off was filmed at Down Hall Hotel in Bishop's Stortford, moving from Welford Park due to ongoing restrictions. But Covid didn't put a damper on the series, which still aired in autumn as is usual, though filming was squashed into six weeks rather than the typical 12 to 13 week schedule.
In order to film, contestants and the entire crew were subject to strict restrictions, living in a 'self-contained biosphere' to avoid catching and spreading Covid. The contestants were asked by the production company, Love Productions, if they would be open to relocating and isolating in a bubble for six weeks; they could bring partners and children with them, and even dogs if they wanted to.
View this post on Instagram
Can You Visit? Yes, Down Hall is a beautiful country house hotel, with 110 acres of surrounding woodland, parkland and landscaped gardens, ideal for a countryside escape just outside of London. downhall.co.uk 
Series 14 of The Great British Bake Off is expected to arrive on Channel 4 in September 2023. Catch up with previous series at channel4.com
Featured image via Wikimedia Commons © Len Williams/Welford Park House/CC BY-SA 2.0; cropped.