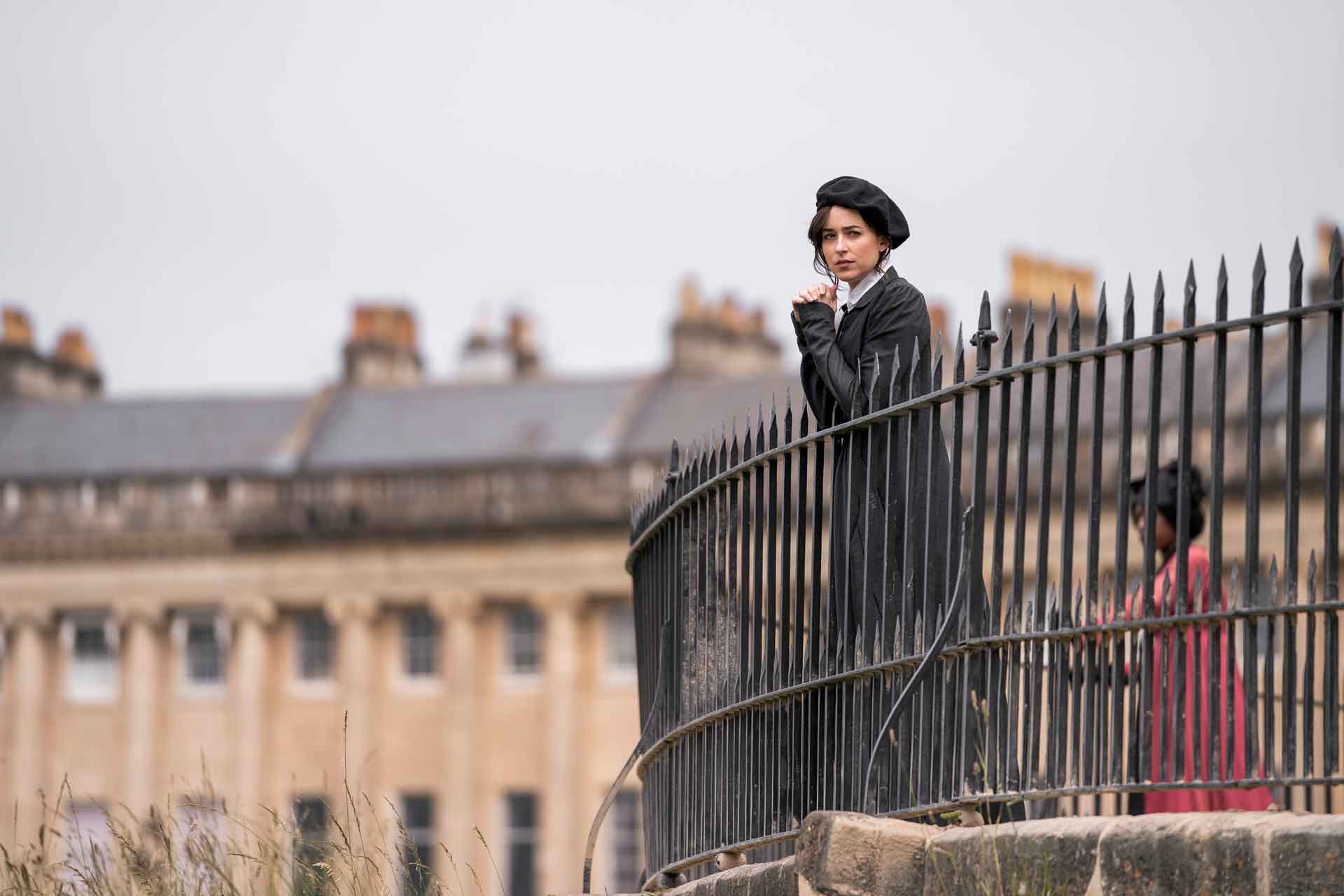 Where Was Persuasion Filmed? A Must-Visit For Jane Austen Fans
---
If it's a period drama, it's happening in Bath
Stuck in Bridgerton between-season-boredom and longing for an excuse to revisit Bath? Good news for period drama fans and Jane Austen enthusiasts: Netflix has been back in Bath and filming scenes for its latest Austen reboot, Persuasion. Set to hit Netflix from 15 July 2022, the film stars Dakota Johnson and is directed by Carrie Cracknell. But where was Persuasion filmed in Bath? We've got the inside scoop on the best filming locations to visit.
Where Was Persuasion Filmed?
Visit Bath has kindly walked us through some of the key filming locations from the new Netflix Austen adaptation, so you can keep an eye out for them on screen and plan your own visit this season.
Bath Street
Bath Street features cobbled paving and striking lines of colonnades that run down each side. The Cross Baths and Thermae Bath Spa sit at the bottom of Bath Street and this area is known as the Spa quarter of Bath, where water bubbles up from the springs at a temperature of 46 degrees. The area is unadorned by shop signs so it captures eighteenth century Bath perfectly, making it a no-brainer as a filming location.
Hot Bath Street
Tucked behind the Cross Baths, Hot Bath Street (is anyone else thinking about hot cross buns now?) is a paved lane that weaves through to Lower Borough Walls. Underneath the street is one of the Sacred Springs which feeds the Cross Baths.
Royal Crescent
This is one of Bath's most iconic landmarks and makes for an impressive back drop for filming. It's in just about every Bath-based period drama out there so you will not miss it when it appears in Persuasion, either. The crescent was built between 1767 and 1775 and is arranged around a perfect lawn overlooking Royal Victoria Park. It forms a sweeping crescent of 30 Grade I listed terraced houses, which are eye-wateringly expensive.
Brock Street
Brock Street connects two of Bath's most prominent pieces of architecture – The Royal Crescent and The Circus. It is lined with elegant Georgian townhouses.
Gravel Walk
The Gravel Walk is one of the city's most famous walks and was built in 1771. It is a wide gravel-covered walkway that links the Royal Crescent and the Circus with Queen Square, which sits further down the hill. Known as a Lover's Lane in Jane Austen's era, the path was a route for sedan chairs heading to and from the town centre. Gravel Walk is the setting for a love scene between Anne Elliot and Captain Wentworth in the novel Persuasion, and makes an appearance in the Netflix adaptation.
More About The Film
When does Persuasion come out on Netflix?  It will be available to stream from 15 July 2022
Who is it directed by? Persuasion is directed by critically acclaimed theatre director Carrie Cracknell
When was the book written? Persuasion was Austen's sixth book first published post her death in 1817
Where was the book set? Bath. Duh.
The Best Netflix Films of 2022
Find Out More
For further information go to visitbath.co.uk
Pictures courtesy of Netflix.com