For rich history, plentiful wildlife and breathtaking scenery, there's nothing like Scotland. Here's our pick of the best Scottish properties on the market. 
1. Seton Castle, East Lothian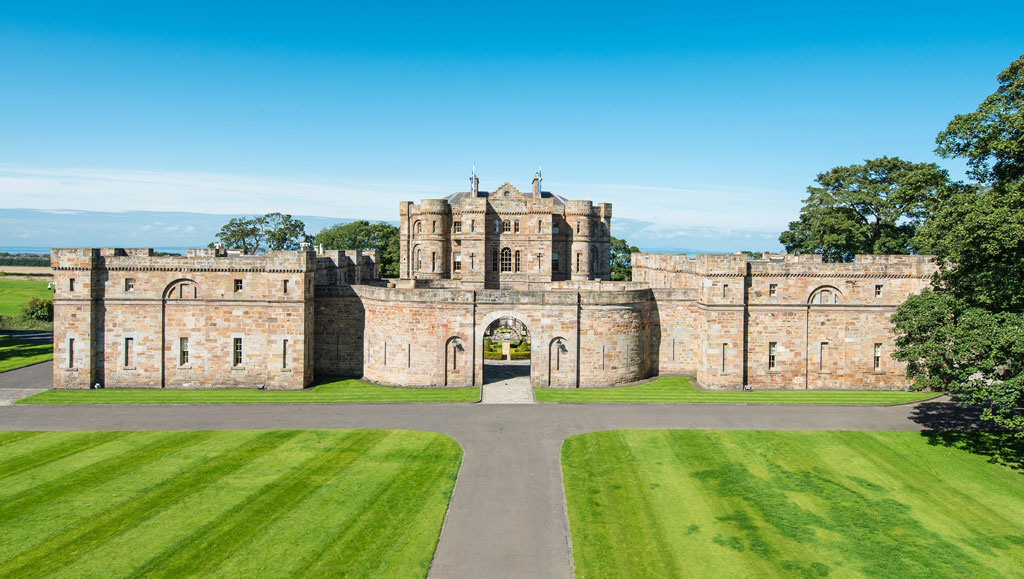 Ever thought of leaving behind city life and absconding to a Scottish castle for a life of leisure? Make those escapist pipe-dreams a reality: this restored 18th century fortress – it shares its year of inception with the French Revolution – was the last project designed by the acclaimed architect Robert Adam, with all the turrets, secret staircases and hidden doors you might expect from a building of this calibre. Constructed on the grounds of Mary Queen of Scot's favourite residence and featuring sumptuous Georgian interiors throughout, Seton Castle would make a dream home for those who like their palatial residences with a large dose of history. Available through Savills and Rettie & Co, offers over £8m.
2. Holme Rose, Inverness
Set within the beautiful Nairn Valley, the façade and proportions of this lovely A-Grade country home are a prime example of elegant Georgian symmetry. It formerly served as the residence of a Scottish Secretary of State. Coming with over 350 acres of land, the estate benefits from all the facilities desired of a Highlands location, including extensive shooting and salmon fishing opportunities – not to mention the beauty of the surrounding country and nearby coastline. The pretty coastal town of Nairn, popular with holidaymakers and fans of water-sports, is only 9 miles away. Available through Galbraith; offers over £2,350,000.
3. Borthwick Hall, Midlothian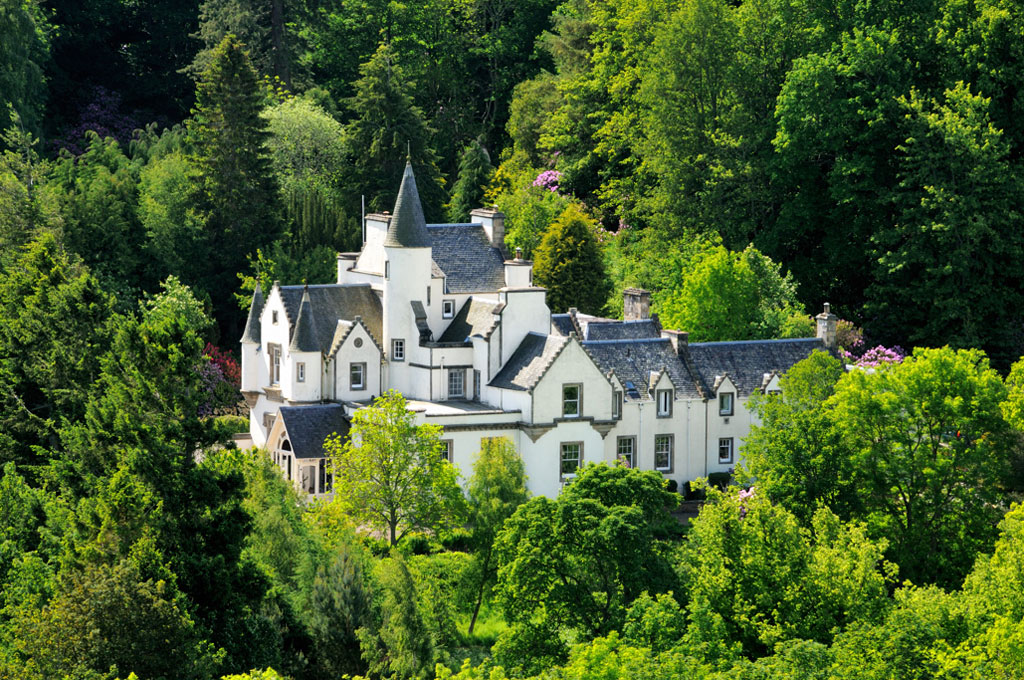 With its white turrets and towers peeking out of the surrounding woodland, Borthwick Hall is a castle straight out of a fairy tale – minus the grisly storylines, and within easy reach of Edinburgh. Inside, the decor is less stone staircases and cobwebs than a cosy, fully functional 10-bedroom country home. The extensive grounds, with mature cypresses and redwoods and blooming rhododendron bushes, are a particular draw, and you can trout fish to your heart's content in the nearby Heriot Water. Available through Rettie & Co via On the Market; offers over £1,950,000.
4. Brechin Castle, Angus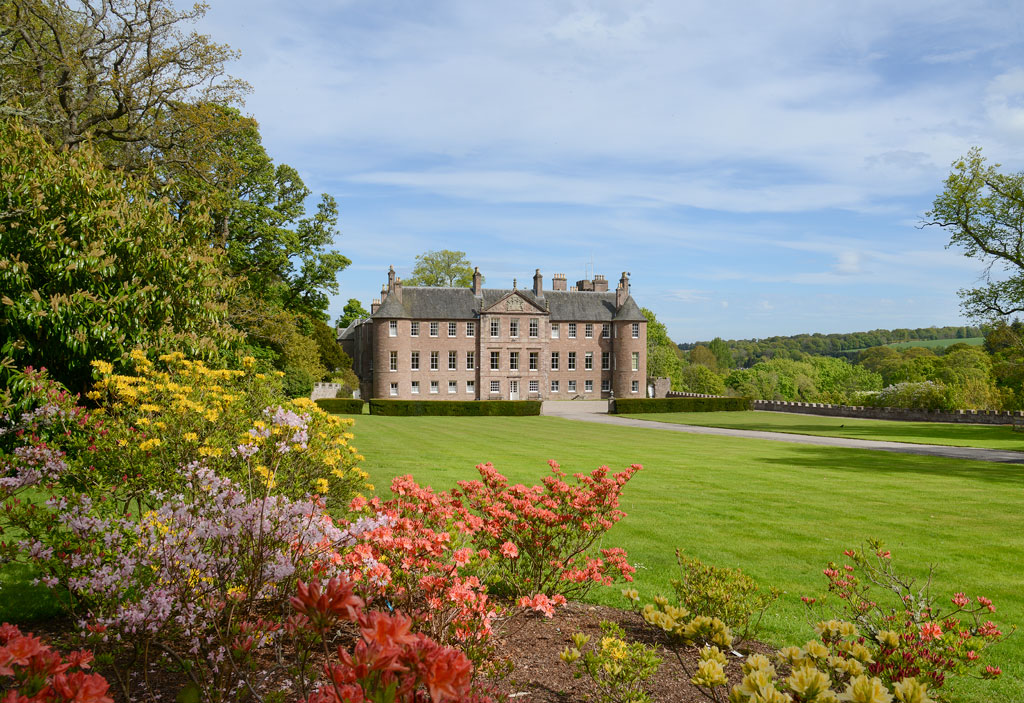 Another spectacular castle, Brechin is one of Scotland's finest and historically significant: the current structure was reconstructed in the early 1700s, incorporating parts of the original 13th century royal residency. No description of the castle can omit the incredible walled gardens – 13 magical acres of sublime landscaping, in the spring abloom with azaleas and rhododendrons. Steeped in history, the interiors are no less sumptuous: the gallery and drawing room feature impossibly elaborate ceilings and intricate wood panelling. In the east of Scotland, Angus is well-known for its coastline, historic castles – you would be in good company – and heather-covered hills. Available through Savills; offers over £3m.
5. Hensol House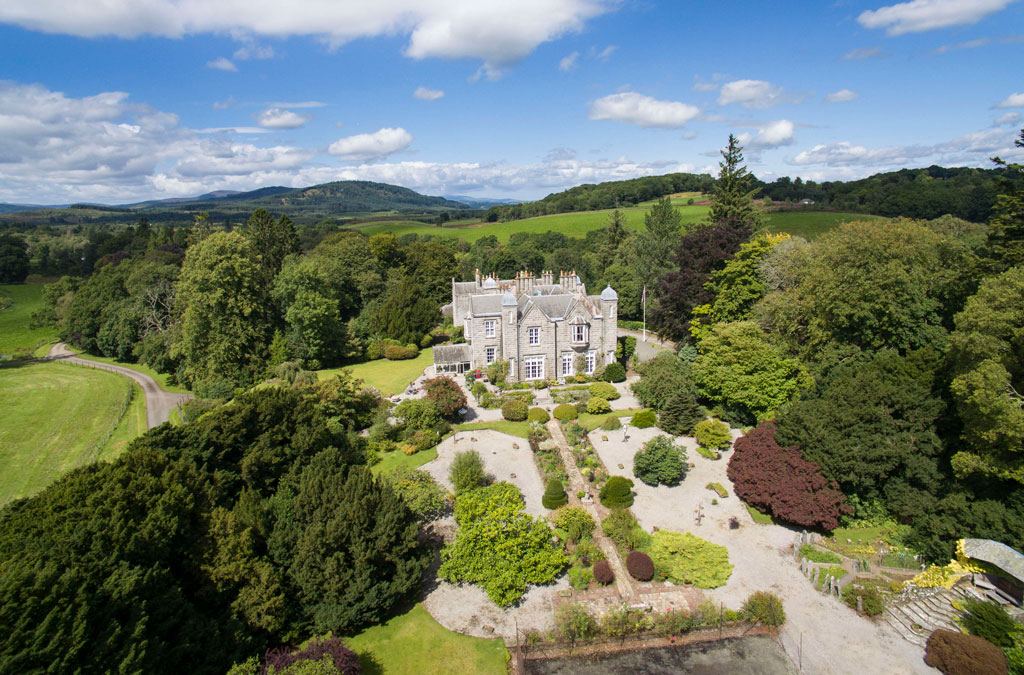 For those not quite hardy enough for the Highland climate, the stunning Mossdale estate lies in the south-west of the country, enjoying a temperate Gulf climate. The extensive lands include the Ken-Dee Marshes, a woodland and wetland reserve, and two miles of the River Dee itself – easily accessible from the boathouse. Nestled within sprawling woodland and landscaped gardens is the stately Hensol House, an A-Grade country home constructed from locally sourced granite that would make a magnificent family residence. Available through Strutt & Parker, POA.
6. Auchavan Estate, Angus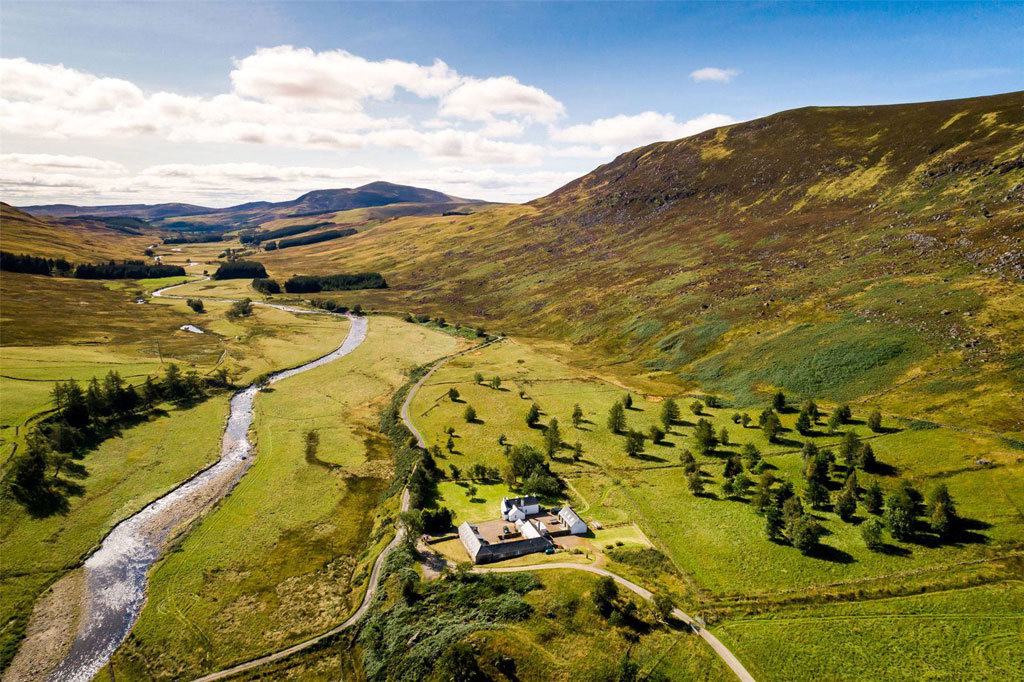 Country estates hardly come with views finer than this. Surrounded by the quiet, heather-clad moorland of the Angus Glens, the estate spans almost 3,000 acres of spectacular land, with accommodation including a traditional farmhouse as well as additional upgraded stone houses. Wildlife is plentiful, with native species like red and roe deer, grouse, brown and blue hares, golden eagles, osprey and ptarmigan all making appearances. Auchavan is ideally situated for visiting the surrounding famous glens, as well as endless hill walking, cycling, and scenic driving through miles of winding country roads. Available through Galbraith; offers from £2,850,000.
7. The Highland Club, Inverness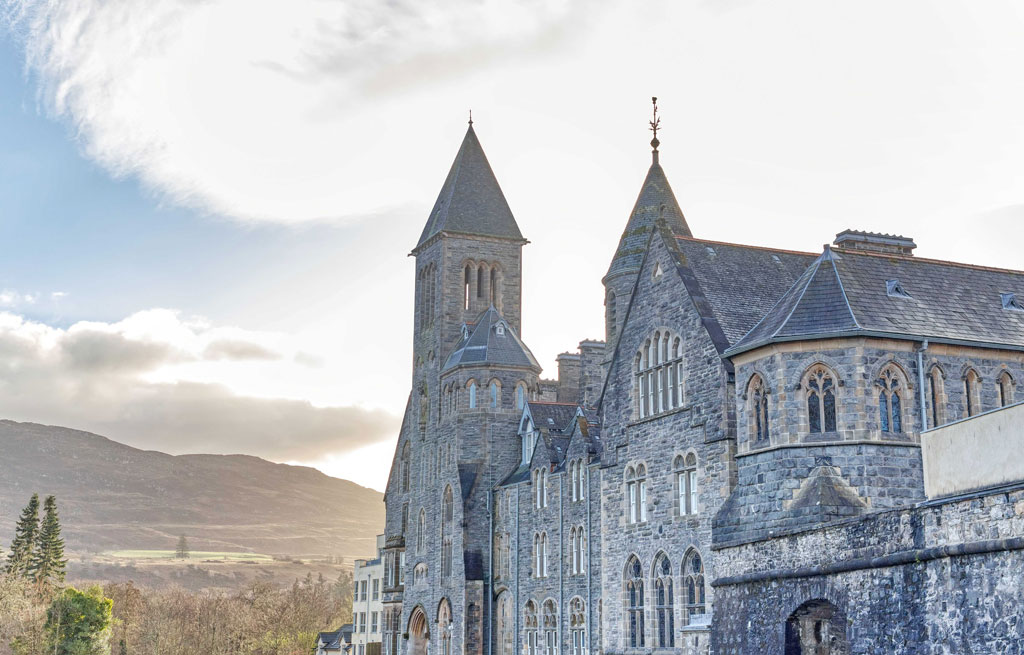 Formerly a Benedictine monastery, this historic building now houses the Highland Club, which currently offers a three-bedroom apartment where you would be surrounded by the unspoiled beauty of the Highlands landscape. Home to essential Scottish sites such as the Loch Ness and numerous whiskey distilleries, the Highland Club is the perfect base for seeing the very best of Scotland's stunning nature and cultural offerings. Available through Pacitti Jones; offers from £270,000.
8. Ormiston House, Midlothian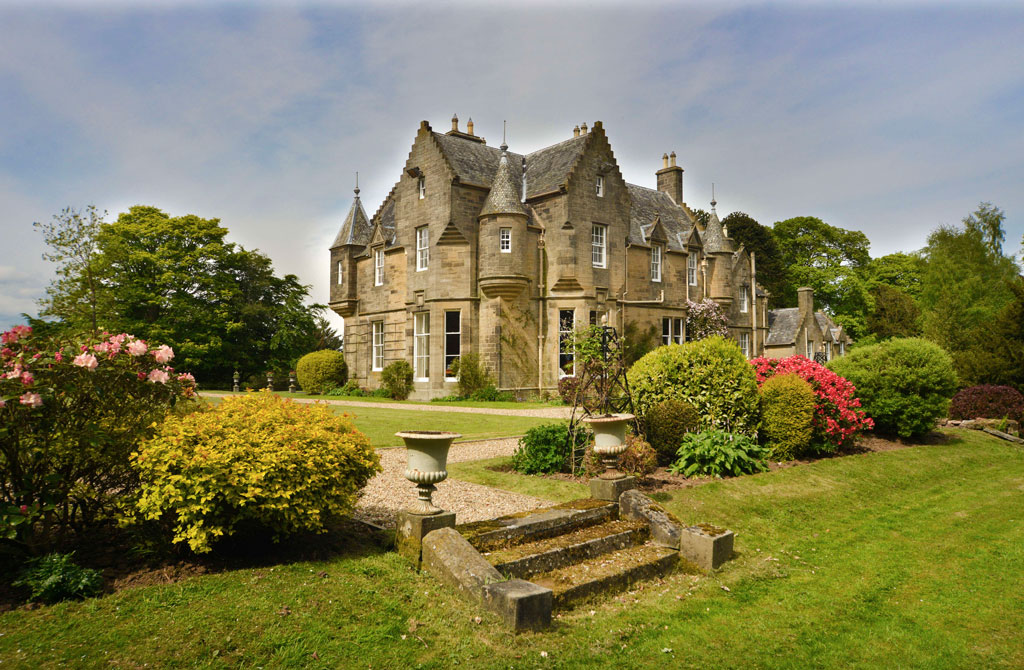 A splendid B-listed home in the Scots Baronial style, Ormiston House was the work of David Bryce, the famed Scottish architect also behind the Edinburgh Royal Infirmary and Fettes College. Recently restored, the 7-bedroom property comes fully equipped for modern living while retaining plenty of charming period features, housed in a distinctive turreted façade. The extensive grounds include mature trees and colourful floral borders, as well as sweeping lawns, paddocks for equestrian facilities and a tennis court. Available through Strutt & Parker; offers over £1,550,000.
9. Hamilton Grand, St Andrews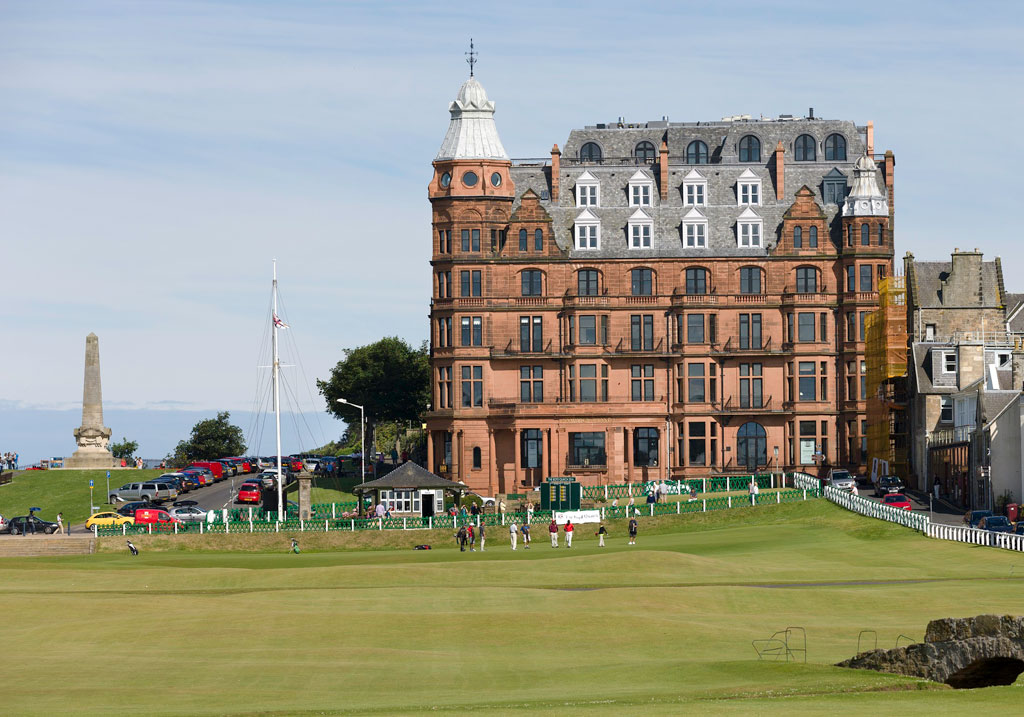 One for the keen golfers; just moments away from the Royal and Ancient Clubhouse and looking over the 18th green and West Sands Beach, the views from this property have been described as simply the best in golf. Hamilton Grand has been sensitively restored, now offering 26 luxury residencies ranging from two to four bedrooms, each individually designed to include high ceilings, period features, and private balconies – some with the aforementioned breathtaking views. Additionally, residents have access to the hotel's spa, fitness centre and valet facilities. Available through hamiltongrand.co.uk, prices starting from £1,050,000.
10. Great King Street, Edinburgh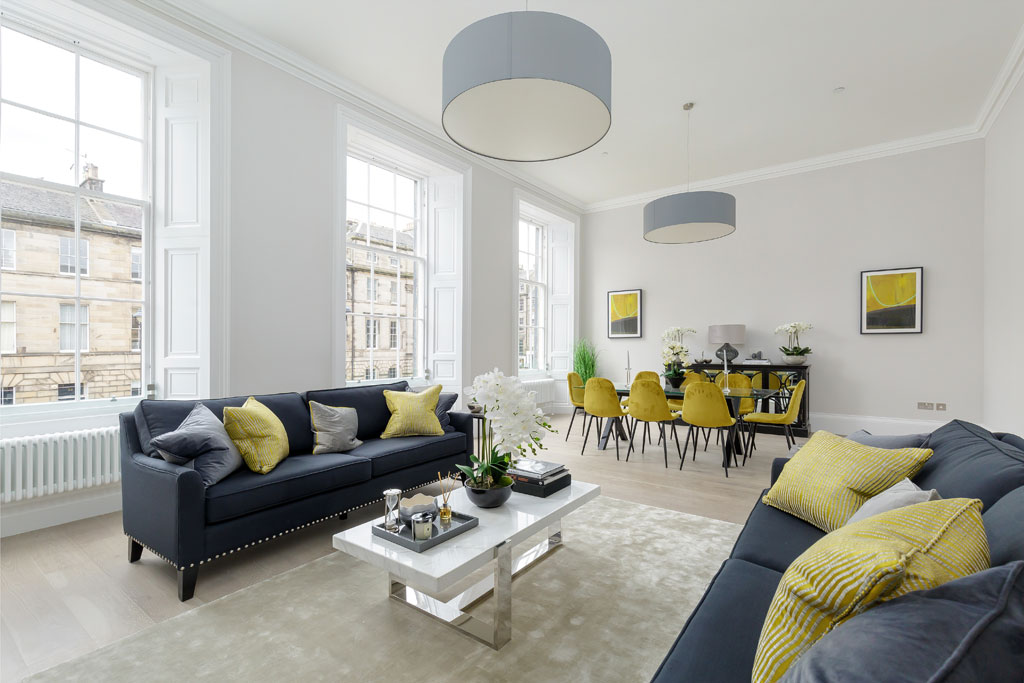 Rounding off the list is this thoroughly modern conversion in the heart of Edinburgh's New Town; the Georgian property has been split into 9 unique, well-proportioned apartments (including 6 duplexes), each with high ceilings and light-filled interiors. Though Great King Street itself is quiet and residential, New Town is within easy walking distance of all of the city's cultural sites and home to much of its thriving bar and restaurant scene, making it one of Edinburgh's most desirable locations. Available through Rettie & Co; for prices contact [email protected] or call 0131 322 2654.
---