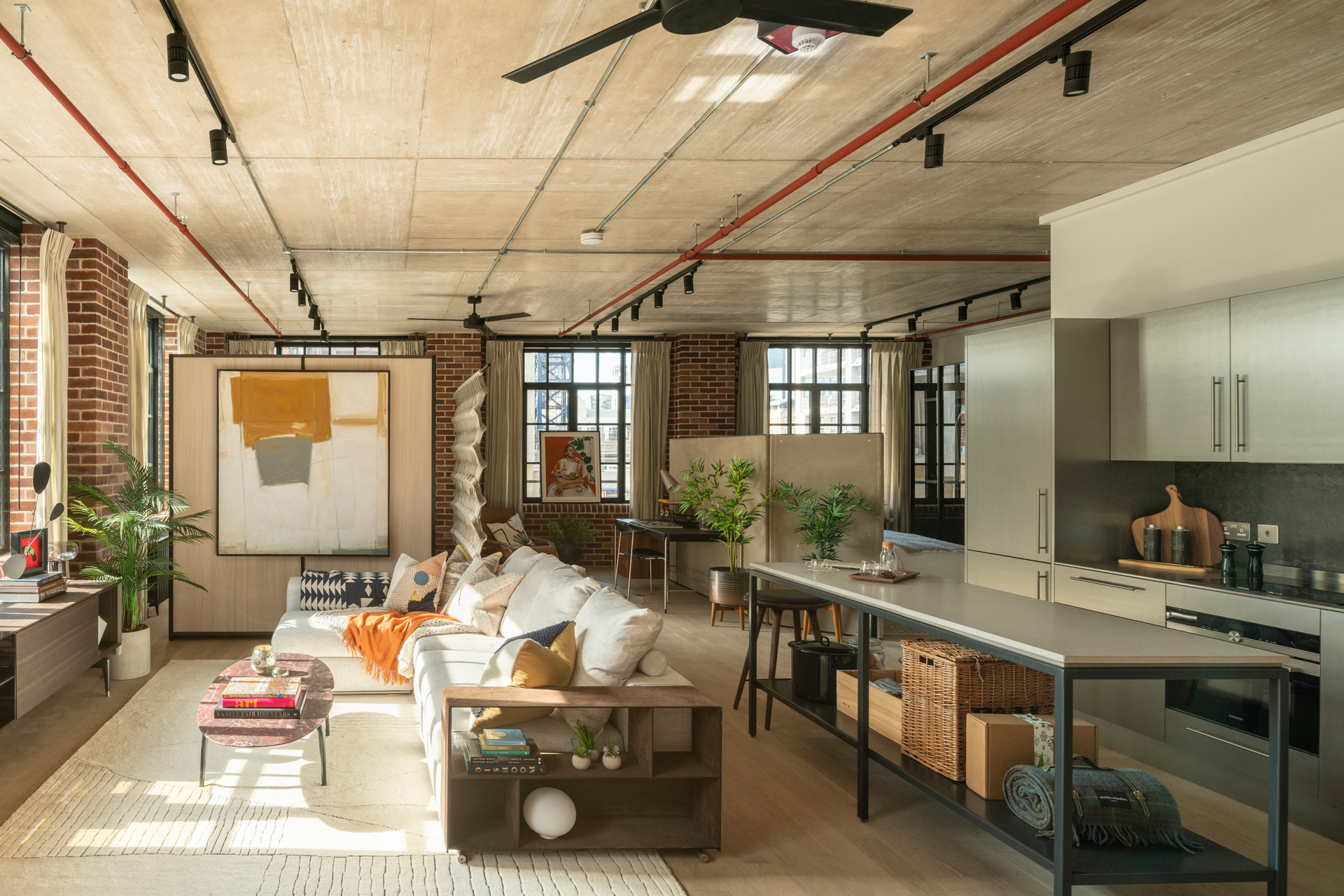 These Loft-Style London Apartments Are Entirely Open-Plan
Into industrial chic? These brand new Canary Wharf apartments are for you
With no partitioning walls, these loft-style apartments offer a completely customisable open-plan space – so whether you're in the market for a new London home or you're simply hunting for interiors inspiration, this development is sure to catch your eye. Read on for the details…
These Loft-Style London Apartments Are Entirely Open-Plan
Behind the Manhattan-inspired façade of No.8 Harbord Square, you'll find 82 jaw-dropping apartments, each sharing one curious detail: they are completely open-plan.
Designed by leading architecture practice Karakusevic Carson Architects, these homes are beautiful blank canvases, with the only fixed elements being the kitchens and bathrooms. Taking inspiration from the industrial history of the London Docklands, as well as iconic New York lofts, 8 Harbord Square is a slice of NYC in the heart of Canary Wharf.
Walking into a single open space might seem daunting, but the multifunctionality of these apartments is ingenious – and two show apartments furnished in two different configurations demonstrate just how versatile the homes really are. Whether you're opting for an 809 square-foot Prospect Loft or a 1,037 square-foot Gramercy Loft, the possibilities are endless: want a huge living space for entertaining? No problem. Fancy a larger bedroom? It's yours. Cleverly-placed objects such as shelves and screens allow you to shift partitions around and create new zones to align perfectly with your lifestyle.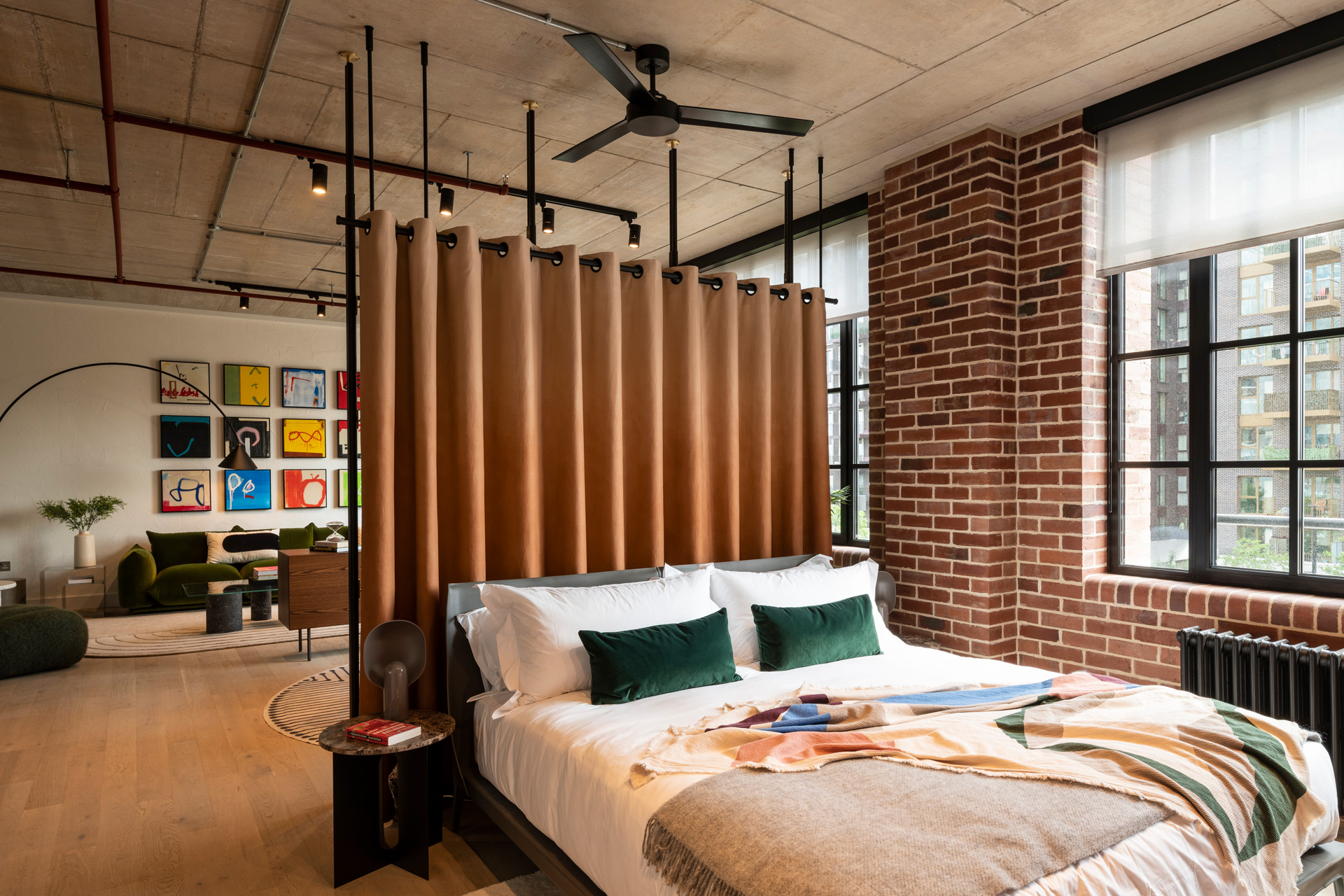 With the apartments occupying the upper floors of the building, the ground floor level will be home to both commercial and retail spaces. Residents will also benefit from access to Harbord Square Park, as well as the nearby Harbour Quay Gardens. For more dining and entertainment options, you can head to The Lanes, a development standing opposite 8 Harbord Square which will provide shops, bars and restaurants. Leisure activities already on offer include minigolf, GoKarting and the fairground-inspired food and drink venue FairGame. 
Residents can also explore the wider area, of course: No.8 Harbord Square sits within Wood Wharf, an estate which, once completed, will offer up to 3,600 new homes and 350,000 square feet of shops and restaurants, plus a new NHS doctor's surgery and a primary school – all connected via green spaces and walkways. Brian De'ath, Managing Director of Residential Sales at Canary Wharf Group, notes that the estate is particularly attractive thanks to its 'world class amenities, incredible green and blue spaces, and vibrant restaurants and bars.'
Green spaces are particularly important to Canary Wharf Group, the developer behind the project: it was the first real estate company to sign The Climate Pledge, and it is committed to creating green infrastructure and supporting natural biodiversity in Canary Wharf. Most recently, the company partnered with the Eden Project in order to better understand how biodiversity can thrive in a dense urban environment – with the first project comprising a 'green spine' running through the centre of the Canary Wharf estate. Sustainability may not be easily achievable when it comes to new developments, but this certainly feels like a step in the right direction.
Taking open-plan living to new heights and standing proudly in an ever-evolving London location, No.8 Harbord Square is utterly unique. It's no secret that London buyers are searching for more space – and it's amazing just how spacious a home can feel when there are no pesky partitioning walls getting in the way.
Homes at 8 Harbord Square start from £765,000. For more information, visit canarywharf.com