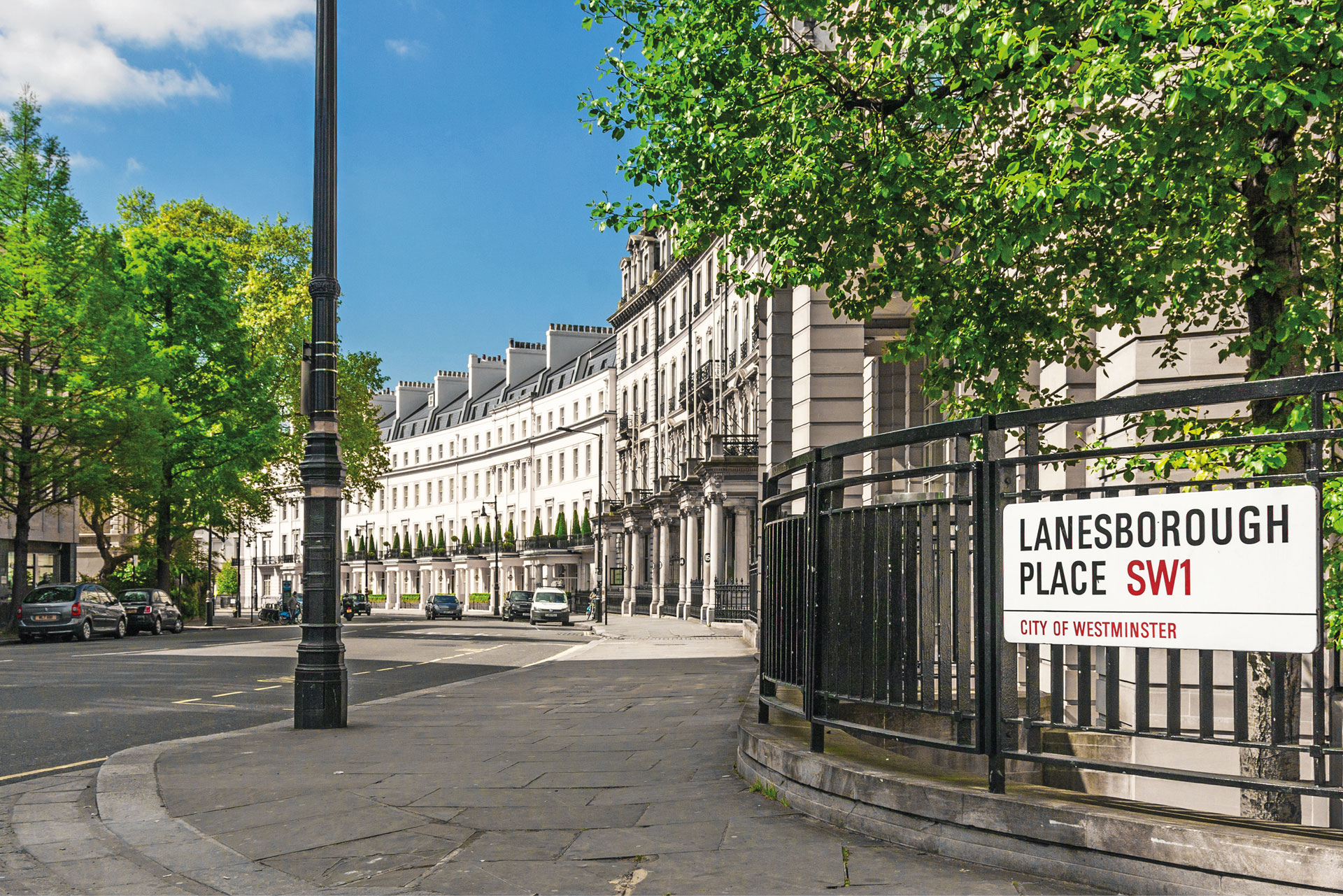 Let's Move To…Belgravia
---
The low-down on one of London's select postcodes
Belgravia is the place to invest now, says Anna Tyzack…
Since Belgravia was built, around 200 years ago, its white stucco terraces and garden squares have been among London's chicest addresses. No wonder then, according to Stuart Bailey, head of Knight Frank's Belgravia office, that Julian Fellowes chose to base his 2020 drama, Belgravia, in this exclusive corner of the capital.
'Belgravia hasn't ebbed and flowed with fashion like other areas, it's been consistently stylish,' Bailey says. 'The architecture, properties and geographical location have all stood the test of time.' Fellowes' series, based on his novel, propelled Belgravia into the media spotlight, but according to Bailey it was already on the map for super prime buyers. The location and array of period houses make it first choice for some of the world's most affluent families; former Qatari prime minister, Sheikh Hamad bin Jassim bin Jaber al-Thani, for example, is transforming Grade II-listed Forbes House into a £300m urban palace.
'In 2019 we saw two £40m-plus sales to British buyers as well high-level sales to Chinese and Middle Eastern buyers,' Bailey continues. 'Mayfair might have become a hub for global wealth, but Belgravia is more discreet – buyers can retreat back here to the calm of garden squares.'
The area is an established family neighbourhood with excellent schools such as Eaton House, Eaton Square School and Francis Holland; Garden House, Hill House and Eaton Square upper school are also within easy reach. In 2021 the Cleveland Clinic, a world-renowned private hospital, is set to open in Belgravia, adding to the appeal.
According to Mohamed Zaghloul of UK Sotheby's International, buyers appreciate both the neighbourhood feel and the fact it's possible to walk from Belgravia to offices in St James's, Mayfair and Westminster. The City is also an easy commute from Victoria and Sloane Square tube stations.
The area has always had an abundance of charm, but over the past decade Belgravia has become yet more desirable thanks to Grosvenor Estate's gentrification of Elizabeth Street, Motcomb Street and Pimlico Road. These streets are now home to boutiques, gastro pubs – the Thomas Cubitt on Elizabeth Street is one of the most popular pubs in the area – as well as food shops such as Daylesford Organic on Pimlico Road and Waitrose on Motcomb Street. There's even a garage on Eaton Mews West.
Ebury Street and the surrounding streets have also become more polished; the newly developed Eccleston Yards, a hub for independent businesses and shops, includes fitness studio Barry's Bootcamp, Battonage Wines and restaurant and deli, Wild By Tart. 'It's a funky village hub that will be a great place to hang out in summer,' Bailey says.
It's Belgravia's majestic properties that are the main attraction for super prime buyers, though, and in every direction there are large 'forever' houses with generous gardens, a rarity in central London. A family house costs from £3.5m to more than £40m, depending on size. 'The address our buyers choose tends to be determined by the scale of the property required,' Bailey explains. 'If they want about 15,000 sq/ft, it's Belgrave Square; if around 10,000 sq/ft, it would be Eaton Square or Wilton Crescent; 5,000–6,000 sq/ft is Chester Square, while houses in Eaton Terrace or Wilton Street tend to be circa 3,000–4,000 sq/ft.'
Also popular are Gerald Road and Lowndes Street, smaller roads with quirkier architecture and the chance to purchase an original mews house. 'Subject to planning, you can spend £6m–£8m and add value by digging a basement or extending the mansard,' explains Zaghloul.
There are also a number of exciting new global destination addresses to rival Knightsbridge's One Hyde Park. The Peninsula on Hyde Park Corner will be a five-star hotel and luxury flats – Ken Griffin, founder of Citadel, has bought the £100m penthouse – and 3-10 Grosvenor Crescent is the redevelopment of a Grade II* listed terrace into five grand apartments and seven lateral and duplex apartments with parking, terraces and concierge.
The market in Belgravia has picked up pace since Brexit became a certainty, according to Jamie Hope, head of sales at Maskells with buyers looking to purchase houses both for themselves and as investments for their children. 'Political stability has made all the difference,' he says. 'Buyers are looking to invest before the market accelerates away.' Viewings in January 2020 were up 265 per cent on January 2019, he says. 'There's a different tone to the market now: buyers are feeling bolder.'
According to Zaghloul, the Belgravia market is still undervalued compared to Knightsbridge and Mayfair; with prices ten per cent lower than their peak, he's not surprised to see more buyers around. 'We've had four years of a downwards trend, but it feels to me as if prices have hit the bottom and are now beginning to move gently upwards,' confirms Bailey.
Best for…
Tea for two
Treat yourself to designer cupcakes and a pot of earl grey at Peggy Porschen Cakes on Ebury Street. peggyporschen.com
Shopping spree
Pedestrianised Motcomb Street has a carefully curated selection of dangerously tempting boutiques. mayfairandbelgravia.com
A workout
Burn up to 1,000 calories in a high intensity interval training session at Barry's Bootcamp in Eccleston Yards. barrys.com
A quick pint after work

The Nag's Head on Kinnerton Street is a proper London pub, for apintandabag of crisps. You can even bring the dog.
Date night
The menu at Wild by Tart is curated by Evening Standard cookery duo Jemima Jones and Lucy Carr-Ellison, with sustainably sourced ingredients. wildbytart.com
The Best New Properties on the Market Now / 9 Things To Remember When You're Buying a London Property