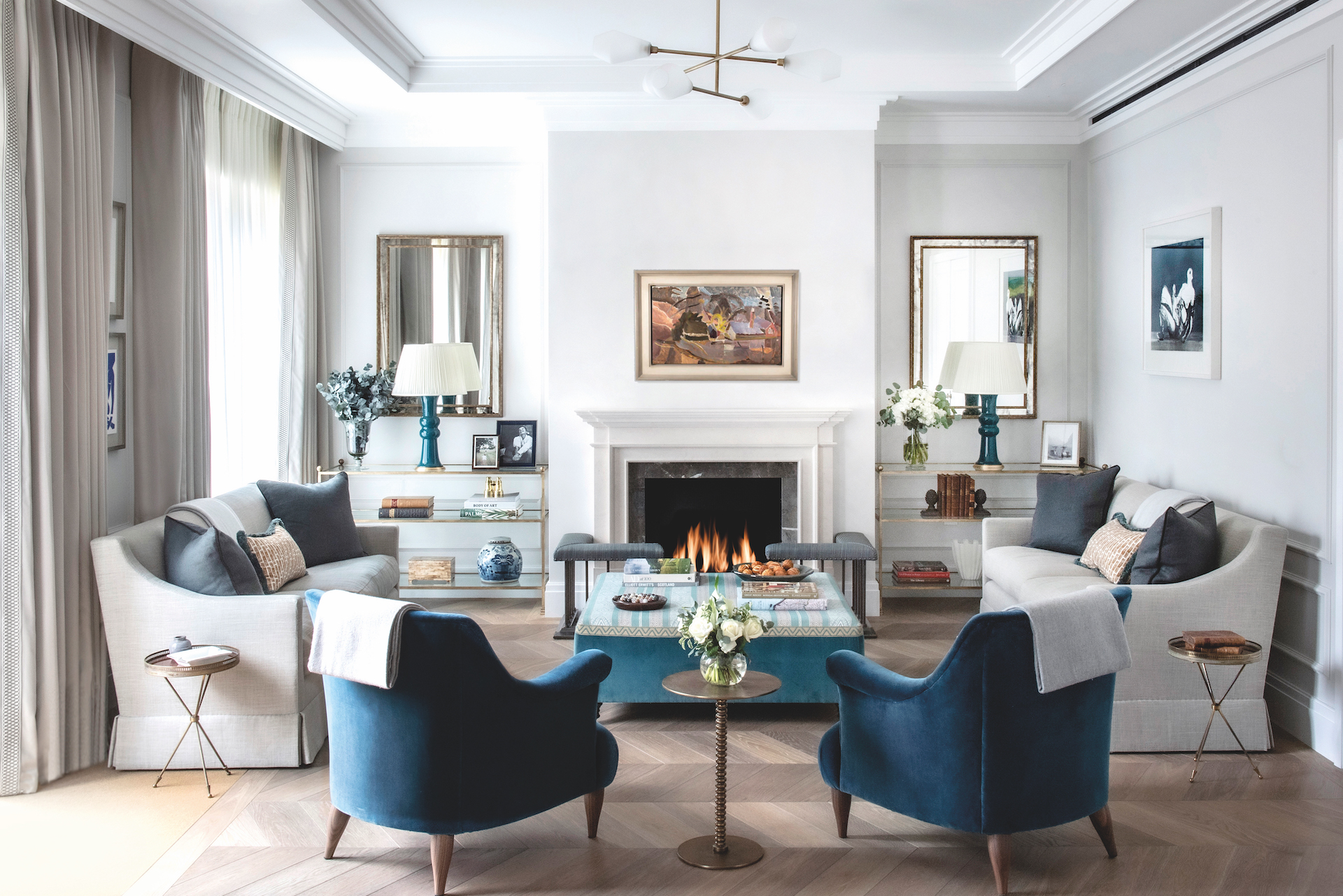 Redefining Luxury Later Living in London
---
Top quality design, five-star service, and a ready-made community of like-minded souls
Discover the elderly care homes redefining luxury later living.
We're all living longer than ever before (the number of centenarians living in the UK has risen by a massive 72 per cent over the last decade), so it's high time ageing had an image makeover. And it so happens the revolution is already taking place. Enter 'luxury later living', a new era of retirement developments incorporating the highest standards of top quality design, service straight out of a five-star hotel and a ready-made community of like-minded souls.
One such development is Auriens. Opened in Chelsea in September 2021, it is part spa, part private members' club, part live-in luxury hotel, comprising 56 apartments. Masterminded by David Meagher, an entrepreneur and real estate developer, it's the realisation of his vision for a complex that will stand shoulder to shoulder with recent hype-garnering developments like Chelsea Barracks and The OWO, but geared exclusively towards over-50s.
'What we offer is entirely bespoke; it's a combination of the ambience of a private club and underlying reassurance of world-class healthcare,' David explains. 'There's a rather glamorous legacy of figures like Margaret Thatcher retiring in hotels like The Ritz and Richard Harris at The Savoy, but until now there has been nothing on offer in the UK that combines that level of luxury with later living.'
Step inside Auriens and you'll find something akin to a multi-million-pound Belgravia townhouse in terms of design, interiors and rigorous attention to detail. Indeed, many of the residents have lived in the locality for decades, but are now looking for something more adapted to the changing life needs of the third age, without compromising their usual high standards. Accordingly, Auriens is run like clockwork by a team cherry-picked from The Connaught, Claridge's and Four Seasons.
A huge selling point is the subterranean health club, which combines a sanctum-like spa with a wellness programme devised and run by some of the best names in the business. There's a resplendent underlit pool and a fully-equipped gym, where you'll find Gideon Remfry – the Wellness Director of members-only, cult fitness club KX – to keep you in shape. There's also help in the form of Aidan Goggins, a medical nutritionist and creator of the internationally acclaimed Sirtfood Diet. Afterwards, residents can retreat for some R&R in the Medispa, vitality pool or private sauna.
Nor do interiors let the side down. A roster of superstar London designers such as Brady Williams and West London-based Albion Nord have ensured you can simply show up, walk in, and find that a beautifully-curated apartment awaits.
Inspired to retire early? There's more: with a plush private cinema, resplendent Culford restaurant, speakeasy bar and private wine room, Auriens has everything you might expect to find on the checklist for a young high-flyer in the City.
But perhaps the most attractive offering for their target clientele is 24-hour, on-site, private healthcare. A partnership with top-rated Draycott Nursing & Care means Auriens isn't just bluff and fancy facilities but actually provides everything an ageing community might need, wrapped up in a beautiful setting and stage-managed by the most experienced hands in high-end hospitality.    
Hotelier Laurence Geller is another of the figureheads pioneering the changing scene of later living in London, but with a specific aim. 'Both my parents lived with dementia,' he explains. 'Having experienced this difficult and heart-wrenching process and the absence of personalised care and attention, it spurred me to found a facility that would combine world-class care with the latest cutting-edge research in Alzheimer's and dementia.'
The result is Loveday, a private members' club that now has three homes across west and south-west London. Like Auriens, a focus on wellbeing runs through the DNA of the design. On the surface it's all chic townhouse with Scandi neutrals, but look closer and you'll find marvellous age-appropriate details woven in. The building is horseshoe-shaped, because members find it easier to navigate circular layouts than long, winding corridors; the library offers books with large type, and everyday objects like chairs, plates, cutlery, door frames and handles are clearly defined so as to be distinguishable to the dementia or Alzheimer's brain.
Presiding over the Loveday kitchen is Matt Dodge, an award-winning alumnus of The Savoy, whose daily, seasonal, three-course menus are designed to aid brain health. Meanwhile, the resident therapists are concert hall pianists, yoga gurus and established artists. Inspired by luxury hotel concierge services like Onefinestay, the attention to personalisation is laser-like. Members partial to a sundown cocktail or White Company bedsheets will find every preference taken care of from day one, as it might be by a private butler.
But there are sobering statistics behind the luxury. With the NHS pushed to breaking point over the last two years, the pandemic has overwhelmed an already struggling system of care; elderly patients have often found themselves at the bottom of the priority list, and the average UK care home has just one staff member to nine residents. 'It's not about blame culture,' says Laurence. 'Sadly, resources are really stretched.'
By sharp contrast, Loveday has a 70 per cent retention of staff and two residents to each staff member. Its mission is not just to develop better treatment but 'ultimately find a cure for dementia'. To this end, it's exploring the latest healthcare tech (from AI pain-locating apps to software that enhances circadian lighting) and has partnered with the University of West London to champion research – which has already resulted in the development of a unique Dementia Therapies Programme at Loveday, tailored to each individual.
'We are always learning and improving,' says Laurence, 'we want to share our knowledge to help raise care standards across the board.'
'Luxury later life' developments like Auriens and Loveday are founded on medical science: that an active social life and sense of community are proven to have immeasurable mental health benefits. The state-sanctioned isolation of lockdown – effectively, for some, two years of solitary confinement – has had a terrible impact on vulnerable people who already felt isolated through age, mobility and health issues.
'Seeing the community flourish at Auriens has been an unexpected development,' says David. 'Lots of our residents have made new friends and found a new lease of life. It's a pillar of the culture here and it's injected new purpose into a lot of our residents. The community really is the heart and soul of Auriens.'
Accordingly, he's introduced an events programme that brings residents together for talks by world-leading photographers, recitals by fine musicians, film screenings, and more. It's a level of cultural engagement that currently sets Auriens apart from Chelsea Barracks and The OWO.
But the market is already on the move. In April, Loveday will be opening the doors on new residential homes, one in Kensington and a second in Abbey Road – where there's a focus on outdoor space and the kitchen garden. Nor is Auriens resting on its laurels, with plans afoot to open further sites in St John's Wood and Kensington. 'London's luxury market is growing at an incredible pace' says David. 'While demand is on the rise, however, supply is falling short. For London's wealthiest seniors this is a time to do more rather than less: they are used to the very best and shouldn't have to settle for less.'
So bring on our later years: thanks to these new developments, there's never been a better time to grow old. Vive la révolution.
READ MORE
Best New Properties on the Market Right Now / Five Properties Fit For A Queen