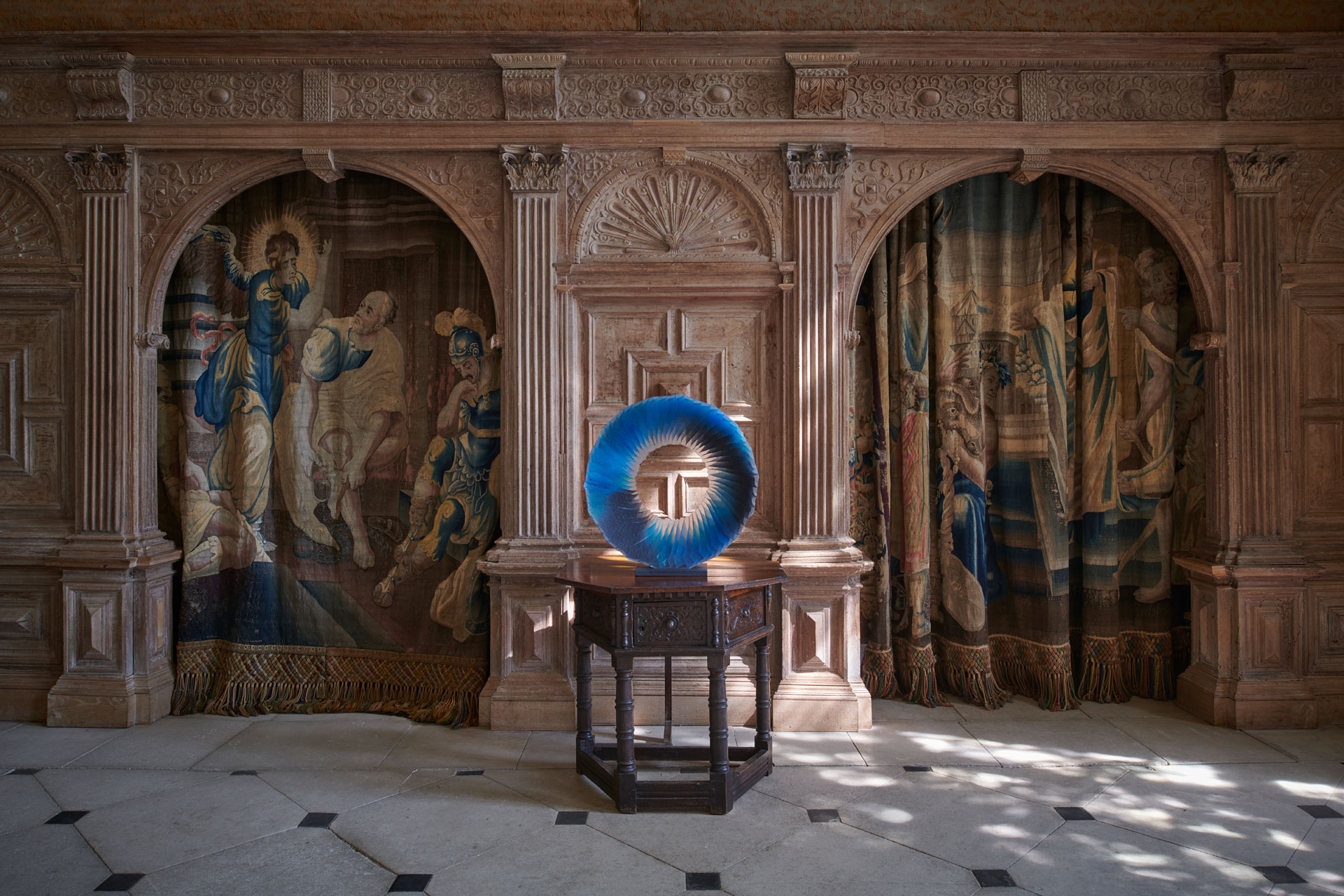 Adrian Sassoon On His New Exhibition at Parham House
---
A new collection of contemporary art is coming to Elizabethan mansion Parham House
On this week's episode of Break Out Culture, Charlotte Metcalf and Ed Vaizey meet art dealer Adrian Sassoon, who is staging pieces from his celebrated roster of artists at Parham House this summer. Here we share an extract from the conversation, and you can listen to the full episode here.
Adrian Sassoon On His New Exhibition at Parham House
Just at the foot of the South Downs in west Sussex is Parham House, a beautiful Elizabethan mansion that was derelict until it was bought by Clive and Alicia Pearson in 1922. With Victor Heal as architect, the Pearsons spent the next two decades lovingly restoring the house and filling it with a carefully chosen collection of furniture, paintings and textiles, including one of the most important collections of 17th century embroidery in the country. Now the gallerist, art dealer and curator agent Adrian Sassoon has interspersed the house's collection with contemporary ceramic and crafted pieces.
Charlotte: Tell us what we're going to see at Parham, Adrian…
It's an Elizabethan house, which has been preserved in a very Elizabethan manner. We've inserted contemporary works of art there, mostly made during the pandemic year. We haven't redecorated the rooms, we haven't taken paintings off the walls or moved the furniture. We've just put new sculptures where there was a vase of flowers, for instance. We've invaded, but we haven't altered anything. We were very particular about not changing the character of the past.
At most houses, the staircases get smaller as you go higher – but in an Elizabethan house of scale, you'd get to the top floor and find a long gallery. There aren't very many of these long galleries in houses still around England, because subsequent generations modernise their houses more. But Parham House has its long gallery, which is the entire length of the building. The house is very interesting. It's important on every floor – three floors of equal importance.
Ed: Have you created this kind of exhibition before?
We have done it in the past. I've worked a lot with Chatsworth and we've done various temporary installations there. We've also done displays at the arts and crafts house, Blackwell, in the Lake District. This project at Parham is recent works of art made by artists; they have no inherent original connection, they just sit really well together. There are also works in the garden. There are very remarkable gardens at Parham House, which a lot of people visit without going inside the house. We've had the pleasure of placing some things in the greenhouse, for instance.
Charlotte: The artists must have loved seeing their work in these extraordinary locations?
You are kind. You've made me think, I can't recall an artist saying, "Take that piece out of that there," ever in my career. If we do get a whinge from an artist, it's only asking for more space, but we have to balance things for many of our artists.
Ed: Apart from Parham, what has been your favourite house to do one of these exhibitions in?
It's a choice between Chatsworth and Waddesdon. At Waddeson I absolutely refused to have our displays inside the house. The house is amazing, with French 18th century masterpieces and other things throughout. We did our shows in the stables, which are magnificent and beautifully ready for exhibitions. At Chatsworth, objects get slotted into rooms open to the public in a very lavish and exciting way. So they're both done in very different ways. I think if you're looking at a historic house where somebody presents it as a museum, like the National Trust, you leave it alone. And if it's somewhere where people live, it's up to them and you go along with that family and enjoy what they want to do. That's what we've tried to do at Parham.
Main image: Colin Reid, Colour Saturation, Open Eye, 2021. You can see the exhibition online from 26 May – 31 August, or in person late June – 31 August, parhaminsussex.com
MORE BREAK OUT CULTURE: